Hindbærsnitter, or Danish raspberry slices are sweet frosted cookies made by sandwiching raspberry jam between two sheets of shortcrust pastry. Easy to make, these danish cookies are a favorite sweet treat with coffee, and as you can imagine, they're also popular with children.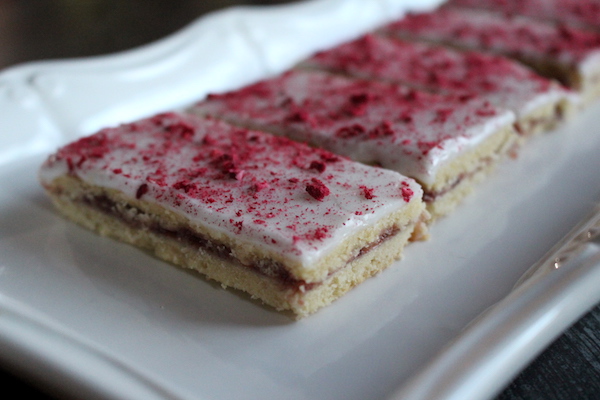 What are Hindbærsnitter
The literal translation of Hindbærsnitter is "raspberry slices" or "raspberry chops," which more or less tells you how this traditional Danish cookie is formed. It's a sliced cookie, made from larger squares of shortbread-like cookie, sandwiched together with raspberry jam.
Traditionally, there's a thick coat of very sweet icing on top of the pastry, which balances with the barely sweet cookie layers.
Hindbærsnitter are then decorated either with sprinkles or crushed freeze-dried raspberries.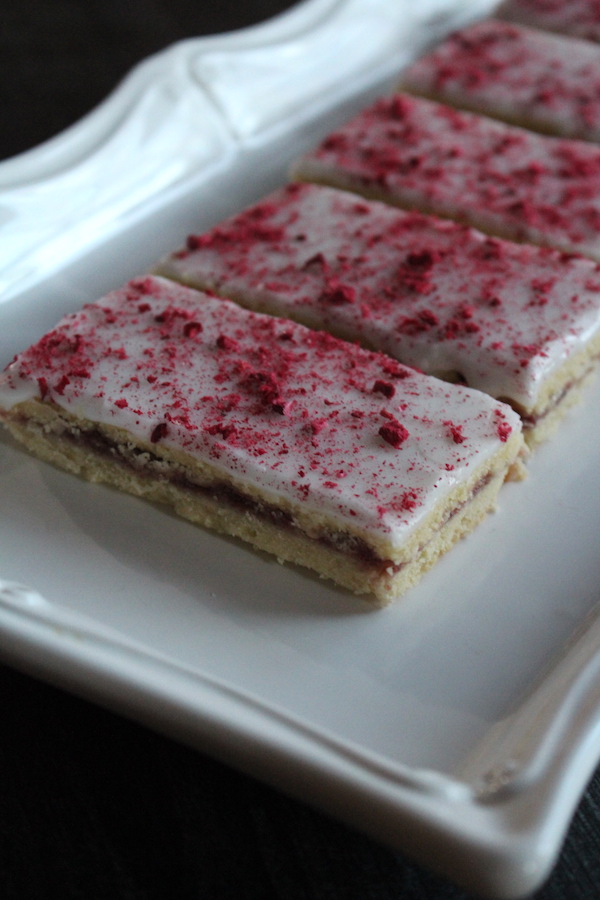 Hindbærsnitter in Other Countries
Sandwiching jam between layers of rich buttery cookie isn't something that's exclusively Danish. Though the particular recipe for Hindbærsnitter is unique, there are a number of similar pastries in other European countries.
In Latvia, their version is known as alexandertorte and it was originally named to commemorate the Visit of Tzar Alexander III of Russia in the late 1800's. The pastry layers are a bit thicker, and more cakey. It's also topped with a sugary icing.
In Finland, they call a similar pastry Aleksanterinleivos, but it's apparently named for Alexander the 1st of Russia and dates back to the early 1800s.
They also make them in Germany, but sometimes the top layer is a crumb layer instead of a full shortbread sheet (similar to American shortbread crumble bars).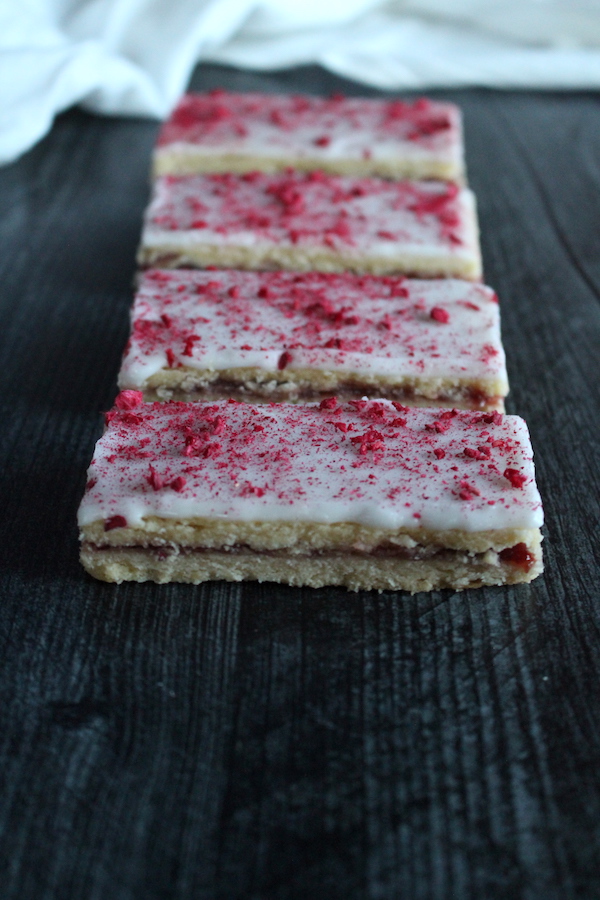 How to Make Hindbærsnitter
The "cookie" layers of Hindbærsnitter are actually just basic pie dough with a bit of egg and vanilla sugar. Start by cutting cold butter into a mixture of the dry ingredients including white flour (either all-purpose or pastry flour) and sugar.
Cutting the butter can be done with a pastry blender, butter knives, or the simplest method is simply pulsing it in a food processor until the mixture resembles coarse sand with small flecks of butter.
Add the egg and mix until the dough just comes together. In a food processor, that's another pulse or two, or it can be gently stirred in by hand. Be careful not to overwork the dough or the cookie will be tough.
Once the dough is prepared, split it into two even pieces and wrap each separately. Refrigerate the dough for at least an hour (or up to 2 days) before proceeding.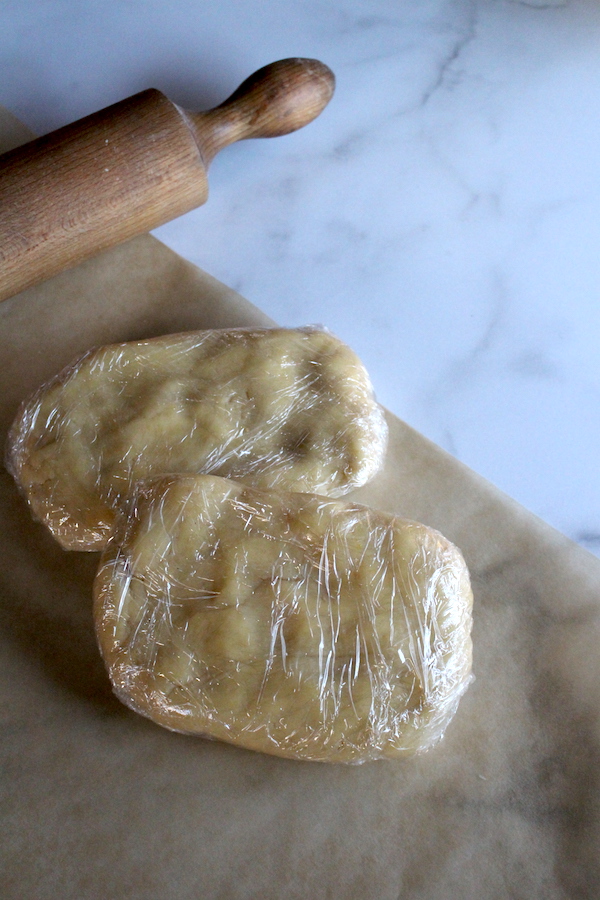 Unwrap the hindbærsnitter dough and gently roll it out on a sheet of parchment paper. The paper is essential here, as you'll need to transfer this dough sheet to a baking tray later, and then again remove it as a whole sheet to create the finished hindbærsnitter.
This recipe makes two dough sheets that are roughly 12 x 16 inches (30 x 40 cm), and each dough sheet should be rolled out to roughly that size.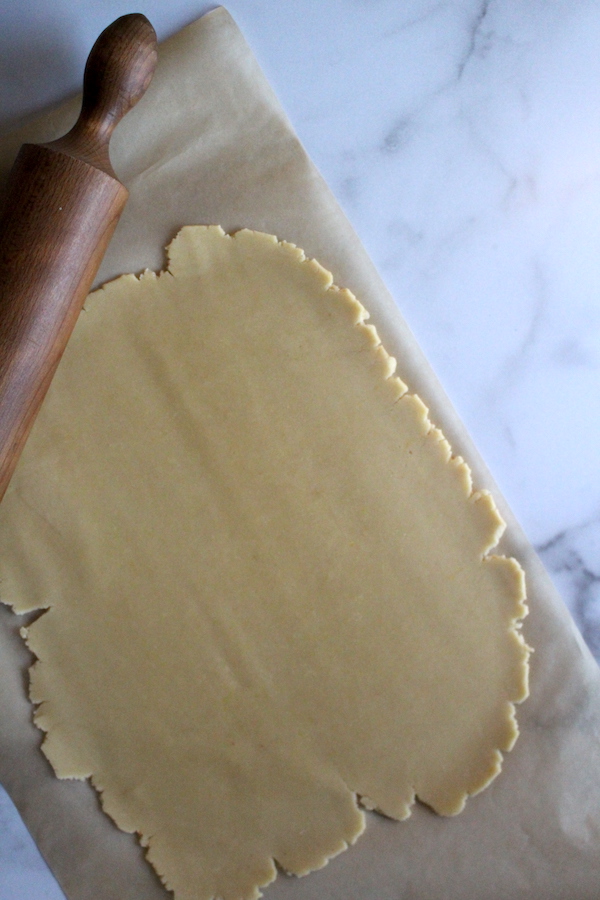 Once rolled out, gently lift the parchment paper and place the dough sheet on a baking tray.
Using a fork, gently prick the dough all over its surface. This will help prevent it from bubbling up during baking and allow it to stay relatively flat.
When I forgot to prick the dough it bubbled up a good bit in the oven (see below), but still settled down to a relatively even sheet of shortcrust pastry once it was removed from the oven.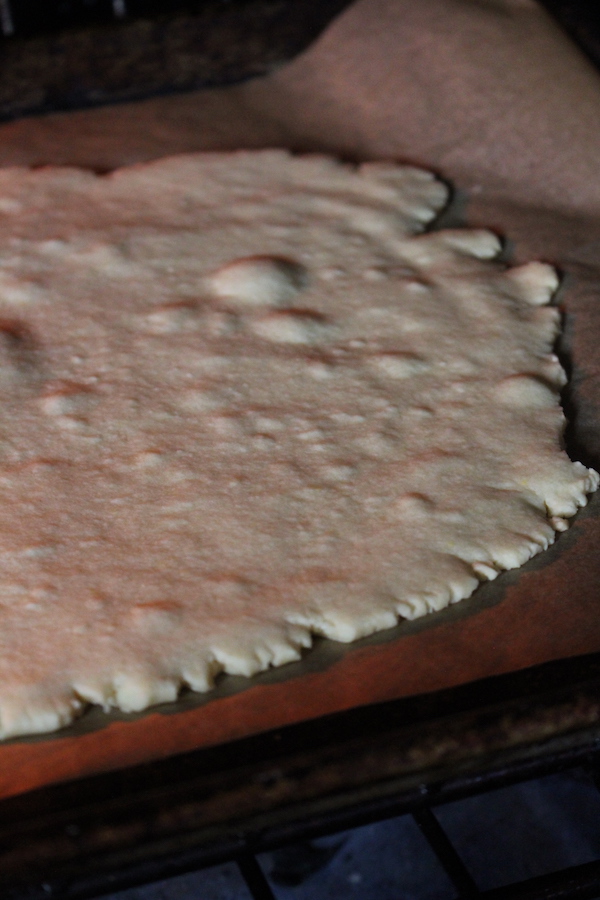 After baking, allow the sheets of shortcrust pastry to cool completely, or at least to just barely warm, before proceeding. If they're too hot, they'll be fragile and will also cause the jam to run.
Once cool, spread the raspberry jam across one layer of the pastry. Then, very gently lift the parchment paper from the other shortcrust pastry sheet and tip the second layer on top of the raspberry jam to create a sandwich.
Ice the top of the entire pastry with a liberal coating of white icing, and dust on whatever decoration you choose. Sprinkles or crushed freeze-dried raspberries are both traditional, and no decoration is also an option too.
Once the icing is set, use a chef's knife to trim the edges of the hindbærsnitter to create an even rectangle. Slice individual "raspberry slices" from the larger rectangular sheet, and you'll have a tray of finished hindbærsnitter.
This recipe makes about 12 squares. They can be cut from the larger sheet in two rows of 6 after the edges are trimmed square.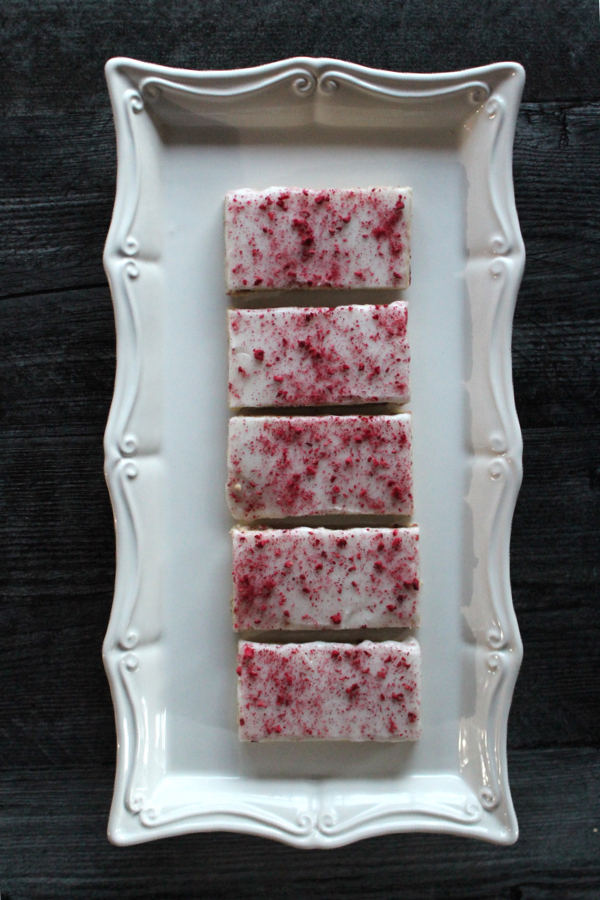 Tips for the Best Hindbærsnitter
Though these traditional Danish cookies are relatively simple to make, they can be hard to form and cut cleanly. There's also a number of ways to turn this otherwise delicious dessert into a mess of dry pastry and drippy jam.
Here are a few tips for the best homemade Hindbærsnitter:
Don't overwork the dough
Use a stiff jam (that's not too sweet)
Adjust the frosting to your tastes (or skip it)
Allow the pastry to cool before assembly
Use parchment paper under the pastry to make it easier to move
Cut pastry edges after baking (not in dough stage)
Clean the knife between each cut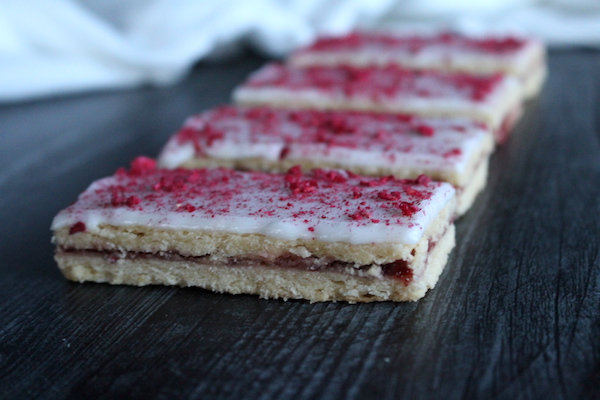 Traditional Danish Recipes
Looking for more traditional Danish recipes?
Yield: Makes about 12 Bars
Hindbærsnitter (Danish Raspberry Bars)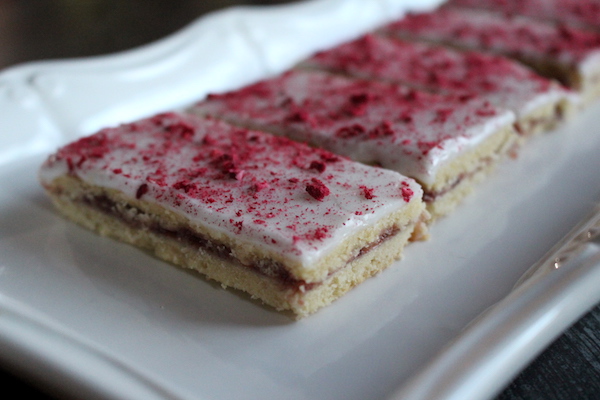 Hindbærsnitter, or raspberry slices are glazed raspberry squares made by sandwiching raspberry jam between two layers of shortcrust pastry. The top is iced with a thick layer of white icing and decorated to create festive treats.
Prep Time
1 hour
30 minutes
Additional Time
15 minutes
Ingredients
Hindbærsnitter Cookie
1 cup (225 g) salted butter, cold, cut into cubes
3 cups (350 g) white flour (all-purpose or pastry)
1 1/4 cups (155 g) powdered sugar (confectioner's sugar)
1 teaspoon vanilla sugar (or 1/2 tsp vanilla extract)
1 egg
Filling & Topping
3/4 cup (250 g) raspberry jam, firm set
White Icing (made from 2 cups (250 g) icing sugar and 2 tbsp water)
Instructions

Shortcrust Pastry
To make the pastry dough, cut the butter into the flour, powdered sugar, and vanilla sugar with a pastry knife. Alternately, pulse it together in a food processor until it resembles coarse crumbs.
Add the egg (and vanilla extract, if using instead of vanilla sugar) and mix to bring the dough together. (Or pulse a few more times in the food processor.) Do not overwork the dough.
Divide the dough into two even portions, wrap and refrigerate for at least an hour (or up to 2 days).
Once chilled, preheat the oven to 350 degrees (175 C or Gas Mark 4).
Remove the dough from the refrigerator and roll it out on sheets of parchment paper. Each sheet should be roughly 12x16 inches (30x40 cm).
Transfer each sheet to a baking tray and prick with a fork.
Bake each sheet for 10-15 minutes, until just barely browned but cooked through.
Allow the sheets to cool completely on their baking trays before proceeding with assembly.
Hindbærsnitter Assembly
To assemble, spread one layer of shortcrust pastry with raspberry jam.
Gently flip the second layer onto the first, creating a sandwich of shortcrust pastry with jam in the center.
Prepare white icing by mixing roughly 2 cups of powdered sugar (250 g) with about 2 tablespoons of water. Icing should be a bit stiff so it doesn't run, but add a bit more water if necessary to get a smooth consistency (work quickly, the icing sets fast and cannot be prepared ahead).
Spread the icing over the top layer of shortcrust pastry.
Decorate with sprinkles, crushed freeze-dried raspberries, or leave plain.
Slice off the edges of the cookie sheets to form an even rectangle with clean corners.
Slice the individual bars by cutting the sheet into 2 rows of 6 bars, for a total of 12 hindbærsnitter.
Enjoy immediately, or store in a tightly sealed container at room temperature for up to 2 weeks, or freeze for longer storage.
Traditional Scandinavian Recipes
How about other Scandinavian recipes?