Ålandspannkaka or Ålands Pannkaka means "pancake of Åland," which is a group of islands off the Finnish coast. It's less a pancake and more a baked custard made from cooked semolina or rice pudding, baked with flour, eggs and cardamom.
The resulting pancake is eaten as a breakfast or mid-afternoon snack, often served with stewed prunes and jam.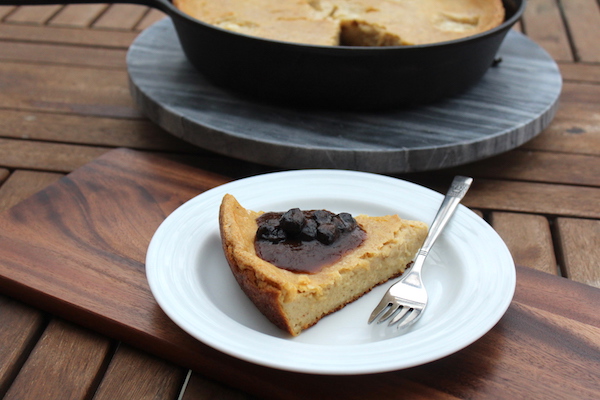 I stumbled across Ålandspannkaka when I was looking for easy, hands-free breakfasts to feed my little ones. I'm already a big fan of dutch baby pancakes, which are prepared quickly and then baked in the oven for 20 minutes (no flipping required).
Ålandspannkaka are similarly prepared on the stovetop quickly and then baked in the oven hands-free for about an hour. Rather than spending that hour flipping traditional pancakes, I'm getting quality time on the rug wrestling with my two toddlers. The timer dings and an easy breakfast comes out of the oven ready for their greedy little baby hands.
I make this full recipe in a large 11 3/4 inch cast iron skillet which I keep especially for baking. The flawless finish ensures that nothing sticks, and since it's only used for baking it's not holding onto flavors from other dishes.
If you don't have a super large cast iron, a 9×13 baking dish would be a great choice. Ålandspannkaka are often cut into squares anyway, so there's no need for a gigantic round pan. Be aware that it puffs considerably when baking, so don't fill the pan more than 2/3 full. Once the pan comes out of the oven and cools, the Finnish pancake will settle back down a bit and lose some of its height.
The recipe starts by making a quick porridge of semolina and milk on the stove, before letting it cool slightly. Eggs and flour are then added, and it's poured into a baking dish and topped with pats of butter. Instead of semolina and milk, another smooth hot cereal porridge-like cream of wheat would work well. Prepared rice pudding is also traditional, and if you use rice pudding, add about 4 1/2 to 5 cups of it and omit both the semolina flour and the milk.
A topping of stewed prunes, called Sviskonkräm, completes the dish and adds a bit of sweet tartness, which helps to lighten an otherwise heavy baked Finnish pancake. Prunes soaked in water and then simmered with water and a bit of sugar until soft. A bit of potato flour added at the end thickens it into a sauce. The resulting dish is called Ålandspannkaka mit Sviskonkräm.
Ålandspannkaka (Finnish Baked Pancake)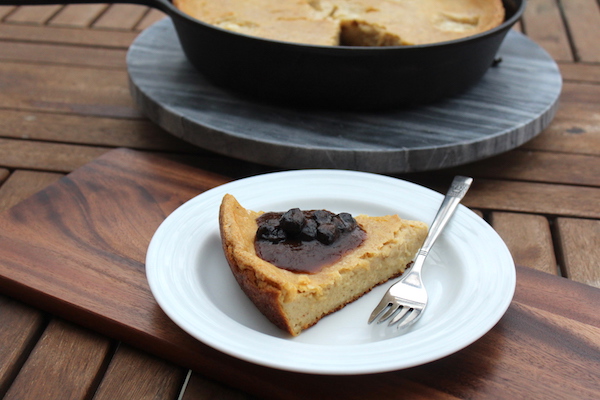 Ingredients
1 cup semolina flour
4 1/2 cups milk
1/2 cup sugar
1 tsp ground cardamom
1/2 tsp  salt
3 eggs
1/2 cup flour
3 tablespoons butter
Sviskonkräm (Prune sauce)
10-15 prunes, halved
water to cover
1 tsp potato flour
sugar, optional
Instructions
Ålandspannkaka Directions
Heat the semolina flour and milk together in a saucepan until it thickens. Allow that mixture to cool for 5-10 minutes and prepare the remaining ingredients.
In a separate bowl, mix sugar, salt, cardamom, and eggs. Add this mixture to the cooled semolina porridge.
Add the flour to the mixture and stir to incorporate.
Pour the mixture into a greased baking dish, top with pats of butter and bake at 375 degrees F for 45 to 60 minutes until golden brown on top.
Sviskonkräm Directions
While the pancake bakes, make a prune sauce by soaking the prunes in enough water to cover them for about 30 minutes.
Add them to a saucepan, and then add a small amount of water to cover. Simmer them for 15-20 minutes until most the water is gone.
Add 1 tsp of potato flour to thicken the mixture, stirring to incorporate. Simmer for another 1-2 minutes.
Allow cooling slightly before serving. Sviskonkräm can be made up to a week in advance.
Serve Ålandspannkaka hot or cold, and top with stewed prunes, jam, fresh berries, yogurt or whipped cream.
More Finnish Recipes
Want to stick with Finnish Recipes? Read on…
I found another version of this recipe, with a bit more sugar, that's served as a crustless pie with lingonberry jam on the blog A Graceful Way. That version looks delightful and makes me think of dessert rather than breakfast.
Interesting to note, that I had trouble determining if this particular dish was Finnish or Swedish. The Åland islands belong to Finland technically, but the only language spoken there is Sweedish. It's the only region in Finland where Swedish is the only language, and it's governed autonomously rather than directly by the Finnish government. Perhaps that's why these are truly called Ålands Pannkaka (pancakes), since they come from a region that is neither Finland nor Sweeden.