Dutch baby oven pancakes are the perfect hands-free breakfast for a busy morning. Quickly whisk up the ingredients and have breakfast in the oven in 2 minutes flat, and ready to eat 20 minutes later.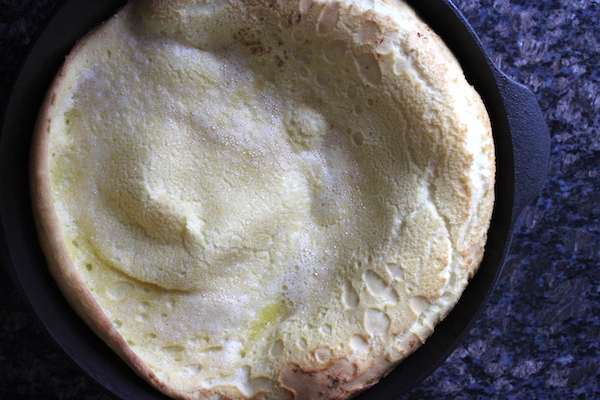 Dutch babies are a staple in our household, especially on busy mornings. Back when my husband and I were both commuting to office jobs, they were a normal part of our morning routine. Wake up, start the coffee and then whisk up the dutch baby batter.
The batter comes together in just a few minutes with only 4 ingredients. After that, it's poured into a hot skillet and popped into the oven for a 20-minute bake. That 20 minutes was the perfect amount of time to get dressed, feed the animals, and pack up work bags.
Just as we'd finish, the timer would ding and we'd enjoy coffee and a hot breakfast together.
When you're commuting, sometimes there are only a few moments a day to catch up with your partner, and an easy hot breakfast is a real treat to share together.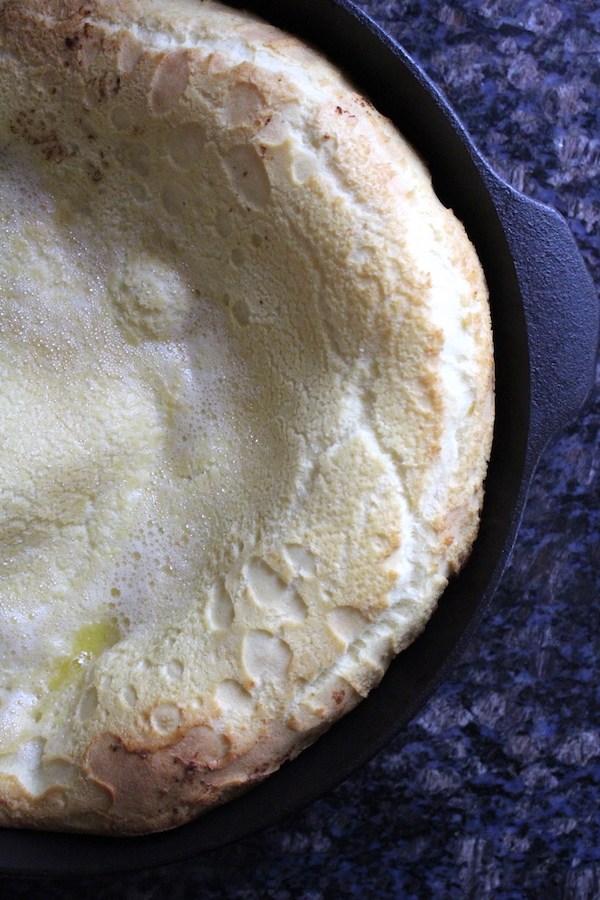 Now that we both work from home, and have two toddlers I've found that mornings are no less hectic. These days we divide and conquer, one of us starts the coffee and dutch baby (with a baby on our hip), and the other stocks the boiler with fresh wood and checks the animals.
We still come together 20 minutes later to enjoy a hot meal together.
We've always made our dutch baby pancakes in a beautifully finished antique extra large cast iron pan. It's an 11 3/4 inch skillet (No. 10) from a manufacturer that ceased to exist half a century ago, and its finish is absolutely flawless.
I keep it on a shelf exclusively for baking, so that it's never flavored with anything other than hot butter and delicious oven goodness.
One extra large dutch baby is just big enough to feed both of us a hearty meal, especially when topped with a bit of yogurt and fruit. Now that we have two little ones with hearty appetites, the last few mornings they've polished off the full dutch baby before either of us got a bite.
It's clearly time to get a second pan, but they just don't make them like this anymore!
Or so I thought…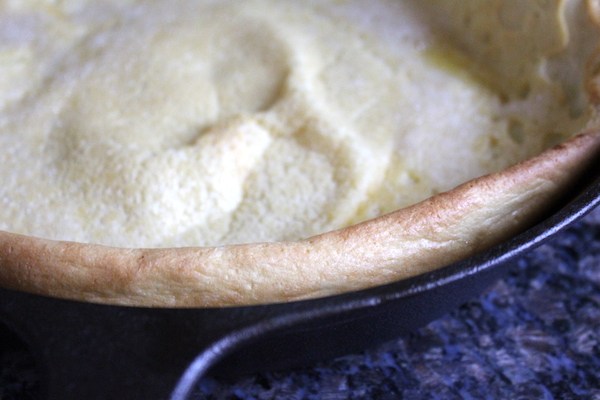 A friend of mine told me about Field Company and sent me a picture of his new cast iron pan. I couldn't believe the flawless finish! Just like the old antique I'd been caring for all these years.
I opened up their website, and sure enough, the tagline said,
"The Field Company manufactures and sells smoother, lighter cast iron skillets reminiscent of the greatest vintage pans…The Field Skillet brings back the best features of vintage, American-made cast iron: it's light enough to cook with every day, sturdy enough to last for generations, and better with time and use."
Roughly 30 seconds later I sent them an email, asking for a pan to review. I had to know, do they still make them like they used to? A few days later my pan came, and I set the two pans side by side. They were nearly identical, both with a perfectly smooth finish!
The new #10 pan from field company was 1/2 pound lighter, with a better weight balance that was much easier on the wrist. A field company pan comes seasoned and ready to use, but a brand new pan doesn't have the accumulated seasoning of decades of use.
Something I'm happy to remedy!
Time to put the pan to the test and bake up two Dutch babies side by side.
Dutch baby pancakes get their lift from a well-whisked batter, and some cooks cheat a bit and mix it up in a blender or food processor. I use an old school balloon whisk and about 60 seconds of elbow grease. Seriously, if I can do it with a baby on my hip and a toddler "helping" you can manage it.
It's good for you, and it's quicker to whisk it than it is to wash the blender.
The whisking helps beat air into the eggs in the batter, and also helps form a bit of gluten. Unlike most pancakes that want a soft wheat flour, dutch babies are best with a high gluten flour like a bread flour.
Since there's so little flour in the pancake all together, there's not enough to develop a tough texture and the gluten formation helps the pancake rise extra high in the pan.
Once the batter is whisked, it's poured into a hot buttered skillet. This is important and it forms a crisp base at the bottom of the dutch baby. As the rest of the batter cooks, it lifts away from the bottom crust and creates a fluffy, pillowy baked Dutch baby pancake. Plus, the extra butter in the bottom of the pan makes it extra decadent.
When you pour the batter in on top of a full 3 tablespoons of melted butter, it'll look like it's swimming in butter. Don't worry, it's all part of the plan.
Take the pan straight from the stovetop and pop it into a hot oven. That's it, now you're hands-free and you've got 20 minutes until a hot breakfast hits the table.
In the unlikely event that you've got nothing else on your morning agenda, there's now time to plan your dutch baby toppings.
In the summertime, I'm fond of yogurt and fresh peaches or nectarines. The sweet summer fruit brightens up my morning and lifts my mood every time. In the winter, we use home-canned fruit, and my husband's favorite is fresh cherry compote.
My little ones like to keep it simple, and prefer little pie slices of the dutch baby with just butter and a tiny bit of maple syrup.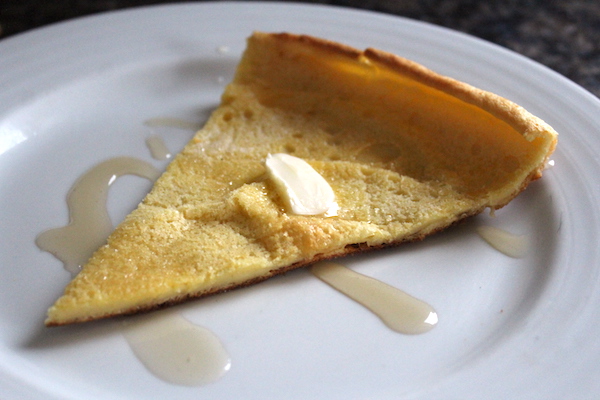 All in all, I'm so happy to have a new field company cast iron pan in my kitchen, working side by side with my trusty antique. Full disclosure, they did send me this #10 cast iron pan free for my review, but only because I send them an email asking pretty please.
They already came with high acclaim from a good friend, and I was not disappointed.
Yield: Makes One Pancake (Serves 2)
Dutch Baby Pancakes (Fluffy Oven Pancake)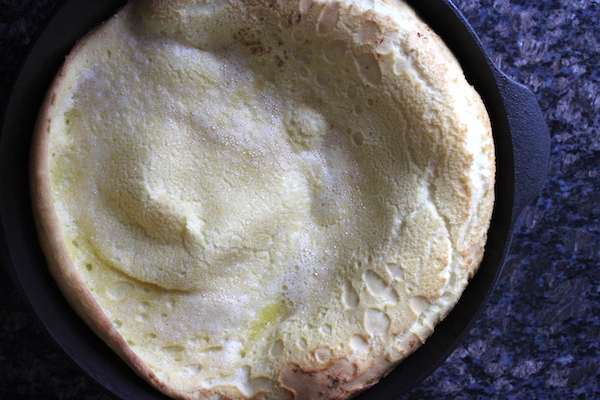 Dutch baby pancakes make a quick hands-off breakfast, and with plenty of eggs, they're full of protein to keep you going.
Ingredients
3 large eggs
3/4 cup milk
3/4 cup flour white or bread flour
1 tbsp sugar
1 tsp vanilla
3 tbsp butter (for the pan)
Instructions
Preheat the oven to 400 degrees F.
Using a large balloon whisk, whip the eggs and milk together for about 60 seconds.
Add flour, sugar, and vanilla. Whip for another 60 to 90 seconds to incorporate as much air as possible. The batter should be completely smooth. Alternately, blend all ingredients in a blender for about 60 seconds.
Place a well-seasoned cast iron skillet on the stovetop and get it very hot. Add 3 tablespoons of butter and melt completely.
Pour the batter into the hot cast iron and insert the pan into the oven.
Bake for 20 minutes at 400 degrees F until puffed and brown.
Remove from the oven and serve hot, topped with your choice of butter, lemon juice, sugar, syrup, fresh fruit, yogurt, or jam.
Cast Iron Pancakes
Looking for more fun pancake variations, all made in cast iron?