Risengrød, which is rice pudding or porridge, is all Danish Christmas elves' favorite food served with nisseøl, elf beer. It's also a particular favorite among human holiday revelers, but while the elves enjoy Risengrød for breakfast, lunch, and dinner, instead we humans tend to have it only for dinner.
(This post is written by Pia Sonne, a native of Denmark and the writer behind the blog Busy Hands, Quiet Hearts.)
In some Danish families, risengrød is strictly reserved for the Christmas season. In my family, it's on the menu once or twice almost every month. It's not something you eat at restaurants but a home-cooked meal.
Risengrød is often served with nisseøl, elf beer, which is also known as hvidtøl. This is a sweet beer that's low enough in alcohol (usually around 1.7-1.9%) that children are allowed to drink it. This type of beer is very sweet as it's made with chocolate and caramel malt.
I grew up eating free risengrød at the town square every year for the Christmas tree lighting. It was made in gigantic pots and kept us warm as we sang carols and tried to guess how tall the tree was.
A lot of adults like risengrød because they have fond childhood memories surrounding it just like I have. Its true fans, however, are mostly children. Is there anything better than a warm, filling sweet bowl of porridge for dinner? With the added intrigue of it being the elves' favorite dish. What's not to like?!
Risengrød is such an ingrained part of Christmas for Danes that we even sing songs about risengrød. There are children's Christmas songs which often involve the Christmas elves. And even carols better suited for adults which feature our beloved porridge front and center.
The History of Risengrød
The consummation of porridge goes way back. Rice porridge probably originated in the Middle East or Persia where it became popular in the middle ages.
Porridge has been stable in the Danish diet because it's cheap and easy to make. Porridge was made of oats, barley or rye, and water. But at Christmas time, it was made with milk which, if you didn't have a cow yourself, increased the cost of the dish significantly.
The first instance of risengrød recorded in nordic history goes back to 1542 in Malmö, Sweden.
All the way up through the 19th century, rice was reserved for the rich as it was an expensive imported good. This meant it became a symbol of status to be able to serve risengrød to your Christmas guests.
Additionally, it was widely agreed that you had to give the house-elf a portion of risengrød if you wanted to stay on good terms with him during the coming year.
This was quite important as the house-elf had a lot of influence on everything from the harvest to the number and condition of animals born during the year, etc. If you got on the elf's bad side it could as a worst-case scenario, cause "the red rooster to crow", which means it would cause a fire.
Around 1900 is when risengrød began to be consumed more widely, as affordable rice made its way to Denmark. At first, risengrød was made with water and only with milk on special occasions like Christmas.
The rich always made their porridge with milk, so when the farmers began to do so as well outside of the Christmas season, the rich had to come up with something new. Legend has it that this is how risalamande was invented, as it's a similar dish but with slipped almonds to make it extra special.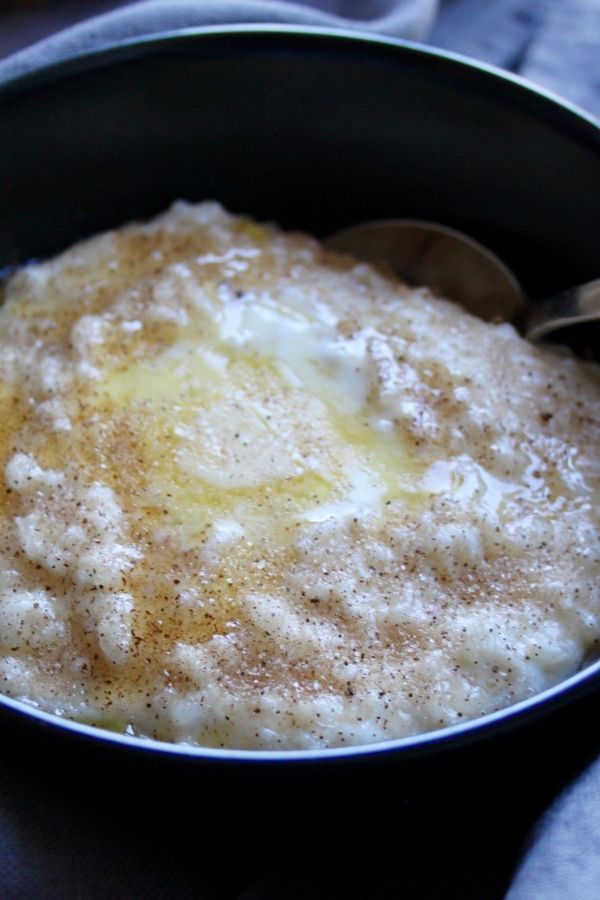 Specialty Techniques
You can cook risengrød on the stove but it takes a fair amount of time and requires constant attention. For this reason, the Danes have come up with all manner of creative methods for cooking risengrød over the centuries.
Most involve heating the porridge and then placing it somewhere insulated where it will hold the heat and slow cook. I imagine a modern slow cooker on "keep warm" would do quite well as a substitute.
The Hay Box Method
Danes have cooked their risengrød in a hay box for centuries.
This is done by getting the porridge to a boil and then placing it inside a box filled with hay. The porridge is then left to finish cooking on its own for several hours.
Since most Danes no longer live on a farm with easy access to hay, we tuck the porridge in our beds instead.
Putting the Porridge to Bed
This method is no longer recommended by the health authorities in Denmark but it is an age-old tradition and many Danes still make their risengrød this way. You can decide for yourself if you want to be a rebel and give it a try.
You basically use the same technique as with the hay box. Instead of the hay, you use blankets to keep the porridge warm. There's the added bonus of a toasty warm blanket after dinner when you go to bed.
One thing to note is that if you happen to be making risengrød with special store-bought lactose-free milk this method doesn't work at all. You will get pink and disgusting porridge which isn't worth eating. Don't ask me how I know this…just use regular milk instead.
Risengrød Ingredients
While it's a simple dish, with everyday pantry ingredients, choose the highest possible quality when making risengrød or you'll be disappointed. Using margarine instead of butter dramatically lowers the quality of the finished porridge. Don't skimp!
Porridge Rice – You can make risengrød with any kind of rice but your results probably won't be that great if you use brown or wild rice. The best option is if you can find porridge rice. Otherwise, look for a type of rice that is meant to cook out as much as possible, like arborio rice or other short-grain rice types.
Water – Your tap water will work fine. If you live in an area that doesn't have great tap water then use water you have purified with a Berkey or a similar system.
Milk – Milk has a massive effect on the result, and you should opt for the highest quality milk possible. Avoid UHT (high heat pasteurized) or lactose-free milk, as they have questionable results. For delicious risengrød you'll want to use full-fat whole milk, but if you must avoid dairy, I'd suggest a high-quality almond milk or coconut milk instead.
Salt – Use the best salt you can afford. This is not a "health dish" as such but if you can add trace minerals by using a great Himalayan pink salt, why wouldn't you. You'd be surprised at how much difference trace minerals can make to the final taste of a dish, as opposed to plain salt.
Cinnamon – It's important for the taste and your health that you use cinnamomum verum or Ceylon cinnamon. Cassia cinnamon is less expensive but somewhat toxic and not as tasty.
Sugar – White, granulated sugar is traditionally used. Brown sugar is an option too, but while it's delicious, it overwhelms the simple dish and the traditional risengrød flavor is lost.
Butter – Opt for the best you can afford. Grass-fed, organic butter will likely add the best flavor to your dish. This is a simple dish, and skimping on the ingredients will really show. Don't use margarine, real butter only, please! (Again, if you're avoiding dairy, I'd suggest coconut cream here instead of margarine. It'll change the flavor a bit, but it's worlds better than the results with inferior oil-based margarine.)
How to Make Risengrød
Making risengrød is easy but does take some time. Depending on your rice and the heat, it can take anywhere from 30-60 min to get the porridge to your preferred texture.
In my family, we prefer the porridge to be thick and creamy. Others make it runnier.
Add the water to a big pot and bring it to a boil.
Next, you add the rice to the water and stir until it has absorbed all the water.
This is when you add all the milk. From now on you need to stir frequently if you're using the stovetop method. If you are using the bed method, then bring the milk to a boil and put the porridge to bed for several hours.
Make sure to stir on the bottom of the pot to avoid burning the milk. It will flavor the entire pot of porridge and it's hard work to clean off.
If you happen to burn the bottom (and it can happen to the best of us) then take care to leave the bottom alone from that point on when stirring. With a bit of luck, you can salvage the porridge from that nasty burned taste but you still have to deal with the cleanup.
Once the porridge is at the texture you prefer, salt it to taste. The salt should bring out the rice porridge flavor. If your porridge begins to taste salty, you've added too much so go easy and salt it gradually.
Mix sugar and cinnamon to taste. Many Danes have a little jar of homemade cinnamon sugar on hand.
Serve the porridge warm with a generous dollop of butter in the middle and with a dusting of cinnamon sugar.
Yield: Serves 2-3 hungry people
Danish Risengrød (Rice Porridge)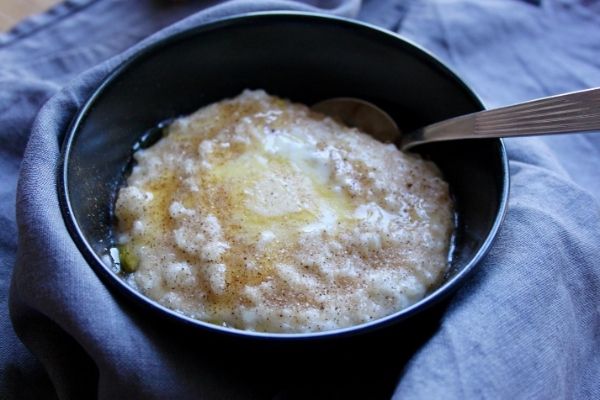 Risengrød is a traditional Danish rice pudding or porridge that's most commonly served at Christmas time. It's easy to make with just a few simple ingredients.
Ingredients
7 oz (200 g) porridge rice
0.9 cups (2 dl) water
4 1/4 cups (1 ltr) milk
½ tsp salt
Toppings:
Instructions
Bring the water to a boil in a pot large enough for all the ingredients.
Add the rice to the boiling water and stir until the rice has absorbed all the water.
Add the milk and bring to a simmer.
Stir frequently until the porridge reaches your preferred thickness to avoid burning the bottom.
Salt the porridge to taste. It shouldn't taste salty but the salt should bring out the rice porridge flavor.
Mix sugar with cinnamon to your taste.
Serve the porridge warm with a generous glob of butter in the middle and cinnamon sugar strewn over the porridge.
Danish Christmas Recipes
Looking for more Traditional Danish Holiday Recipes?
Further Reading on Risengrød
https://da.wikipedia.org/wiki/Risengrød
https://www.valdemarsro.dk/risengroed/
https://www.gastrofun.dk/artikel/alt-du-skal-vide-om-risengroed
http://blog.dengamleby.dk/julehistorier/tag/risengrod/
http://madamsif.dk/2015/11/30/dag-2-soedgroed-og-risengroedens-historie/
https://www.opskrifter.dk/artikler/95-risengrødens-historie