Baker's Ammonia (also known as hartshorn salt) is a common baking ingredient in Europe and Scandinavia. It's used to give cookies a characteristic crisp texture, but there are substitutions you can use for baker's ammonia in a pinch.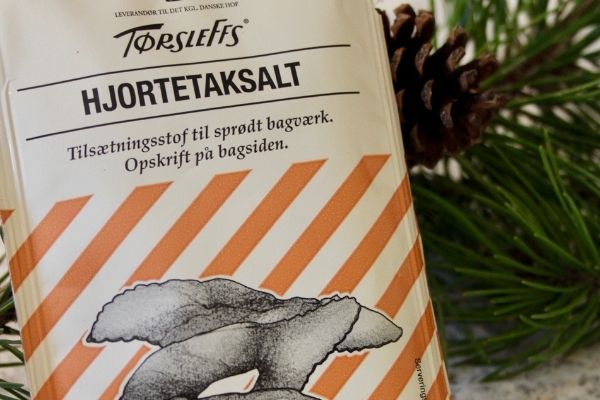 Have you ever wondered what those weird baking ingredients in Danish Christmas cookie recipes do? And what if you can't get them? Fear not, we have you covered.
When you're making Norwegian Christmas Cookies and Danish Christmas Cookies and treats, you'll soon discover that some weird ingredients are required, namely hartshorn salt.
These are easy to come by in Denmark, as well as other Scandinavian countries, but you may have real difficulty finding it where you live.
You'll need hartshorn salt if you want to make honninghjerter, klejner or pebernødder.
Related: Substitutes for Potash in Baking
What is Baker's Ammonia?
Whether you call it hartshorn salt, baker's salt, baker's ammonia or ammonium carbonate, (NH4)2CO3. is another popular leavening agent in Denmark that might be difficult for you to find where you live.
The name hartshorn salt gives away the origin of this leavening agent. It was traditionally made by grinding hartshorn to a powder. Today it's made through a chemical reaction between ammonia and carbon dioxide.
While it's rarely available in stores in the US, you can easily purchase baker's ammonia online.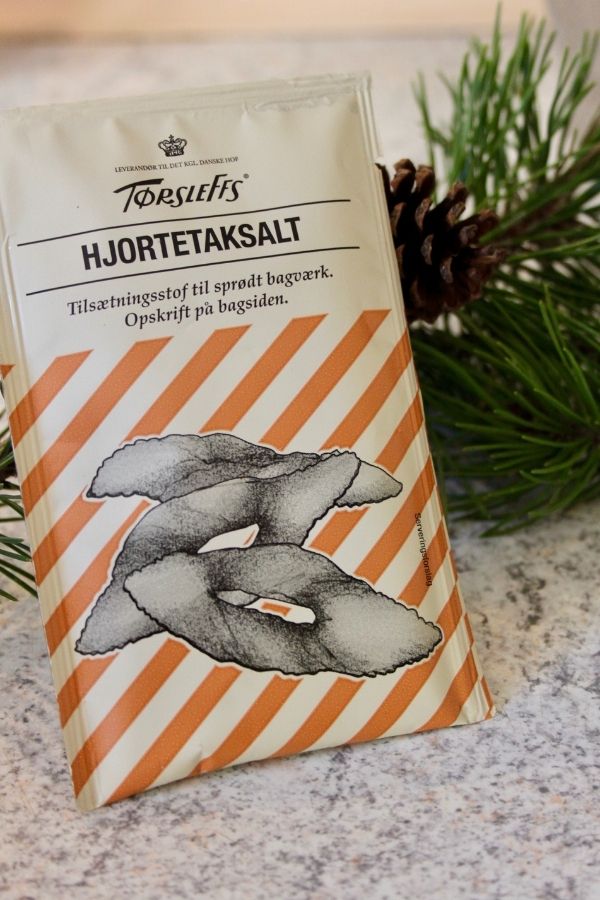 How Baker's Ammonia Works
Much like potash, hartshorn salt works by releasing carbon dioxide, which creates tiny bubbles in the dough and results in a light texture.
Here's the chemical reaction that takes places: NH4HCO3 → NH3 + H2O + CO2
Hartshorn also adds a certain crispness to the baked good.
The name Baker's ammonia gives away that this is anything but an odourless substance. Don't be afraid of it though, the pungent smell bakes out as the NH3 evaporates. This is why it's best used in flat baked goods with a decent surface size.
Besides leavening the baked goods, hartshorn salt acts a pH control agent. This means it can be used to change or maintain acidity/basicity.
What Can You Substitute for Hartshorn Salt
You can substitute hartshorn salt with baking powder on a 1:1 ratio. I, however, recommend that you substitute with equal parts of baking powder and baking soda.
This means if the recipe calls for 1 tsp of hartshorn salt, you'll substitute with 1 tsp baking powder AND 1 tsp baking soda. This brings you slightly closer to a similar result in my opinion.
However, if you decide to substitute baking soda for hartshorn salt in a recipe, you should:
Expect a less crisp texture.
Expect a less light and fluffy texture.
So Should You Substitute Baker's Ammonia?
I would argue that any substitution of the leavening agent will leave you with a different end result. That is unless you are really skilled in chemistry and can make other alterations to the recipe to account for the difference.
Would I rather have a cookie made with a substitution than no cookie at all? In most cases, yes.
Still, if you have time, it's worth seeking out real baker's ammonia online ahead of time. Baker's ammonia is available on the internet, even if it's rarely available in stores.