Potash is a specialty baking ingredient used in many European recipes, specifically in Scandinavia. It can be hard to find, but there are good substitutes for potash in baking that result in a very similar end product.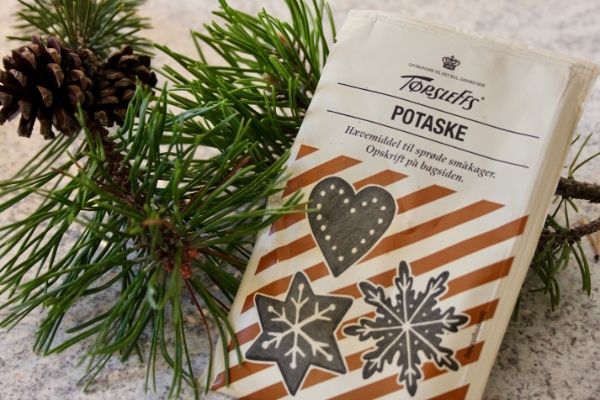 Have you ever wondered what those weird baking ingredients in Danish Christmas cookie recipes do? And what if you can't get them? Fear not; we have you covered.
When you're making Danish Christmas cookies and treats, you'll soon discover that some weird ingredients are required, namely potash.
These are easy to come by in Denmark and much loved. But you may have real difficulty finding it where you live.
You'll need potash if you want to make brunkager or honninghjerter, as well as many other Scandinavian cookies.
While many specialty baking ingredients are available online, potash for baking isn't widely available outside of Scandinavia. You can find garden potash, but none of it is food-grade. In the US, you'll need to substitute potash in recipes.
Related: Substitutes for Baker's Ammonia (Hartshorn Salt)
What is Potash?
Potash is the common name for potassium bicarbonate or KHCO3.
While no longer widely used in the States, it was actually invented by an American.
Nathan Read was a steam engineer. In 1788 he made potash, which was first known as American saleratus. It became popular as it was less expensive than other chemical leaveners, since they had to be imported.
How Potash Works
When potash comes into contact with an acid or is decomposed due to heat it produces carbon dioxide. 

Here's the chemical reaction that takes place: 2H+ + K2CO3 → K+ + H2O +CO2
Carbon dioxide causes baked goods to rise, which results in a light texture.
Furthermore, potash is slightly alkaline, which aids browning (the Maillard reaction). That said, you don't want to use potash for a very light coloured cookie, like jødekager or vaniljekranse (neither of these require any leavening agent) but it's ideal for brunkager which are literally called brown cakes.
What Can You Substitute for Potash
The best substitute for potash is baking soda. It is recommended to use equal amounts to substitute. There are, however, a couple of factors to be aware of.
Baking soda is a more powerful leavening agent than potash. This means using baking soda instead of potash will result in a different texture. If you wanted to obtain the same rise from potash as you get with baking soda, you would have to use 19% more potash.
That means if you decide to play around with substituting, you could try using 19% less baking soda than the amount of potash required.
Potash is low in sodium, and as such it imparts less of a salty taste than baking soda and can be used as a substitute for baking soda if you are on a low sodium diet.
While odourless, potash has a characteristically bitter aftertaste which baking soda lacks entirely.
In conclusion, if you decide to substitute baking soda for potash in a recipe you should:
Experiment with using slightly less than the stated amount of potash (unless otherwise indicated)
Be prepared for a different texture outcome.
Be prepared for a saltier and less bitter taste profile.