Brunkager, literally brown cakes, are small, brown cookies. They have a deliciously sweet, yet spicy taste and are crunchy but not hard. This Danish Christmas cookie is one you can keep sneaking one of throughout the day as you pass the jar.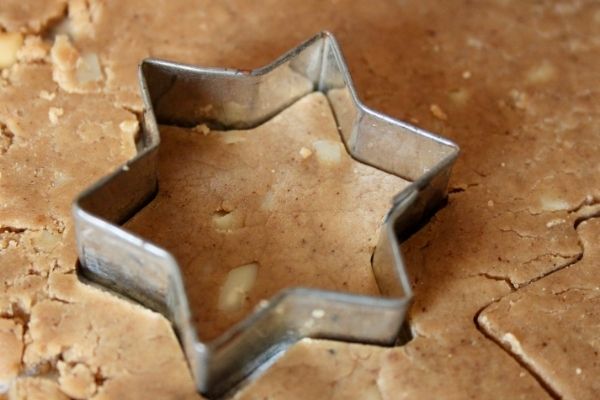 (This post is written by Pia Sonne, a native of Denmark and the writer behind the blog Busy Hands, Quiet Hearts.)
While many Danish Christmas Cookies are eaten year-round, Brunkager are not eaten outside the Christmas season.
While the stores insist that the season begins right after Halloween, the traditional time to eat brunkager is in December or from the first Sunday in Advent, depending on which comes around first.
You can purchase a variety of these cookies in the grocery stores during the Christmas season. From the bare minimum, discount cookies which don't taste like much besides sugar, to higher-end cookies with a good amount of almonds in them.
If you don't like to bake, your best option in Denmark is to purchase them from your local bakery. They will usually have a better balance between sugar and spices. You can also buy premade rolls of dough from the grocery store, which you cut out and bake.
When you buy brunkager they are always round. Many families who bake the cookies themselves, especially those with smaller children, will use metal shapes to cut out the dough in different shapes.
These range from Christmas themed stars, trees, Santas and reindeers to any shape imaginable. I've once seen a quite geeky lot of Star Wars shaped brunkager.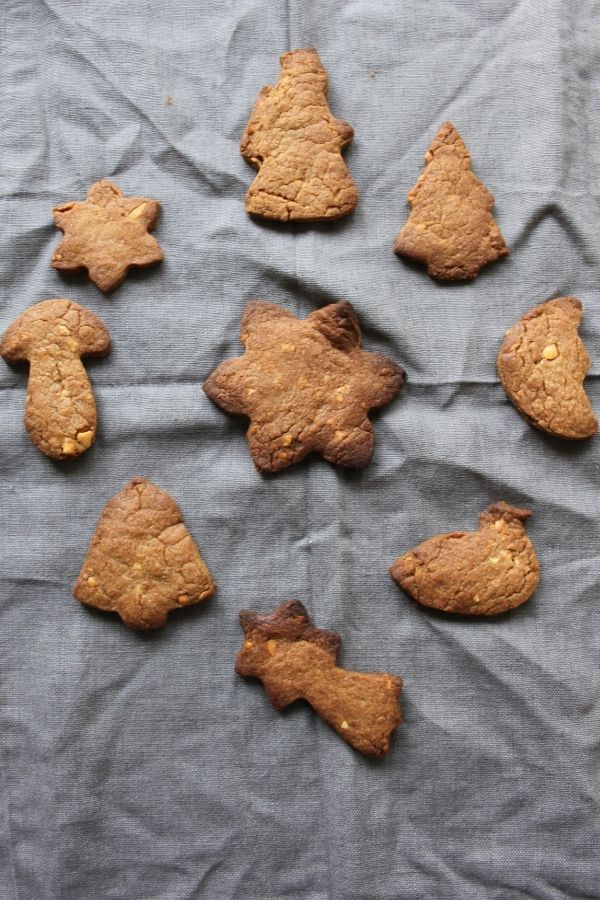 Local speciality stores will often have a dish with various cookies at the till for customers to enjoy in December and brunkager show up frequently in these.
Brunkager are best enjoyed with a cup of coffee, tea or Glögg. Unlike æbleskiver, brunkager is not something you enjoy outside, but more of an inside coffee break treat.
The History of Brunkager
Brunkager are essentially a peberkage, that is a pepper cake and as such, it's related to pebernødder and honningkager (honninghjerter), which are also Danish Christmas specialities.
The ingredients are more or less the same and the biggest difference between these cookies are their shapes.
Peberkager can be dated back to the 15th century. The term brunkager is a more recent invention from the 19th century.
The term coincides with the iron stove, which made better heat regulation possible. This ensured that you could make better use of the Potash and bake the cookies until they were light brown instead of dark brown and too hard to eat.
The 19th century was also when it became traditional to bake brunkager at Christmas time for more than the wealthiest of people.
Brunkager in Other Countries
In Sweden, the traditional name was maintained and brunkager is known there as pepparkakor and are often shaped like men and women.
Speciality Ingredients, Tools, Processes
To make propper Brunkager, you'll need to seek out a few speciality ingredients.
Potash
Potash, potassium bicarbonate or KHCO3 produces carbon dioxide either by reacting to an acid or by decomposition due to heat.
The carbon dioxide causes the cookies to rise and results in a light texture. Potash does, however, have a bitter aftertaste. This is desired as part of the traditional flavour profile in brunkager.
You can substitute baking soda for the potash 1:1. Be aware that baking soda is a more effective raising agent, more salty and lacks the desired bitter taste. It will leave you with a different cookie than the traditional brunkage but it should still taste good.
Cookie cutters
If you want fancy cookies or if you are baking with children, cookie cutters are a must-have. They bring a lot more fun to the process of making brunkager.
While I'm not normally big on playing with food, there's a lot of fun to be had with the various shapes you can make once they are baked as well.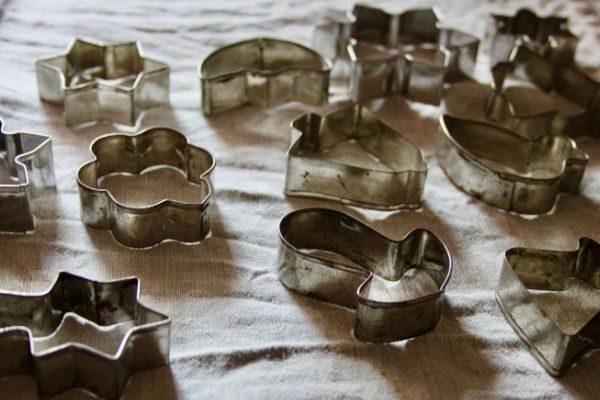 Worth The Wait
Like many other good things in life, these cookies are worth the wait. It's not that they take a long time to make but if you are hoping to whip some up for afternoon tea today, you'll be disappointed.
The optimal time to wait between making the dough and baking the cookies is 2-3 days.
If you go much longer the dough may become dry. If you bake them sooner, the dough hasn't reached its full potential tastewise.
Variations in Denmark
The recipe for brunkager in this article is rather traditional.
I've included measurements for two additional ingredients you might want to include, namely pickled oranges and pistachios.
Pickled oranges add tremendously to the flavour profile and I highly recommend trying it.
Pistachios add to the beauty of the cookie but don't affect the taste much.
Brunkager Ingredients
Butter – Real butter will give you the best possible taste. If you plan on using margarine or fake butter, then don't bother with the work of making these cookies.
All-purpose flour – you can use pastry flour as well but don't use any self-rising or bread flour.
Light syrup – This is for taste and colour, so don't use a dark syrup. In a pinch, you can use a simple syrup made of equal parts sugar and water, which is simmered in a pot to combine.
Brown sugar – This sugar adds flavour as well as colour. You can't replace it with white sugar.
Potash – Potassium bicarbonate. Potash acts as a leavening agent. Baking soda, sodium bicarbonate can be used 1:1 in a pinch.
Coldwater – Use the best water you can. In Denmark, we have great tap water but you might want to use purified water if you don't.
Cinnamon – Use the real stuff. Look for Cinnamomum verum or Ceylon cinnamon. Avoid Cassia cinnamon. As always, when you are working with seasonings, freshly ground is best.
Cloves – If you can get it, opt for whole cloves and crush them yourself to get the best-tasting result. Ground cloves will work as well but have a slightly more dull flavour.
Ground ginger – Again, if you can ground your own dried ginger you will get the deepest flavour but preground works as well.
Almonds – This is a key ingredient and shouldn't be left out. You can use splits or whole almonds you chop up yourself. You can learn to slip almonds by reading my risalamande recipe. Make sure they aren't salted or otherwise seasoned.
Pickled orange – This is an optional ingredient which adds complexity and sweetness to the cookie. Most store-bought brunkager do not contain pickled orange.
Pistachios – This is another optional ingredient which is more for show than for taste. It adds a beautiful green colour to the cookie.
How to Make Brunkager
Combine the butter, light syrup and brown sugar in a pot and melt it down.
Cut the almonds into thin slices, they should be discernible in the dough but not big enough to require a lot of chewing.
In a large bowl, mix the cinnamon, cloves and ground ginger with the flour and add the almonds. Add the pickled orange and the pistachios if you want to include them.
In a small bowl, mix the potash and the water. Add the mixture to the flour in the large bowl.
Add the melted butter, light syrup and brown sugar to the large bowl with the flour mixture and combine thoroughly.
Pour the dough into a container and let it rest in the refrigerator for a couple of days.
If you are short on time you can make the cookies the next day but leave it to rest for two or three days lets the flavours combine better and deepens the taste.
Take the dough out and let it get warm enough to work with. Cut it into your desired shapes. If you used a larger container you should divide the dough into strips first by cutting it with a sharp knife.
If you are using cookie cutters you'll want to roll out the dough with a bit of flour to just under ¼ inch thick. Then use the cutters to cut out your desired shapes. You can reroll the dough until you've used it all.
Each cookie should be roughly 1-2 bites for an adult, 3 at the most.
Place the cookies on a baking sheet and bake at 356F (180C) for 9-12 min until lightly brown. Keep an eye on the cookies so they don't get too dark. Burned brunkager are disgusting.
Serve the cookies once they have cooled for the best texture experience. You can store them for several weeks in an airtight container but chances are they won't last that long because they are so delicious.
Yield: Makes Roughly 125 Small Cookies
Danish Brunkager (Brown Cookies)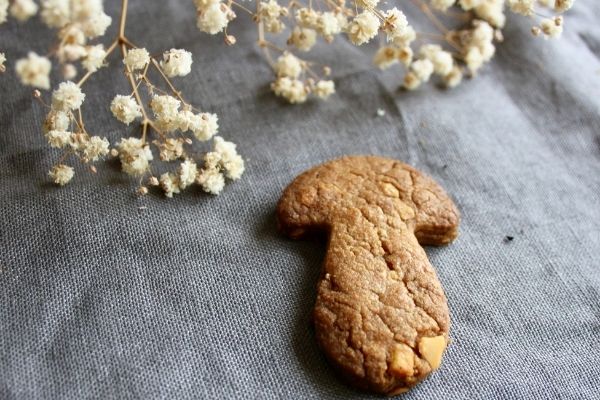 Ingredients
8.8 oz (250 g) butter
4.4 oz (125 g) light syrup
8.8 oz (250 g) brown sugar
2 tsp potash
1 tbsp cold water
17.6 oz (500 g) all-purpose flour
3 tsp cinnamon
1 tsp cloves
1 tsp ground ginger
4.4 oz (125 g) almonds
Optional:
2.1 oz (60 g) pickled oranges
0.8 oz (25 g) pistachios (for the look)
Instructions
Melt the butter, syrup and brown sugar in a pot.
Mix the flour with the spices in a large bowl and add the nuts and pickled oranges if desired.
Mix the potash with the water and add the mixture to the flour.
Mix the liquid ingredients with the rest until it's sufficiently combined.
Place the dough in an airtight container in the fridge for 2-3 days.
Take out the dough and let it warm up enough so you can work it. Cut it into thin slices or roll it out and cut out shapes, making each cookie the size of 2-3 bites.
Place the cookies on a baking sheet and bake at 350F (180C) for 9-12 min until lightly brown.
Serve once they have cooled and store in an airtight container to keep them crisp.
Danish Christmas Recipes
Looking for more Traditional Danish Holiday Recipes?
Further Reading on Brunkager
http://madamsif.dk/2015/12/20/dag-15-julesmaakagens-historie-del-1-brunkagen/
https://natmus.dk/historisk-viden/temaer/fester-og-traditioner/jul/opskrifter-paa-julemad/brune-kager/
https://www.oetker.dk/dk-da/smaakagens-historie/smaakagens-historie