Havregrynskugler or oat balls are a classic Danish Christmas treat. It's a treat that can be varied in so many ways even with some delicious adult (read: alcoholic) options.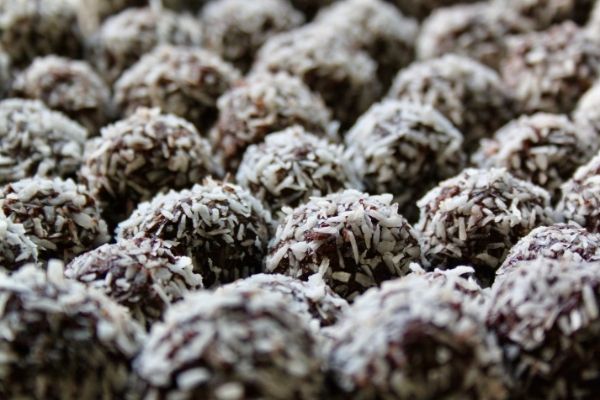 How and When Danes Eat Havregrynskugler
Havregrynskugler can be bought in stores year-round and in some families, they are eaten year-round. Others like to reserve them for the Christmas season. During Christmas, you can buy delicious versions at bakeries.
These treats are served as coffee snacks or dessert. But let's be honest, they store best in the fridge and that means some sneak out into the kitchen and grab one whenever they can.
That, or they magically go missing in the box.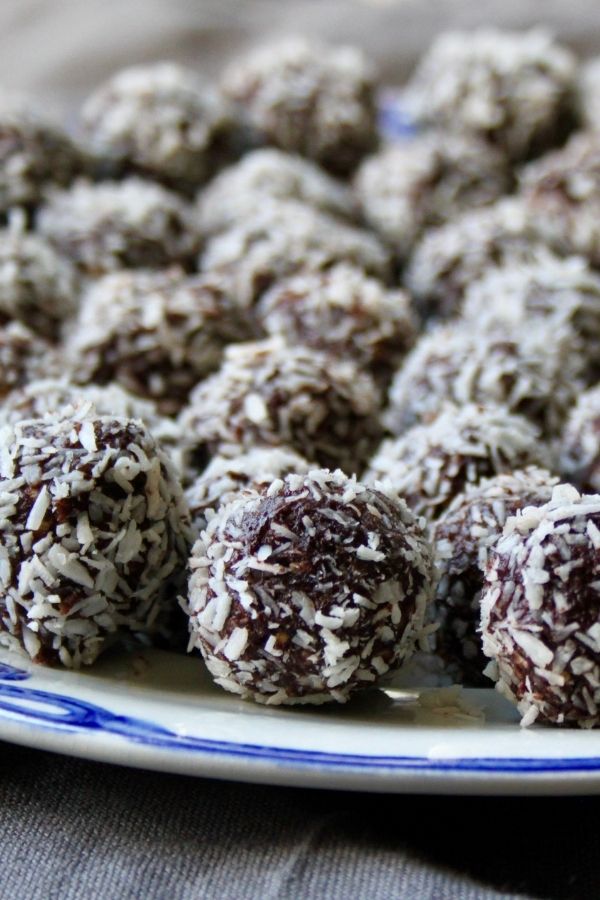 The History of Havregrynskugler
It was during the second world war, that havregrynskugler were invented in Denmark. A Danish paper called Nationaltidende published a book with the recipe in 1943 called Opfindsomhed I en Krisetid (Ingenuity in a Time of Crisis).
Rationing was in full effect and there was hardly any wheat flour to come by. So finely rolled oats were featured in many recipes, including vaniljekranse. I wouldn't recommend it.
One of the great things, however, that came out of the rationing times, besides risalamande, were havregrynskugler.
Then they were made with substitute coffee and substitute cocoa. They were originally presented as a treat at birthday parties for children. Afterwards, they were made with the real deal which improved the flavour.
Then havregrynskugler became a Christmas stable.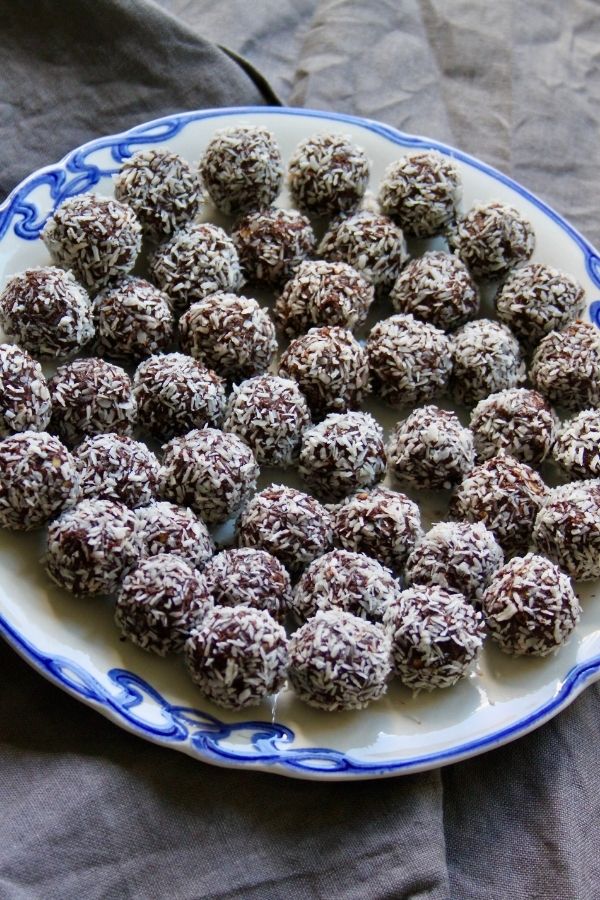 Variations in Denmark
There are almost endless variations of havregrynskugler in Denmark. Recipes are handed down and sometimes shared willingly amongst friends. People find one element in a recipe they like and incorporate it into their family recipe.
I've chosen to share a fairly basic, yet tasty recipe with you. This will enable you to experiment with the various ingredients listed below.
Rum or rum essence – Many Danes add rum or rum essence to their havregrynskugler. 1 tbsp should be good for the recipe below. Other spirits can be used as well such as kalua or Baileys.
Almond essence – I'm not familiar with anyone putting real almonds in havregrynskugler but some add almond essence.
Coconut – Some like to add coconut flour to the havregrynskugler and roll them in coconut as well, other stick to just rolling the havregrynskugler in coconut flour.
Vanilla – If you want to add vanilla to the recipe, use the best quality vanilla bean you can.
Peppermint – Some like to add a few drops of food-grade peppermint oil to the havregrynskugler. This makes them more refreshing but I'm personally not a big fan of the taste.
Orange juice – Some substitute the liquid in havregrynskugler with orange juice. This gives a very different taste profile than if you use coffee. I personally prefer using coffee.
Sugar – There are a couple of different options for sugar. I grew up using powdered sugar. Cane sugar is really delicious as well though.
Coating – A coating is not necessary, but adds to the look and taste. Only your imagination and tastebuds set the limit. Some possible coatings are:
Coconut flour
Powdered sugar
Cacao
Oats
Sprinkles
Freeze-dried berries
Gold dust if you are feeling decadent
Havregrynskugler Ingredients
Finely rolled oats – Don't use steel-cut oats for this recipe. They are too gritty. Organic finely rolled oats will give you the best result.
Butter – Fresh organic butter will give your havregrynskugler a delicious round taste and texture. Room temperature butter means less work for you but you can make havregrynskugler with cold butter in a pinch. Don't bother making these with margarine.
Sugar – You have a choice between powdered or cane sugar. Experiment to find your favourite.
Cacao – As one of the major flavours in this recipe, your result will rely on the quality you use. I have a preference for Dutch cacao. Make sure you use cacao and not cocoa.
Coffee – Coffee is my preferred liquid in this recipe. Use a fairly strong brew. As mentioned, you can use orange juice instead if you like it. If you accidentally add too much liquid, you can balance it out again by adding more oats.
How to Make Havregrynskugler
This is a wonderful recipe to make with children. Many school-aged children can make these on their own.
Use room temperature butter to make it easier to combine the ingredients. You can use cold butter, it just takes more work. Break out a sweat or a kitchen machine to do the job. If you opt for cold butter and muscle power, cut the butter into small pieces to make it easier to work with. Your warm hands will quickly make the butter soft.
Combine the butter, oats, powdered sugar in a bowl. Sift in the cacao to avoid lumps. Mix it all thoroughly.
Add the coffee slowly while mixing again till fully combined. If you add too much liquid you can add some more oats to balance it.
Roll balls of your desired size. If you want them to have a coating, then place the coating on a deep plate or in a small bowl and roll the balls one by one in the coating. For this recipe, I chose a traditional coconut coating.
Place the balls in an airtight container. You can place a piece of parchment paper in between each layer of balls. Place them in the fridge before serving.
Havregrynskugler are delicious when they are cold. Eat them as they are.
Store in the fridge for up to a week. Don't worry, they'll be long gone by then.
Yield: Makes about 50 Bite Sized Treats
Danish Havregrynskugler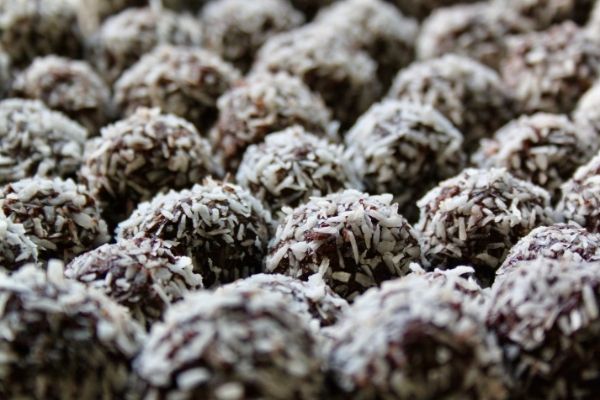 Ingredients
8.8 oz (250 g) finely rolled oats
5.3 oz (150 g) room temperature butter
5.3 oz (150 g) powdered sugar
1.4 oz (40 g) cacao
0.4 cups (1 dl) coffee
coconut four or flakes for coating
Instructions
If you are not using room temperature butter, then cut up the butter into small pieces.
Combine the butter, oats and powdered sugar in a mixing bowl.
Sift in the cacao to avoid lumps.
Mix thoroughly.
Add the coffee slowly while mixing until fully combined.
Roll balls of your desired size.
If you want a coating, then place your desired coating in a deep plate and roll the balls in the coating.
Place the balls in an airtight container. Use a piece of parchment paper to separate the layers of balls. Store in the fridge, they keep for up to a week.
Eat as is. Havregrynskugler are delicious served cold.
Further Reading on Danish Havregrynskugler
https://www.valdemarsro.dk/havregrynskugler/
https://www.mainlifestyle.dk/mad/opskrifter/desserter-kager/mette-blomsterbergs-opskrift-paa-verdens-bedste-havregrynskugler
https://www.louiogbearnaisen.dk/2013/12/havregrynskugler-med-hele-molevitten.html