Danish butter cookies (Vaniljekranse) are a traditional Danish Christmas cookie that's easy to make at home. They get their extra rich buttery texture from a bit of almond flour, which also adds amazing flavor to an otherwise simple butter cookie.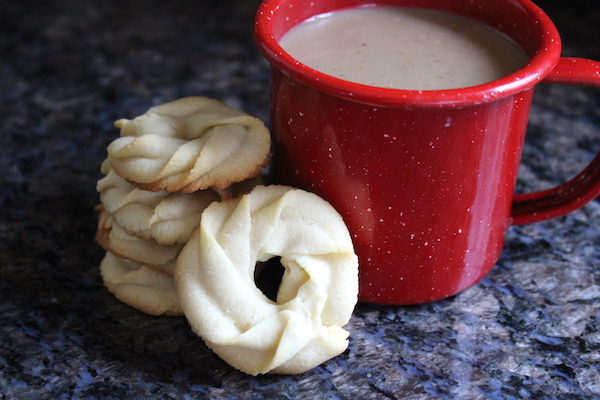 Growing up we always shared the holidays with my grandmother (Omma) and she'd spend days in the kitchen preparing all her favorite traditional (and not so traditional) recipes. Apfelstrudel and mohnstrudel were my father's favorites, but as a child, I couldn't get enough of the holiday danish butter cookies.
The thing is, my grandmother never made butter cookies. Everything else was 100% handmade in her kitchen, but the Danish butter cookies always came in a fancy Christmas tin for the table. She had enough to bake, and traditional multi-layered apfelstrudel can take half the day.
Now I find myself baking with my own children, my grandmother is long gone and my mother never had any interest in cooking. It skips a generation she says, and perhaps that's true. One generation rebels against their parents and the other goes back the other way, seeking lost roots.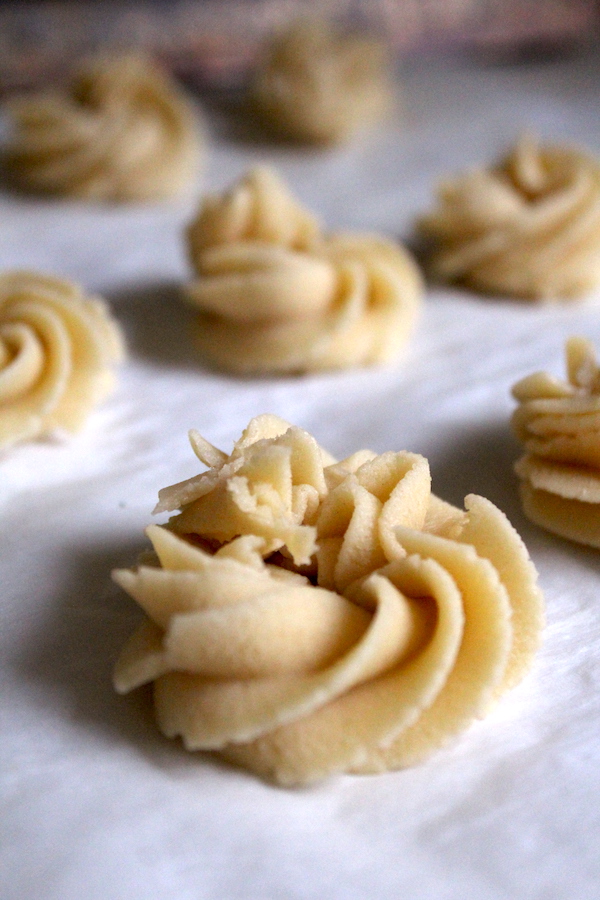 With two toddlers in the house, it pays to keep things simple. These danish butter cookies can be made with the well-meaning help of a 3-year-old and still come out delicious.
These cookies are piped out of a piping bag using a cake decorating tip. Choose the largest tip you have available, ideally with very small flutes. My tip had deep flutes, and the resulting cookies had deep lines that fold over like lace. Beautiful, but not quite the standard butter cookie look.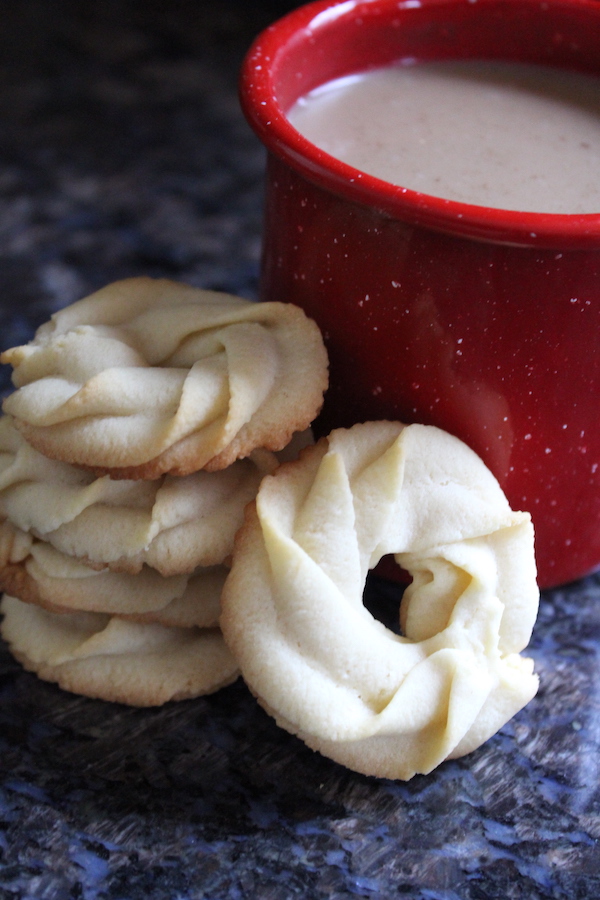 Danish Butter Cookies (Vaniljekranse)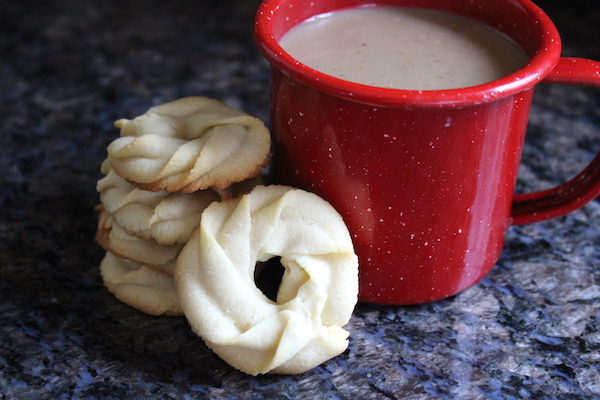 These simple danish butter cookies are easy to make with children and brighten up everyone's holiday.
Ingredients
1 cup butter softened
1/2 cup sugar
1 tsp vanilla
1/2 cup almond flour
1 egg room temperature
1 3/4 cups flour
Instructions
Beat the butter and sugar in together with a mixer until light and fluffy, about 3-4 minutes. The mixture should be very smooth and light in color.
Add the vanilla and almond flour and mix to incorporate.
Add the egg, making sure it's at room temperature. If you've forgotten to take it out of the fridge, place it in a cup of tepid water for about 5 minutes, a cold egg will cause the butter to seize up and the mixture will not form correctly. Beat on low until the mixture is smooth, about 30 seconds.
Add the flour and mix until just combined. Do not overwork the dough.
Transfer the mixture to a piping bag and use a star pastry decorating tip to make circular cookies, about 2 inches in diameter.
Bake at 400 degrees for 8 to 10 minutes, until the cookies brown on the bottom. Remove the cookies from the oven and transfer them to a cooling rack.
More Christmas Cookies
Looking for more tasty holiday treats?