These Danish Sugar Pretzels (also called Sukkerkringler in their native country of Denmark) are made from a simple dough that is formed into the shape of a pretzel before being dipped into crunchy pearl sugar and then baked in the oven.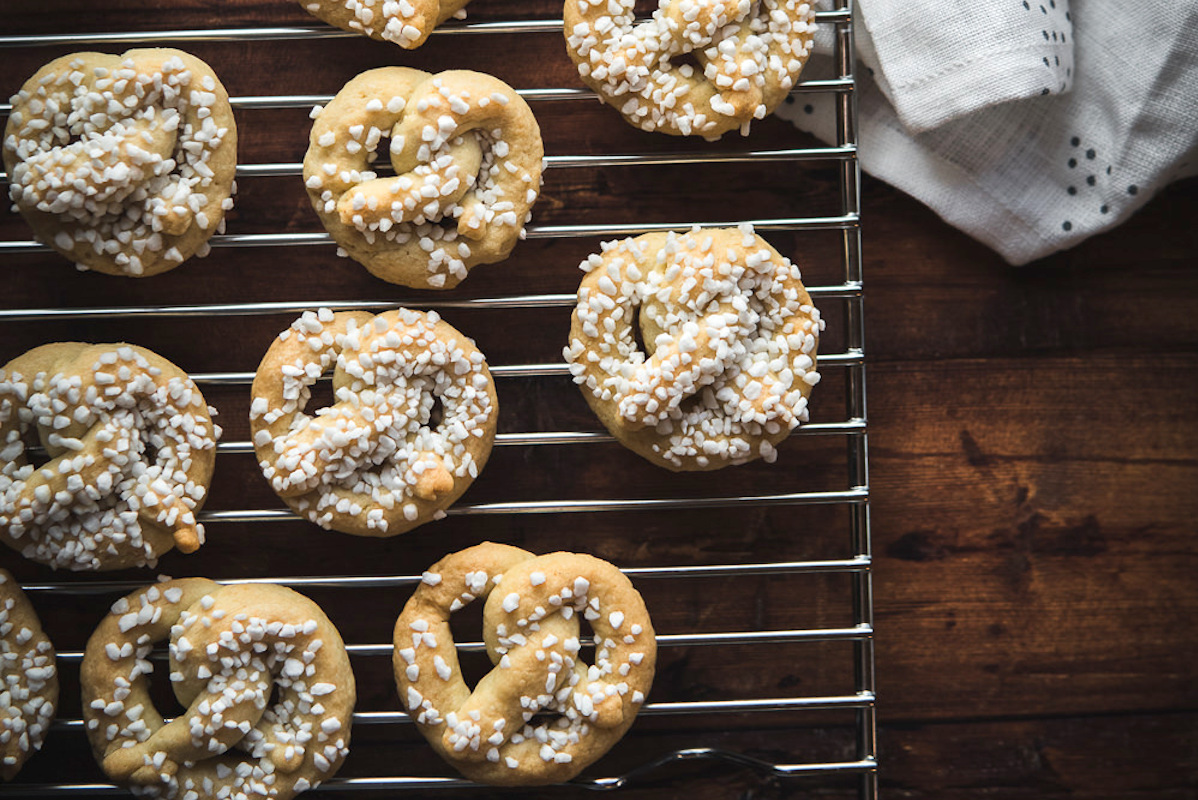 If, like me, you're someone who can't get enough of those golden Danish butter cookies that come packed into an iconic blue tin and sold in grocery stores everywhere then you'll love this recipe for Danish sugar pretzels (also known as sukkerkringler in Denmark).
The dough itself couldn't be easier to make, it's even food processor-friendly, and requires only a handful of (mostly) ordinary ingredients. The real job, if I can call it a job, is shaping the dough into small pretzels. I consider the task somewhat meditative, it's easy to get into a flow state while rolling the dough into thin strips, crossing over the ends, and then generously coating each cookie in a crunchy sugar topping.
Of course, if you have helpers—a spouse, a child, a friend—then you can enlist their pretzel-making skills to speed the process up. Either way, you'll be so satisfied with the results that your cookie-shaping efforts will immediately fade into the background as soon as you bite into one of these perfectly sweet and beautiful little cookies.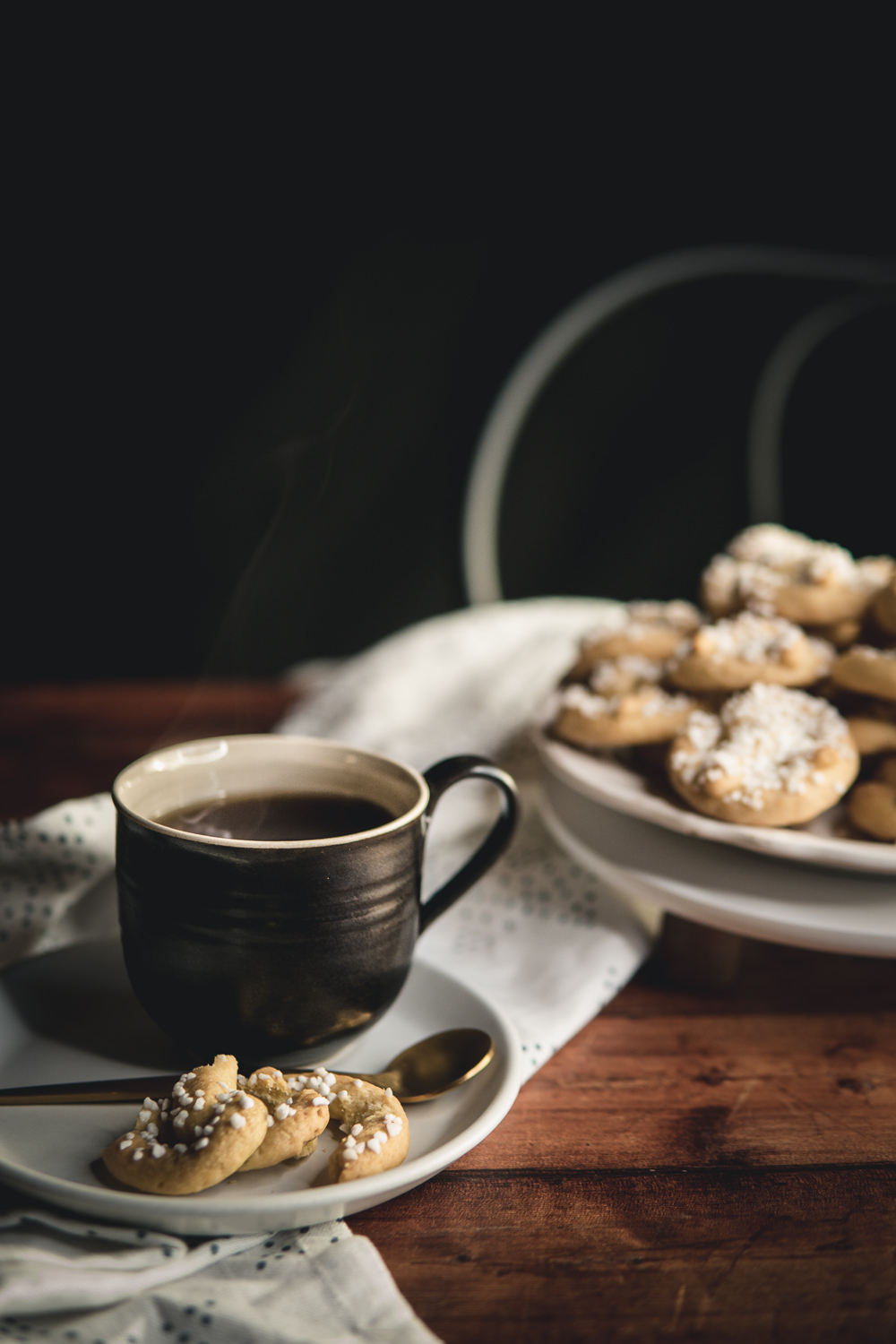 Ingredients for Sukkerkringler
To make sukkerkringler you'll only need a handful of ingredients, and you probably most of them in the pantry already.
All-purpose flour
Butter, unsalted and slightly cooler than room temperature
Baking powder
One egg at room temperature
Heavy cream (containing 36-40% fat)
*Sukkerkringler is traditionally made with pearl sugar, also called nib sugar, which is a made by crushing blocks of white sugar into small coarse balls of solid sugar. Pearl sugar is much more widely used in Scandinavian baking recipes than it is in American baked goods and is valued because of its ability to withstand high temperatures without melting. In Denmark, pearl sugar is called perlesukker.
When I was testing this recipe, I found that the pearl sugar didn't stick to the cookie dough as successfully as I had hoped so I opted to use turbinado sugar instead with better results. I have included instructions for both types of sugar in the recipe below.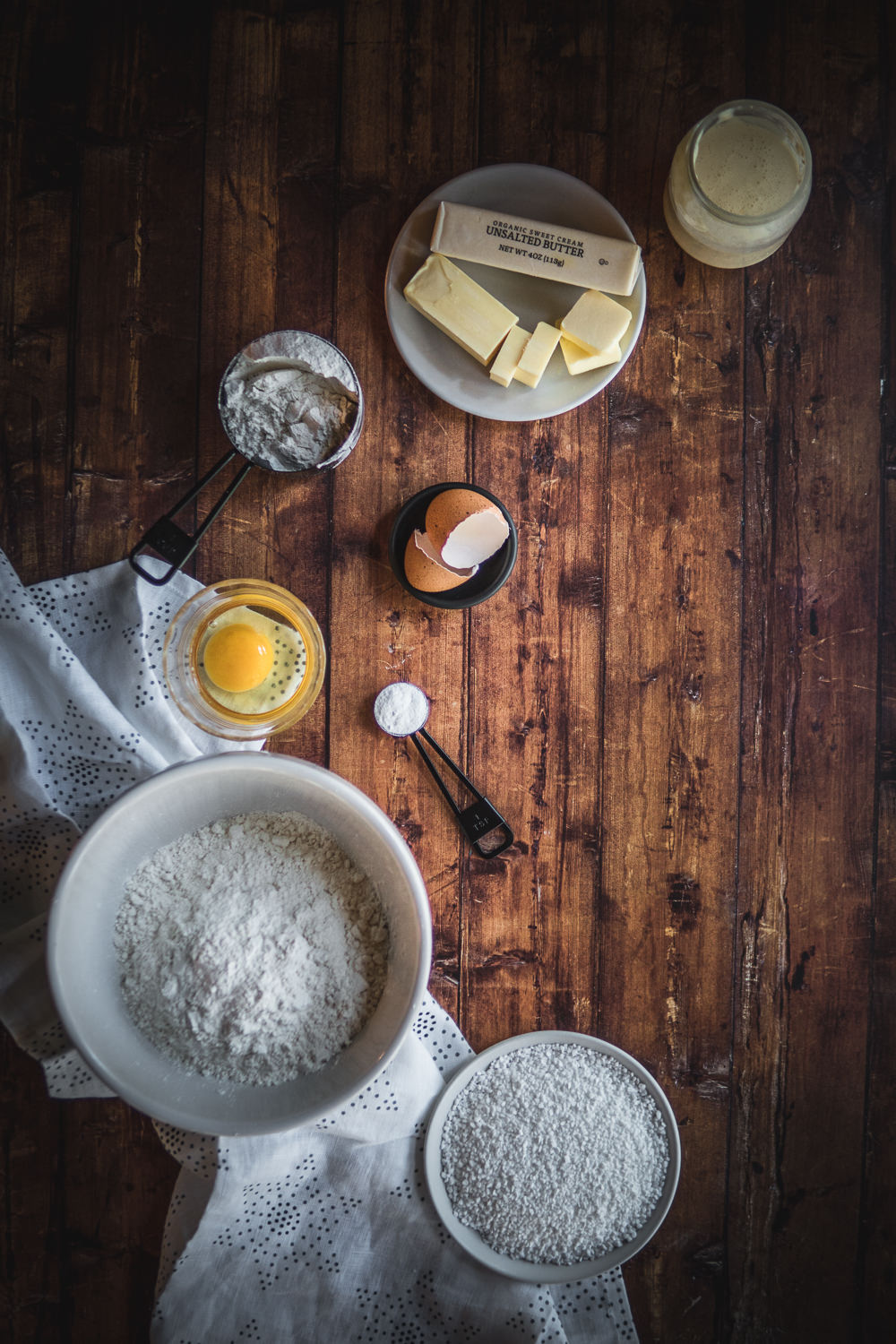 How to Make Sukkerkringler
Begin by preheating the oven to 350°F (or 175°C). Prepare two baking sheets by lining them with parchment paper or by lightly greasing them with butter or shortening. To get stubborn parchment paper to lie flat, crumple it up, uncrumple it, and smooth it flat on the baking sheet.
In terms of any other equipment required to make this sukkerkringler recipe, you'll need a hand mixer or food processor, a large mixing bowl if you plan on using a hand mixer (otherwise the ingredients for the cookies can be combined in the food processor), and a small bowl for whichever type of sugar you plan on using.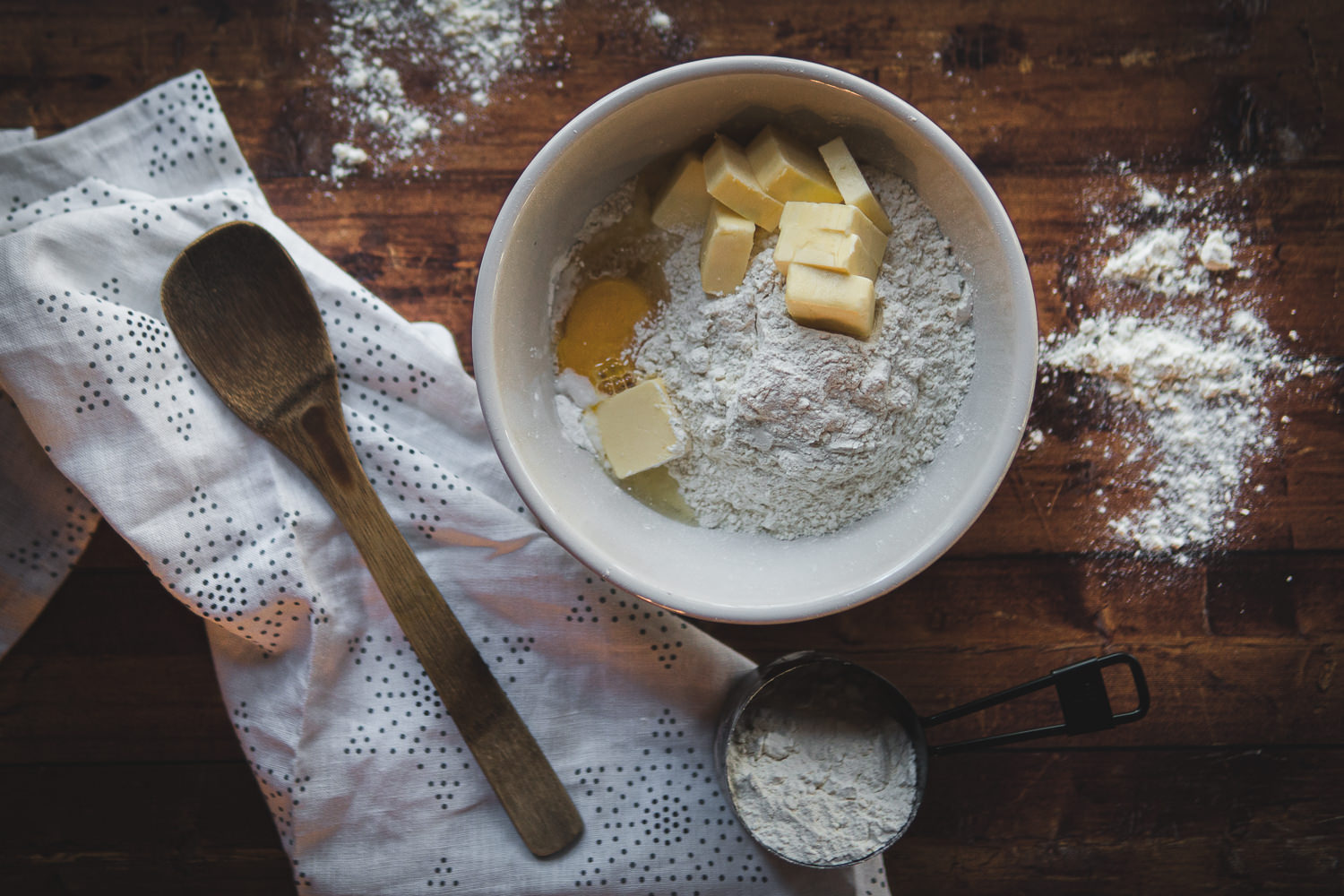 Add 3 cups of all-purpose flour, 1 cup of butter, cut into a medium-sized dice (see note above for temperature), 1 teaspoon baking powder, 1 egg, and 1/2 cup of heavy cream to a large mixing bowl or the bowl of a food processor.
Using a hand mixer (or food processor), mix the ingredients together until a cohesive dough forms (it should come together fairly easily). Cover with a clean kitchen towel or plastic wrap and chill in the fridge for 30 minutes.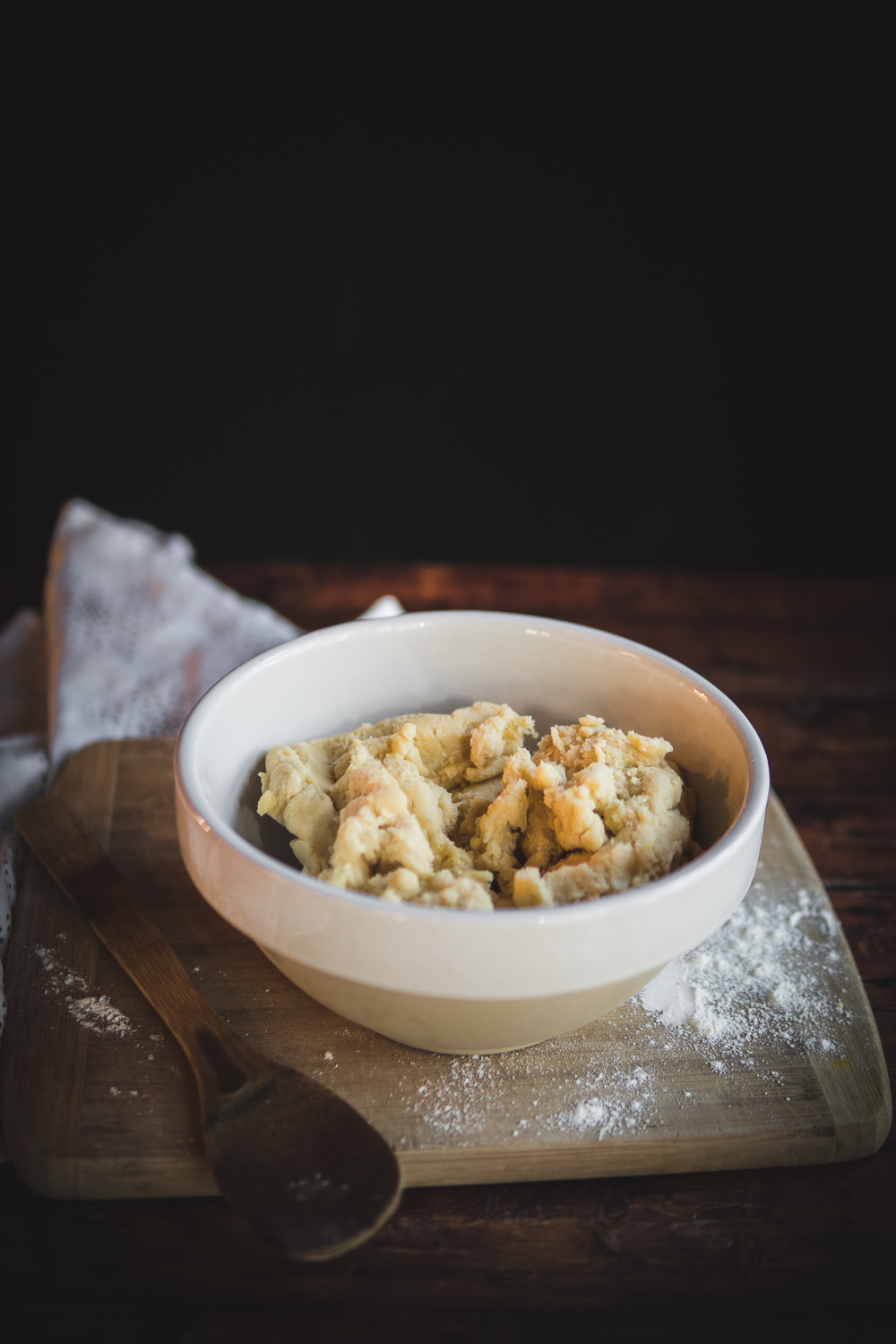 While the dough is chilling, get your workspace ready for the pretzel-making component of the recipe. I don't find this dough to be overly sticky, so extra flour isn't needed to dust whatever surface you're working off of.
As you can see in the photos, we like to shape sukkerkringler on our solid wood butcher block, but any clean and spacious area will do the trick.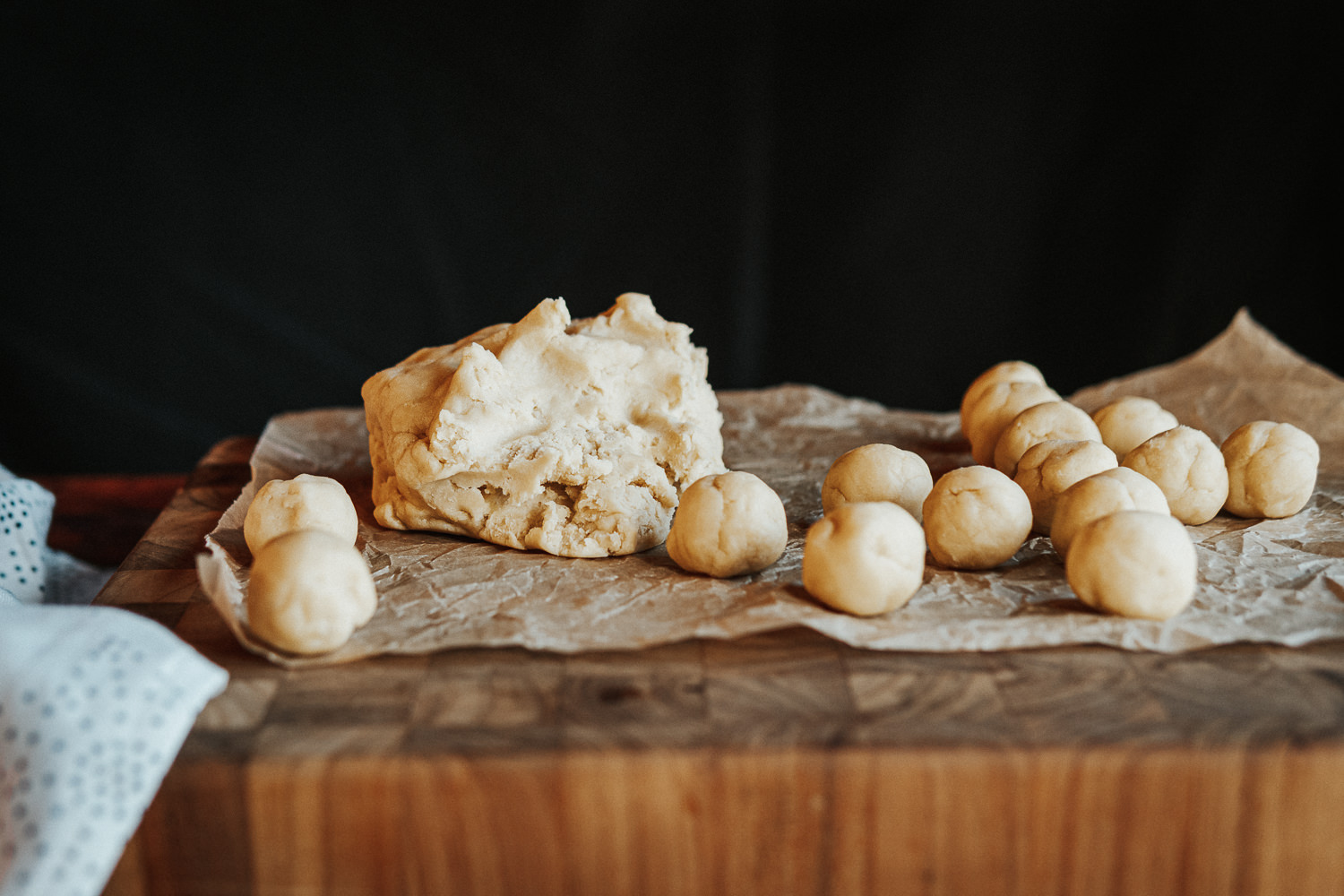 The easiest way to ensure uniform pretzels us to divide the dough into small balls before rolling them into thin strips.
The size doesn't have to be exact, but I find if I aim for balls that are the size of a walnut I'll end up with four dozen cookie pretzels when all is said and done.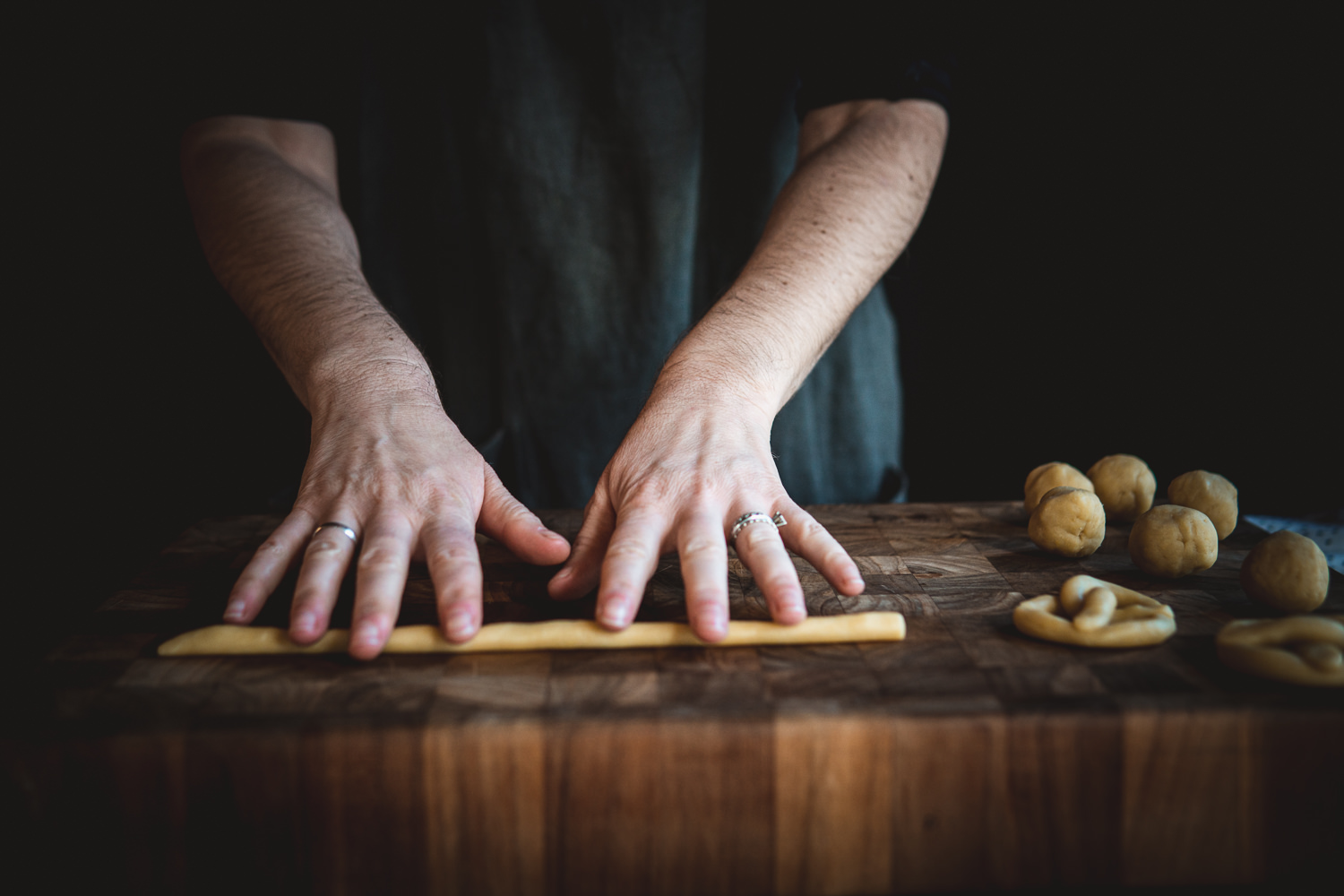 Next, it's time to roll out the dough balls into long strips. In order to make the pretzel-shaping part easier, I've found that 10 inches is an ideal length for bending and sealing the strips.
Any shorter than 10 inches, and the dough won't stick to itself and the risk of the dough unsealing as it bakes becomes much more likely to occur (and of course, if that does happen, the cookies still taste delicious, pretzel shape or otherwise).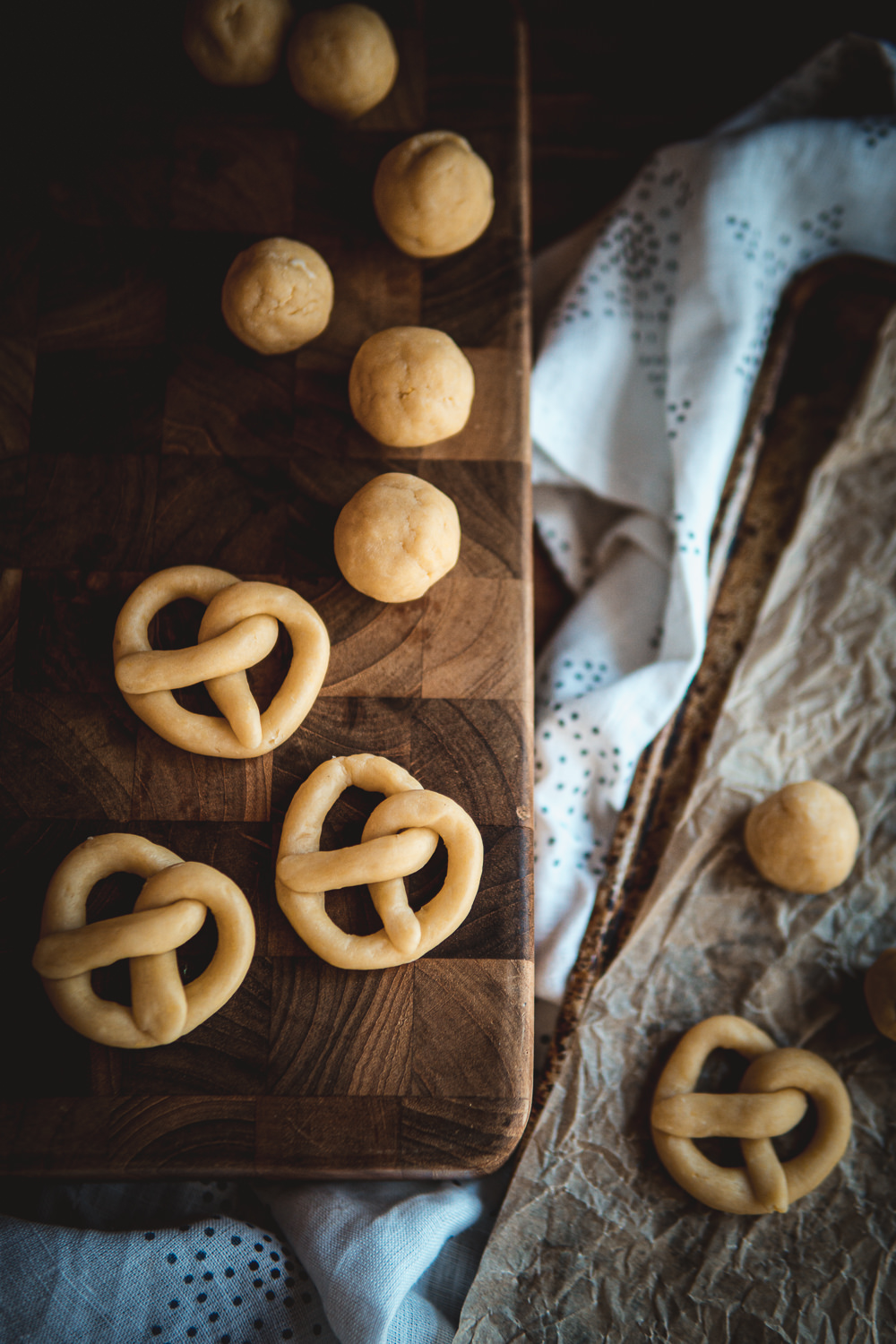 Carefully shape each pretzel until all of the dough has been used up. I find that this is one of those tasks I can really get into, after shaping a couple of cookies the job becomes mindless and I can take my time.
This is also a fun part of the recipe to work on with someone else or with your kids (it also makes short work of this section of the recipe).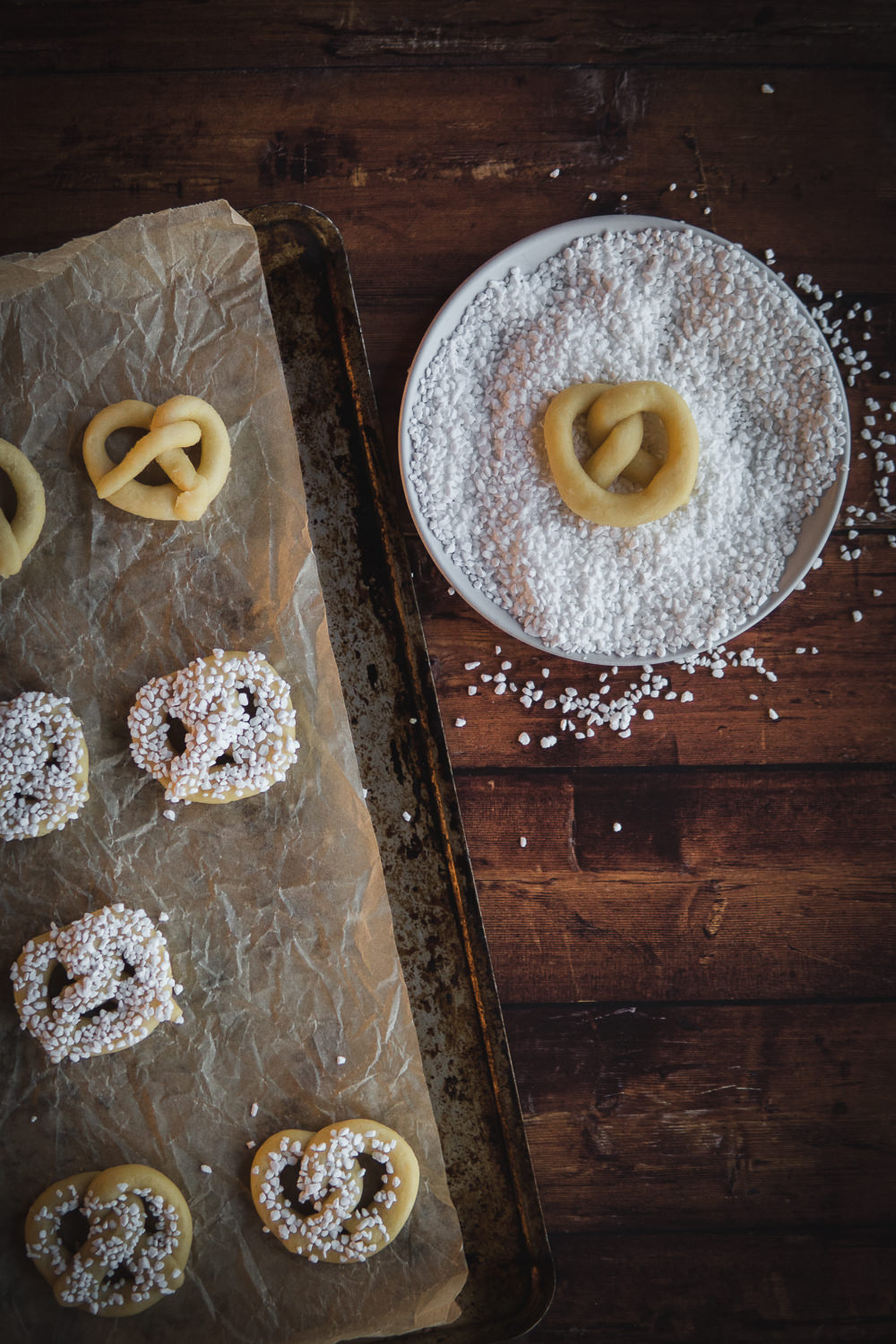 Press the cookie pretzels into the pearl sugar, wiggling them around a bit to maximize the stickiness and surface area exposed to the sugar.
If you find the pearl sugar isn't sticking, you can always press more into the top of the cookie once it's on the baking sheet.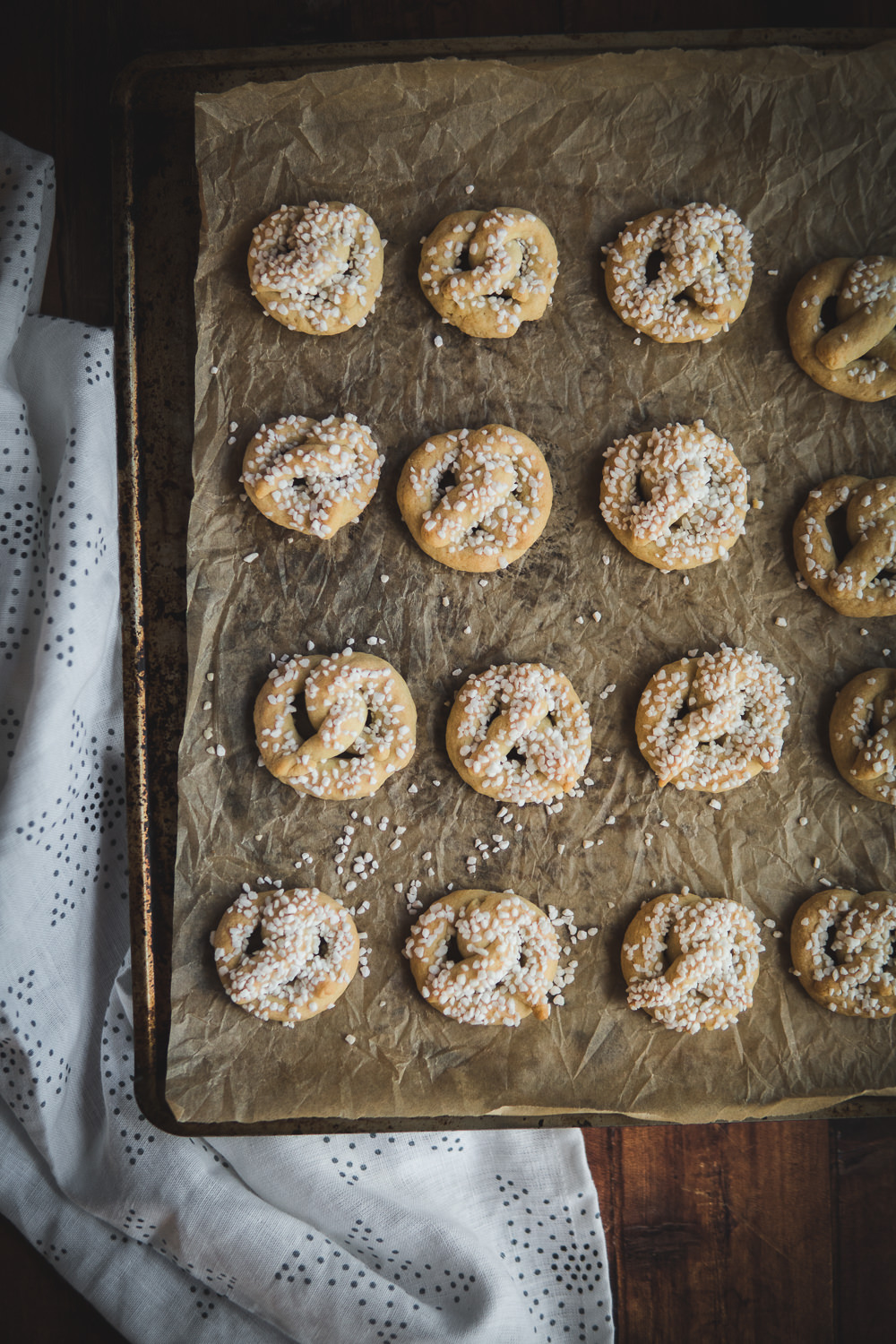 Carefully arrange the cookies on a prepared baking sheet with the sugar-coated side facing up, leaving about an inch of space between each cookie.
Bake the cookies for 15 to 17 minutes or until golden brown, the pearl sugar will still be intact despite being in a hot oven.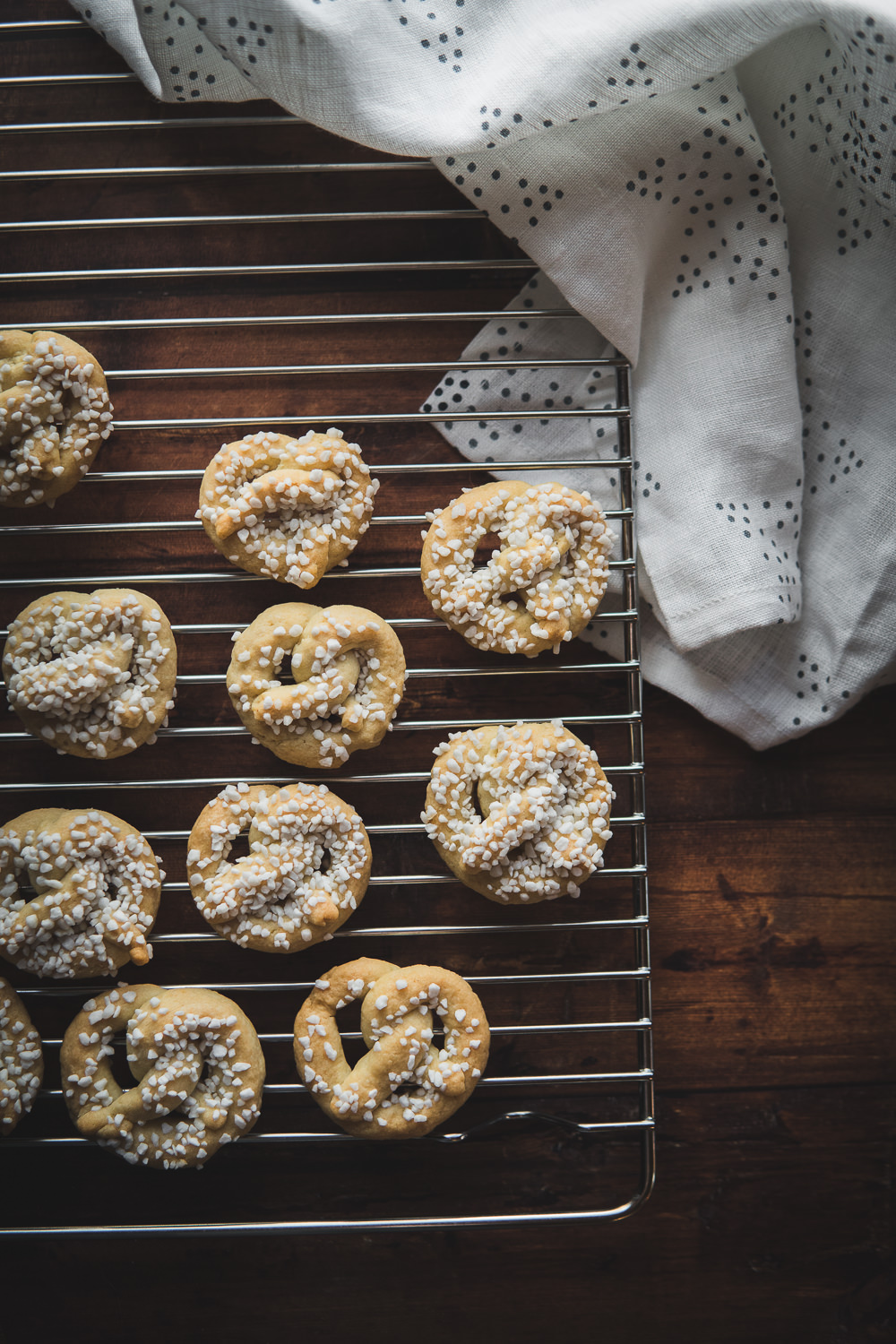 Rotate the baking sheets until all of the sukkerkringler has finished baking. Remember, it's always better to give the cookies a little bit of extra room versus crowding the baking sheet—don't rush the process for best results.
Give the cookies about 10 minutes to cool and harden on the baking sheet before transferring them to a wire cooling rack.
Variation with Turbinado
As I mentioned above, I find pearl sugar to be a somewhat finicky ingredient in that it doesn't stick to the raw cookie dough with the greatest of ease.
From a purely aesthetic point of view, it also looks like rock salt—when I gifted these cookies to neighbors, they were confused by the idea of salty cookies!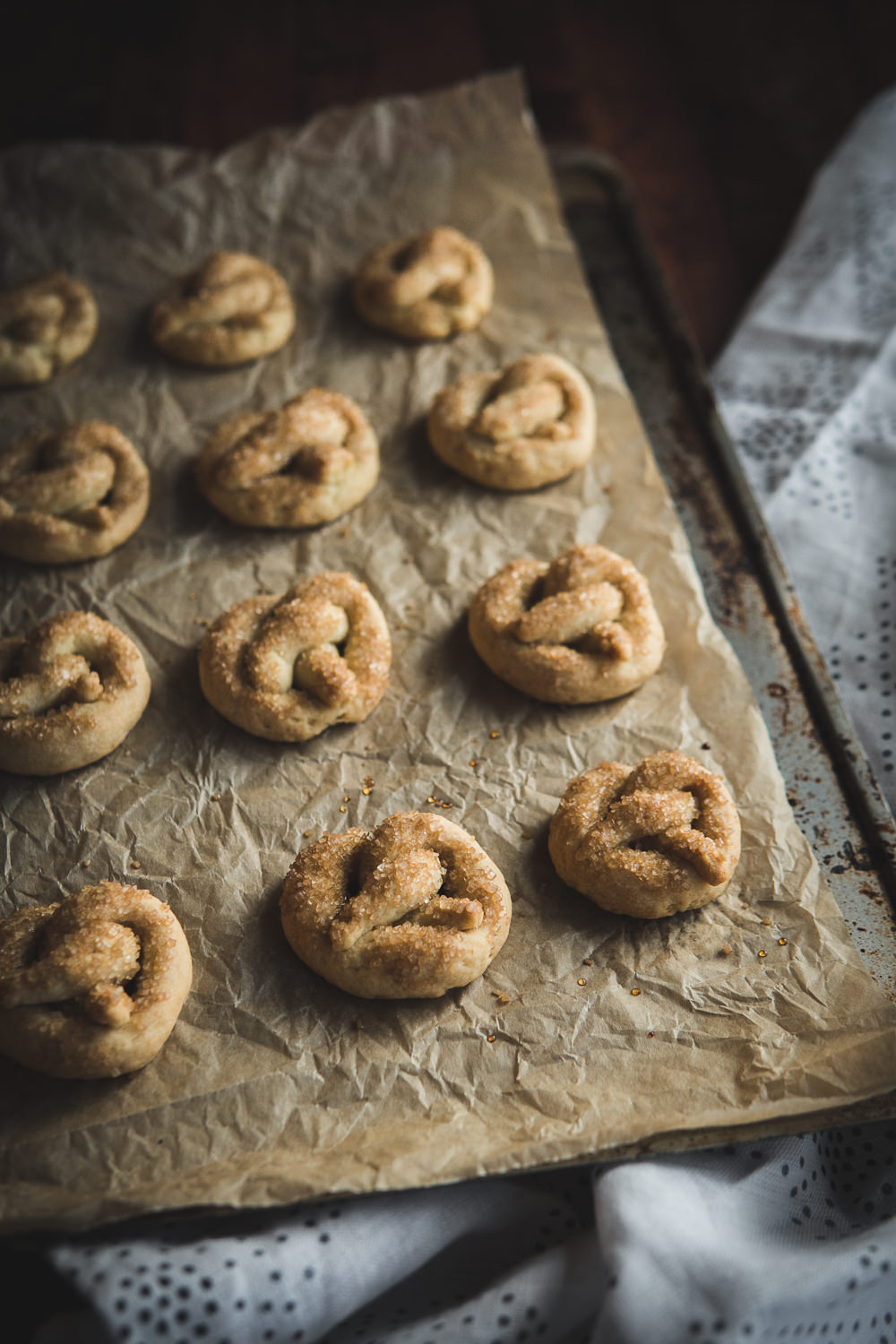 After some experimentation, I discovered that turbinado sugar can be used with similar results without sacrificing taste or texture.
It still gives the cookies their signature sweetness and satisfying crunch, but because the sugar is finer and has a rougher texture the struggle to get it to stick to the raw dough is left out entirely.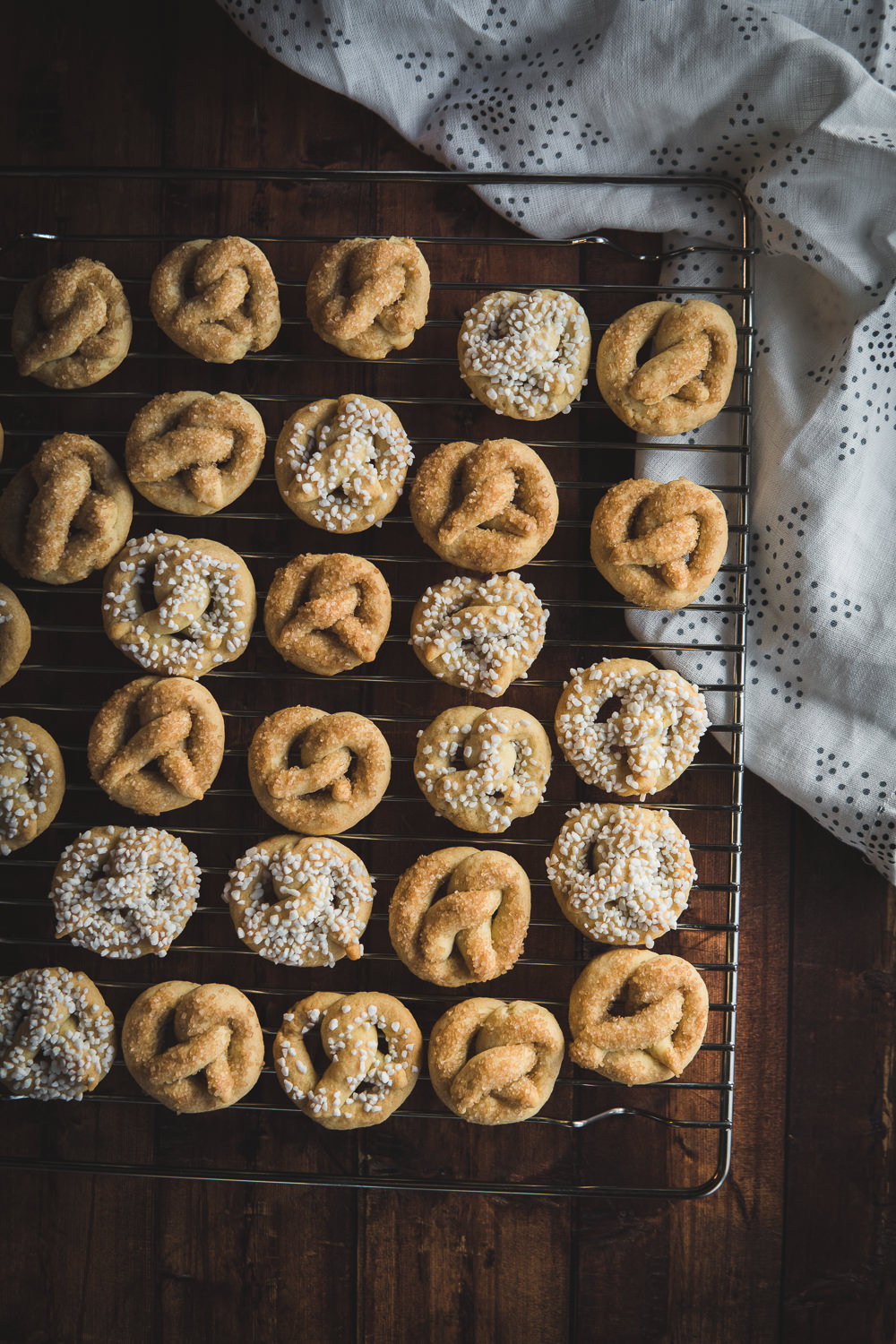 Use turbinado sugar in exactly the same way as the pearl sugar, dipping it into the sugar once the raw dough has been formed into a pretzel shape.
The baking instructions are also the same, just follow the recipe as written above (or in the recipe card below).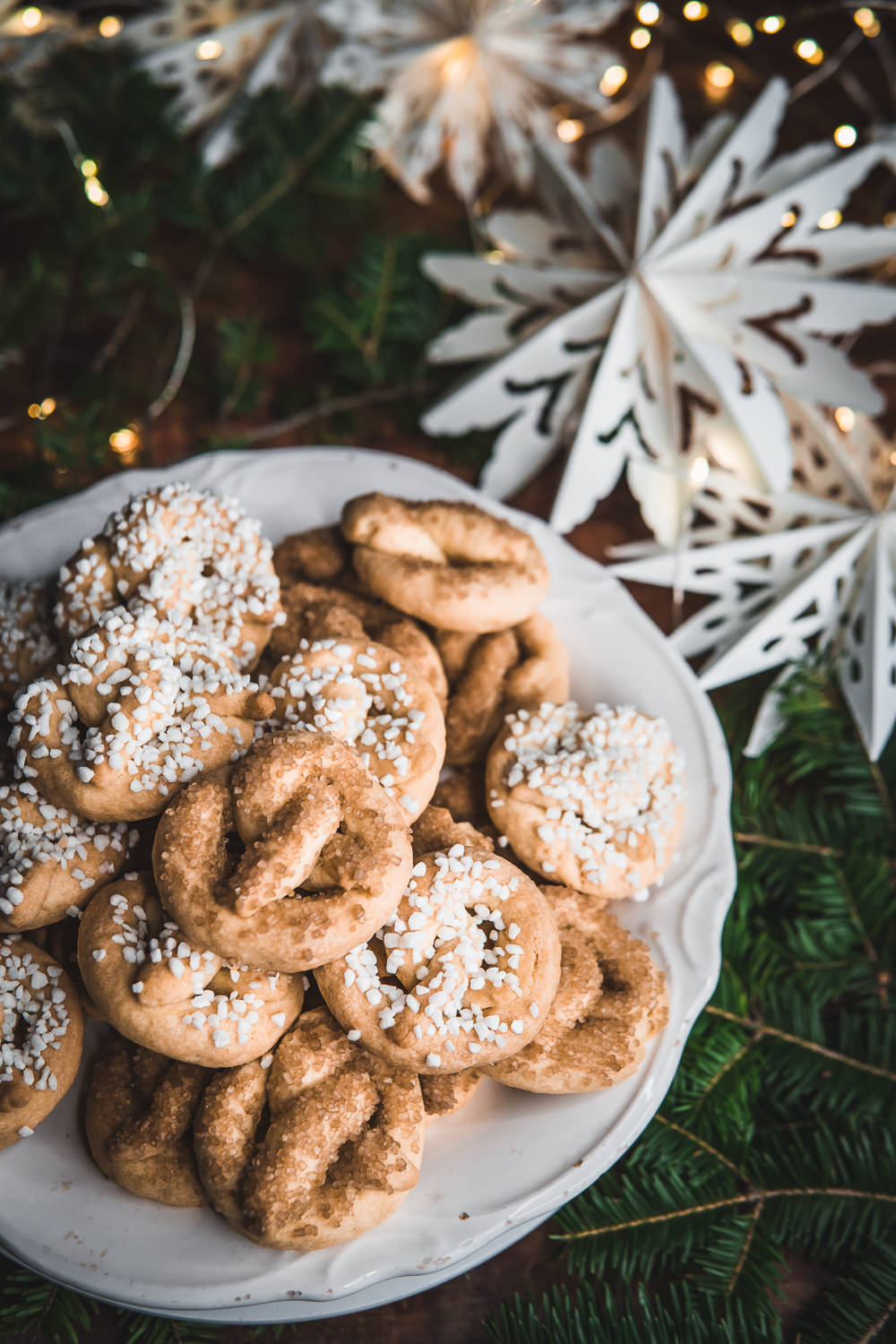 Whether you choose to decorate your homemade sukkerkringler with pearl sugar or turbinado sugar, these cookies are at their best when eaten within three days of being baked. To keep them fresh, I store them in a covered tin at room temperature.
These cookies can also be frozen for several months. If this is what I plan on doing, I wrap the cookies in parchment paper and then store them in a tin with a lid or other freezer-safe container. When I'm ready to eat them, I simply let them come to room temperature (and if I'm feeling up to it, I'll warm them up in a low oven for a couple of minutes before serving).
Danish Christmas Cookies
We're huge fans of Danish Christmas cookies in our household (you can find some of my favorite recipes here), or check out these family-friendly individual recipes:
Yield: 4 dozen
Danish Sugar Pretzels (Sukkerkringler)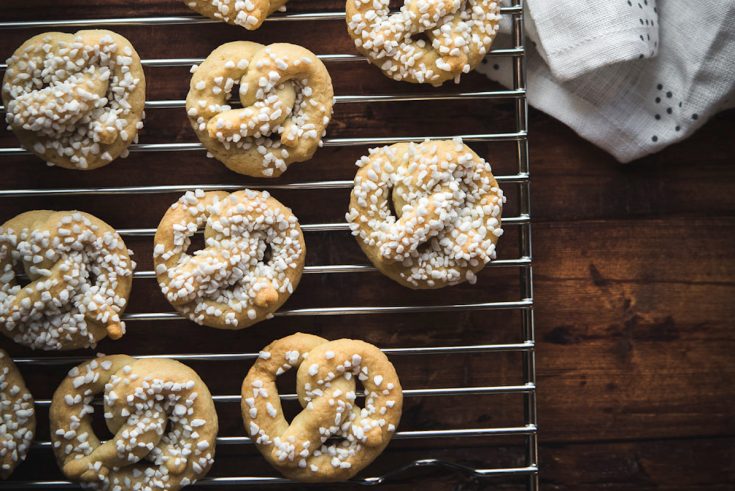 Try making these delicious Danish pretzels cookies with an irresistible sugary coating!
Ingredients
3 cups all-purpose flour
1 cup butter, unsalted (slightly more chilled than room temperature)
1 tsp. baking powder
1 egg, room temperature
1/2 cup heavy cream
Pearl sugar OR turbinado sugar
Instructions
Preheat oven to 350°F (175°C).
Prepare baking sheets with parchment paper (or lightly grease with butter or shortening).
If using a hand mixer: add flour, butter, baking powder, egg, and heavy cream to a large bowl and mix until a dough forms.
If using food processor: add flour, butter, baking powder, egg, and heavy cream to food processor bowl and process until a dough forms.
Chill dough in the refrigerator for 30 minutes.
Portion out chilled dough into walnut-sized pieces. You should have roughly 4 dozen balls of raw dough.
Using your fingers, roll out dough into thin trips about 10 inches in length. Form strips of dough into pretzels.
Press pretzels into pearl sugar or turbinado sugar and place face-up on the prepared baking sheet, leaving 1-inch of space between each cookie.
Bake cookies for 15-17 minutes or until golden.
Allow baked cookies to rest on the baking sheet for 10 minutes before transferring to a wire cooling rack.
Enjoy cookies within 3 days or wrap in parchment and freeze in a resealable, freezer-safe container for up to 6 months.
European Christmas Cookies
Explore the world of European Christmas cookies with these recipe roundups!