Norwegian Christmas Cookies are a huge part of holiday festivities. Historically, butter an expensive treat that was sold off the farm to pay the bills, but during the holidays, even the poorest rural families kept butter at home for a variety of festive holiday treats. As the custom goes, each family would make 7 types of cookies, known as the 7 cookies of Christmas (syv slags julekaker).
There was no set group of 7, and each family made their favorite variations. While 7 types of cookies may sound like a lot, there are so many types of Norwegian Christmas cookie that it can actually be hard to choose.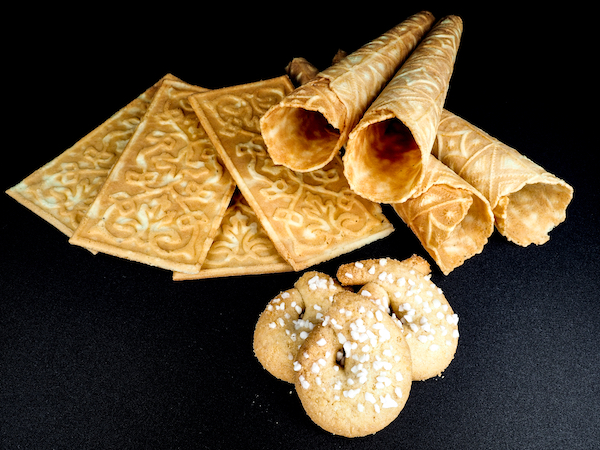 Christmas cookies are popular just about anywhere Christmas is celebrated, but things are a bit different in Norway. A sumptuous spread of Christmas cookies was a big part of Christmas celebrations, dating back to the middle ages. These days, most Norwegians keep with tradition and prepare old fashioned Norwegian favorites (alongside other more modern Christmas cookies from elsewhere).
According to the book Keeping Christmas: Yuletide Traditions in Norway and the New Land,
" Though two-career marriages have reduced the amount of time devoted to pre-Christmas baking, most Norwegian housewives still immerse themselves in the flurry of producing the tradtional sju slags or 7 kinds of cookies. In former times as many as nine or eleven kinds were made, the number (always uneven) being a kind of status symbol that indicated the families' wealth. Exactly which kinds appear varies from place to place and from family to family, but in a 1992 poll in Aftenposten (Norway's largest daily newspaper) identified the seven kinds most likely to be the following:
Smultringer (donuts) or, tying for first place, hojortetakk (crullers made with hartshorn salt, that is, ammonium carbonate, also known as baker's ammonia);
Sandkaker (almond cookies baked in fluted tins, more familiar to Norwegian Americans as Sandbakelse or sandbakkels)
Sirupssnipper (similar to gingersnaps, but diamond-shaped and decorated with a blanced almond)
Berlinerkranser ("Berlin wreaths," made from a rich egg-yolk dough and sprinkled with large-grained sugar)
Goro (a rectangular cookie made with an intricately imprinted iron)
Krumkaker (a think, cone-shaped cookie also baked in a decorative iron)
Fattigmann (dough twisted into a fancy shape and fried in deep fat)
The oldest of these, krumkake and goro, along with vafler, a waffle like pastry, go back at least to the 1700s…"
Krumkaker
A thin waffle cookie, Krumkaker are made on special decorative irons like Italian Pizzelle. Krumkake are wrapped around a cone-shaped mold as soon as they come off the iron. Krumkaker actually means bent cake, which helps to explain the shape of these thin, crispy norweigan cookies.
While they're still hot, these Norwegian Christmas cookies are quite flexible and will hold the cone shape as they cool. After they cool, krumkaker are either served plain or filled with whipped cream.
I recently found an antique krumkaker iron at a local thrift store for just $2, so I can't wait to make my first batch.
Goro
Similar to krumkaker, Goro cookies are decorative thin cookies made on a special cookie iron. Instead of being formed into cones, these Norwegian Christmas cookies are rectangular. They're barely sweet and have a delicate texture.
One of the very oldest holiday cookies, they're made over a hot stove rather than in an oven. Historically, many rural homes didn't have an enclosed oven and holiday cookies like krumkaker, goro, and fattigmann allowed people to cook up festive christmas cookies before ovens became common.
I've had my eye out for goro irons locally, but I haven't had any success. Only recently I've found stovetop goro irons available online.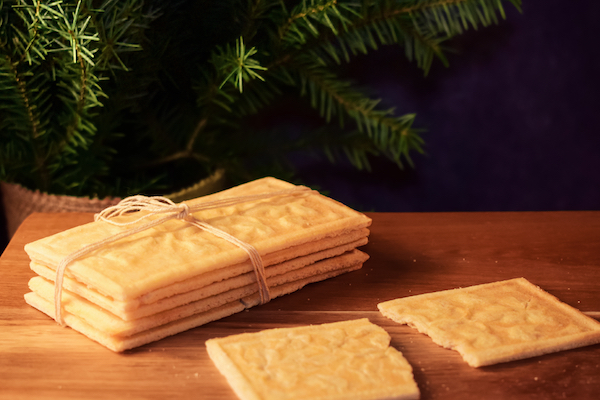 Fattigmann
Also known as poor man's cookies, fattigmann date back to the middle ages. Though these days they're not exactly anything too crazy, historically they were extravagant. Full of expensive ingredients like white flour, butter and heavy cream, it was said that "only a poor man could eat them" because you'd be in the poor house after buying all the ingredients.
Unlike modern oven-baked cookies, these Norwegian Christmas cookies are actually pieces of knotted fried dough. A slit is cut in the center of the cookie and one end is slipped through to form a twist or knot before they're fried in hot oil.
Smultringer
Another fried treat, Smultringer are basically Norwegian doughnuts. The name translates to "lard rings" because they're fried in lard. A similar treat with a different shape is called Hjortebakkels.
In either case, they're meant to be served hot and dripping with grease to coat your ribs during a cold part of the year.
Hjortetakk or Hjortebakkels
Also known as deers antlers, hjortetakk are another deep fried Norwegian cookie. They're made into rings, a bit like donuts, but then they're cut at intervals to give them a look a bit like forking antlers.
Bordstabler
The name means "tables stacked" which refers to the rectangular shape of Bordstabler cookies.
A buttery cookie dough is formed into a long rectangle and then topped with a meringue made from egg whites, ground almonds, and sugar. They're unique to say the least.
Pepperkakker
A heavily spiced Norwegian gingerbread, these pepperkakker cookies are either cut out into shapes or made into houses. feature black pepper, cinnamon, cardamom, and ginger.
Instead of dark molasses, they're seasoned with a light golden syrup.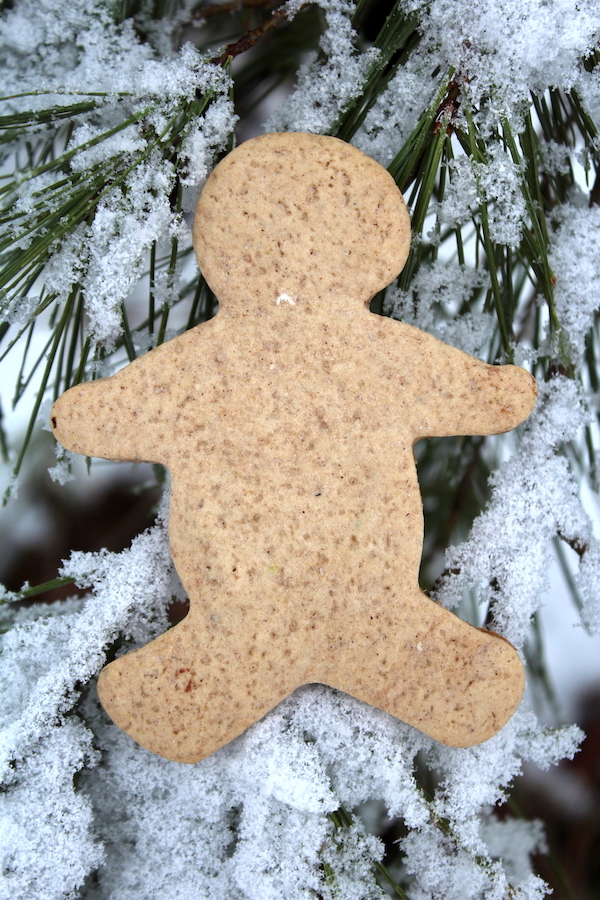 Berlinerkranser
Norwegian butter cookies, known as berlinerkranser, very different than other Scandinavian butter cookies. While simple danish butter cookies are a bit like almond shortbread, the Norwegian version incorporates shard-cooked cooked egg yolks into the batter.
The stiff cookie dough is then formed into a long snake-like shape before being wrapped into a loose bow. The name means "Berlin Wreaths" which pretty much describes the general cookie shape. The tops are decorated with large white pearl sugar, which makes them look ever so slightly like salted pretzels.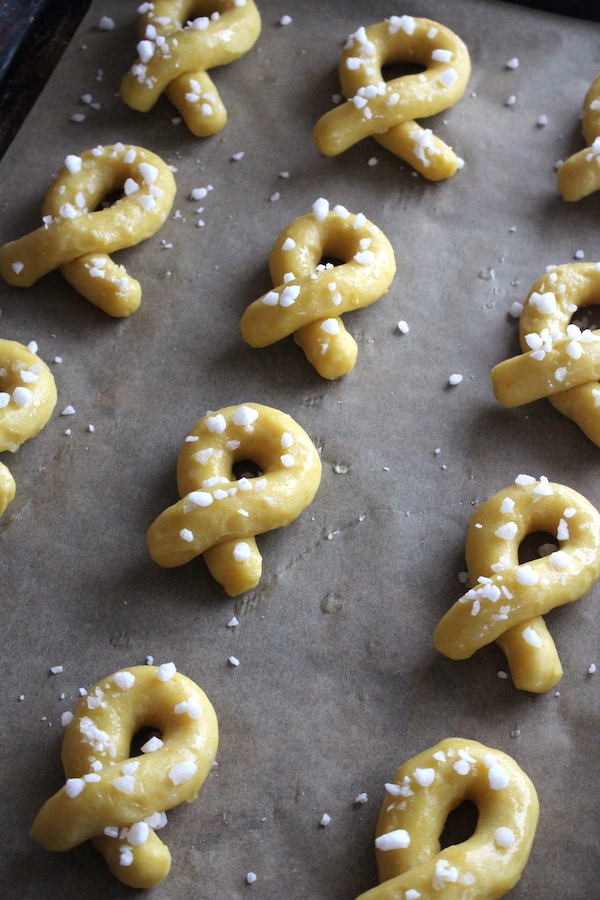 Serinakaker (Norwegian Butter Cookies)
A simple butter cookie topped with festive pearl sugar. Though they're simple, serinakaker are one of my favorite Norwegian cookies.
Soft, tender and full of flavor.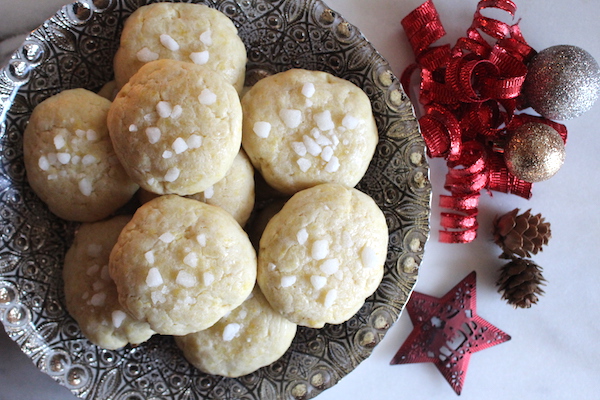 Spritz
Norwegian spritz cookies are made with a cookie press, which forms them into a variety of different shapes. A loose dough is pressed through a decorative disk onto a cookie sheet and the loose dough flows into a beautiful pressed cookie shape. The batter is very simple, containing only flour, butter, eggs and sugar.
Like berlinerkranser, these nordic Christmas cookies are also called "Norwegian butter cookies" and they're more similar to the butter cookies found in the rest of Scandinavia.
Snipp
A very old Norwegian Christmas cookie, the history of Snipp cookies is a bit obscure. The cookies themselves are pillowy diamonds flavored with cardamom and cinnamon.
They're wonderful as a side to a cup of coffee.
Sirup­snipper
Also known as syrup collars, sirup­snipper cookies have the same diamond shape as puffy cardamom flavored snipps cookies. These cookies contain golden syrup, similar to pepperkakken, and they also heavily spiced with cinnamon, anise, and ginger. An almond is placed directly in the center for decoration.
Sandbakkels or Sandkaker
The crumbly texture of these cookies gives them the names, sandbakkels or sandkaker, which means sand cookies. While "sand cookies" may not sound that appealing, they're basically Norwegian sugar cookies with a crumbly texture.
They're often made with a bit of almond flour, which helps add a wonderful flavor and adds to their texture. Special molds, called sandbakkel tins are used to shape the cookies. The dough is pressed onto the tins, creating a cup-like shape.
There are a number of different sandbakkel tin shapes, sometimes in the form of flowers or other decorative objects. Most often though, they're made in fluted round tins.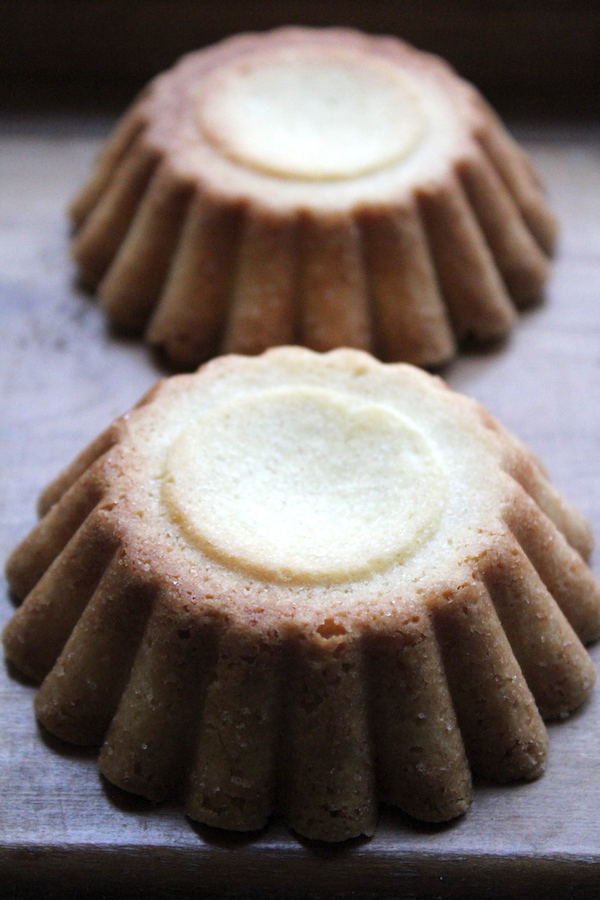 Kransekakestenger (Wreath Cake Bars)
Kransekake is a famous wreath cake that's popular in Norway and Denmark, but it's difficult to prepare. The cake batter itself is simple, mostly just almond meal and eggs, but it's the assembly that's tricky. Concentric rings are stacked onto one another to create a tall tower cake.
A much simpler cookie version is known as kransekakestenger, which are wreath cake bars. Just short bars of the same dough, they're dipped into chocolate or sprinkles for a festive touch.
No need to go crazy making an elaborate kransekake when you can make these simple Norwegian Christmas cookies.
Rosettes
Deep-fried rather than baked, rosette cookies are intricate lacy treats. A specialty rosette iron is dipped into a very thin batter, and then plunged into hot oil. The batter flash fries in the shape of the rosette iron, forming delicate and crisp flower-shaped cookies.
Since the irons are only an outline of a shape, the cookies puff into a series of lines that remind me of leaded glass.
Pleskener
A simple sugar cookie, pleskener are made with just eggs, sugar, flour and a pinch of cardamom.
Karamellkaker or Knekk-Kaker (Norwegian Caramel Cookies)
Light and crisp caramel cookies melt a bit onto a cookie sheet, leaving them with a lacelike appearance. Knekk-kaker, as the name implies, taste like caramel because the sugars in the dough caramelize during baking.
Kolakaker or Brune Pinner (Brown Sticks)
The name brown sticks just about covers these extremely simple looking Norwegian cookies. Brune pinner actually have a lot of flavor, and they're spiced with golden syrup and cinnamon, a bit like pepperkakker.
Kokosmakroner (Coconut Macaroons)
Simple coconut macaroons are a staple on Christmas cookie trays around the world, and Norway is no exception. Kokosmakroner are made with just coconut, egg whites, and sugar for a simple yet satisfying coconut treat.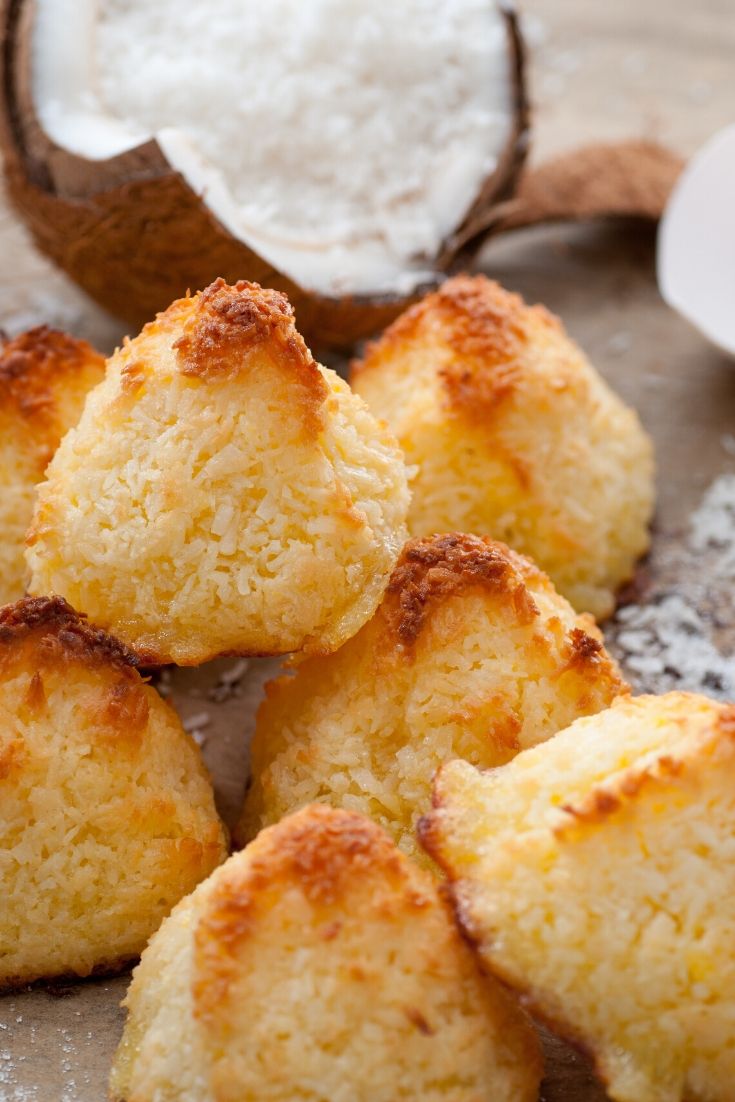 "Traditional" Norwegian Cookies
Keep in mind, that the word traditional is relative. While we think of cookies a timeless dessert, in home ovens in the form of wood-fired cookstoves wern't really available until the 1850's. And even those that had the ability to bake these cookies mostly lacked white flour, which was extremely expensive and reserved for only the richest families.
I really love how the book Keeping Christmas: Yuletide Traditions in Norway and the New Land covers some of the oldest traditional Norwegian Christmas cookies, back when most where bade in the coals of the fire or on special irons (rather than in the oven).
"Fattigmann, sandbakkels, krumkaker, Berlinerkranser, goro, and rosetter — the cokies produced by today's Norwegian Americans bear a remarkable similarity not only to those served by more prosperous Norwegian immigrants a few generations ago, but also to the christmas cookies served in Norway today. Still, this is the Norwegian Christmas tradition that has shown the most change over time.
Up until the mid- to late 1800s, celebrants would not have known most of these cookies, enjoying instead pepperkager (gingersnaps), kavringer (rusks), vortkager (pastries made with brewing wort), honningskager (honey cakes), sirupskager (syrup cookies), kringler (anise-flavored twists), and vafler (waffles).
In some parts of Norway, the cookies that Norwegians on both sides of the Atlantic now associate with Christmas remained unavailable until the 1920s, their ingredients and method of preparation costing too much to be widespread."
While true, that's the case with many things we enjoy in our modern kitchens. We have the luxury to live "like it's Christmas" year-round, at least by historical standards. Even though white flour is a staple good these days, I still love keeping with tradition and cooking up some traditional cookies that make this season special.
Still looking for more ideas?
For more Norwegian Christmas inspiration, try reading Keeping Christmas: Yuletide Traditions in Norway and the New Land. For all things Norwegian, try The Nordic Cookbook which contains more than 500 traditional Scandinavian recipes, and The Great Scandinavian Baking Book, which is an amazing resource for Nordic Baking.