Berlinerkranser are one of the most popular Norwegian Christmas cookies, enjoyed by families in the old country as well as Norwegian immigrants on the great plains. These traditional Scandinavian Christmas cookies are twisted into a distinctive pretzel shape, which gives them their name "Berlin Wreaths." Their dough contains both hard-cooked and raw egg yolks, to bake in as much rich egg flavor as possible.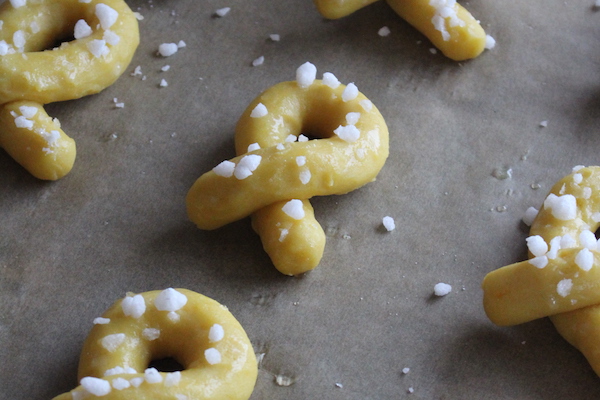 A 1992 poll in Aftenposten (Norway's largest daily newspaper) identified the seven kinds of Christmas cookies most common in Norwegian households. Berlinerkranser came in 4th, just behind traditional cookies like sandbakkels and Sirupssnipper.
Their flavor is incredibly unique, and they're the only cookie I've ever seen that contains hard-cooked egg yolks!
Adding in the hard cooked yolks allows for even more rich egg flavor to infuse into the cookie dough, giving these cookies a taste a bit like a sweet egg bagel, but with a soft pillowy cookie texture.
Making Berlinerkranser Cookies
It's all about the eggs with this cookie, so be sure to choose the highest quality eggs you can find. We're lucky enough to have pampered backyard chickens, but if you're buying store-bought eggs, go with the organic cage-free variety for the best flavor (and best color).
Start by hard cooking two eggs, allowing them to cool and then peeling out their yolks. My 4-year-old daughter actually loves hard-cooked egg whites, and always discards the yolks (weird, I know), so we always have plenty available for making these eggy cookies.
The yolks themselves are either pressed through a fine-mesh sieve to make them as fine as possible or simply beaten in with the sugar and raw yolks until they're smoothly incorporated. I used a stand mixer and the dough finished smooth, without any yolk lumps in the finished cookies.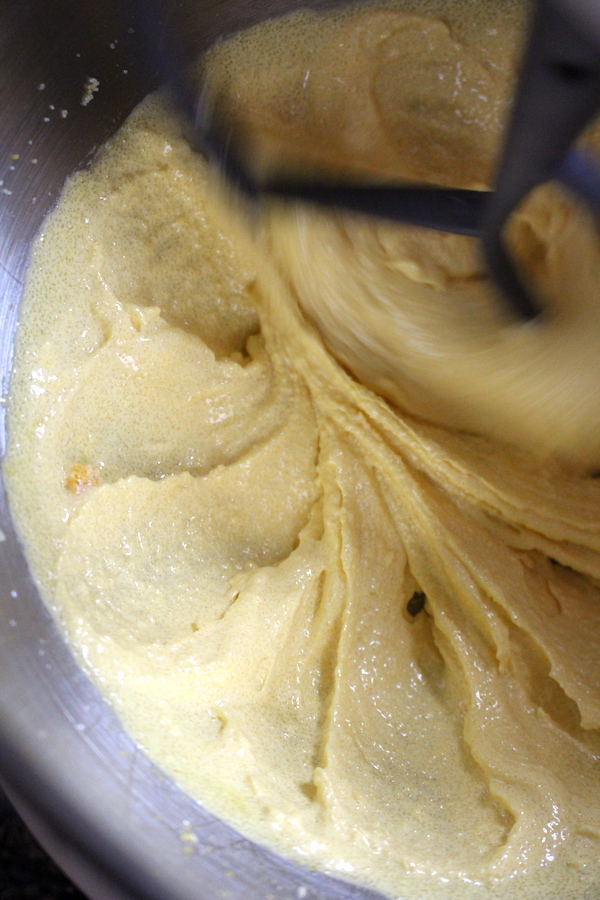 Berlinerkranser dough comes together pretty quickly. Start by beating the raw and cooked yolks with the sugar until it's smooth and pale yellow in color.
Then alternately add in flour and softened butter until the dough comes together. It'll be quite soft, but it's important to avoid overmixing the dough so that the cookies stay tender.
Chill the dough for about an hour, and then divide it into about a dozen 1 1/2 inch balls.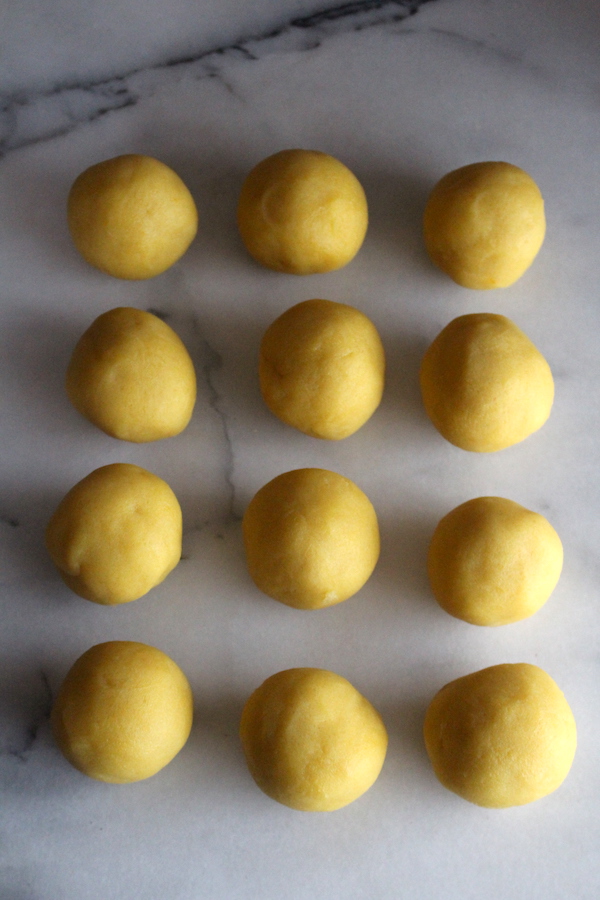 Roll each ball between your palms to create ropes of dough that are about 6 to 7 inches long, and then twist them into a wreath shape by crossing the ends.
At this point, some recipes tell you to dip the whole cookie in lightly beaten egg white. I find that really difficult, and messy. Instead, I use a silicone pastry brush to brush the top of each cookie on the baking sheet.
Then sprinkle on pearl sugar to decorate (lacking pearl sugar, just use regular sugar, or coarsely crushed sugar cubes).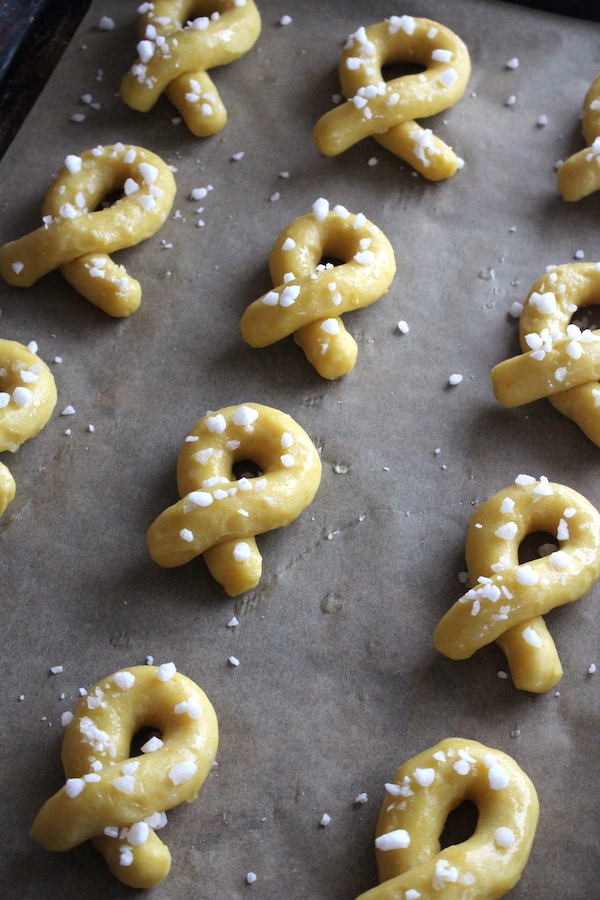 Place the cookie tray in the freezer (or refrigerator) for at least 15 minutes to chill the dough again before baking. This will help keep the cookies from spreading during baking.
(Since I'm baking these in December in Vermont, I just set them outside on the porch for a bit. I imagine that's how they did it back in the day anyway.)
Preheat the oven to 375 F and bake for about 10 minutes, until the Berlinerkranser are lightly golden on the bottom and just done on top.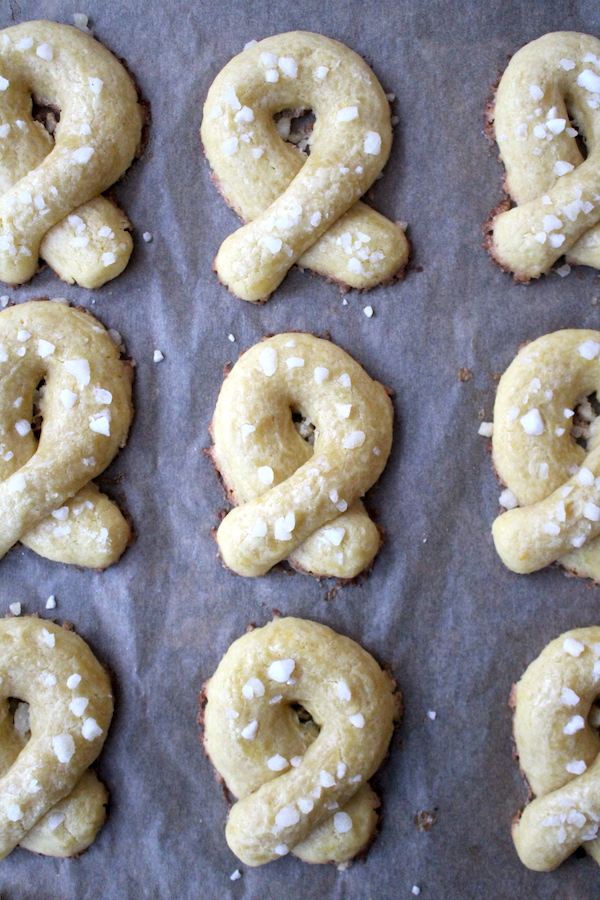 Last time I made these my kids demolished them so fast I barely got a picture of them finished on the tray. They're soft, rich and downright delicious so I don't blame them.
Berlinerkranser Recipe Variations
As with any recipe that's popular in a nation's heritage, there are countless variations made by just about everyone's grandmother. Unlike many Norwegian christmas cookies that require specialty pans or irons, just about anyone can make berlinerkranser.
The book Keeping Christmas: Yuletide Traditions in Norway and the New Land notes their popularity:
"Needing no special iron, Berlinerkranser (Berlin wreaths) result from a challenging recipe blending hard-boiled and raw egg yolks. Attesting to the cookie's popularity, George Mohn's 1924 Cookbook contains five different recipes for Berlinerkranser. It remains one of the most popular Norwegian Christmas cookies on both sides of the Atlantic."
Don't worry, the most challenging part of the recipe is the extra step in hard cooking the yolks. After that, these cookies are pretty versatile.
Almost all Berlinerkranser recipes start with two hard-cooked yolks and two raw yolks. Some recipes have as much as 1 cup of sugar, others half that much. Some include a very small amount of flour, just over a cup, while others call for nearly 4 cups.
The main thing is to avoid working the dough too much, which will develop the gluten and make them tough. Adding too much flour, likewise, will make them tough.
The recipe for Berlinerkranser that I'm using is the same in both Keeping Christmas and The Nordic Cookbook, but The Great Scandinavian Baking Book uses a full cup of sugar.
For a sweeter cookie, more in line with modern palates, increase the sugar. Or stay more conservative with this lower-sugar version and enjoy the burst of sweetness as you hit each piece of pearl sugar on top.
Yield: 12 to 15 Cookies
Berlinerkranser (Norwegian Egg Wreath Cookies)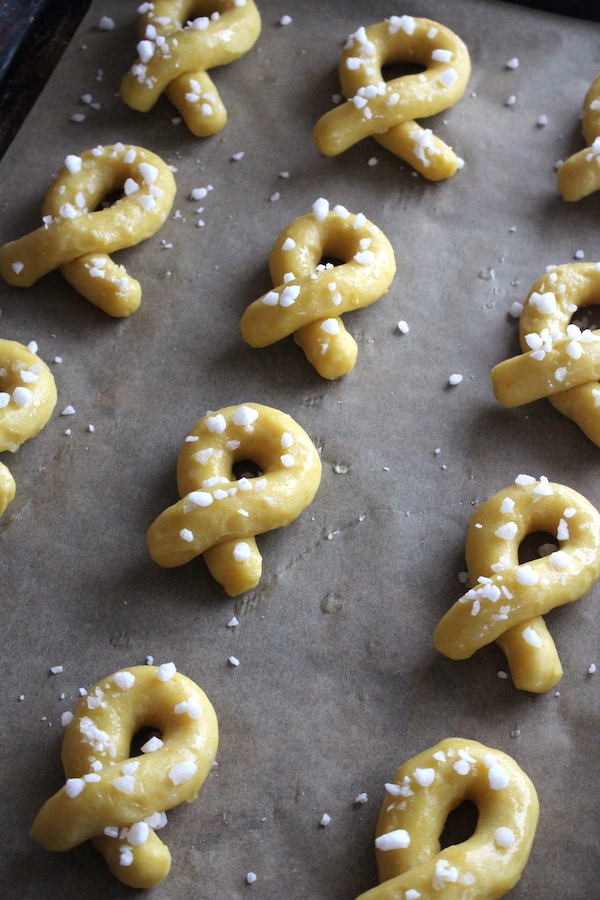 Berlinerkranser are a traditional Norwegian Christmas cookie with a rich, eggy flavor.
Additional Time (Chilling Dough)
1 hour
30 minutes
Ingredients
yolks of 2 hard-boiled eggs
2 raw egg yolks
1/2 cup sugar
2 1/2 cups flour
1 cup butter, softened
~topping
2 egg whites, lightly beaten
Instructions
Mash hard-cooked yolks with a fork, and then beat them together with raw yolks and sugar until light and fluffy.
Alternate additions of softened butter and flour until both are fully incorporated into the dough (but do not overwork).
Chill the dough for about an hour.
Preheat the oven to 375 degrees.
Divide the dough into 12 to 15 balls, and then roll each into a rope that's 6-7 inches long.
Twist the dough rope into a wreath shape by crossing the ends of the dough.
Brush each cookie with egg white and sprinkle with pearl sugar.
Bake the cookies at 375 degrees for about 10 minutes, until lightly browned on the bottom and just done on top.
Cool completely before eating.
More Scandinavian Holiday Recipes
Looking for more Scandinavian recipes this Christmas? Here you go…