Scandinavia at Christmas conjures up an image in my mind akin to how I daydreamed, as a kid, spending the holiday at Santa's house in the North Pole must be. With the smell of conifer and cookies in the air, families huddle around a roaring fire sipping mugs of piping hot chocolate as the snow collects outside their windows and reindeer drift past browsing what's left of any vegetation.
Turns out, my childhood reverie is a pretty accurate depiction of the holiday season in Scandinavia.
Nordic countries speak similar languages, share a common history, and endure long, cold winter days filled with darkness, so it comes as no surprise that by the time the winter solstice rolls in, Scandinavians from all over await a joyful celebration filled with feasting and merriment to welcome the sun's return.
Historically, Scandinavia celebrated the pre-Christian festival known as the Feast of Juul where fires would be lit as a symbol of the warmth and revitalization that was to come to these sun-starved countries. A Yule or Juul log would be burned to honor the Norse god, Thor, and a remainder would be kept as next year's kindling.
Today, while all five Nordic countries anticipate the end of winter's dormancy, each enjoys its distinctive traditions and dishes that make up this festive holiday season.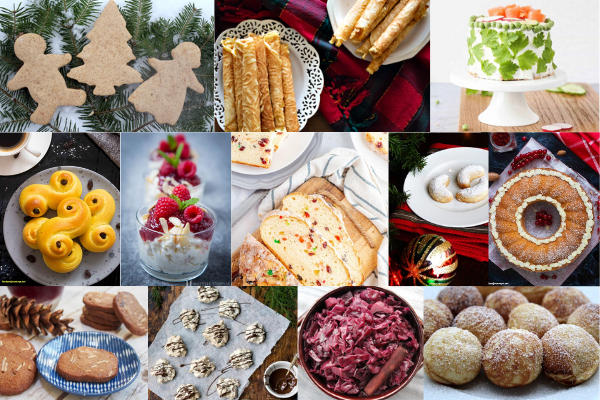 Sweden
Merry Christmas, or God Jul in Swedish! Winter's holiday season starts with Saint Lucia's Day on December 13th and concludes with trettondedag Jul, the 13th-day yule on January 6th. Lucia was a martyr from the third century who is said to have come to the aid of Christians hiding in catacombs from persecution. To light her way through the maze of tunnels, she'd carry a candle-lit wreath. Today, the eldest daughter of a family may portray Saint Lucia by wearing a white robe, a crown of candles, and by serving her parents mulled wine, coffee, and cookies.
By Christmas Eve or Julafton, families gather around a huge Christmas style smörgåsbord known as a julbord that consists of hearty pork dishes and many delectable sweets. After dinner, someone in the family dresses up as Jultomte, the Christmas gnome of the forest, and hands out gifts.
Pastries and Cookies
Sweden has an interesting history when it comes to its festive cookie traditions, with the most popular being the famous pepparkakor or pepper cookie. After Christmas Eve dinner, families join together and nosh on these delicious gingerbread cookies that are typically shaped like a goat.
The tradition goes as followed: While making a wish, hold a pepparkakor in one hand and tap it with a finger from your other hand until it breaks. If you're left with three pieces, your wish will be granted!
Drinks
It wouldn't be Christmas time in Sweden without a glass of mulled wine!
Glögg or "to glow" as it translates to English, first came about when it was introduced to Sweden by German merchants in the 1500s. It is said that this drink, formally known as "hippocras", had healing benefits and by the 1600s it had been renamed to "glodgad vin". Eventually, the name was shorted to what it remains today, glögg.
This festive and potent drink served exclusively during Christmas consists of a combination of port wine, brandy, and other liquors that are infused with raisins, almonds, and spices. I don't know about you, but this is one drink I've got to try. Skål!
Dessert
Everyone loves freshly baked cakes around the holidays, and the Swedes are no exception. In households all over Sweden, you'll find delicious breakfast cakes on the table come Christmas morning.
A popular holiday dessert with tradition attached is risgryngrot or rice pudding. One single almond is stirred into the batch and it is said that whoever finds it in their serving may have their wish come true.
Bread
In the days leading up to Saint Lucia's Day, bakeries across Sweden start julbak or Christmas baking with their famous lussekatter. The name when translated to English means, "Lucia cats" as each bun is shaped like a cat's tail and is served to honor Saint Lucia.
These sweet buns laced with saffron are essential to the start of the Christmas season and bring brightness to an otherwise dark and dreary winter.
Side Dishes
Did you know that the smörgåsbord originated in Sweden during the 14th century? At first, it consisted of only butter, bread, and cheese to be eaten before a meal, but soon grew to include hot and cold meats. In 1912, the Olympics took place in Sweden's capital, Stockholm and smörgåsbords officially became the main course instead of only an appetizer.
Today, smörgåsbords are a lavish affair that take place on holidays and special occasions. Everything from savory to sweets is included and there's not much off-limits. Any good smörgåsbord needs the right side dishes accompanying it and there's none more extravagant than a savory sandwich cake!
Main Dishes
Christmas is not complete without a julbord! This holiday feast typically occurs in three courses:
A fish course that consists of pickled herring and cured salmon.
A course of bread, liver pâté, cheese, and red beet salad.
The final and main course has hot dishes of meatballs, sausages, and Jansson's temptation.
At the end of the 1800s, julskinka or the Christmas ham started making an appearance at the julbord due to large litters of pigs growing quickly and being inexpensive to feed. Swedes did most of their culling in the fall but saved a few pigs especially for slaughtering at the start of the holiday season on December 13th.
Today, Swedes pay homage to the pig by decorating cakes with marzipan piggy creations.
Finland
Hyvää Joulua or Merry Christmas from Finland! While Finns share the observance of Saint Lucia's Day with their Scandinavian neighbor Sweden, they have many holiday traditions that are unique to their country.
The first Sunday in December also referred to as the First Advent kicks off the holiday season and extends thirteen days beyond Christmas Day. If you are Catholic, it is the tradition to spend Christmas Eve attending mass and visiting a sauna to be purified. Afterward, a Christmas dinner of ham, casseroles, and beetroot salad is served.
Joulupukki or Santa Claus visits after dinner and hands out gifts to the children.
Pastries and Cookies
After a feast of hearty and savory dishes on Christmas Eve, it's time to indulge in the many popular sweets Finland has to offer!
Joulutorttu or Finnish Christmas star cookies are made in households across Finland and sold in many bakeries all over the country. These flaky pastries are made with ricotta and stuffed with a prune jam.
Bread
It comes as no surprise that bread, an important staple in every region of the world, makes its way to the Christmas table in Finland. Joululimppu, which means Christmas bread in Finnish, is a rich rye and spelt loaf packed with fennel seeds, caraway seeds, bitter orange peel, and black treacle, a molasses-like syrup. This flavorful bread is not to be missed and one I look forward to trying in my kitchen!
Similar to challah in texture and richness, pulla, a cardamom sweet bread is a favorite of Finland and is often served at breakfast with coffee or tea. Cardamom might sound like an unusual bread spice, but trust me on this one, it's delicious!
Denmark
Merry Christmas is Glaedelig Juls in Danish! Every Sunday leading up to Christmas Eve Danes light one candle on the Advent wreath for a total of four candles. Similarly, an Advent candle is lit each day starting on December 1st and is burned down twenty-four marks until the candle is fully melted through on Christmas Eve.
Julefrokost is Denmark's traditional feast that can last all day. Yes, there is so much food that this meal is more of an event than a simple dinner and may last up to twelve hours! It's best to take your time and pace yourself as there are three full courses to be served with shots of aquavit peppered in before, during, and after each. Maybe wear elastic waist banded pants for this. Don't say I didn't warn you!
Oh, and did I mention you'll be playing games? A popular way to give gifts, pakkeleg, is a dice rolling game played by placing small gifts in the center of a table. Whoever rolls a six first, picks a gift until everyone has one. Now, the second round is where things get exciting. With a timer running, each person rolls until a six is achieved and the winner can swap gifts with another player. When the timer runs out, everyone opens their gifts and hopes they didn't make a grave mistake with their gift swapping prowess!
Pastries and Cookies
Like the other Scandinavian countries we've explored, pastries and cookies are traditionally served at the Christmas table following dinner. Pebernødder or pepper cookies are typically spiced with cardamom, cinnamon, mace, cloves, and white pepper. In other parts of Scandinavia, nutmeg or a combination of other spices can replace the mace and white pepper in each country's variation.
Another Danish favorite is the Christmas kringle or Dansk Smørkringle as it is known in Denmark. A Christmas kringle is a cardamom-spiced yeast bread that's stuffed with a filling of mixed nuts and topped with chopped nuts and a sweet glaze. Yum!
Desserts
After Christmas Eve dinner, the table is reset with plates of cookies, pastries, and desserts. There's one dessert that rules them all called risalamande and it'll take your Christmas Eve from great to extraordinary. Risalamande is a milky rice pudding that is traditionally topped with a cherry jam called kirsebærsovs. Like Denmark's sibling countries, a game of find-the-almond-in-the-bowl is played where the winner receives a gift, usually something chocolatey!
A holiday tradition that sets Denmark apart from much of Scandinavia is the prank-playing elf, Nisse. It is believed that the mischievous elf lives in old farmhouses. Like Santa's elves, Nisse wears a red bonnet, stockings, and white clogs. All year Nisse is a good elf but at Christmas time, all deals are off.
To keep yourself from being the butt of Nisse's jokes, leave a bowl of risalamande out for him on Christmas Eve and maybe he'll be your friend!
Sweet Bread
Æbleskiver, sphere-shaped puffs of pancake with a fluffy and almost creamy interior pair incredibly well with a glass of Danish gløgg or Scandinavian coffee! The balls are cooked in a cast-iron pan made especially for them. It is believed that this technique for cooking Æbleskiver started 300 years ago when the first specialized pan was hammered out of copper, eventually switching to the far superior cast-iron that heated more evenly.
In the wintertime, these symbols of community and hospitality can be found at street vendors, but are usually made in the homes of many Danes who coat them in powdered sugar and serve with fruit preserves. Three Danish immigrants settled the town of Solvang, California in 1911 and while visiting there recently, I was able to try proper Æbleskiver and let me tell you, they were amazing!
Side Dishes
A staple on the Danish Christmas table, rødkål, a braised red cabbage dish is always a crowd-pleaser and a sign you're attending a traditional Danish holiday feast. This sweet and sour dish is found alongside ribbe or pork ribs with crispy skin. The red cabbage is oftentimes cooked with red currant jelly and sometimes apple juice, giving it its red appearance.
Another popular side dish Danes enjoy during the holidays is brunede kartofler or caramelized potatoes! Like the name implies, these sweet potatoes are boiled and then fried in a mixture of fat and sugar giving them a brown, sticky, sweet coating.
Norway
Merry Christmas in Norwegian is Gledelig Jul! In Norway, the Christmas decorations come out as early as late November and the twinkle of lights covering the trees boosts the mood of many Norwegians who spend their winters with very few hours of sunlight each day.
December 23rd, dubbed Little Christmas Eve is the time for families to spend together decorating their trees, baking, and enjoying their version of rice pudding called, risengrynsgrøt. The same rules apply in Norway as they do in the other Nordic countries when it comes to playing find-the-almond-in-the-rice-pudding, but there's a twist. The prize if you find it? A pig made of marzipan, of course!
On Christmas Eve, Norwegians can be found attending mass or doing their last-minute shopping, but when the Christmas church bells ring at 5 pm, you should be seated around your dinner table. This feast consists of traditional offerings of pork ribs or holiday ham. After dinner, everyone opens their presents and sip on mulled red wine or juleøl, a special Christmas beer!
Pastries and Cookies
While a variety of cookies decorate the Christmas dessert table, there is one no more famous than pepperkakker, Norways's version of gingerbread cookies. Unlike the variation sold across the US, pepperkakker is sweetened with golden syrup, a subtle and lightly flavored sweetener that can be hard to find outside of Europe. You can substitute it by sweetening yours with maple or honey. When fresh from the oven, do as the Norwegians and dip them in your glogg!
Popular all over Norway is a waffle-like treat called, krumkake. This delicate cookie is made in a special krumkake iron that creates beautifully detailed designed cookies and is similar to the waffle irons we have in the US. When I toured Norway a few years ago, freshly made krumkake was even served on a train ride I took out of Oslo!
Bread
Julkage, or yule bread, is a sweet, fruit-filled yeast bread reserved especially for the holiday season. It's so rich that it's debatable whether or not julkage should be considered a bread or a cake and I've seen it advertised as both.
Like most baked goods in the Nordic countries, this bread is scented with Scandinavia's signature spice, cardamom. If you want to do something special with it, try turning it into french toast on Christmas morning!
Desserts
Marzipan is a moldable confection (think Play-Doh, except edible!) made up of a sweetener like honey or sugar and almond meal that forms a paste. Sometimes to enhance the flavor, almond extract may be added to a batch. You can even make a low-carb, keto-friendly version of marzipan if that's what you prefer!
Norway, as well as most of Europe, use marzipan in a variety of applications from cake decorating to hand-sculpted pigs! In the 1800s, marzipan started making an appearance in Norway at the same time that pork was becoming a hit at the Christmas table. Because pigs are inexpensive to feed and have large litters, they became the symbol of good luck. It was only a matter of time until this symbol of good fortune was sculpted out of marzipan and given as gifts during the holiday season to represent good luck in the coming new year!
Side Dishes
During the early fall season, healthy lambs make their transition from grassy pastures to the slaughterhouse and give Norwegians their favorite soup, fårikål, which translates to "lamb in cabbage" in English. This mutton stew features many of the flavors that make up autumn in Scandinavia and while not exactly a Christmas classic, I still felt it warranted a mention on this list!
Traditional holiday side dishes that accompany pork or lamb ribs and ham include sweet and sour cabbage and hasselbackpoteter, Norway's version of Hasselback roasted potatoes.
Main Dishes
Norway's ribbe or pork ribs remain the centerpiece of the Christmas dinner table, with salted and dried lamb ribs called pinnekjøtt, becoming increasingly more abundant in the country each year. These fat-rich dishes gained popularity in olden times because they gave Norwegians the energy to withstand the remainder of winter.
Another main dish during Christmas is one that may be unappealing to the squeamish, so bear with me. Smalahove is a traditional dish in Western Norway consisting of an entire sheep's head. The head is steamed or boiled for several hours to achieve doneness and the brain can be eaten with a spoon. Typically smalahove is served with aquavit. I don't know if I'll be trying this one any time soon, but the aquavit may be necessary to get me through it when I do!
Iceland
When visiting Iceland during Christmas time, greet the ones you meet with a cheerful, "Gleoileg jol!", which is Icelandic for Merry Christmas. Iceland's holiday season lasts for twenty-six days and is a bright spot during a winter that receives little to no daylight.
When November winds down, you start to see Advent lights in the form of a seven candled, triangle-shaped electric candelabra shining out from the window sills of many Icelandic homes. Like other Nordic countries, they also light a candle once a week for four Sundays on their Advent wreaths.
Thirteen days before Christmas, an age-old tradition known as jolasveinar, or "Yuletide Lads" kicks off. It works like this: Thirteen different versions of Santa Claus that live up in the mountains start visiting towns all over Iceland, one per night. Children leave their shoes in an open window before bed and when they wake each morning of those thirteen days, they'll find a small gift in one of their shoes. This one is especially fun for kids if they've been good, but for the ones who were naughty? They'll only find a potato in their shoe!
Cookies and Desserts
The baking of Christmas cookies, or jólasmákökur, has been a part of the holiday season in Iceland since the beginning of the 19th century. Bakers tend to offer at least five varieties at their Christmas table, but sometimes there can be an upwards of ten different cookies to choose from. This tradition is taken so seriously that by the end of November if you haven't started your holiday baking, you're already behind!
Some Icelandic favorites are marens kornflexkokur, a light and marshmallowy meringue cookie made with cornflakes. Named after a French Actress who visited Denmark, sörur, or Sarah Bernhardt cookies are another meringue-based cookie that has now become popular in Iceland. Loftkökur, or air cakes, are as the name indicates, a cookie that is as light as air. What makes this baked good different than the rest is that it's leavened with ammonium carbonate. Baker's ammonia, for those of you who've never used it, can cause pastry dough to rise amazingly well. Sometimes as much as six times the size of your starting dough!
Need More Traditional Scandinavian Recipe Ideas?