Kjötsúpa is a simple Icelandic lamb soup made from braising cuts of lamb or mutton and stored root vegetables. The meat is braised bone-in and creates its own stock while the coarse root vegetables give the soup a hearty texture and a subtle sweetness.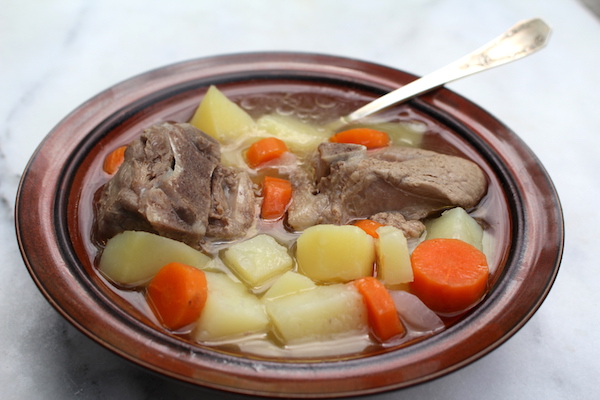 A friend just left for a business trip to Scandanavia, and on a whim, he added a week-long stopover in Iceland as part of the return trip. He's Swedish, and though he's intimately familiar with his own food culture, he knew next to nothing about Iceland or Icelandic Food.
I whipped out one of my very favorite cookbooks, The Nordic Cookbook, and started paging through looking for traditional Icelandic foods. The food all centered around lamb, root vegetables and seafood (mostly preserved).
One recipe, in particular, caught my attention. A simple Icelandic lamb soup known as Kjötsúpa. With almost no seasoning, this slow-braised lamb soup looked like the ultimate meat and potatoes comfort food.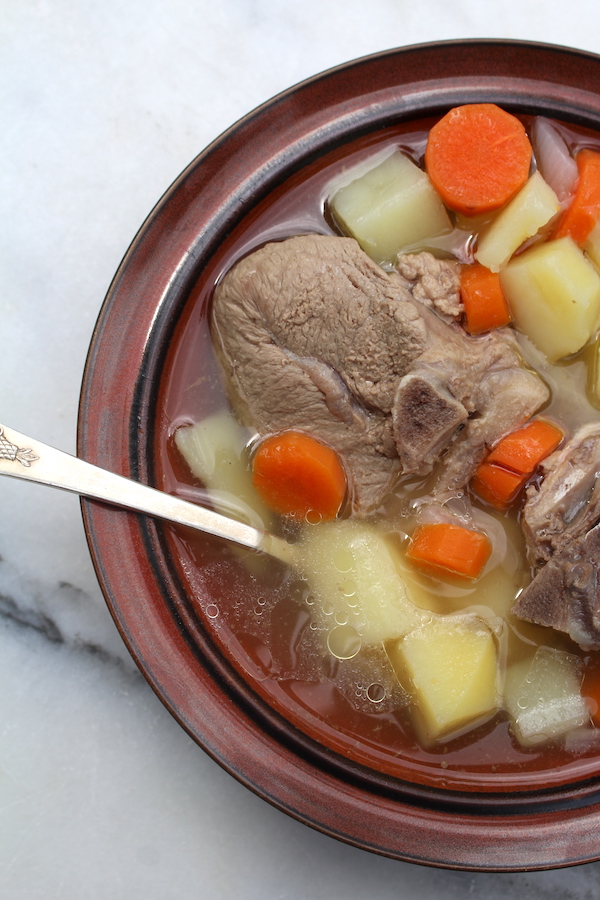 We'd been cooking all things lamb, and I happened to have a cut of lamb neck waiting in the refrigerator for our next project. I was going to make Potterkjott, which is basically a potted lamb dish. The Nordic cookbook describes it as "Norwegian Mutton Preserved in a Jelly of its own Cooking Liquid." I know, not the most appealing title, but I'm a sucker for old school meat preservation techniques.
Oh well, another time perhaps. This lamb neck is destined for Kjötsúpa instead!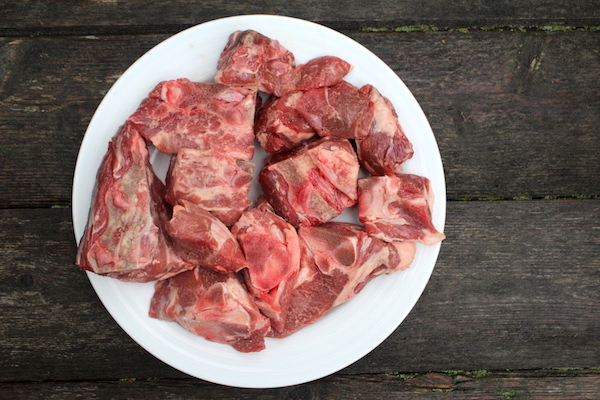 Kjötsúpa doesn't have to be made with lamb neck, but it does require a slow braising cut. Skip the lamb leg, you'll need a tough flavorful cut that will tenderize over the course of a low and slow cook. On the bone is preferred, so that the meat and bone come together to make a flavorful stock for the soup as it cooks. Something from the front quarter of the animal like a bone-in shoulder or neck is perfect.
What is
Kjötsúpa?
Here's how the Nordic Cookbook describes this traditional Icelandic lamb soup:
"One of their most important dishes, if you ask many Icelandic citizens, Kjötsúpa bears a clear cultural connection to the national meat soups of other Nordic Countries. Based on whatever meat is predominantly available – in this case lamb or mutton – and root vegetables that store well in winter, this brothy soup is often but not always thickened with something starchy like rice, pearl barley or rolled oats….
The vegetables in Kjötsúpa should preferably be winter ones, coarse and sweet. In more recent recipes, other flavorings, like thyme, garlic and bay leaves are used, which is probably very tasty, but reduces the soup to any other meat soup from anywhere."
What does that mean? For this to be a traditional Icelandic recipe, you'll have to hold off on the temptation to add extra seasonings. The book also goes on to say that you should also resist the urge to use broth or stock in this recipe. The bone-in lamb makes a tasty stock of its own, and he notes that using broth or stock (instead of water) as the braising base will "create an overly savory soup that lacks the desired balance between vegetables and meat."
Fair enough. If you want a traditional Kjötsúpa, keep it simple!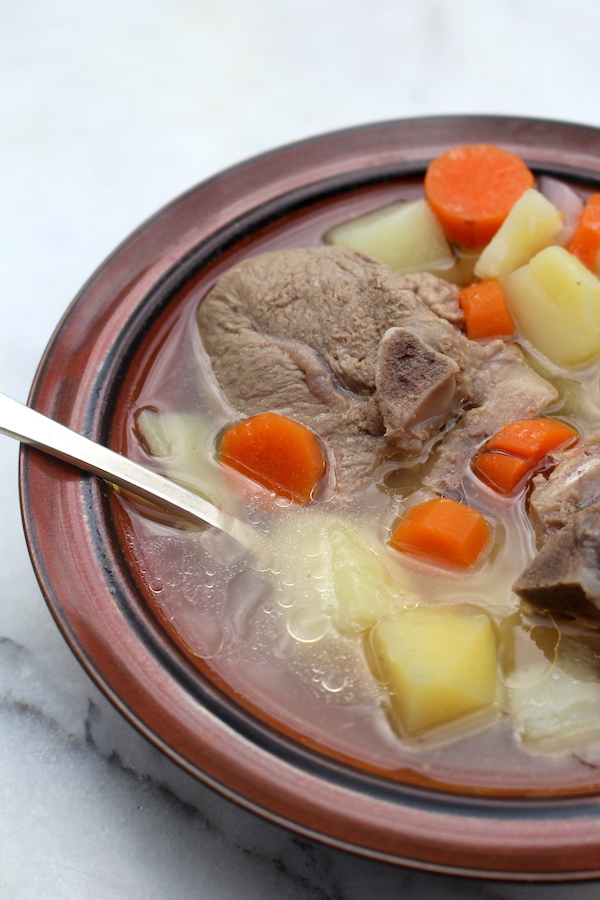 How to Make
Kjötsúpa
The ingredients are simple, just bone-in braising lamb or mutton and coarsely chopped root vegetables. Start by placing the raw lamb in a soup pot, such as a thick-bottomed dutch oven. Add enough water to cover the lamb and simmer the mixture covered for about an hour. At this point, the lamb should be tender and begin falling from the bones.
Starting with bone-in lamb in cooked water means that the soup will create its own stock, but nothing too heavy.
Once the meat is pretty much cooked, add the coarsely chopped vegetables and season with salt and pepper. I added about 1 teaspoon of salt and 1/2 teaspoon of pepper at this point.
Simmer for another 20 minutes until the vegetables are tender, and then serve Kjötsúpa hot.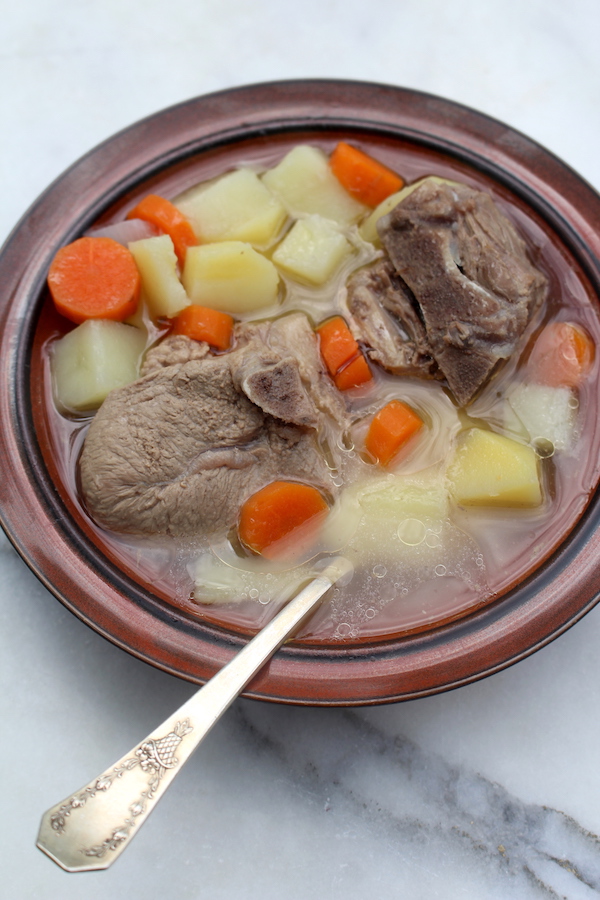 Kjötsúpa Variations
Some recipes will actually remove the meat to a separate plate before adding the vegetables for cooking. The vegetables are then cooked and served in the light lamb stock created by the braised lamb cuts, but then the bone-in lamb is served on a plate on the side. That makes it a bit easier to cut and remove the bones while eating, but it's a matter of personal preference.
I found that the meat came away from the bones easily with a bit of pressure from my spoon, and it was easy enough to eat this soup, leaving the bones behind right in the bowl.
Other variations thicken Kjötsúpa with oats, rice or pearl barley. This recipe would need about 1/4 cup as a thickener. Add oats or rice along with the vegetables and simmer for 20 minutes. Pearl barley needs a longer cook time, and should be added about 40 minutes before the dish is completed (roughly 40 minutes into the one hour long lamb simmer time, leaving it to simmer 20 minutes with the lamb and 20 minutes with the veggies added).
More Traditional Icelandic Recipes
Looking to bring a bit more Scandinavia to the dinner table? Read on…
Yield: 4-6 Servings
Kjötsúpa (Traditional Icelandic Lamb Soup)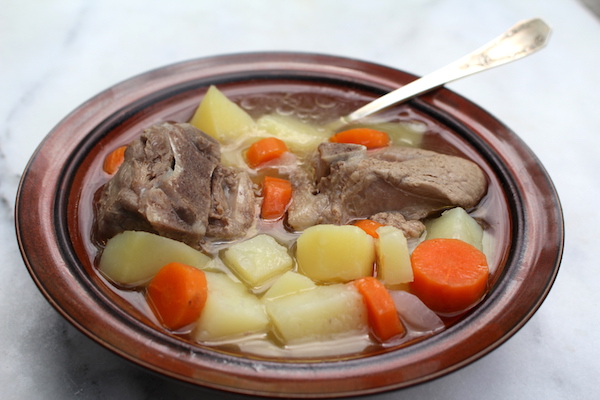 Icelandic lamb soup is simple fare, and the perfect comfort food for a cold night.
Ingredients
2 to 2 1/2 lbs (1 kg) Mutton or Lamb (Shoulder or Neck), bone-in, cut into rough pieces
1 large rutabaga (Swede), chopped
4 large carrots, chopped
6 waxy potatoes, chopped1 onion, chopped
Salt and Pepper to Taste
Instructions
Place meat in a large soup pot, such as a 6-quart dutch oven, and cover with cool water.
Slowly bring the meat and water to a boil and then reduce the heat to very low.
Simmer the meat for about an hour, until it's very tender. Skim away any surface scum (if necessary).
Add the chopped vegetables and simmer until they're tender, about 20 more minutes.
Serve Kjötsúpa hot.