Kleina are traditional Icelandic donuts, and recipes go back as far as the 14th century. Long before kitchen ovens were common in home appliances, these special treats were made on the stovetop for special occasions. These days, kleina (plural: kleinur) are everywhere in Iceland, and they're part of the everyday cuisine.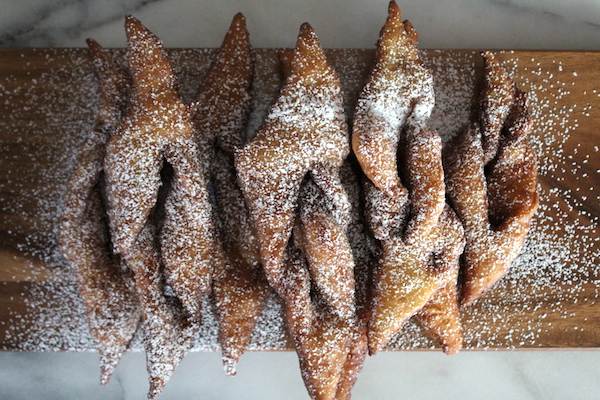 Every Scandinavian country has its own version of these spiced, twisted and fried treats. While the distinctive shape is the same across the region, there are subtle differences.
The best known are Klejner in Denmark, but their version is much smaller and less fluffy. Icelandic kleina, on the other hand, are really large. Sometimes cut extra large for two people to share.
Two large kleinur just barely fit inside a cast iron pan for frying…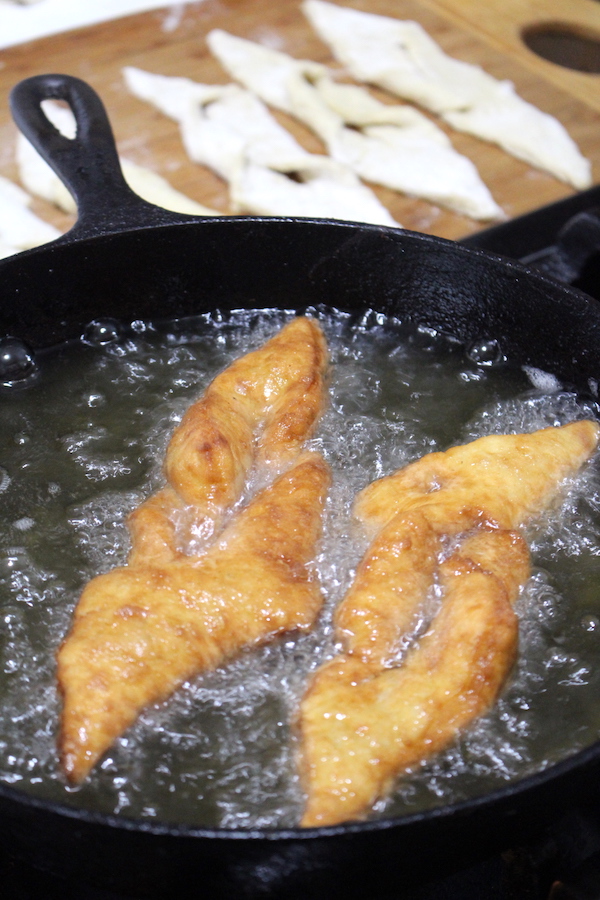 Norway has fattigmann, which translates to "poor man's cookies," more or less as a joke. They were made first made hundreds of years ago when white flour, cream, and butter were very expensive, and you'd have to "put yourself in the poor house" to make them.
The dough for fattigman is much richer than kleina dough, and they come out more like crisp fried cookies than fluffy donuts. The Norwegian version contains lots of egg yolks and heavy cream, along with cognac or brandy for flavor.
Kleina recipes, on the other hand, rely on yogurt or milk for moisture and are seasoned with cardamom and/or nutmeg. They come out light and fluffy, due to a lighter dough and plenty of baking powder and soda.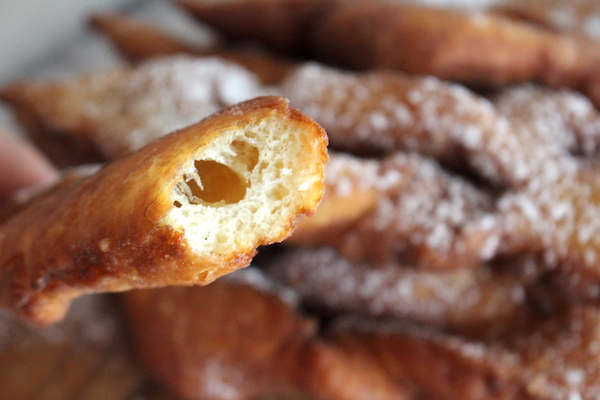 In some ways, the biggest difference between kleinur and other Scandinavian fried dough recipes is cultural. Icelandic kleina are an everyday indulgence, and though they're deep-fried, kleinur contain much less sugar than other variations.
Instead of being reserved for special occasions as Scandinavian holiday recipes, kleinia are served at every coffee shop in Iceland all year round.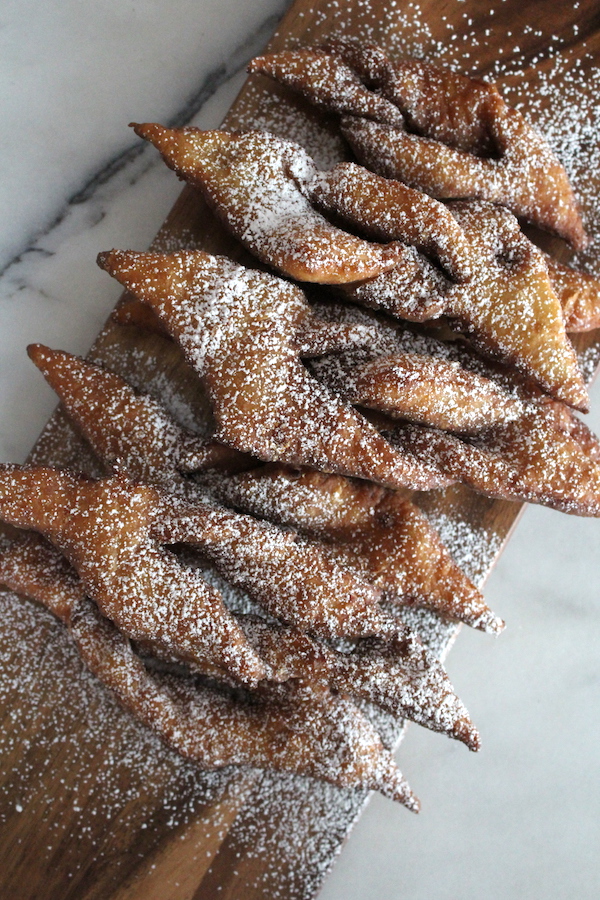 While I'm not in Iceland, winter sure has come in with a vengeance here in Vermont. Highs are around 10 degrees F on this mid-November day, and technically winter hasn't even officially started yet.
I'm ready for Scandinavian comfort food, and Icelandic kleinur definitely fits the bill!
Yield: 12 Large Donuts
Icelandic Donuts (Kleina)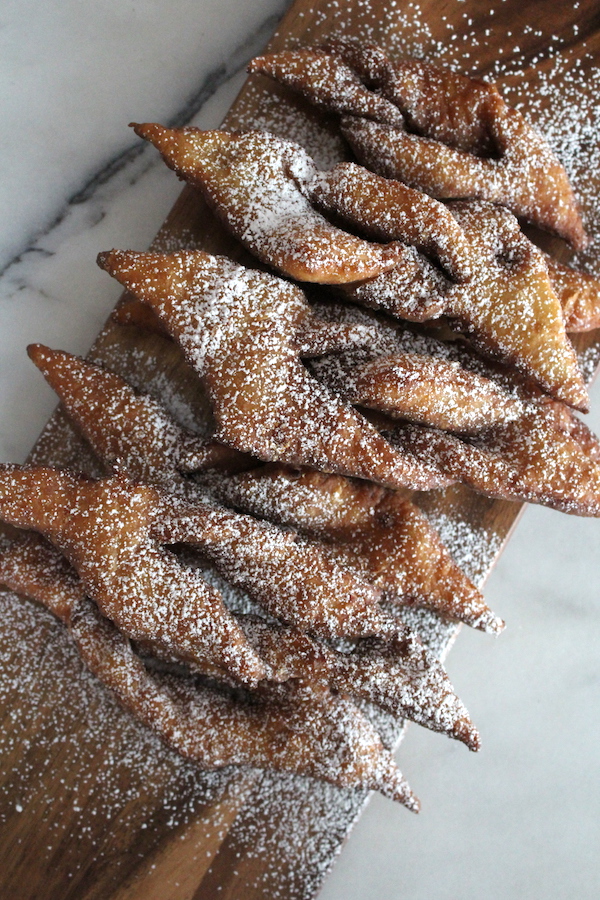 Icelandic kleina are deep-fried pasty treats (or donuts), found throughout Iceland. While every Scandinavian country has their version, Iceland's are served year-round, making them an important part of Icelandic cuisine.
Ingredients
2 1/4 cup (270g) Flour
1/2 cup (100 g) Sugar
2 tsp Baking Powder
1/2 tsp Baking Soda
1 tsp Cardamom, ground
1/4 tsp Nutmeg (or a few gratings fresh)
1/4 tsp Salt
1/4 cup (60 g) Butter, softened
1 Egg
1/2 cup Milk
1/2 cup Yogurt or Sour Cream
Instructions
Mix all dry ingredients together, including the flour, sugar, baking powder, baking soda, cardamom, and nutmeg.
Add butter and blend until the mixture looks like coarse crumbs.
Beat the remaining wet ingredients together until combined, and then add the wet ingredients to dry. Blend together until fully incorporated into a sticky dough.
Place the dough on a well-floured surface, sprinkle flour over the top and roll out to about 1/4 inch thick (they puff a lot during cooking).
Slice the dough into 2'' wide strips. Then slice each strip diagonally every 4 inches to make diamonds. Slice a slit in the middle of each diamond.
Prepare the kleina by tucking one tip of the diamond through the center slit and pulling through to create a curl in the dough.
Deep fry kleinur in hot oil for about 1-2 minutes each side. Watch them closely, they cook very fast.
When golden brown on both sides, remove the fried pastries to a paper-lined tray to drain.
Serve kleina warm, either plain or dusted with powdered sugar or cinnamon sugar.
More Icelandic Food Recipes
Looking for a bit more nordic inspiration? Check out these other traditional Icelandic recipes:
More Scandinavian Recipes