During the winter while I'm craving heavy comfort foods, it's hard to find a healthy dish with the power to satisfy when it's 20 below outside. There's something that's just inherently comforting about Danish braised red cabbage with warm spices. Rødkål is a traditional Scandinavian Christmas dish, but to me, it just tastes like warmth. It's served year round as a tasty vegetarian side dish in some of the coldest countries in the world.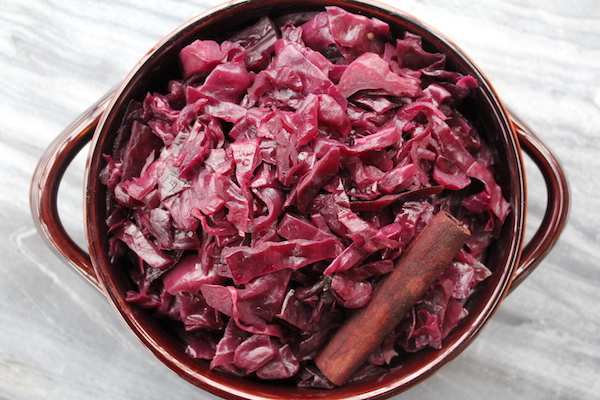 I stumbled across a recipe for Rødkål in The Nordic Cookbook, and even with more than 700 recipes in that huge book it caught my eye. A few days later I was flipping through my Scandinavian Christmas Recipes book and there it was again, this time with a mouth-watering picture. According to the author, "Red cabbage is a staple in all Nordic countries at Christmas and the days that follow. During the rest of the year, we use it as a side for meatballs or open-faced sandwiches."
Mmmm…tasty veggies fit for your Christmas table, but not so "Christmas-y" that they cant be served year round? Sounds like the healthy winter comfort food I'm looking for.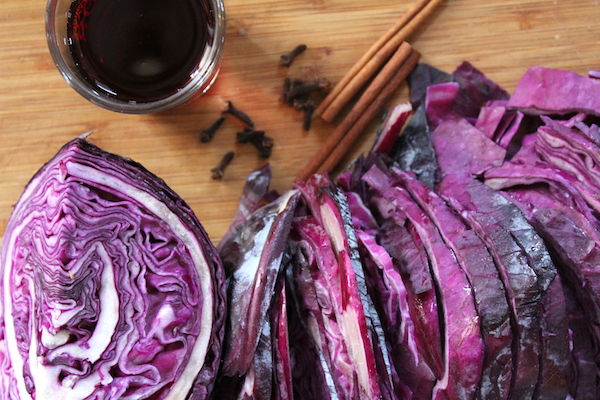 The red cabbage is braised for about 40 minutes with warm spices, including cinnamon and cloves. A little cassis (blackcurrant liqueur) or red currant jelly adds a fruity touch, while a splash of vinegar creates a sweet and sour effect. It sounds like something my grandmother would have made…
We happen to grow our own currants, both red and black, so we have homemade cassis and red currant jam on hand. If you don't, a bit of cranberry sauce would roughly approximate the red currant jelly. Or use a touch of red wine, grape juice or brandy in place of the cassis.
Rødkål ~ Braised Red Cabbage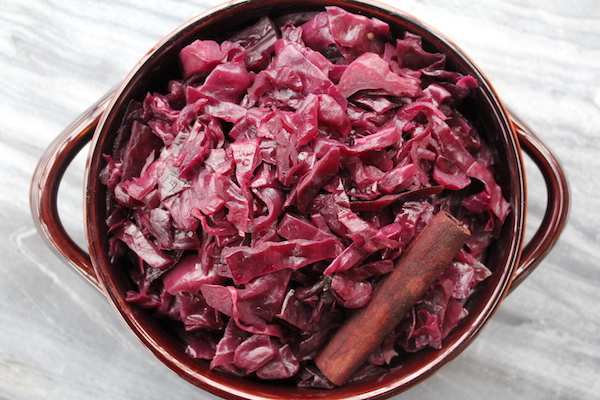 A simple sweet and sour cabbage dish, traditional on the holiday table in Scandinavia. Eaten year round as a side dish.
Ingredients
1 small red cabbage, finely sliced, about 1.5 lbs
1 apple, peeled, cored and grated
3 tbsp butter
1/4 cup sugar
1/3 cup blackcurrant cordial or redcurrant jelly diluted in water
1/3 cup water
3 tbsp wine vinegar
A few whole cinnamon sticks, star anise, allspice berries, or other warm spices
salt
pepper
Instructions
Add all ingredients to a covered dutch oven or saucepan. Bring to a boil, then turn down heat to a simmer.
Simmer on low for at least an hour, but preferably 2 to 2 1/2 hours. Add water periodically to be sure the pot always has about 1/2 inch at the bottom.
Once the cabbage is cooked, remove the lid and turn up the heat. Cook without a lid until almost all the liquid has evaporated, about 20 to 30 minutes.
Check seasoning, and adjust sweet/sour balance by adding vinegar or sugar to your taste.
Notes
This dish is often cooked a day ahead to save time and to allow the flavors to fully combine overnight.
Delicious Side Dishes
Move beyond steamed veggies and try some of these other amazing side dishes.