Pönnukökur are crepe-like pancakes traditionally made in Iceland. They're full of eggs, which makes them a hearty breakfast, especially when slathered with protein-rich Icelandic Skyr yogurt. Generally, though, Pönnukökur are served with jam or whipped cream which makes them a real sweet treat for breakfast or dessert.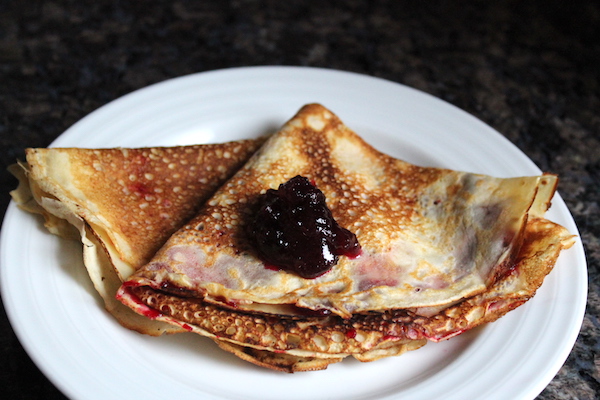 Icelandic pancakes brown up a bit darker than the traditional pancake-like crepes cooked in other Nordic countries, and much darker than custardy French crepes. They're made as thin as possible on a special pan called a pönnukökupanna (literally "pancake pan") that is never washed, not even with water. Just like my trusty cast iron crepe pan, a simple wipe with a buttered towel gets off any last bits and conditions the pan for the next use. The coating "seasons" with every use, sealing in a non-stick finish naturally.
Since the nonstick finish actually improves over time, unlike Teflon which degrades and chips, traditional pönnukökupanna are handed down through generations within the family. Outside of Iceland it's pretty well impossible to get a traditional Pönnukökur pan. In my search, I've found several help forums that say they're available at any corner grocery in Iceland though. Maybe someday…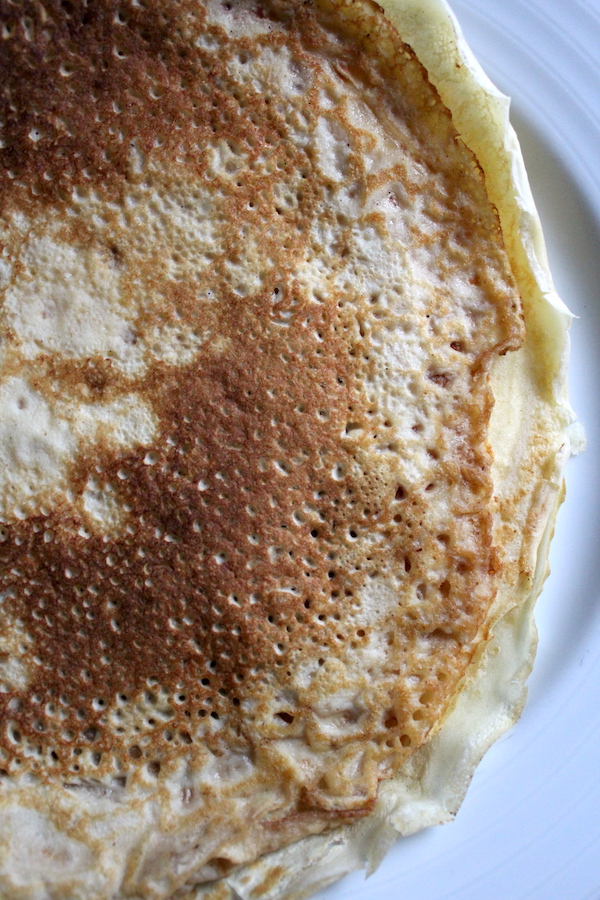 How to Make Pönnukökur
The trick to making really thin Pönnukökur is to keep the pan moving as you pour the batter. This is incredibly hard to photograph since it's hot and moving fast. Start by getting the pan very hot and then pick the pan up and hold it above the burner. Add a tiny bit of butter to the pan, and then pour a ladle full of batter into the center.
As soon as the batter hits the pan, start tilting the pan and keep it moving in to allow the batter to move all around the pan. Keep the pan moving until the batter stops running. Ideally, there's just enough batter on the pan to thinly coat the whole thing, and it takes a bit of practice to determine exactly how much is needed. I have a large ladle that's just right for my 10.5" cast iron pan. As you can see below, there's just a tiny bit of batter still liquid, and I'm tilting the pan to allow it to run onto the exposed pan surface.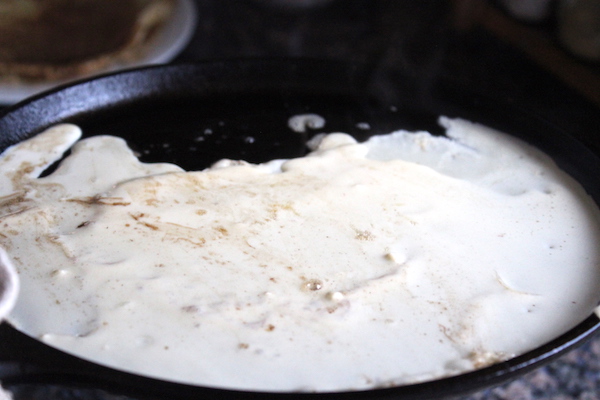 Once the Pönnukökur batter is covering the whole pan, set the pan back on the burner. They're very thin pancakes, and it only takes a minute for them to cook. Take a look at the color of the batter all the way across the pan, it changes color slightly when it's cooked and you should be able to see any underdone patches easily. As you're learning how to make them, it helps to watch the edges. The edges will begin to brown and pull away from the pan slightly.
You can use a spatula to peek under the edge of the pancake and check for doneness. The underside should be a beautiful lace of crispy brown delicious…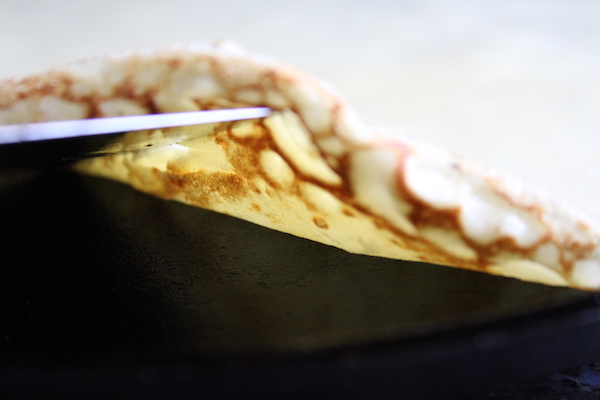 Slide a long thin pancake turning spatula under the Pönnukökur, and quickly flip the whole thing in one swift motion. While I've had trouble flipping french crepes in the past, Pönnukökur crisp nicely and hold together beautifully when flipped. I haven't had any trouble flipping them, and thus far they're the easiest style of crepe I've worked with.
Give the Pönnukökur another 30 seconds to a minute to cook on the other side before removing them to a plate.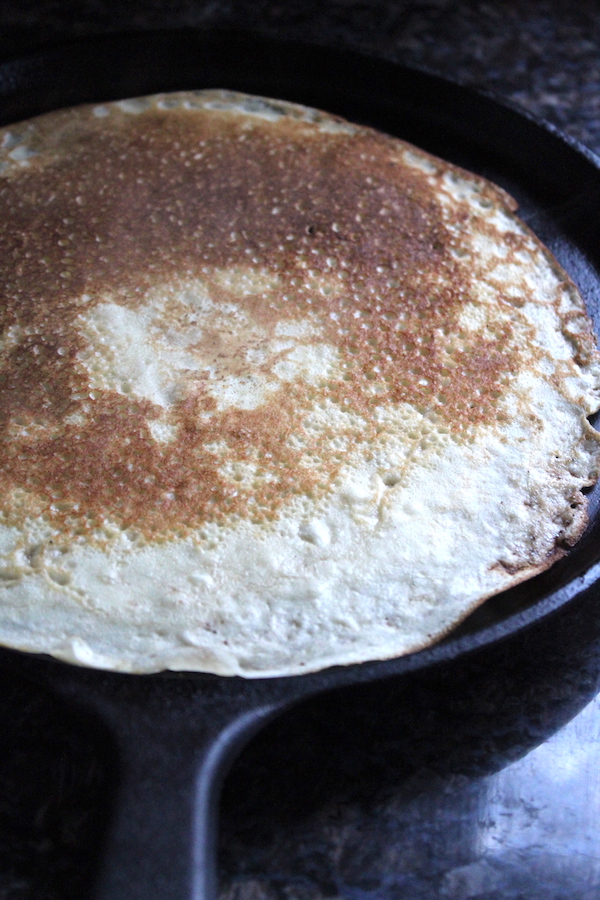 I always hear people mention lingonberry jam as a traditional accompaniment for anything northern, but it can be really hard to find. Lingonberries are very similar to cranberries and a good substitute is whole berry cranberry sauce. We make our own homemade cranberry sauce with just a hint of cinnamon and it's perfect in these Icelandic pancakes.
To eat, it helps to fold them neatly into quarters or roll them up around the jam.
This recipe is adapted from The Nordic Cookbook, which I'm really loving. It's an exhaustive recipe book of all things Nordic, with over 700 recipes. It'll be a while before I'm done cooking from this book…
Icelandic Pancakes (Pönnukökur)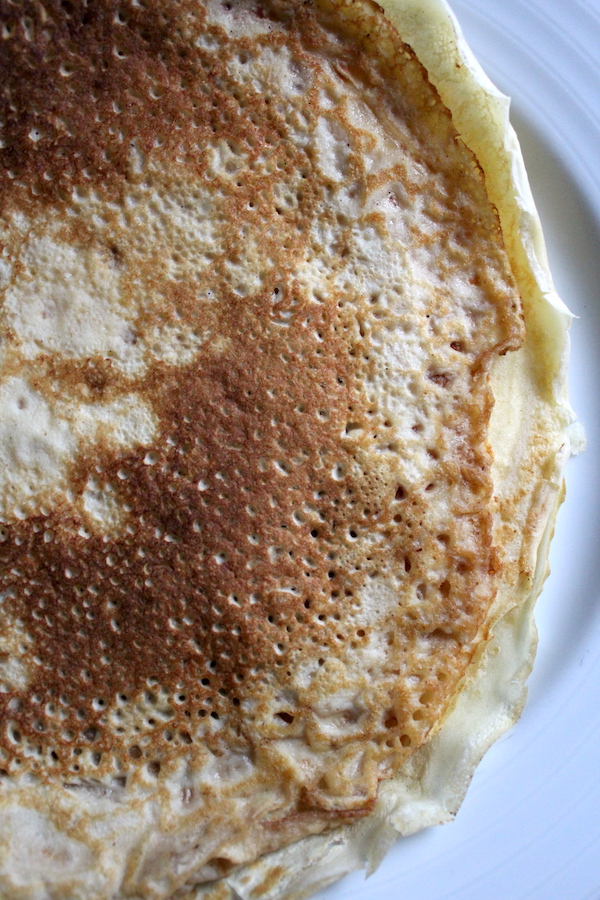 A traditional recipe for Icelandic pancakes (Pönnukökur) made on a seasoned cast iron pan.
Ingredients
5 eggs
2 1/2 cups milk
1 1/4 cup flour
1 tbsp sugar
1/2 tsp salt
Butter, for greasing the pan
Instructions
Whip together milk and eggs with a whisk until smooth, about 30 seconds.
Slowly add in flour, sugar and salt. Whisk until the batter is smooth, about 30 seconds to a minute. Try to avoid beating air into the batter or overworking it. Just mix it until fully incorporated.
If possible, allow the batter to stand for 30 minutes so that the flour absorbs more liquid, and the air bubbles rise out of the mix. Or, if short on time, just begin cooking.
Heat a crepe pan to very hot but not smoking and add a small pat of butter. Lift the pan and pour a large ladle of batter into the pan. Immediately begin tilting to pan to spread the batter. Keep the pan moving until all the batter has solidified and/or the whole pan is covered in batter.
Cook until the batter has set across the top and the edges begin to pull away from the pan, about 30 seconds to 1 minute.
Flip with a very thin spatula, and cook for another 30 seconds on the other side.
Remove to a plate and serve with jam or yogurt.
Breakfast Ideas
Kick your day off with these delicious breakfast recipes!