Pumpkin almond butter muffins are a rich fall treat that's surprisingly healthy. Sweetened with maple (or honey), these beautiful orange muffins are full of flavor. Add a few dark chocolate chips for a sweeter treat, or keep them simple for breakfast.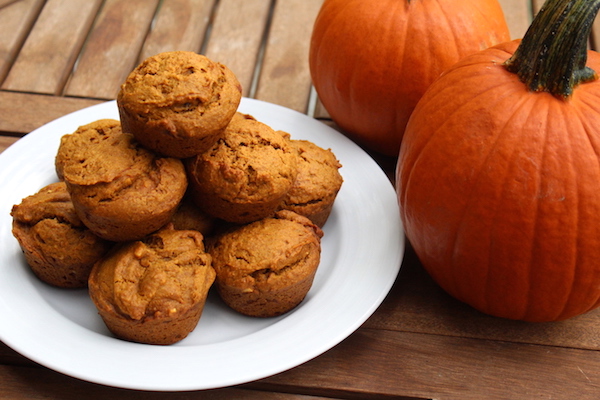 Years ago, when I worked at a wedding catering company that specialized in rustic Vermont Weddings, these pumpkin almond butter muffins were on the snacks table for every fall wedding, and they were always a huge hit. The sweetness of the maple and the richness of the almond butter compliments the pumpkin beautifully.
Left plain, they're a filling protein-rich breakfast. Topped with dark chocolate chips, they're the perfect mix of wholesome and decadent.
This recipe calls for a mix of whole-spelt flour and whole wheat pastry flour. The whole spelt adds great flavor and helps these muffins have a delicate crumb. The whole wheat gives them a bit of bite, but since it's whole-wheat pastry it doesn't toughen them.
Occasionally I've made them with all whole wheat pasty when I was out of spelt flour, and they were delicious of course but quite different.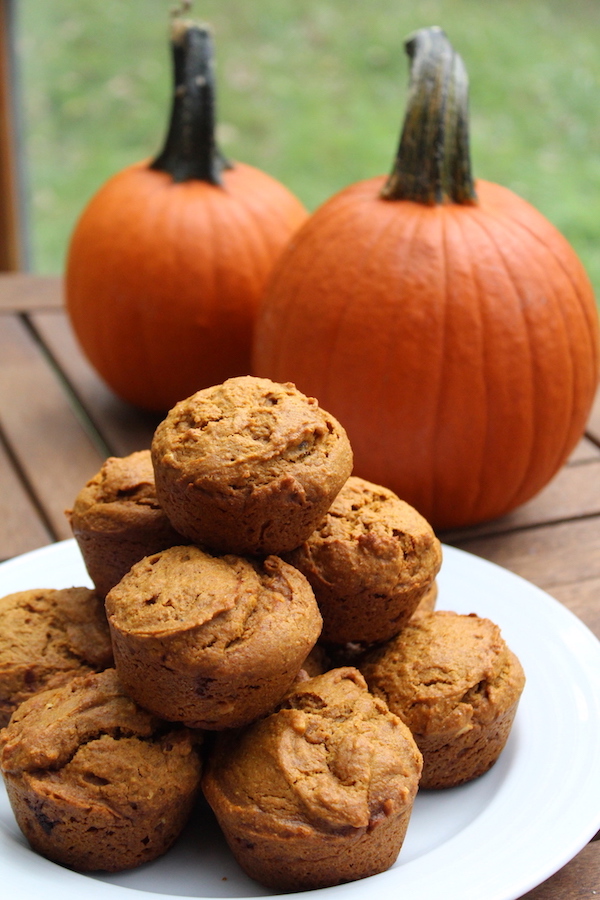 For the fat in this recipe, I generally use melted coconut oil. You can make this recipe with melted butter or vegetable oil, and a fat-free version with applesauce substituted for the oil works out wonderfully. This recipe calls for maple, but substituting maple for the honey is fine too.
They're just one step away from being vegan, and they work wonderfully with powdered egg replacer instead of whole eggs.
They can be made plain, with dark chocolate chips on top, or topped with an oat streusel depending on your tastes. Pumpkin almond butter muffins are perfection on the day they're baked, but they don't age well. Be sure to eat them within a day or two, or cut the recipe in half for a small batch of 6 muffins.
Yield: 12 Muffings
Pumpkin Almond Butter Muffins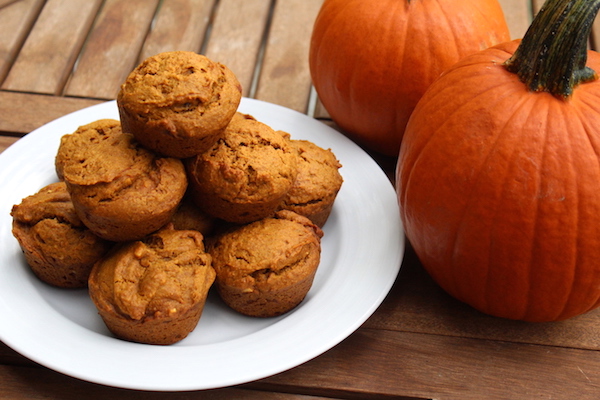 These pumpkin almond butter muffins are wholesome and full of pumpkin flavor. Made with whole grains and maple sweetened, they're the perfect healthy fall snack. They can even be made Vegan!
Ingredients
1 cup pumpkin
1/2 cups maple syrup
1/2 cup coconut oil melted
1/3 cup almond butter
2 eggs (or egg replacer)
1 cups Whole wheat pastry flour
¾ cup whole-spelt flour
1 tsp baking powder
1/2 teaspoon baking soda
1/2 teaspoon salt
1/2 teaspoon ground cinnamon
1/2 teaspoon ground nutmeg
1 cup dark chocolate chips optional
Instructions
In a mixing bowl, combine the maple, pumpkin, eggs, oil, water and almond butter; beat well.
In a separate bowl, combine the flour, baking soda, baking powder, salt, cinnamon and nutmeg. Gradually add to pumpkin mixture. Stir until just combined.
Top muffins with dark chocolate chips or mix into batter before baking. I've found that topping them with the dark chocolate chips before baking actually results in a tastier muffin, but either is fine.
Grease a standard muffin pan and fill the cups about 3/4 full with batter. Leave them without topping for a more savory muffin, or add cinnamon sugar, chocolate chips or streusel if desired.
Bake at 350 degrees for 22 to 25 minutes.
Notes
Recipe will make 12 muffins. Use egg replacer for vegan muffins.
More Healthy Fall Treats