Elderberry pie is a delicious and surprisingly easy elderberry recipe, perfect for either fresh or dried elderberries. It doesn't take much, just a few cups of elderberries and you're well on your way to a delicious old fashioned elderberry pie.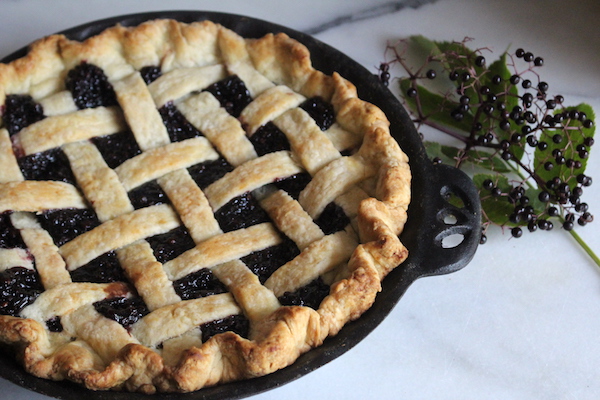 Every year we try to get a bit more creative with the elderberry harvest. Of course, every year we make our old standbys…elderberry syrup for the kids, a probiotic elderberry oxymel for winter colds and an elderberry tincture for the immune support in the deep winter months.
I still have a few jars of scrumptious elderberry jelly leftover from last year, and we're still slowly working through a 5 gallon batch of elderberry mead (honey wine) from a few years back. With all the elderberry love we still have in the larder, this year I decided to test out an elderberry recipe that just won't keep ~ Elderberry Pie!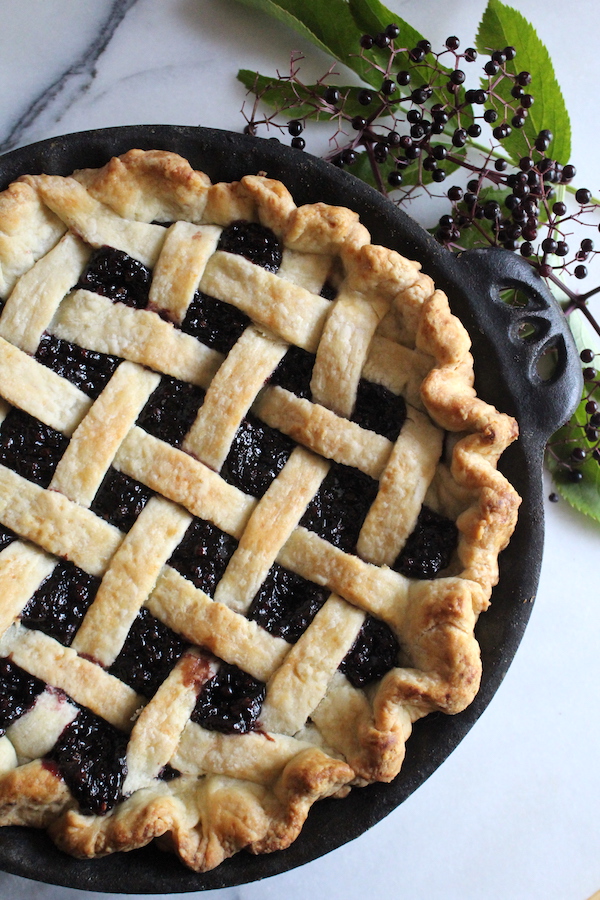 Pie is always popular in our house, and it's rare that a homemade pie makes it 24 hours. Thus there's no better way to use up elderberries when you've already got plenty preserved for winter.
I'll be honest, I was a bit skeptical of elderberry pie for two reasons. First, elderberries are heavy on juice and light on pectin. I assumed that the berries would pop and basically make elderberry soup in a crust. Second, they have tiny seeds inside and I imagined that those would be pretty annoying in quantity. Luckily, I proved myself wrong on both counts!
Elderberry pie thickened up nicely without a fuss, and it actually came out in a clean slice with no puddling.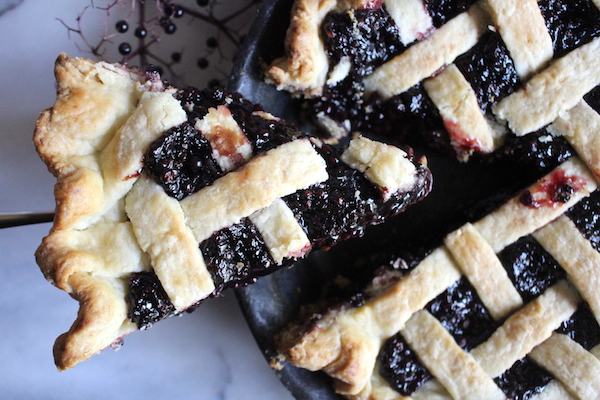 The seeds weren't really a problem either. Sure, you can tell they're there, but the cooking process actually softens them considerably and you'd barely notice the difference between an elderberry pie and a blueberry pie in terms of texture.
Truth be told, the finished elderberry pie was actually smoother than most berry pies, such as blackberry or raspberry.
How to Make an Elderberry Pie
The first step to making an elderberry pie is actually the hardest…finding fresh elderberries. It can be tricky to find fresh elderberries unless you grow them yourself, and even then, it's hard to beat the birds to the harvest.
I did successfully make elderberry pie with dried elderberries, and I'll discuss that technique a bit later. For now, let's stick with fresh.
Start by stemming the elderberries. I just did it quickly by hand with the fresh-picked berries and it only took about 5 minutes. Not much different than the amount of time it takes to peel apples for apple pie.
Most people suggest stemming the berries by freezing them first, which is likely a bit cleaner in terms of mess on your hands. Frozen elderberries pop right off the stems, and they're just fine for elderberry pie.
Remove as much of the stem material as possible, but don't drive yourself nuts trying to get out the really micro pieces.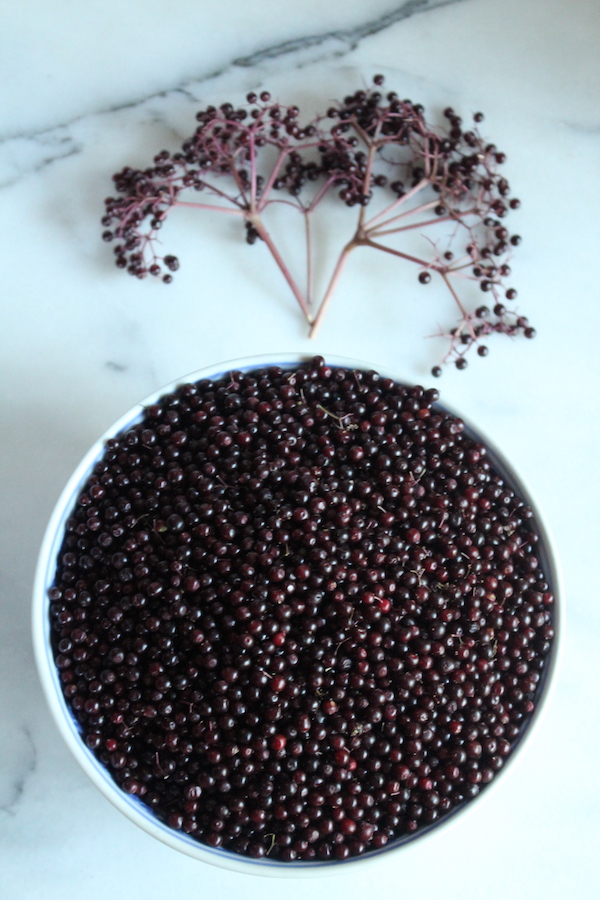 Elderberry Pie Filling
Generally, when I make berry pies or pies of any sort, I use raw fruit and just toss the fruit with a bit of sugar, thickener and sweetener before loading it into the pie crust. I consulted a lot of recipes for elderberry pie, and though they varied a good bit, the one thing they all had in common was cooking the filling before putting it into the crust.
That's probably what creates such a smooth filling that sets up well once it's cooled. Everything gets heated and mixed before it goes in, and the thickener dissolves directly into the fruit juice so that it doesn't make a soggy crust.
This recipe has a good bit of sugar, way more than I use in most my pies, but elderberries really need the extra sweetness. I added the juice of 1 lemon (about 2 tbsp) help balance it a bit, and bring out the flavor of the elderberries.
Start by dissolving the sugar and cornstarch in a bit of water (about 1/2 cup). You can use elderberry juice or tea made from dried elderberries for more flavor too. Bring it to a hard boil and then add the lemon juice and fresh elderberries. Allow the mixture to cook until heated through, about 2-3 minutes. Then remove from heat.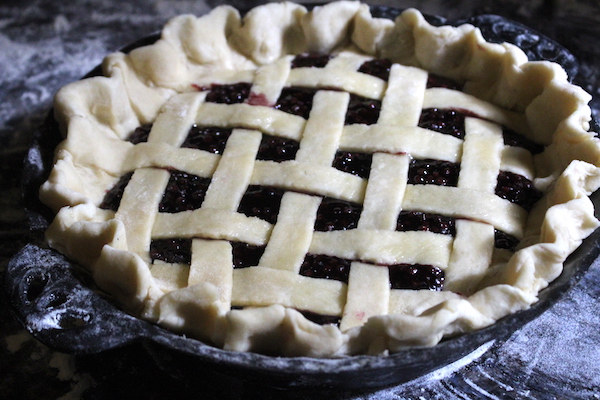 Assembling an Elderberry Pie
Feel free to use any pie crust recipe, but I've included instructions for my go-to pastry crust. It's really simple, just flour, butter, a pinch of salt and a few tablespoons of water.
Split the pie dough in half and roll out one side to line a pie plate. I'm using a cast iron pie pan because the thick cast iron really crisps the bottom crust and prevents it from getting soggy. It's perfect for custard pies like pumpkin, or wet berry pies like this elderberry pie.
While you can go with a solid top crust, I opted for a lattice crust to show off the elderberries and allow extra steam to escape. My thought was that it'd help the elderberry filling setup because I was still worried about a runny filling. It turned out not to be necessary, the filling set up wonderfully, but it did make for a beautiful pie.
Just brush the top with a bit of milk or egg white to help it brown nicely, and your pie is ready for the oven.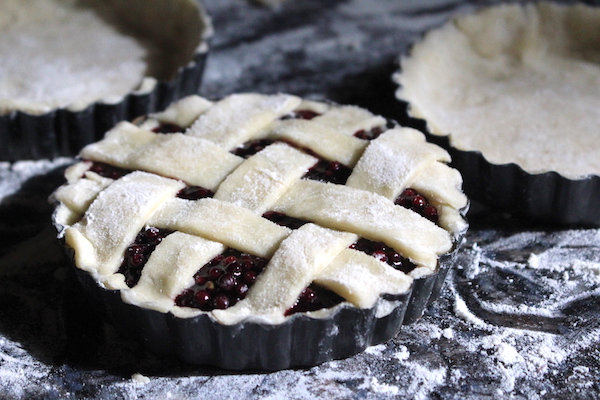 Elderberry Hand Pies
As part of this whole elderberry pie-making adventure, I promised to make a few elderberry turnovers for my friend Susannah's elderberry cookbook (coming out soon). The thing is, I'm horrible at shaping turnovers, and I cheated a bit instead.
We used to sell mini pies at local farmers markets and we made a killing baking them in bulk in small tart pans. I stole a bit of the pie filling and made a tiny elderberry tart instead.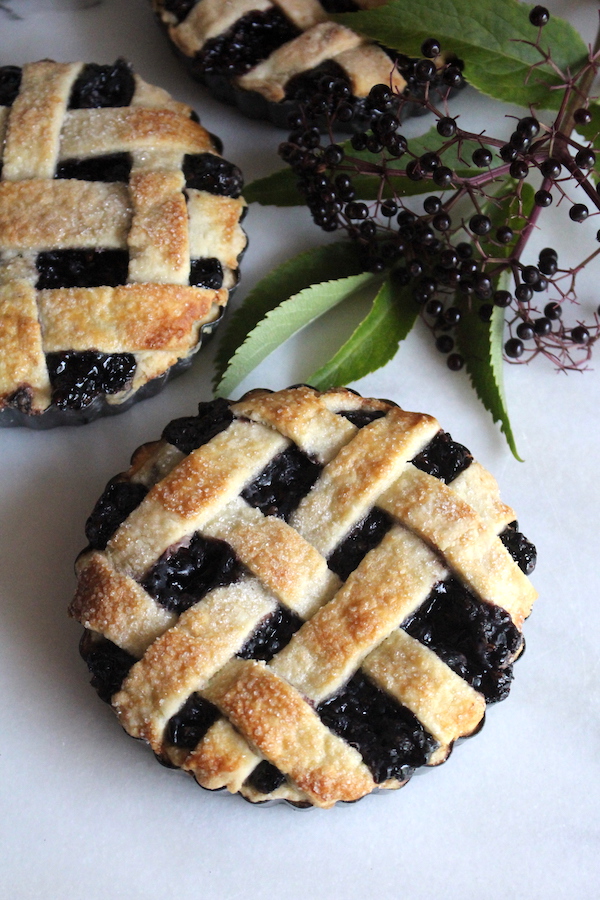 Elderberry Pie with Dried Elderberries
Though I had fresh elderberries, this project wouldn't be complete without at least trying to make pie with dried elderberries. I assumed they'd be a bit crunchy and that the fruit wouldn't be quite the same. They actually came out really good, and I was the only one that could tell the difference between the mini pies made with fresh fruit as opposed to dried.
I only made a few tarts, so I'm not entirely sure on the measurements for a full pie. I started by taking 1 part dried elderberries and covering it with 2 parts water. I let that soak overnight before adding both the soaked fruit and soaking liquid to a pot with sugar, thickener, and lemon juice. I'd guess for a whole pie you'd need 2 to 2 1/2 cups dried elderberries, soaked in 4 to 5 cups water.
Simply substitute the soaked fruit and liquid for the fresh berries in my fresh elderberry pie recipe. My 4-year-old taste tester loved the results…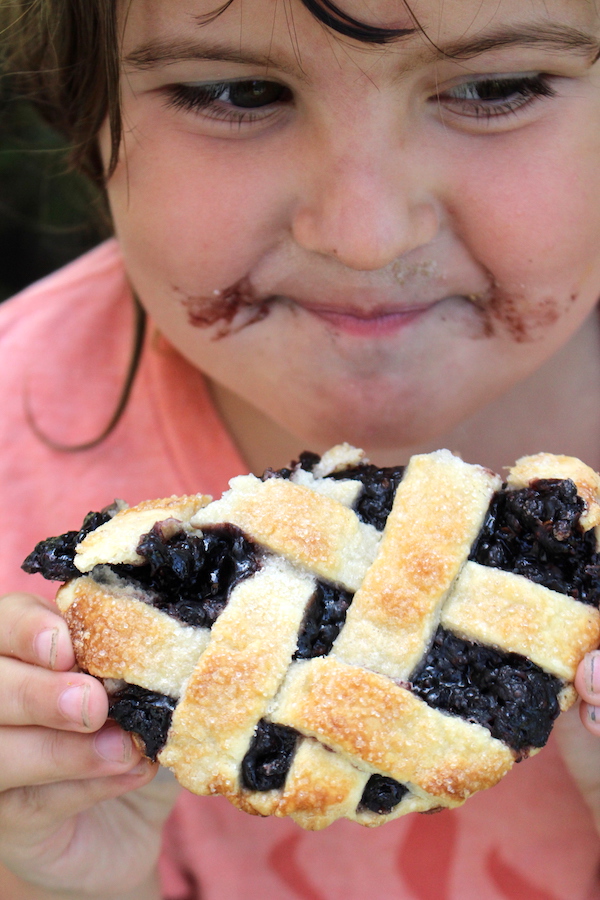 Yield: 9'' Pie
Elderberry Pie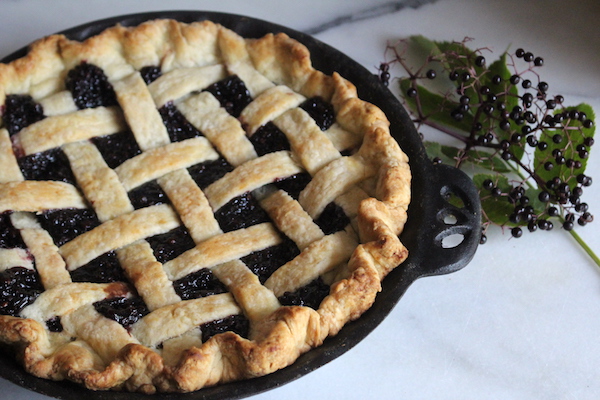 This simple old fashioned elderberry pie comes together with just a few ingredients, and it's a real crowd pleaser
Ingredients
Crust
2 1/4 cups flour
1 cup butter
1/2 tsp salt
4 to 6 tbsp water, cold
Elderberry Pie Filling
4 cups elderberries, stemmed
1 cup sugar
3-4 tbsp corn starch
2 tbsp lemon juice
1/2 cup water (see note)
Instructions
Prepare the pie crust by mixing flour and salt (with a tbsp of sugar if desired) and then cutting the butter into the flour mixture until crumbly. Add water and bring the mixture together into a cohesive mass. Divide into two pieces, wrap and refrigerate.
Clean and stem the elderberries.
Place the sugar, cornstarch and water in a saucepan large enough to hold all the filling. Bring the mixture to a boil, stirring to dissolve.
Add elderberries and lemon juice and cook another 2-3 minutes until heated through. Set aside to cool slightly while you prepare the crust.
Remove one half of the crust from the refrigerator, roll it out and use it to line a pie pan.
Fill the crust with the elderberry pie filling, and then top with the second half of the crust (as a lattice top or solid top pie).
Seal the edges, and optionally, pain the top with milk or egg white for a golden crust. A sprinkle of sugar on top is also a nice decorative touch.
Bake at 425 for 30 minutes and then reduce the oven temperature to 350 for an additional 20 to 30 minutes until the crust is browned and filling bubbly.
Allow the pie to cool completely before cutting.
Notes
The recipe includes 1/2 cup water to dissolve the cornstarch and sugar for the filling, but elderberry juice (or elderberry tea made from dried elderberries) would be a more flavorful choice.
I have made this pie using dried elderberries, see the article text above for instructions on rehydrating the berries before making a pie.
Recommended Products
As an Amazon Associate and member of other affiliate programs, I earn from qualifying purchases.
More Elderberry Recipes
Looking for more delicious elderberry recipes? Here are a few to get you started: