Making donuts with edible flowers is so much fun, and I know of no better way to get kids excited about gardening. Lilacs taste as good as they smell, and they infuse wonderfully into donut batter. Lilac donuts anyone?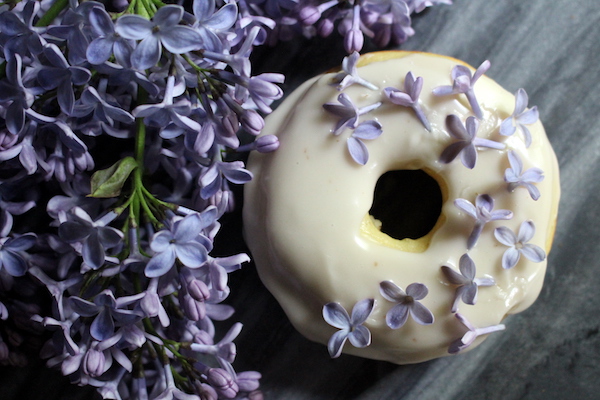 Here we are in the midst of lilac season in Vermont, and I smell those lovely blossoms every time I walk outside. There's a reason we planted a lilac hedge right off the front porch, and thinking about that wonderful scent pulls me out of bed in the morning faster than a cup of coffee.
We're on a lilac kick in the kitchen, and the little ones excitedly pull off all the blossoms they can reach. Luckily most are way overhead, so the wonderful scent lingers on. We made lilac wine just last week, and I made a separate batch of lilac soda for the little ones using a bit of lilac syrup and water kefir. Since then, they want to put lilac in everything, and I don't blame them.
My daughter found our cake donut pan in a drawer in the kitchen, and immediately asked, "Can we make donuts with those special flowers mama?"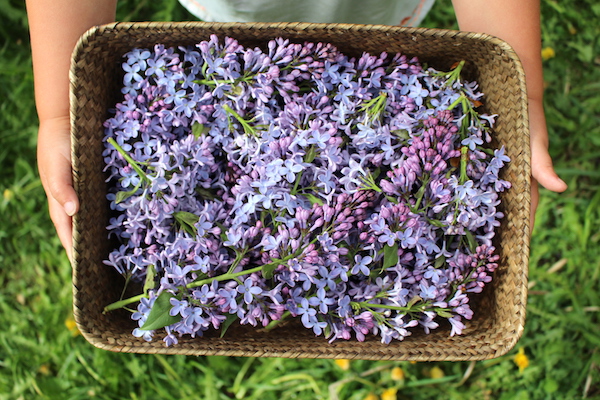 Infusing the flavor of edible flowers into donuts is actually pretty simple. Assuming the flower petals are soft and not at all fibrous, you can just toss a few handfuls into the batter. I'm using a basic recipe for baked vanilla donuts that's worked out well in the past. The recipe makes a small batch, just 6 baked cake donuts, or one batch in my cake donut pan. Enough for a family treat, but not enough to put you into a sugar coma.
Unlike deep-fried donuts that brown nicely on both sides, baked donuts only touch the pan on the bottom and are never flipped. That means the top stays white, and it looks out of place if you don't add a glaze. No matter, what's a donut without a bit of frosting anyway?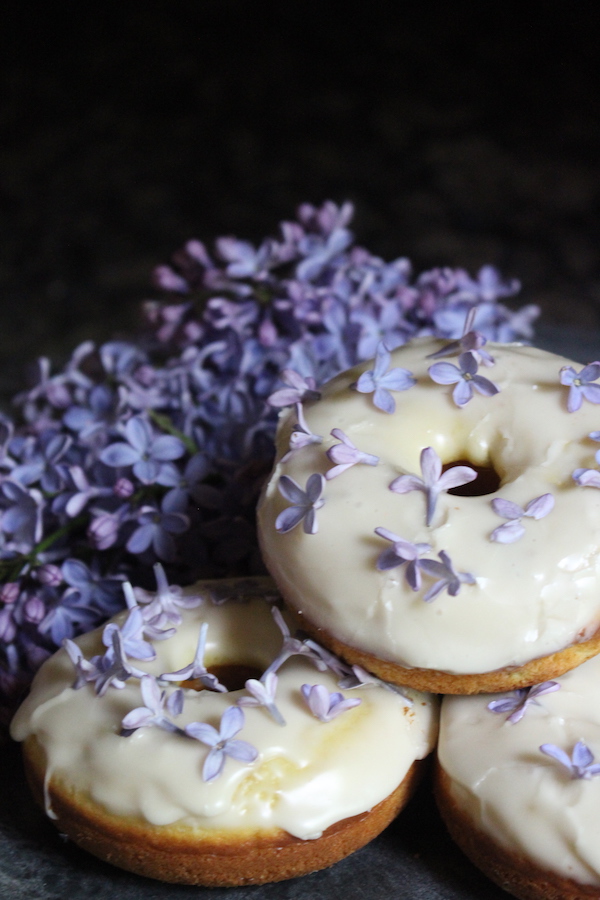 The frosting is a simple mixture of powdered sugar and milk. Be careful, it sets up quickly and it's hard to get the flowers to stick once the shiny glaze has firmed up. Dip them into the mixture one at a time, and then immediately sprinkle on the prepared lilac blossoms.
Also, don't try making the frosting ahead of time, and wait until they're completely cool. I know, you want one right when they come out of the oven, but they only take about 10 minutes to cool on a rack once you get them out of the pan. The floral flavors are more pronounced with a cooled donut, so it's definitely worth the wait.
Yield: 6 donuts
Lilac Donuts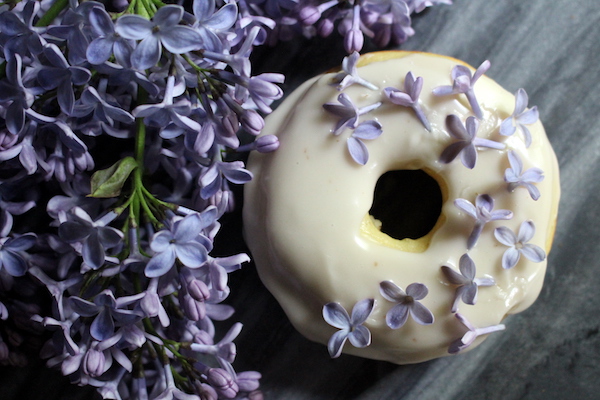 Lilac flower donuts infuse the flavor of lilacs into tasty baked donuts for a fresh spring treat.
Ingredients
Edible Flower Donut Batter
1 cup flour
1/3 cup sugar
1 tsp baking powder
1/2 tsp salt
2 tbs coconut oil or butter, melted
1 egg
1/2 cup milk (regular or plant-based)
1 tsp vanilla extract
1/2 cup lilac blossoms, green parts removed
Vanilla Glaze
1/2 cup powdered sugar
1/2 tsp vanilla extract
1 small pinch salt
1 or 2 tablespoons water or milk
1/4 cup lilac blossoms (to top donuts)
Instructions
Preheat the oven to 350 F.
Grease the baked donut pan and set aside.
Prepare lilac blossoms by washing them (if nessisary) and carefully remove the individual flowers from the green stems. Try to remove all the green parts, leaving only the soft fragrant flowers themselves.
Whisk together dry ingredients including flour, sugar, baking powder and salt.
Add in egg, milk, butter, vanilla extract and lilac blossoms. Stir to incorporate, but avoid over mixing.
Either carefully spoon the batter into the donut pan, or put the batter into a ziploc bag and cut the corner off to use it as a piping bag to fill the donut cavities. Fill them about 3/4 full, and you should have exactly enough batter for 6 donuts in a standard donut pan.
Place the pan in the oven and bake for 8 to 10 minutes.
Remove from the oven and allow to cool in the pan before removing the donuts to a wire rack to cool completely.
While the donuts cool, make the glaze.
In a medium bowl whisk together the powdered sugar, vanilla extract and salt.
Add 1 tablespoon of milk, and whisk to combine. Adjust the consistency of the glaze by adding more milk, a few drops at a time, until you reach the desired consistency. Feel free to add food coloring if you wish.
Once the donuts are completely cool, dip them into the glaze. Return to the wire rack and sprinkle with lilac flowers, pressing lightly if nessisary to ensure the edible flowers stick. Allow the glaze to set for about 5-10 minutes before stacking or serving.
Baked donuts are best the day they're made, so enjoy these edible flower donuts with family or friends within 24 hours for best results.
Recommended Products
As an Amazon Associate and member of other affiliate programs, I earn from qualifying purchases.
Edible Flower Recipes
Enjoy these other amazing recipes that use edible flowers!