I love the idea of putting a meal on the table by using ingredients we grew fresh on the homestead. So many desserts incorporate the flour, which is hard to grow on a small scale. Pots de creme are a traditional dessert that's naturally gluten-free and can be made using ingredients grown right in our backyard.
Honey, eggs, cream, and lavender come together beautifully for these homemade honey lavender pots de creme.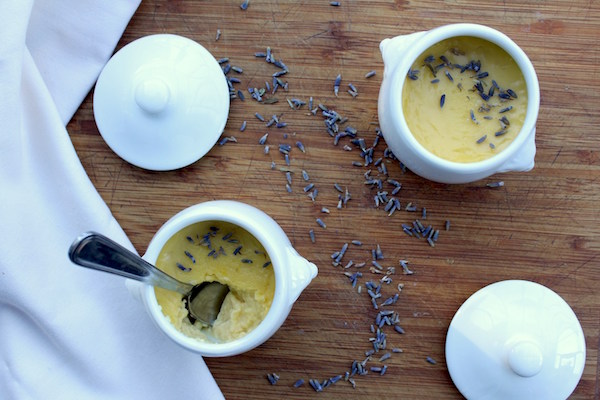 Pots de creme are a lot like creme brule, but instead of creating a sugar crust with a kitchen blow torch they have a soft pudding-like texture. The tiny ceramic lid keeps the pudding from drying out in the oven.
I used these beautiful ceramic pots de creme pots. With so many eggs on our homestead, we make pots de creme several times a month, so these little pots see a lot of use.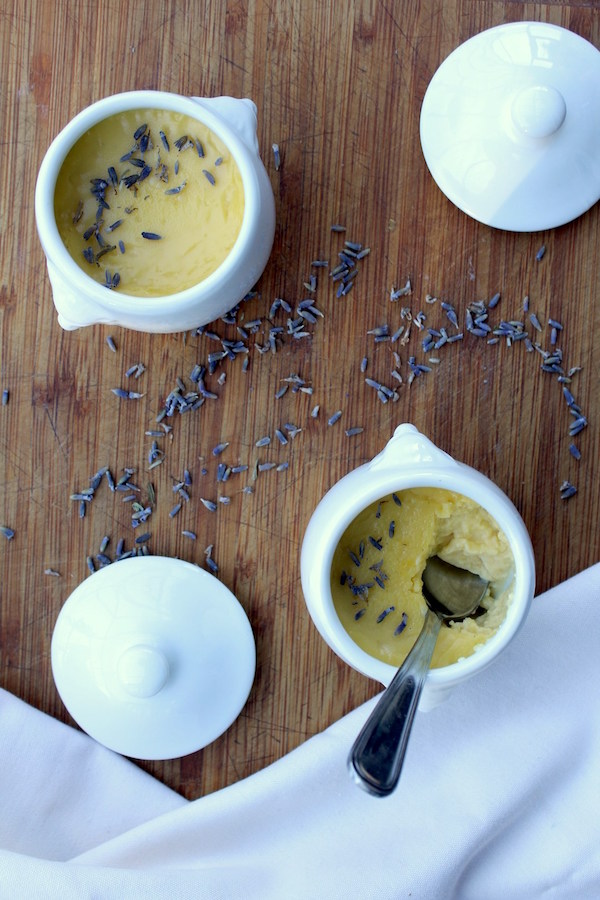 Pots de creme can also be made in any oven safe ramekin, covered in aluminum foil to keep the contents moist during the cooking process.
Edible Flower Recipes
Enjoy these other amazing recipes that use edible flowers!
Honey Lavender Pots de Creme
Prep Time 10 minutes

Cook Time 50 minutes

Total Time 1 hour
Ingredients
3/4 cup Heavy Cream
1/4 cup Whole Milk
3 large Egg Yolks
2 tbsp Honey
1 tbsp Lavender Flowers, dried
Instructions
Bring the milk and cream to a simmer in a saucepan and turn off. Add the lavender flowers and allow them to infuse into the warm milk and cream for 10 minutes.
Strain the lavender flowers with a fine mesh strainer.
Stir the honey into the still warm cream until dissolved.
Separate the egg yolks into a bowl, reserving the egg whites for another use. Whip the egg yolks with a whisk until smooth, about 1 minute.
Slowly add the cream mixture to the egg yolks, a bit at a time while whisking while pouring to avoid cooking the yolks with the still warm cream. Add the cream mixture until all is incorporated.
Pour the cream into 4 small ramekins or pots de creme pots. If using ramekins, cover with foil otherwise cover with pots de creme pot lids.
Bring water to a boil and pour it into a deep oven safe baking dish. The water should be about 1 inch deep. Add the pots de creme to the water bath, and place the entire dish in the oven. This is called cooking the pots de creme in a bain marie.
The pots de creme will bake in the water bath so that they don't dry out or burn, but the water will not go into the pots.
Bake for 40 to 50 minutes at 300 degrees F until the pots de creme are set in the center, but still jiggly.
For best results, allow the pots de creme to cool completely before eating.