Dandelion shortbread cookies add a bright, sunny spring twist to an old school classic. Shortbread is rather plain on its own, but it's also adaptable, and adding edible flowers is a lovely way to add a bit of excitement. Dandelion cookies anyone?
Up here in Vermont, we wait a long time for the spring dandelions. Usually, they show up around mid-May, just in time for mother's day. I know, they've been up for months everywhere else, and all my foraging friends have been posting their creative dandelion recipes online, meaning I've got plenty of creative inspiration.
Still, what do I make first? Simple dandelion cookies.
Dandelion petals add a lot more than color to cookies. They taste a bit like honey, and a simple dandelion jelly made with their flower petals is often referred to as "dandelion honey jelly" even when it doesn't have any honey in the recipe. Vegans even make a honey substitute by making a dandelion simple syrup.
But it's a bit tricky to make honey shortbread. All the moisture in the honey changes the consistency of the dough. Adding dandelions is a simple workaround that gives you a colorful dandelion cookie, along with a hint of honey flavor.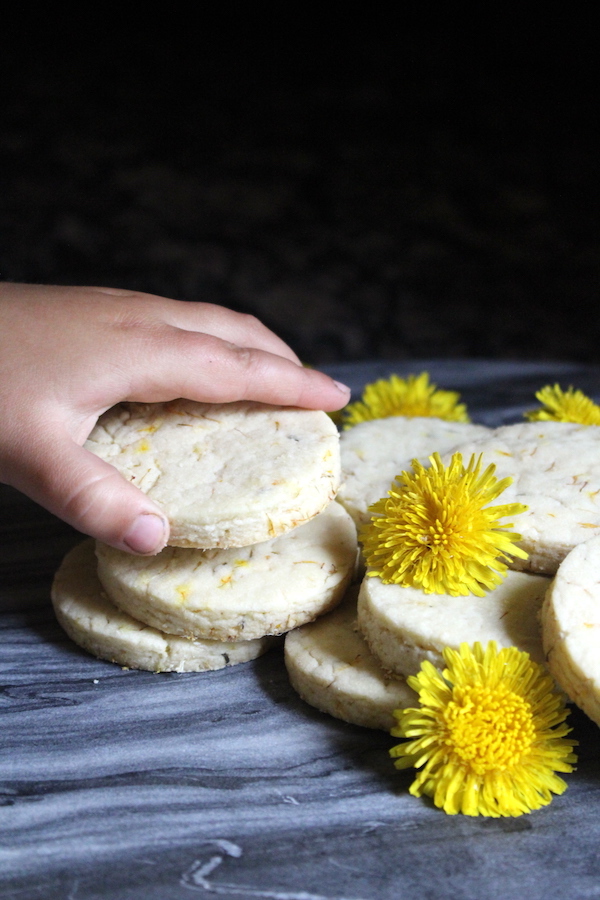 Bonus points, when you tell the kids you're going to make them cookies, they'll be really motivated to go out and collect a whole basket full of dandelions…and give you 5 minutes peace. No need to tell them that it only takes a few flowers to make dandelion cookies and the rest of those blossoms can go right into homemade dandelion wine. See, everyone wins!
Of course, always remember to leave plenty of dandelions for the bees. In our unsprayed yard though, that's not a problem. They get at least 1,000 blossoms for every one we harvest, and we cook up a lot of dandelions…
Pro Tip ~ Make sure you pull out the dandelion petals and discard the green parts. The petals have a wonderful floral taste, but the green sepals are bitter and can spoil dandelion cookies. A few in there won't hurt anything, but just do your best. I separated the dandelion petals for these cookies with my 4-year-old, so there's plenty of stray green bits. Just enough to add color & character, but not enough to spoil the batch.
Yield: 12 to 16 Cookies
Dandelion Shortbread Cookies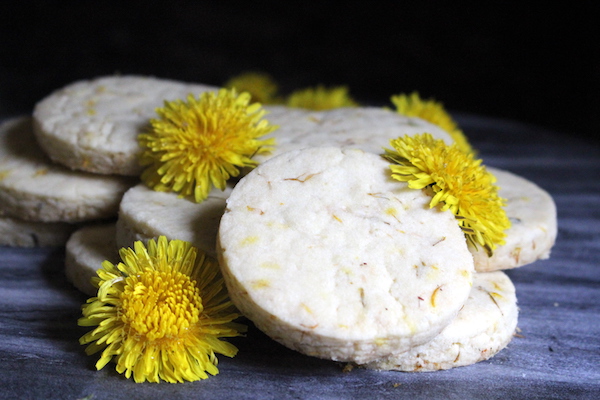 These simple dandelion shortbread cookies are a bright sunny twist on an old school classic.
Ingredients
1 cup butter, softened
1/2 cup sugar
1/2 to 1 cup dandelion petals (yellow parts only)
2 1/2 cups flour
1 pinch salt
Instructions
Preheat oven to 325 degrees.
Butter and sugar together with a mixer until light and fluffy, about 3 minutes.
Add dandelion petals and beat to incorporate.
Gradually add flour and salt, beating to incorporate fully. Dough will be crumbly at first, but it will start to come together.
Once all the flour is added, beat on low another minute or so. Then knead gently with your hands until the dough comes together.
Roll cookies out and cut out with your favorite cookie cutters.
Bake cookies at 325 for about 20 to 25 minutes, until they begin to brown on the bottoms and are fully cooked on the top.
Remove to a cooling rack and allow them to cool completely. Enjoy!
More Dandelion Recipes
Looking for more tasty dandelion recipes? Here's a bit of inspiration…