Homemade honey marshmallows are surprisingly easy to make, and they're a delicious treat easily made healthier without corn syrup. These homemade herbal marshmallows are made with just a few ingredients, honey sweetened and flavored with dandelion petals for extra honey goodness.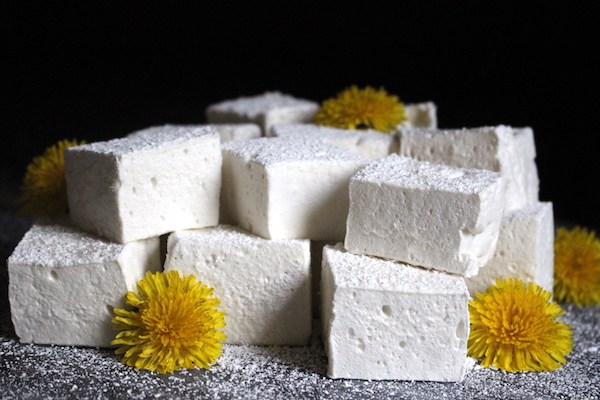 Dandelion petals taste a bit like honey, and they're even used to make something called "vegan honey" which is basically just a sugar syrup flavored with dandelion petals. Though I haven't tried it personally, I hear it's very convincing.
I love honey, especially from our own backyard bees, so I've never sought a honey substitute. Quite the contrary, I'm always looking for ways to use honey in our favorite treats, replacing store-bought sugar or processed corn syrup.
When my pre-school age daughter tried her first s'more, she was hooked. We camp out in the yard regularly, cooking over the campfire as often as we can. Every time that fire gets lit, my little marshmallow junkie starts negotiating for a toasted treat.
It's completely unavoidable, but that doesn't mean that special treat has to be a corn syrup bomb.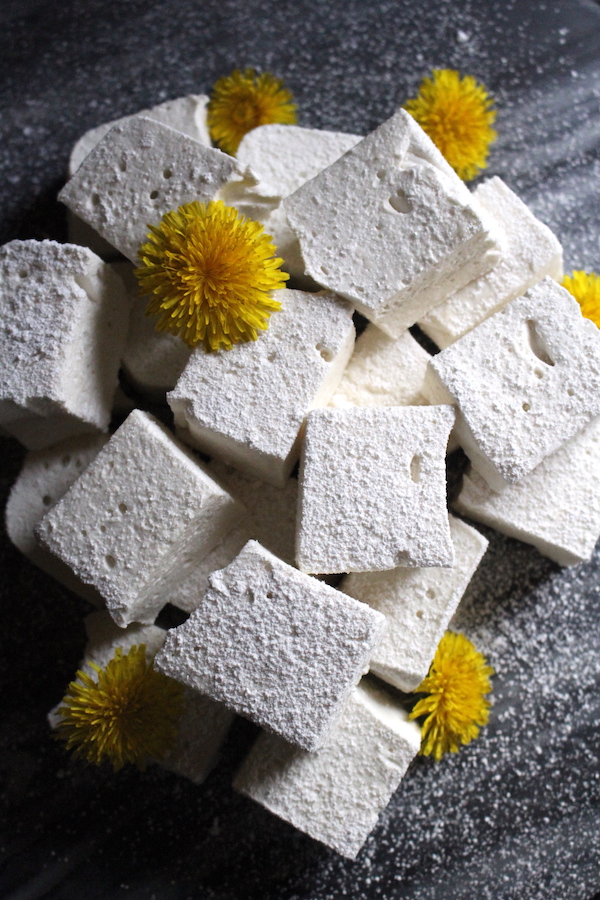 Honey marshmallows without corn syrup only take a few minutes to make (really, start to finish in under 30 min active time, then a few hours to set). Since we're on an "all things dandelion" spree in the kitchen, I decided to make them herbal marshmallows too. We've already made dandelion gummy bears and dandelion shortbread this week, so marshmallows aren't too much of a stretch.
While my daughter loves marshmallows, my toddler son won't touch sweets…but he loves nothing more than beheading dandelions. This way, we add a bit of herbal honey flavor our homemade marshmallows, and both little ones get to help bring it all together.
This recipe uses 1 cup of dandelion petal tea, but that could easily be any other herbal tea that suits your purpose. I've seen others make medicinal herbal marshmallows, using their herb of choice to make a strong tea. While these aren't made as "medicine," they could be a good way to get a reluctant patient to take their herbal medicine.
How to Make Honey Marshmallows
Making marshmallows starts with placing a small amount of liquid in a stand mixer, and dusting gelatin on the top. While the gelatin "blooms," absorbing water and getting ready, you begin heating honey with a small amount of liquid in a saucepan. In this case, both liquids are dandelion petal tea, but it could just as easily be water or another type of herbal tea that suits your purpose.
For the gelatin, while any generic gelatin will work, I'm using Vital Proteins Grassfed Beef Gelatin. If I'm going to go through the process of making honey marshmallows, I might as well make them as healthy as possible. High in both collagen and protein, it adds something a bit more substantial to the recipe.
Once the honey syrup reaches 240 degrees F, or "soft ball stage" on a candy thermometer, the syrup is poured into the stand mixer with the gelatin. A few minutes of whipping, and you have a fluffy batch of marshmallow batter…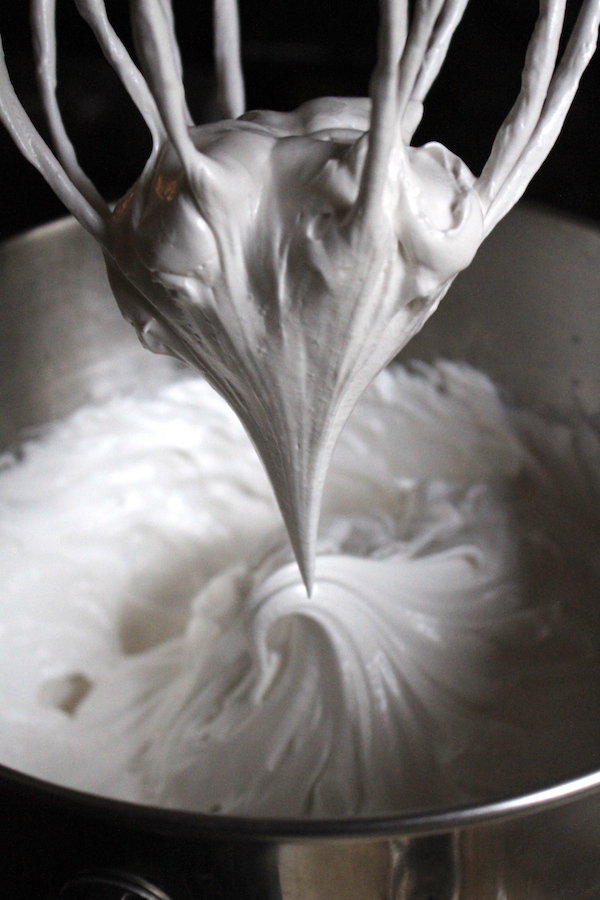 After about 10 minutes of whipping, the marshmallow batter is light and fluffy. At this point, it's basically marshmallow fluff, but that won't last. In about 20-30 minutes this fluff will start to set into regular marshmallows. It's important to get it out of the bowl and into a tray so that the honey marshmallows can setup.
The problem is, the fluff is VERY sticky. Grease a 9×9 baking pan and dust it with either powdered sugar or arrowroot powder. If you're avoiding cane sugars altogether, arrowroot powder works as a substitute.
Use a greased spatula to scoop the marshmallow batter into the tray. Not kidding, grease a silicone spatula with a neutral oil (or butter), you'll regret it otherwise.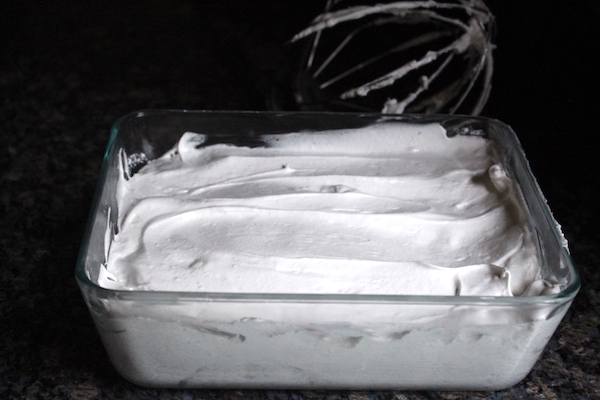 Allow the marshmallows to set for 4 to 6 hours, or overnight before cutting. When it comes time to cut them, use a spatual to gently separate the sides and flip the pan over onto a surface dusted with either powdered sugar or arrow root powder.
Use a sharp knife to cut them into squares (or go crazy and use cookie cutters for shaped marshmallows). Then dust them on all sides with more powdered sugar or arrowroot to keep them from sticking back together.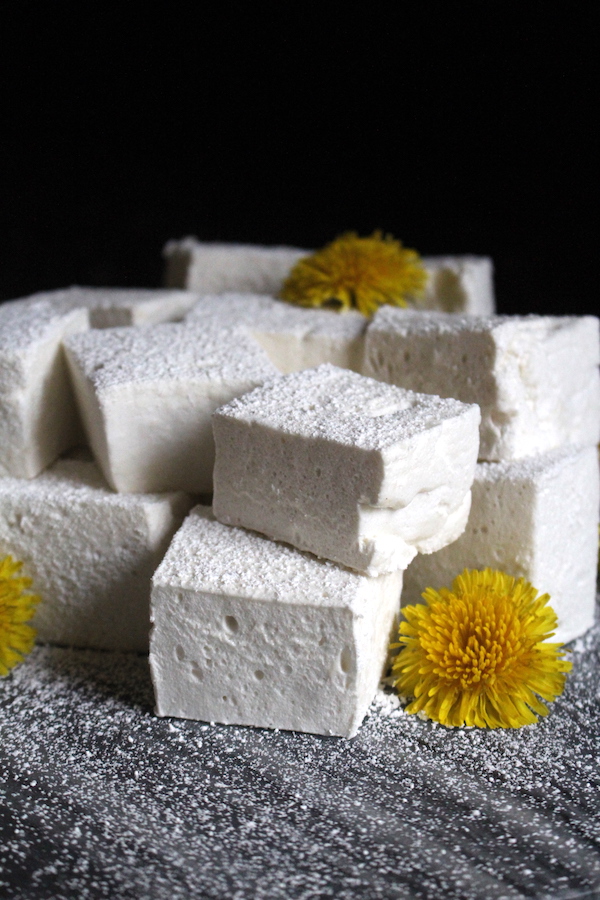 At this point, you have quite a few marshmallows. Roughly 24 to 36 depending on how big you cut them, which is a lot of marshmallows to eat. Unlike heavily processed marshmallows, these won't keep long. They're perfect for about 48 hours, but after that things change.
Honey is hydrophilic, which means it attracts water. They'll start to get soft and sticky, and though they're not "spoiled" it makes them harder to use or handle. I put most of them in a tupperware in the freezer, and they'll keep in the freezer for 1-2 months. When you're ready to use them, just bring them up 20-30 minutes before using.
We kept plenty of them out to test at our backyard campfire, you know, for science…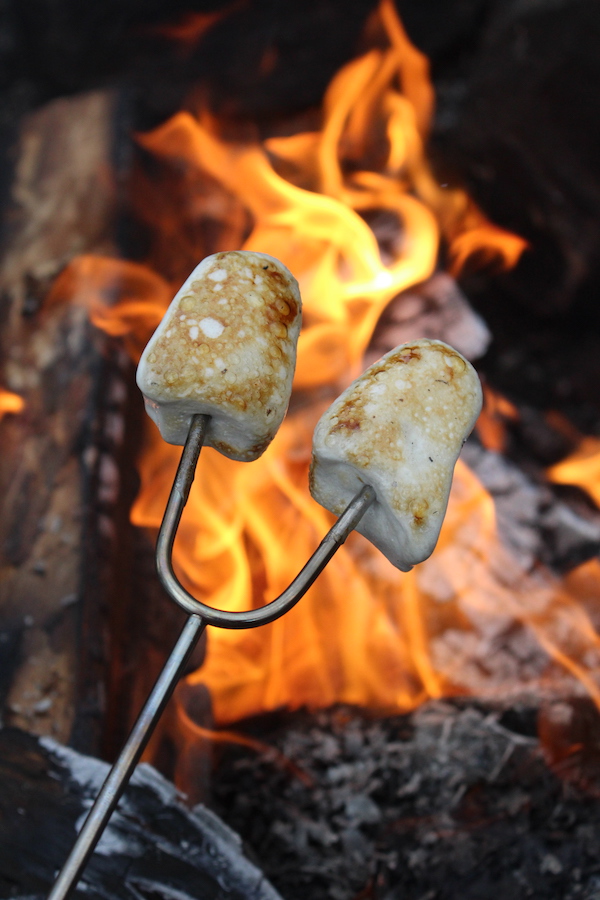 They toast beautifully, caramelizing on the outside and quickly melting through to the inside. I'd say they toast much faster than conventional marshmallows, but that's not a bad thing with an impatient pre-schooler.
The best part, they taste amazing! All that honey comes through wonderfully in the finished marshmallows, and the extra honey flavor from the dandelions really kicks it up a notch. I'm totally sold on these, and we'll be trying out other herbal marshmallow flavors this summer for sure.
Yield: 24 to 36 marshmallows
Dandelion & Honey Marshmallows (No Corn Syrup!)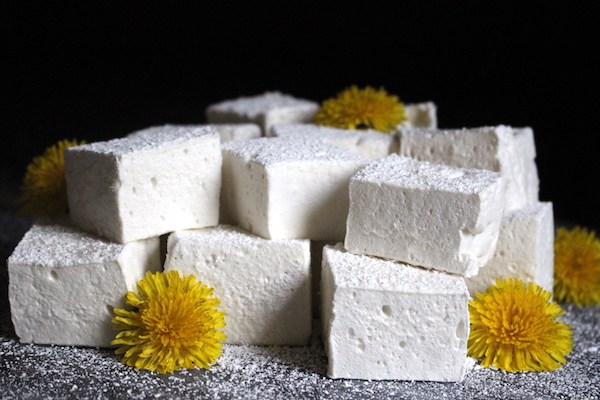 Homemade honey marshmallows are really easy to make, and adding dandelion petals makes for an extra special herbal treat.
Ingredients
1 cup dandelion petal tea, divided
1 cup honey
1 pinch salt
1 cup powdered sugar (or arrowroot powder)
Instructions
Pour 1/2 cup dandelion petal tea (or other herbal tea) into a stand mixer. Sprinkle gelatin over the top and allow it to "bloom" for about 10 minutes.
While the gelatin is blooming, add honey, salt and the remaining 1/2 cup of dandelion petal tea to a saucepan. Cook over high heat for 8-10 minutes, until it reaches 240 degrees or soft ball stage on a candy thermometer.
When the honey syrup is up to temp, turn the stand mixer on low to break up the gelatin.
Slowly pour the hot honey syrup into the stand mixer, keeping it running on low to incorporate the syrup into the gelatin.
Gradually turn up the mixer speed (to avoid splattering) and let the mixer run on high for 6-10 minutes until the marshmallow batter forms stiff peaks and is a pale white color.
Grease a 9x9 baking pan and dust it with either powdered sugar or arrow root powder. Use a greased spatula to spread the marshmallow batter into the pan.
Allow the honey marshmallows to set up for 4-6 hours, or overnight. Flip the container over, slice marshmallows and dust on all sides with more powdered sugar or arrow root powder.
Store in a tightly sealed container for 1-2 days, or place in the freezer for up to 1-2 months.
Notes
Note: To make dandelion petal tea, be sure to remove the petals from the flower heads. Use the petals only, without any green parts. The green parts of the flower buds will make the tea bitter. Pour about 1 cup of boiling water over about 1/2 cup of petals and allow it to steep for about 15 minutes before straining.
Recommended Products
As an Amazon Associate and member of other affiliate programs, I earn from qualifying purchases.

Looking for more recipe inspiration? Check out any of these for more ideas: