Celebrate the full Strawberry Moon and the Summer Solstice with these delicious elderflower and strawberry popsicles!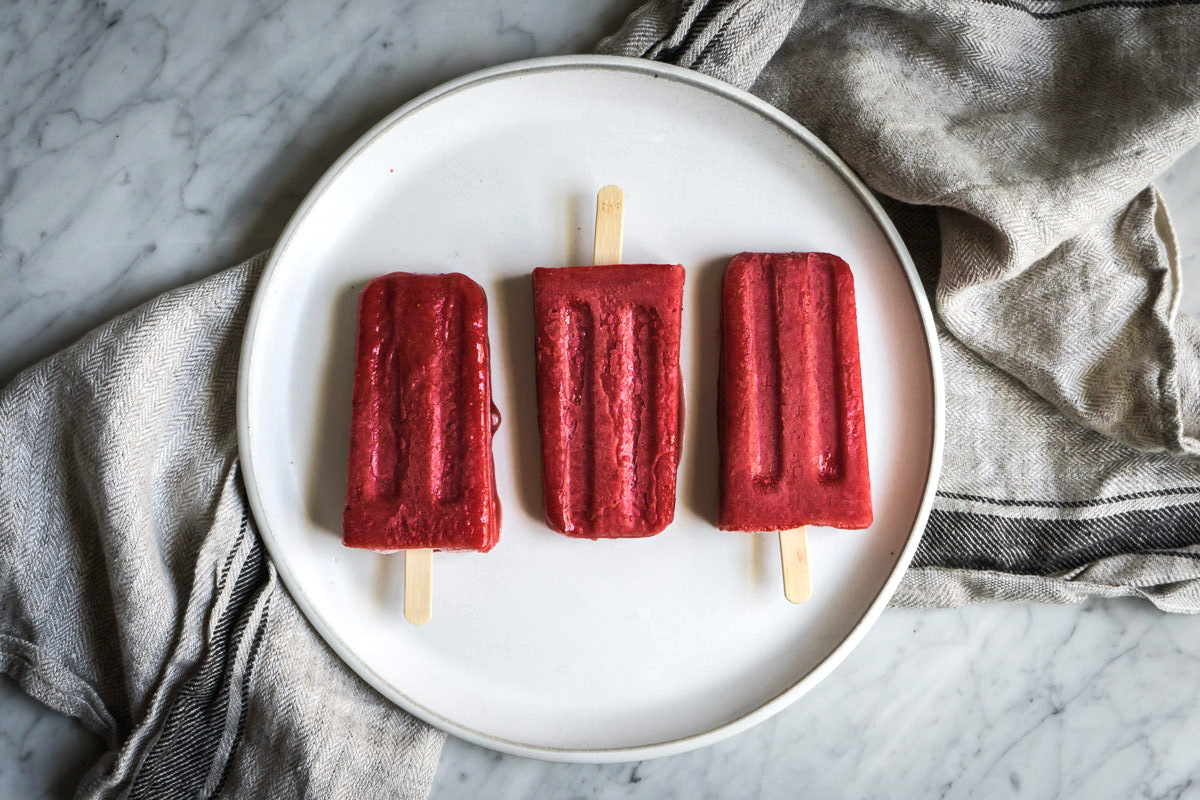 (This post is a contribution by Melissa Keyser)
I did not grow up celebrating the Ancient holidays in a traditional sense, with feasts or ceremonies to welcome or say goodbye to the gods and goddesses. Yet, the Solstices were known, pointed out on the calendar or mentioned in conversation. Growing up without electricity, the length of daylight was noticed. While the more subtle cross-quarter days and the Equinoxes can be easy to forget or look past, if you spend any time outside or in natural light, there is no mistaking Summer Solstice.
If you've noticed the longer days, you've likely already been celebrating the sun at its peak. As a child, the time around the solstice meant more hours swimming in the neighbor's pool and later bedtimes. In my home now, it means waking up earlier to the sun streaming through my window, enjoying walks late in the evening after work, and dinners filled with seasonal bounty are eaten outside at dusk.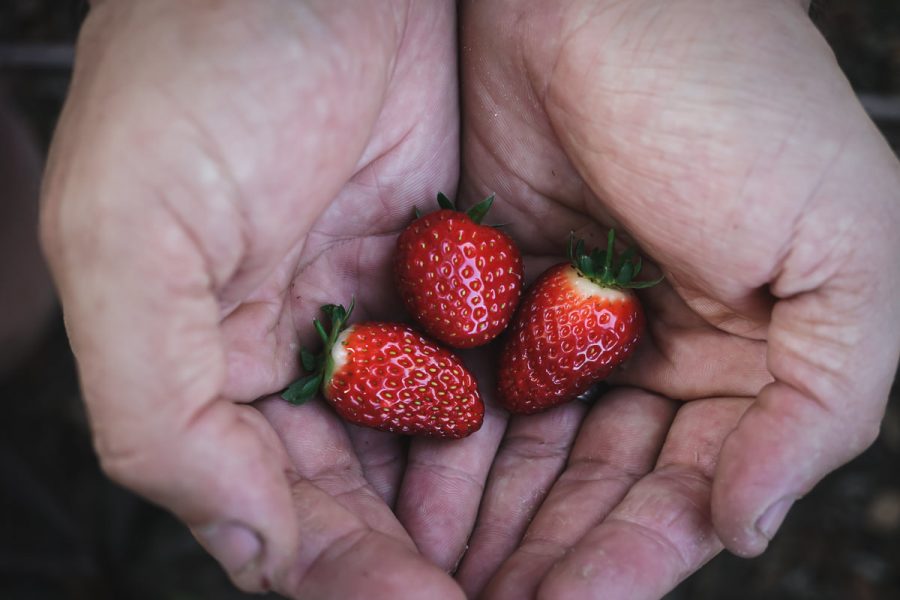 Traditional Celebrations for the Summer Solstice
The Ancient cultures who honored the Summer Solstice used the day to celebrated the Sun God. Also known as Midsummer or Litha, the long day of the year showed him in all his glory as the strong, virile husband and the lover of the Goddess. The earth is full of goodness, flush with bounty and growth, made fertile by the light of the sun.
The power of the sun on this day is said to be protective, healing, empowering, revitalizing, and inspiring. After this day, the sun starts to decline, shifting to darker days and the dangers of a decrease in the sun's warmth and vigor would once again be on people's mind.
Our ancestors wanted to protect themselves, their animals, and their crops from the looming powers of winter decay and darkness. Fire, the little brother of the sun, was also thought to have the greatest power on the Solstice, and bonfires would be ignited and watched over. In some traditions, people would then leap over the fires to cleanse themselves, getting ready for the darker days.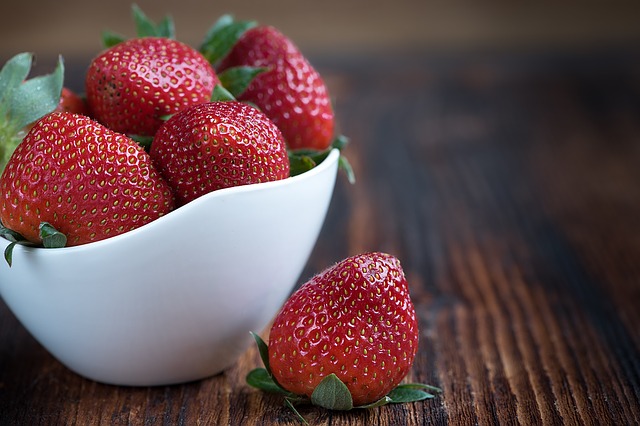 Ideas for your Own Solstice Celebration
I absolutely love the idea of such a celebration, but sadly, a bonfire in the backyard of my urban Victorian house isn't quite possible. However, I still like to honor these natural progressions of time and celebrate the dates that were so important to my land-based ancestors of the past. I like to honor the day by going for a walk and spending time reflecting in my journal. I'll make notes of what natural occurrences I see, such as things blooming, and also how the energy of the earth and myself feel.
And of course, there is always food!
Traditionally, Summer Solstice would have also been a celebration of what was in season and honored with feasts and parties. Depending on where you're at, that might be salad vegetables, strawberries, blueberries, squash, herbs in peak condition, and the first of the tomatoes. Dishes that are rich in herbs would most fitting!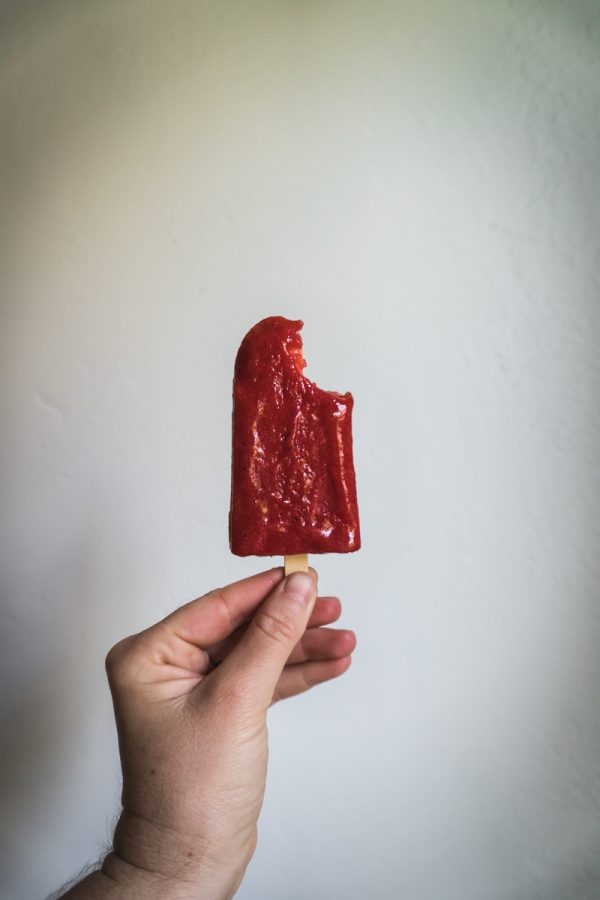 Celebrating the Full Strawberry Moon
The Solstice also falls close to the full moon that many cultures knew as the Strawberry Moon.
Full moon names were a way to remember the bounty of the current season or to note important natural happenings. The names are a reminder of how important observing and celebrating these cycles where to us when we lived land-based lives.
The Full Strawberry Moon got its name, as you have guessed, because the strawberries were ripening. Before we had food shipped from all over the world, our food was available only at certain times of the year. Fruit, in particular, has a short season and would be an extra special treat, eagerly awaited.
Before we bought our berries from a roadside stand or the grocery store, or even before we grew them in the garden, we would forage for them in the woods and meadow edges. Native wild strawberries are much smaller than our more familiar commercial berries, but even more delicious and sweet. Often the first berry that ripens in the year, strawberries would be a great treat after the stores of winter had run out and a diet of wild greens. I can only imagine my ancestors eagerly awaiting that first green berry to blush red.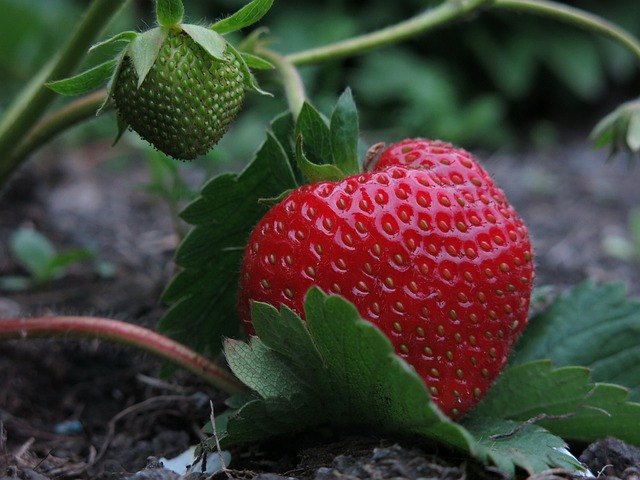 Elderflower and Strawberry Popsicles
I decided to honor both the Summer Solstice and the Strawberry Moon and make a batch of Elderflower and Strawberry Popsicles. Because what can be better than a frozen treat on a hot summer day?!
At first, I was going to simply make strawberry pops, but when I was hunting around my glass bottles for my last batch of elderflower cordial, I found one of them in the fridge with just a small amount of forgotten cordial. That bottom shelf of my fridge door is like a black hole, and the cordial had clearly fermented, leaving me more of an elderflower champagne than cordial. I didn't want to toss it but I didn't want to drink it straight. It made the perfect addition to popsicles! A fresh batch of elderflower cordial would work just as nicely.
If you don't have elderflower cordial, find another herb or edible flower to make an light infused simple-syrup with! Basil would be great with strawberry, or you might try lilac or jasmine flowers. As everyone likes different levels of sweetness and has different size popsicle molds, I don't list quantities. So play it by ear, adjusting the cordial or syrup to taste and add more water if needed. You can't screw up popsicles! The only requirement is you eat them outside, under the summer sun, and thank Earth for another spin around the Sun.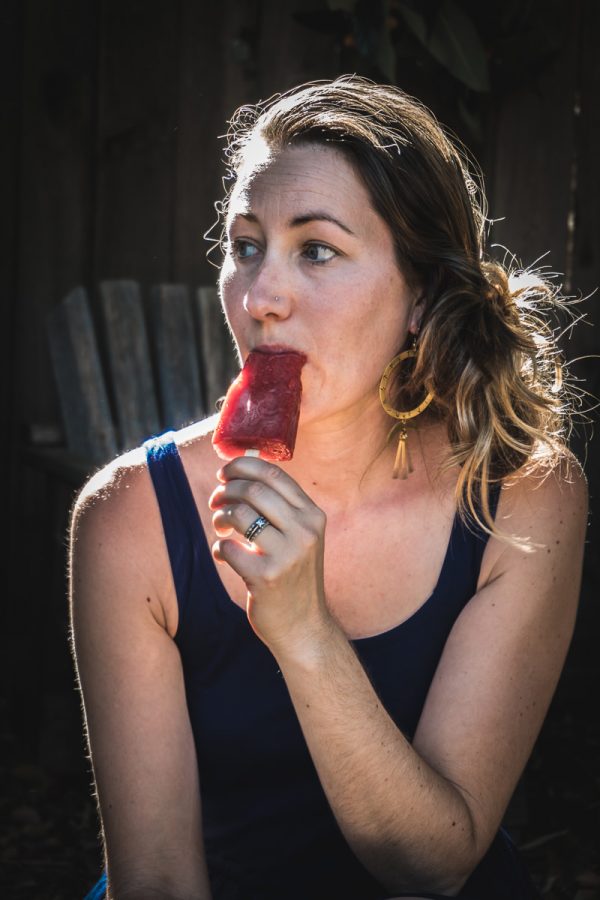 How to Make Elderflower & Strawberry Popsicles
In a blender, combine either fresh chopped and destemmed strawberries or frozen strawberries with a splash or two of elderflower cordial. Blend until smooth, adding water if needed. Taste and add more cordial if desired for more sweetness. Pour into popsicle molds and freeze until solid.
These are best enjoyed outside!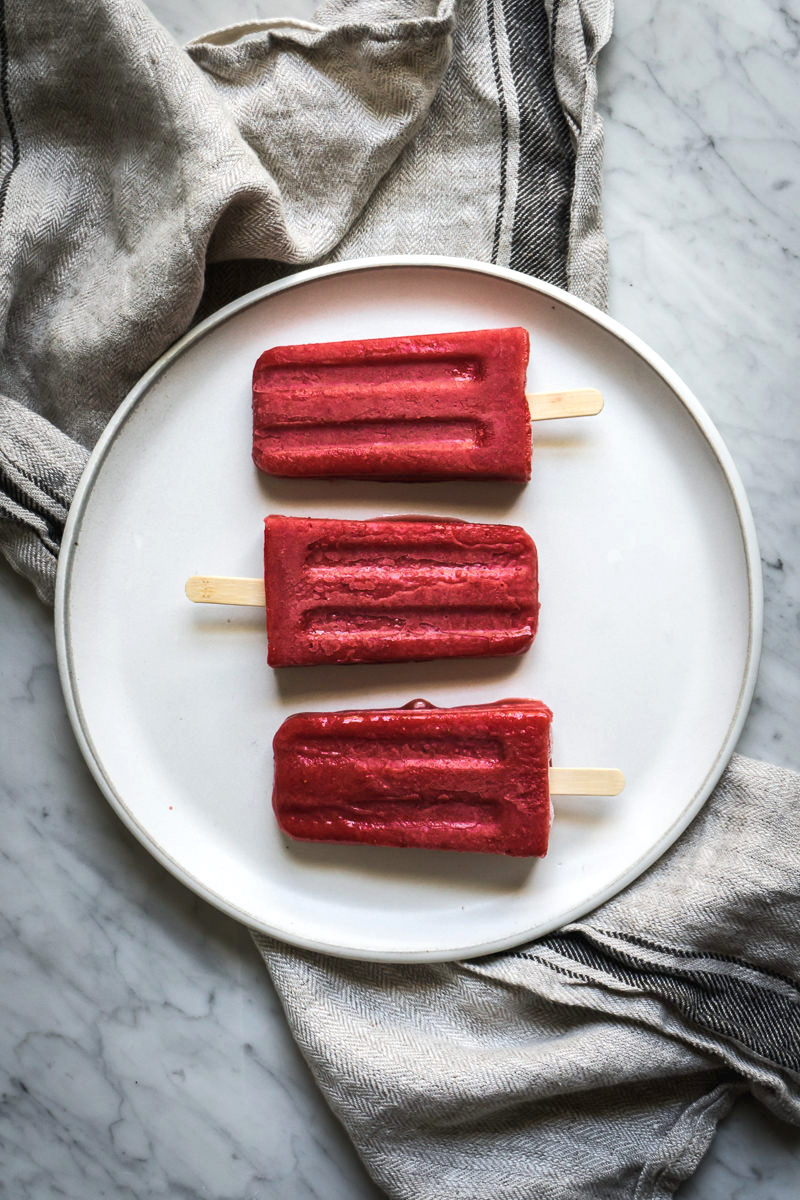 Blessed Summer Solstice!
Tasty Berry Recipes
For more berry goodness, try these lovely recipes.
Yield: 8 popsicles
Strawberry Popsicles with Elderflower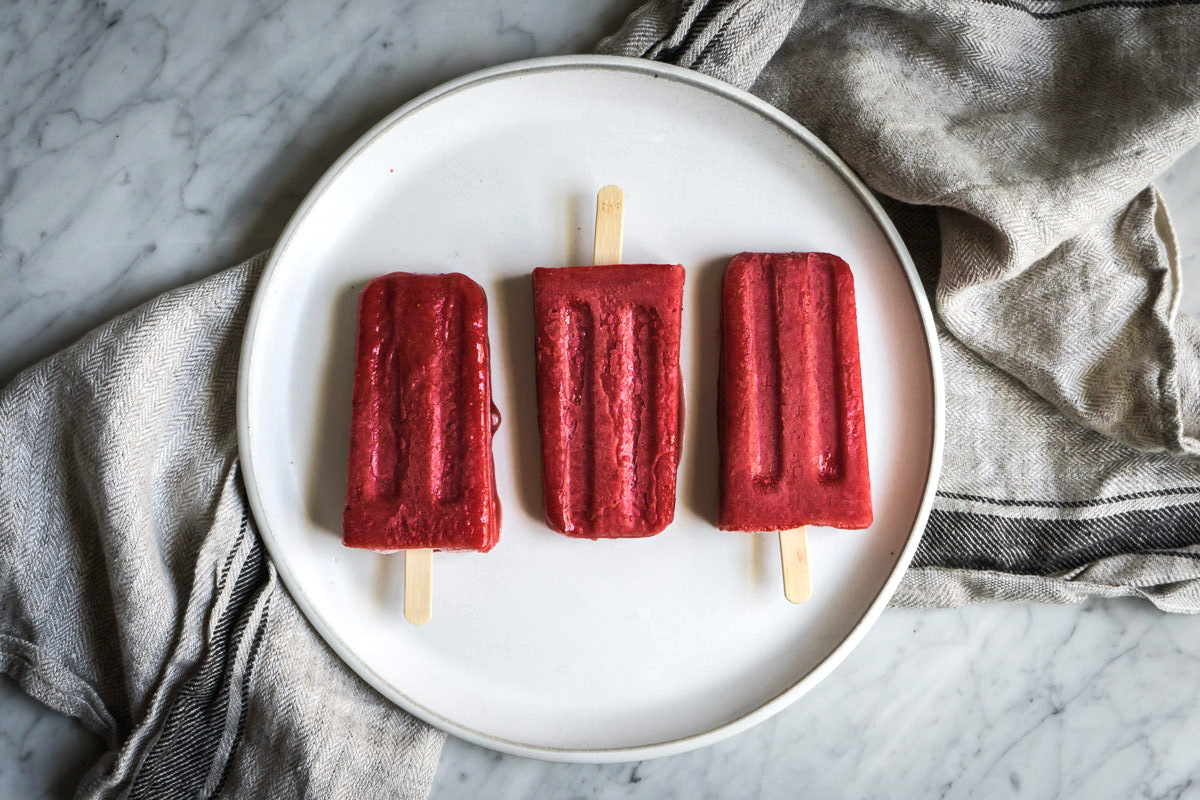 A simple strawberry popsicle becomes a unique treat with a bit of elderflower syrup.
Ingredients
2 lbs ripe strawberries, fresh or frozen, washed and hulled
1/4 cup elderflower cordial, elderflower simple syrup or St. Germain Elderflower Liqueur
Instructions
Wash and hull the strawberries and place them in a blender. (Frozen strawberries work too)
Add a splash or two of homemade elderflower cordial, elderflower simple syrup or St. Germain Elderflower Liqueur.
Blend until smooth.
Taste and add more cordial if desired for more sweetness.
Pour into popsicle molds and freeze until solid.