Learn how to make your own batch of elderflower cordial with this easy recipe! Perfect to add to sparkling water or mix into a cocktail to savor the sweetness of summer.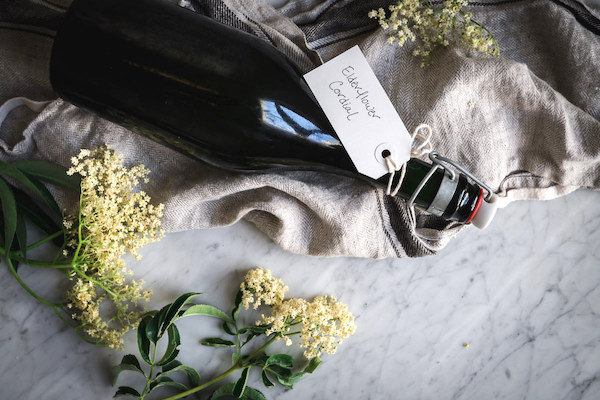 (This post is a contribution by Melissa Keyser)
I won't lie, I like fancy.
You wouldn't know by looking at me, but I love sparkles and luxury and frou-frou- the things that add a little extraordinary to the everyday. But as someone who tries to live life frugally and spends most of her time digging in the garden or tromping through woods or fields, there isn't a lot of opportunity for fancy.
Occasionally I'll be fancy when I go out, wearing fancy clothes or do up fancy makeup up, but it's not very often. Instead, I often turn to food to fix my fancy cravings. It's not an everyday thing, but I'll indulge in buying fancy ingredients like expensive cheeses or order foie gras when out.
Fancy allows you to escape the present moment, the reality, practicalities, and pretend you're someone else in a different life, if just for a moment in time. I have no qualms with my reality, and I love my life, but as a dreamer, it's fun to dream.
That's why I love fancy.
And to me, nothing screams fancy like cordial

…especially, elderflower cordial.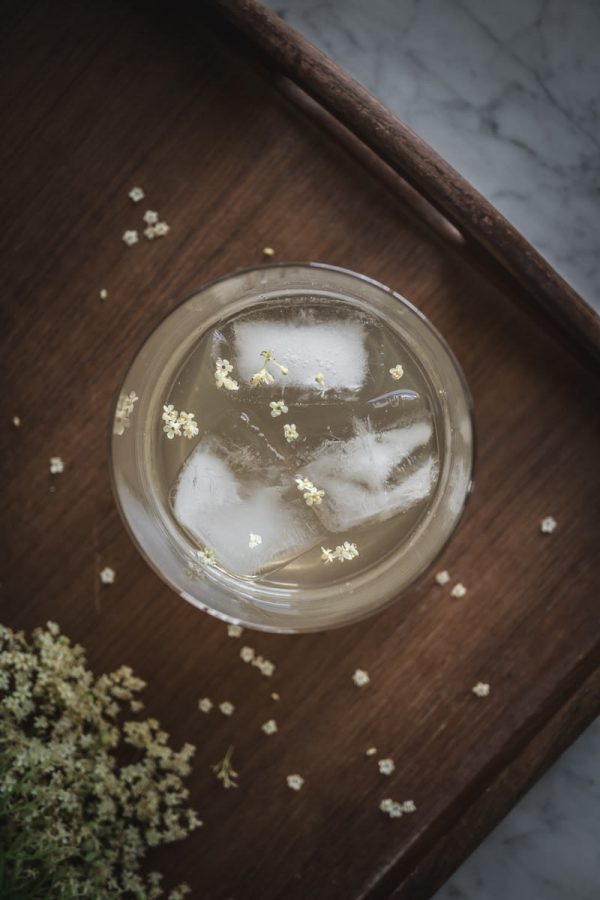 It's like suddenly I'm hosting a garden party for one in my backyard. The flowers are all perfectly deadheaded and the plants are in rows, and the grounds are swept and clean and I lounge around in flowy silk dresses. Instead of my reality. An overgrown and tangled garden, where the dog and the cat fight over a half-dead rat that I'll have to hit with a shovel in a few minutes then dig a hole to bury so it doesn't rot in the trash can.
We all need some fancy in our lives from time to time.
But, unlike some of the other fancy things I love that are expensive or take a long time or are quite complicated to make, elderflower cordial is easy. Super easy. The hardest part is going to be foraging for the elderflowers, but you can also make it with store bought dried elderflowers in a pinch.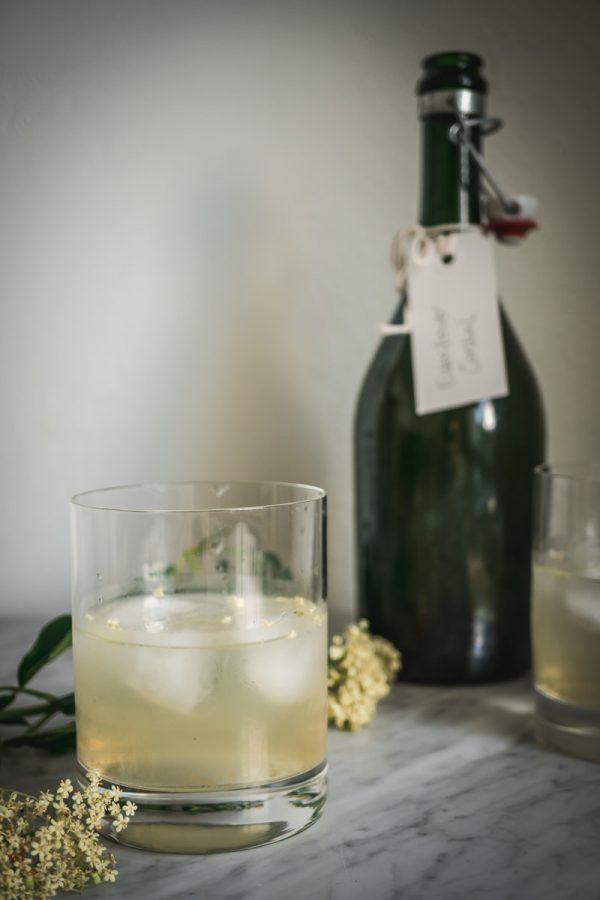 Elderflower Cordial Technicalities
There's some confusion as to whether a cordial includes alcohol or not. Technically, an elderflower cordial is a soft drink, made in Victorian times that basically amounts to an elderflower simple syrup. It was used to flavor drinks, where alcohol could be added, or not, which gave the drink a lot more versatility. That makes an elderflower syrup that's perfect for flavoring sodas or using in floral inspired baked goods.
In some people's minds, a cordial an alcoholic drink, made by infusing sugar, herbs, fruit, nuts and/or spices in an alcohol, such as a whiskey or rum, and then. That's perfectly fine too, and you can make this elderflower cordial with alcohol instead of water. Just switch it out, no big deal.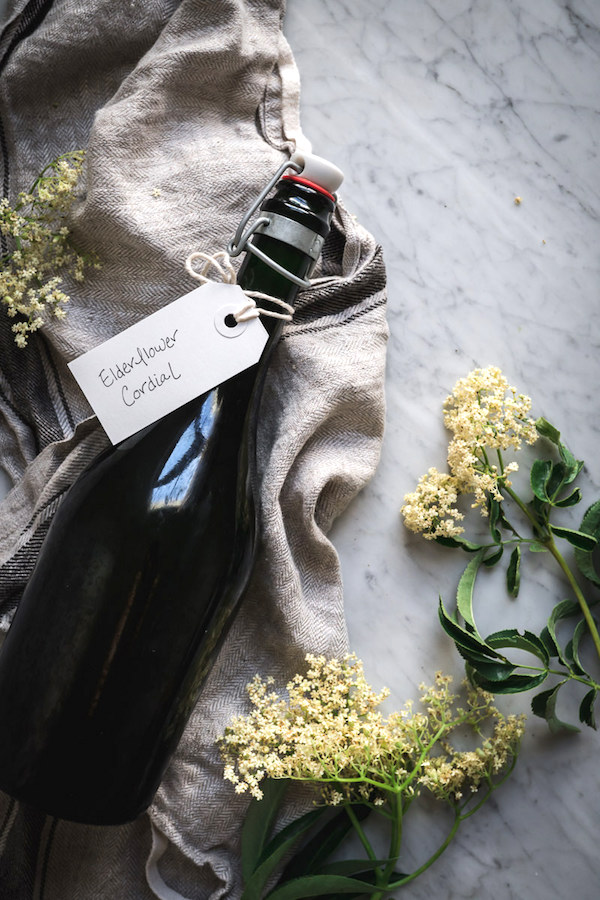 But, by definition, cordial means "tending to revive, cheer, or invigorate" (Merriam Webster dictionary). Which is a perfect way to describe this delicious elderflower syrup. Made with alcohol, it's a bright floral addition to mixed drinks, like a homemade Saint Germain Elderflower Liqueur. Without, it can be used to flavor just about anything. The choice is yours.
Either way, it's just plain fancy…alcohol or not.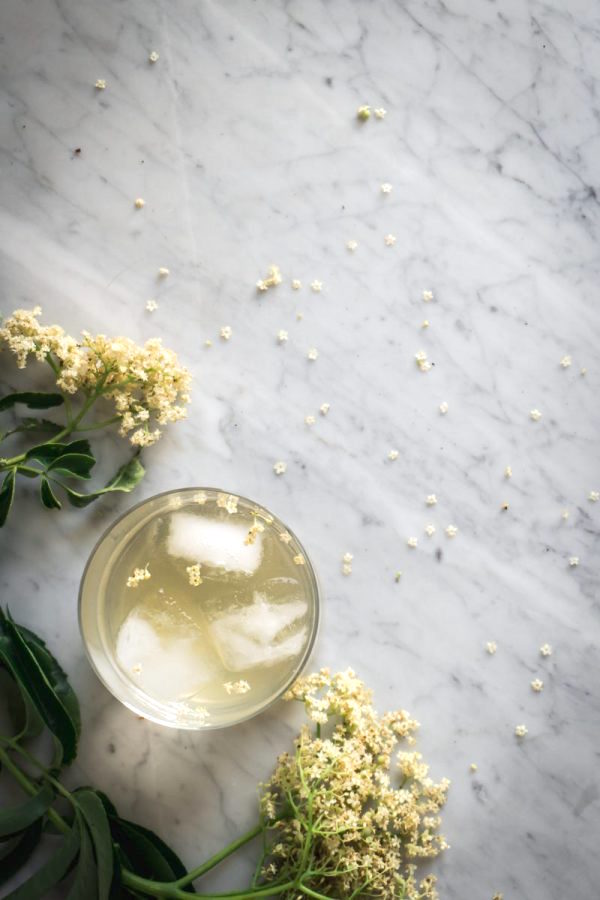 Reminders for Working with Elderflower:
The while the blossoms are edible flowers, but the leaves and stems are mildly toxic, so you want to remove as much of the stems as possible. A few of the tiny ones up in the flower clusters won't hurt you, but pick off as much as you can. I've seen some blog posts with beautiful photography of making elderflower cordial, they have large clumps of leaves in the jar. Don't do this.
Other than that, there doesn't appear to be any hard rules when making cordial.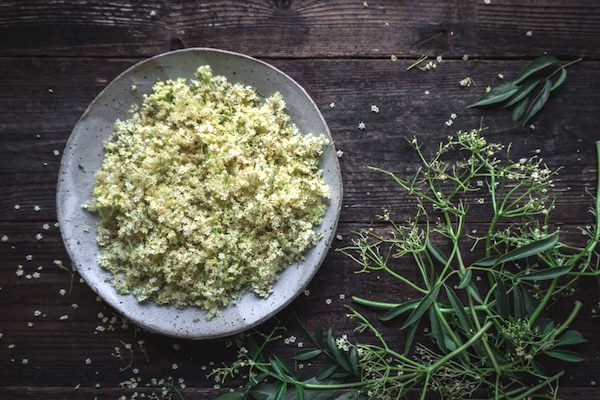 Sugar Ratios for Elderflower Cordial
I've seen some sources that use a 1-1 ratio of water to sugar. Some recipes use a 1-2 ratio of water to sugar (enter wide-eyed emoticon here), or use citric acid instead of lemons, or they use both.
I cringe at the amount of sugar some of the recipes out there use, so I only use a half part sugar to 1 part water. If that still seems like to much sugar for you, you may want to consider making an infused alcohol instead of a cordial to take advantage of the elderflower. A cordial is essentially a flavored simple syrup, so if you avoid sugar, this isn't the drink for you. But, as you can see from all the variants above, feel free to play around with it and make it your own!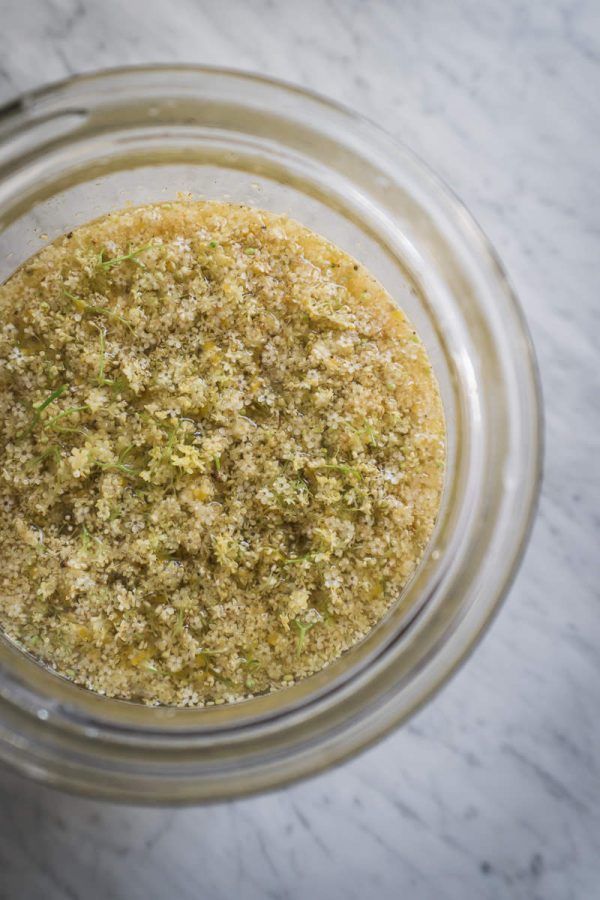 How to Make Elderflower Cordial
Let's make some elderflower cordial, shall we?
Start by combing water and sugar in a large saucepan over medium heat. Stir to dissolve and then allow the mixture to cool to room temperature. This is important because the delicate flavor of elderflowers can be ruined by heat, and this elderflower cordial should be allowed to cold infuse.
While you wait, start processing the elderflowers, removing any stems and leaves. Place them in a large jar with the lemon juice and zest.
Pour the sugar syrup over the elderflowers, and allow the mixture to infuse for 1-4 days.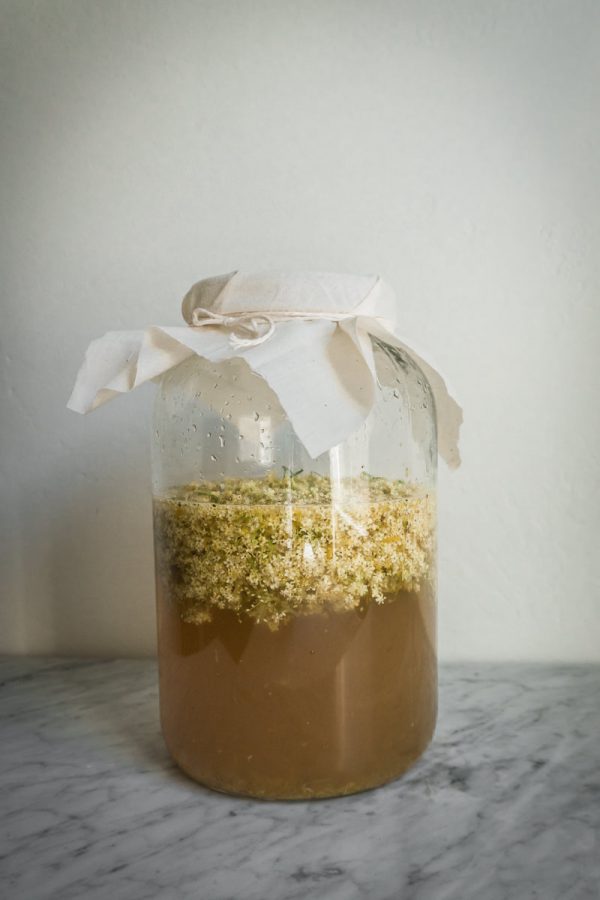 If you want an alcoholic elderflower cordial, add in vodka during the infusion. I'd suggest adding in equal parts vodka and sugar syrup at a minimum, or 2 parts vodka to 1 part sugar syrup. This will make your elderflower cordial shelf stable, but it's no longer fit for fun kids sodas on a hot summer day. As I said before, elderflower cordial without alcohol is much more versatile and just as fancy…
When the mixture has infused to your liking, pour it through a fine-mesh sieve to remove the elderflowers. It seems a shame to discard these beautiful blossoms, but at this point, their beauty is all looks and no fragrance. All their flavor has infused into the elderflower cordial, so their next stop is the compost.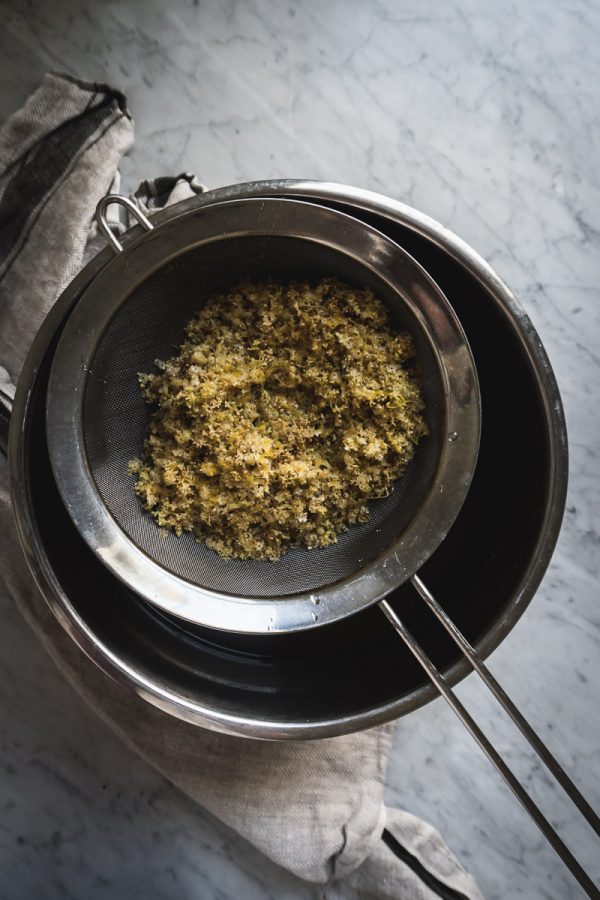 Store the elderflower cordial in flip top bottles, or a sturdy mason jar. If you've made it without alcohol, it's best to keep it in the fridge so that it'll last. Left at room temperature, the mixture may begin to ferment. Use within 3-4 weeks for best results.
Elderflower Cordial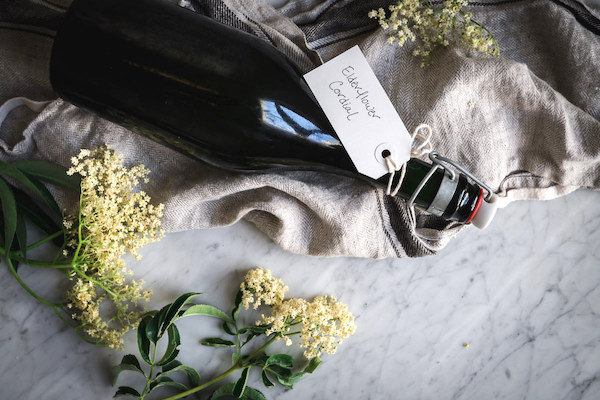 A simple elderflower cordial is a lovely way to bottle up the taste of summer. Note: I've listed the recipe by both quantities that I used, but also ratios in case you want to scale up or down.
Ingredients
By Measurements:
About 4 cups loosely packed elderflowers (from about 10 clusters the size of an open-hand)
4 cups sugar
8 cups water
½ c lemon juice
4 T lemon zest
By ratio:
1 part elderflower
1 part sugar
2 parts water
1 lemon per 1 part flower (ex: 2 cups of flowers would use 2 lemons. And FYI: 1 lemon has about about 2 T juice, and 1 T of zest)
Instructions
Combine the water and the sugar in a pot over medium heat and stirring until the sugar has dissolved. Let cool to room temperature.
While waiting, work on processing your elderflowers. Remove as many of the stems as possible, along with any bugs, and place in a bowl or a large jar with the lemon juice and the zest.
Pour the sugar water over the flowers. Tightly cover the container with a tea towel or cheesecloth, and set aside to steep.
Let the elderflower mixture infuse on the counter for 1-4 days. Mine took about 30 hours in my 75-80 degree house. It will depend on how warm your house is. I tasted mine after 1 days, and it just tasted like simple syrup. On the second day, I could SMELL the fragrance of the blooms and sugar, which is how I knew it was ready.
Strain your cordial, then transfer to clean bottles or jars. I re-use washed and sterilized champagne bottles that had the wire swing top enclosure)
Enjoy your new cordial by adding 1 to 3 tablespoons of the syrup to water or seltzer, to a glass of sparkling wine, to a couple shots of vodka or gin, or a splash into anything that could use a bit of sunshine and sweetness!
Notes
To make an alcoholic elderflower cordial, simply add vodka into the elderflower syrup infusion after the simple syrup has cooled completely. I'd suggest adding at least 1 part alcohol to 1 part simple syrup, but the ratio is up to you, and 1 part syrup to 8 parts alcohol creates a much less sweet drink that's still wonderfully flavorful.
More Elderflower Recipes
Looking for more ways to use elderflowers? Try any of these:
Edible Flower Recipes
Enjoy these other amazing recipes that use edible flowers!