When I found out that tulips are edible, my first thought was, "I've got to fill those with chocolate!" They're beautiful little cups just as they are, just waiting to be filled, and since they blossom around mother's day up here in the north it only seemed fitting to make them into a sweet treat. Thus, chocolate mousse filled tulip flowers were born!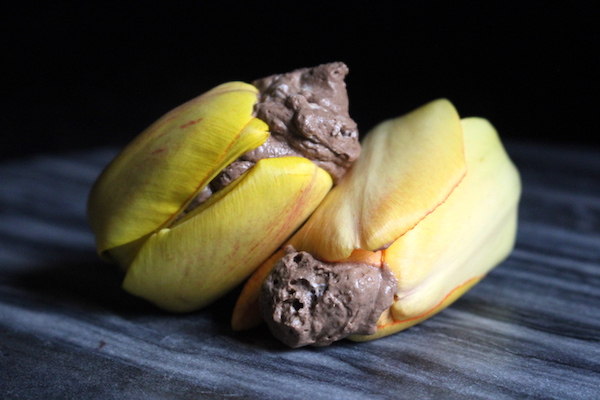 While eating tulip flowers is a fun novelty, tulip bulbs were actually an important food source in WWII during times of famine in Europe. By all accounts, the bulbs aren't particularly tasty, more of a starvation food use when potatoes were hard to come by. I found a recipe for tulip bulb soup, but I'm not planning on digging up my tulips anytime soon to try it.
The blossoms, on the other hand, are just right for casual eating. My daughter, in particular, is obsessed with edible flowers. Starting at the age of two, she'd walk up to just about any blossom and ask, "Eating flower mama?" More often than not in our garden, the answer was yes. You'd be surprised how many flowers are edible, everything from roses to hostas, peonies, and daylilies. Add in wild blossoms like clover and there's a floral bounty just waiting to be harvested.
When she asked are tulips edible, I didn't actually know. A bit of quick research, and the answer is yes! My little flower eating pre-schooler went right to work polishing off all the tulips in bloom within a few minutes…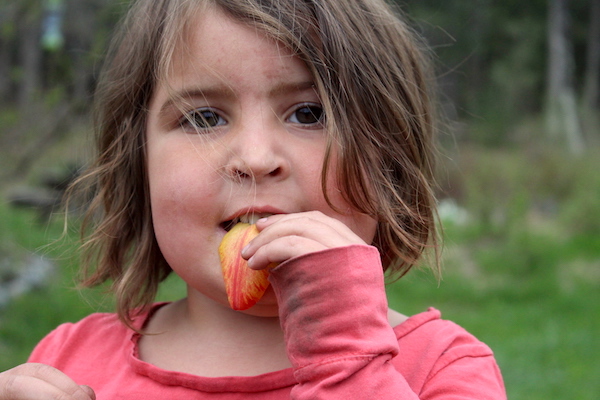 Be careful, some people have an allergic reaction to tulips, and touching them can cause a mild case of contact dermatitis. If you're in that group, definitely don't try eating them. For the rest of us though, they're delicious!
Tulip petals vary in flavor by variety. According to Eat the Weeds, "They can have many flavors: Bland, beans, peas, and cucumbers. Pink, peach and white blossoms are the sweetest, red and yellow the most flavorful."
They also recommend choosing tulip blossoms that are still partially closed. Then, they suggest carefully opening the blossom and using a pair of tweezers to pull out the pistil and stamens out. Those parts can be bitter and are best avoided.
Each tulip only holds a small amount of chocolate mousse, a few ounces at most. The thing is, chocolate mousse is very rich, and serving sizes are small generally. Batches of chocolate mousse though, tend to be pretty big since it's actually quite hard to get a small amount of either egg white or heavy cream to whip properly. Feel free to use whatever chocolate mousse recipe strikes your fancy. I'm using one inspired by this classic chocolate mousse from Bon Appetit.
Allow the chocolate mousse to set up overnight in the refrigerator, and then spoon a bit into a piping bag (or ziploc bag with the corner cut off). That makes it easier to fill each tulip cup without making a mess.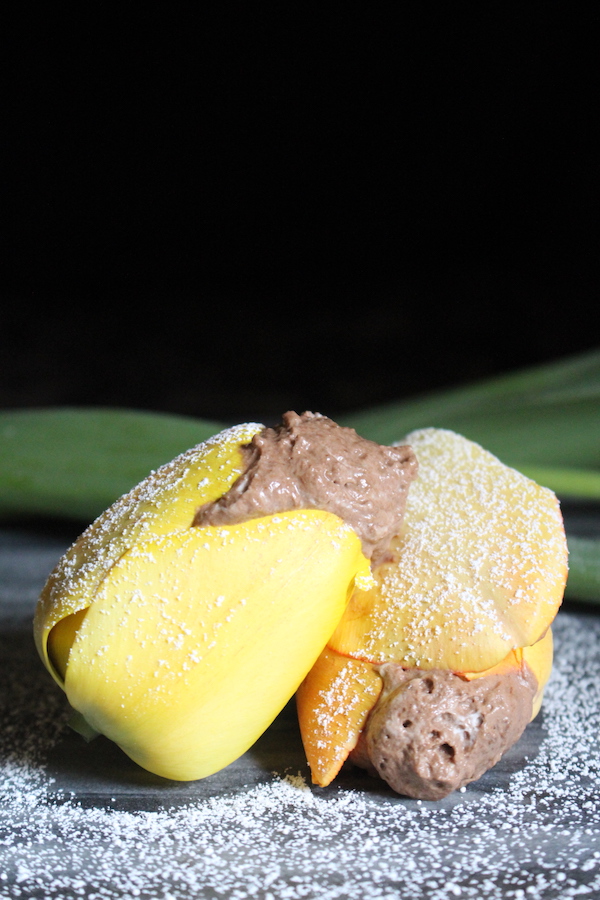 Yield: 24 tulips (approximate)
Edible Tulips with Chocolate Mousse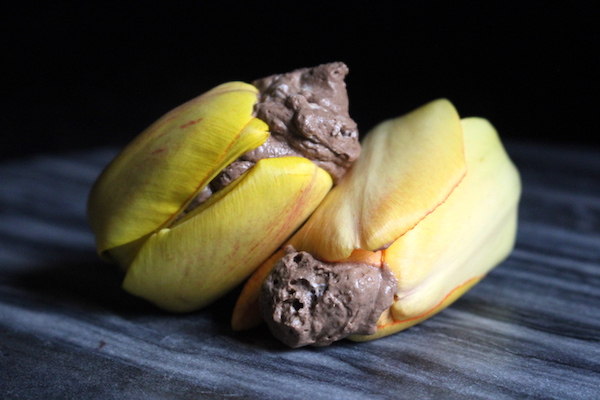 This tasty chocolate mousse is light and fluffy, just right for turning tulips into decadent treats.
Ingredients
24 tulip flowers, pistil, and stamen removed from inside
¾ cup chilled heavy cream, divided
3 egg yolks
¼ cup brewed coffee, room temperature
1 pinch salt
2 tablespoons sugar
5 ounces dark chocolate, chopped
3 egg whites
Instructions
Whip 1/2 cup heavy cream (note, don't use all the cream listed above) until stiff peaks form. Cover and refrigerate.
Start a double boiler by placing a heat proof bowl on top of a saucepan with a small amount of simmering water. Add in egg yolks, coffee, salt and sugar. Whisk constantly until the mixture lightens in color and increases in volume, about 1 minute. (If you have a thermometer, around 160 degrees is ideal)
Remove the bowl from heat and add the chopped chocolate, mixing until it's completely melted.
Let the mixture sit until it's cooled to near room temperature.
Beat egg whites to stiff peaks.
Gently fold egg whites and whipped cream into chocolate mixture until fully combined. Refrigerate at least 2 hours, or overnight.
Spoon into a piping bag (or a ziploc bag, with 1 corner cut off) and pipe into prepared tulips (see note above about removing pistil and stamen inside each flower).
Serve immediately or refrigerate before serving.
Notes
Note, only serve the blossoms, not the tulip stems or leaves.

Looking for more recipes using edible tulips? Here are a few with a savory twist:
Edible Flower Recipes
Enjoy these other amazing recipes that use edible flowers!