Lilac Popsicles are a simple way to enjoy this fragrant edible flower each spring.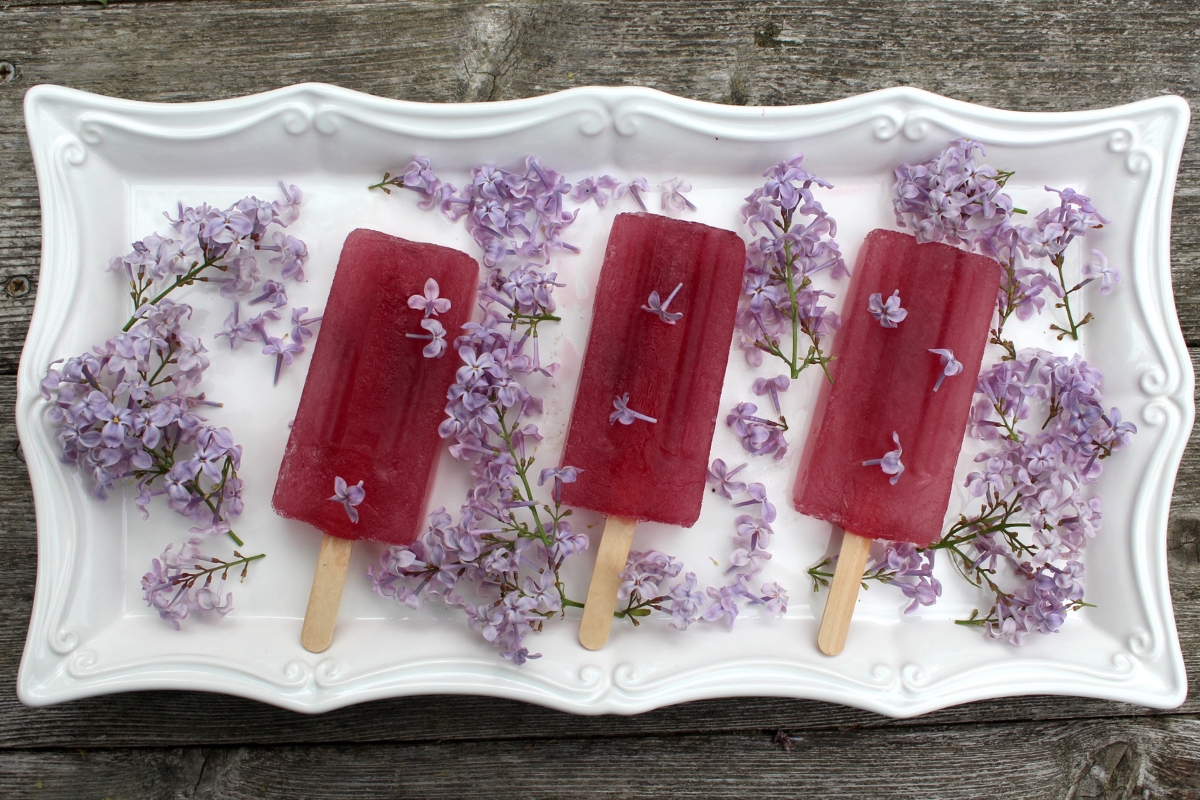 A few years ago, I learned that lilacs are edible flowers, and I've tried out new lilac recipes every spring since. Lilac donuts were a huge hit with the kids, of course. And a lilac simple syrup makes tasty infused drinks all year long.
Lilac jelly is perfect for brightening up toast mid-winter when it seems like the snow will never end.
I made lilac wine this past year, and my littles dutifully helped collect and clean the lilac blossoms. It only seemed right to make a kid-friendly lilac treat for them too.
Thus, lilac popsicles were born!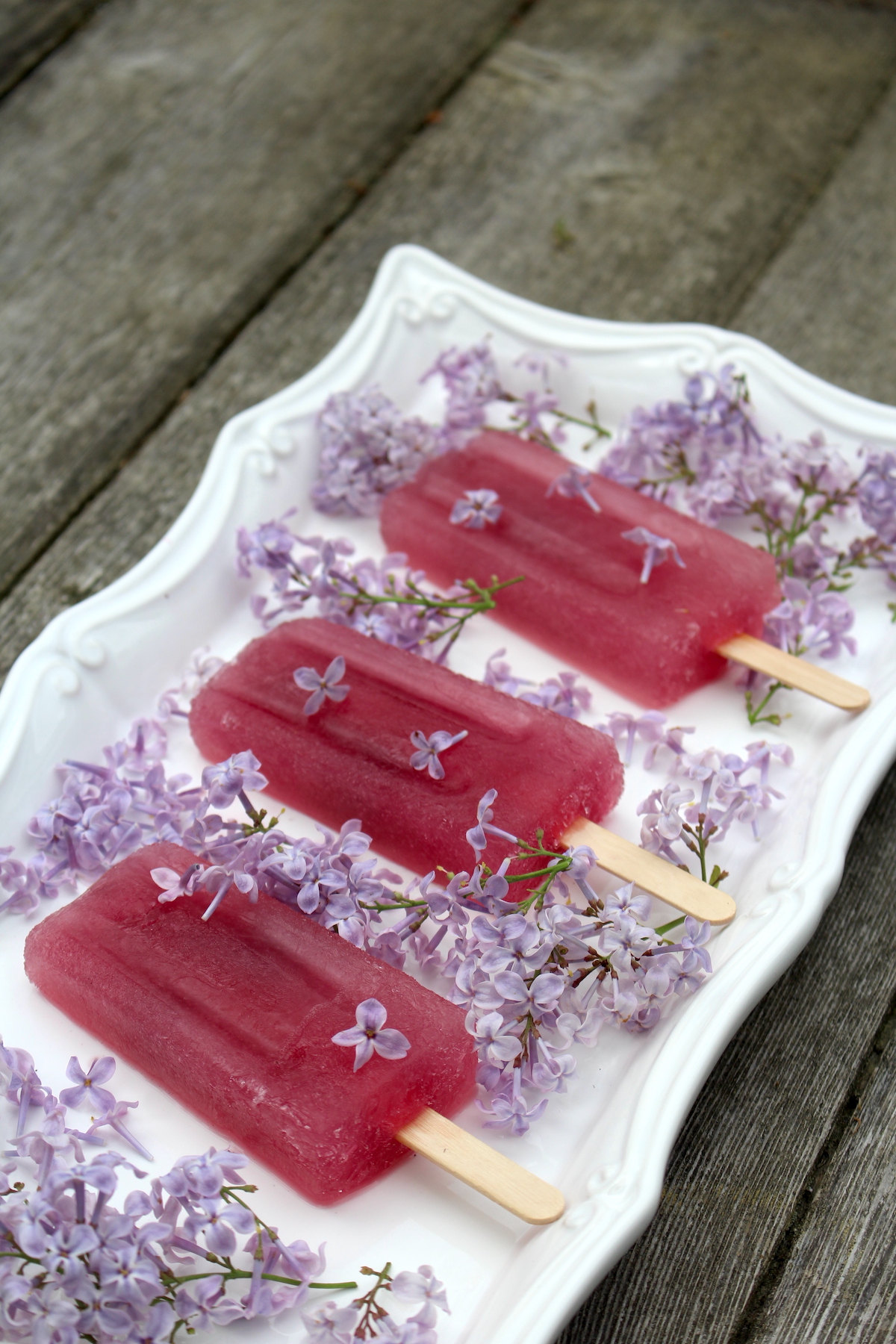 How to Make Lilac Popsicles
The first step to making lilac popsicles, or really any edible flower-infused popsicles, is to infuse the flowers in water.
Start with clean lilac blossoms, freshly harvested. Remove any green parts (or the sepals where they're attached to the plant), as the green parts can be bitter. Just keep the flowers themselves.
You can place the blossoms in cool water overnight in the refrigerator for a cold infusion, or you can make a quick lilac blossom tea by pouring boiling water over the blossoms and then allowing it to infuse for about 15 minutes. Both yield excellent results.
Either way, I'd suggest muddling a few blueberries in a the jar, as lilacs don't give up their color when infused. You'll have clear popsicles, which aren't a feast for the eyes.
I'd also suggest adding a teaspoon or so of lemon juice, as it really makes the colors pop. Both jars in the pictures below have muddled blueberries for color, but the bright jar at right has a bit of lemon juice added. The acidity makes it more of a fuscia color.
Once you've infused the flowers in the water, either by hot or cold infusion, strain out the blossoms and add sugar.
The amount of sugar depends on your tastes, but for every 4 cups of water, usually somewhere between 1/4 cup and 1/2 cup of sugar or honey works well. (Four cups of liquid plus sugar will yield about 8 three-ounce popsicles.)
You need enough sugar to keep the popsicles a bit soft (rather than hard ice cubes), but it also adds flavor and sweetness, obviously.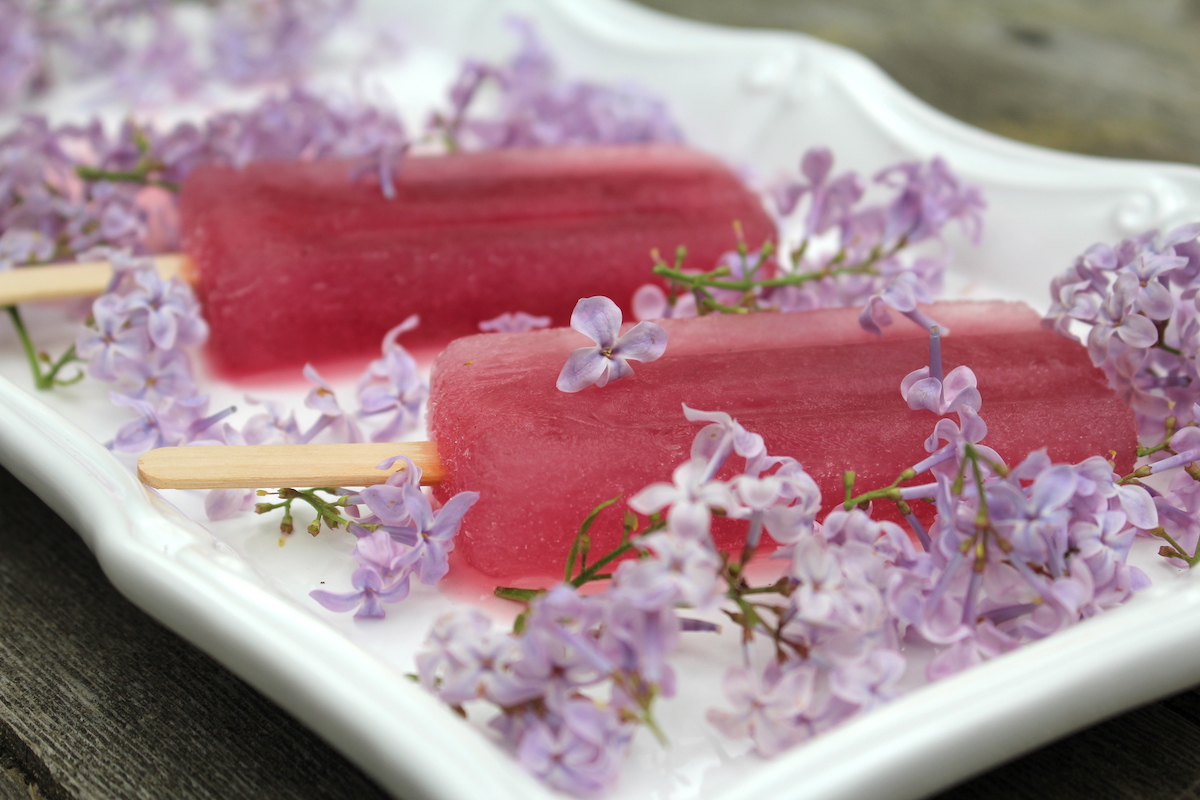 Next, pour the popsicle base into popsicle molds and freeze overnight.
I really love these stainless steel popsicle molds, and I've been using them for years. My kids really love popsicles, and we make hundreds a year, so they hold up to heavy use.
They also have the added benefit of not being plastic, which can leach into things in the freezer.
Popsicle Recipes
Looking for more fun spring popsicle recipes?
Yield: Makes about 8 Popsicles (3 oz each)
Lilac Popsicles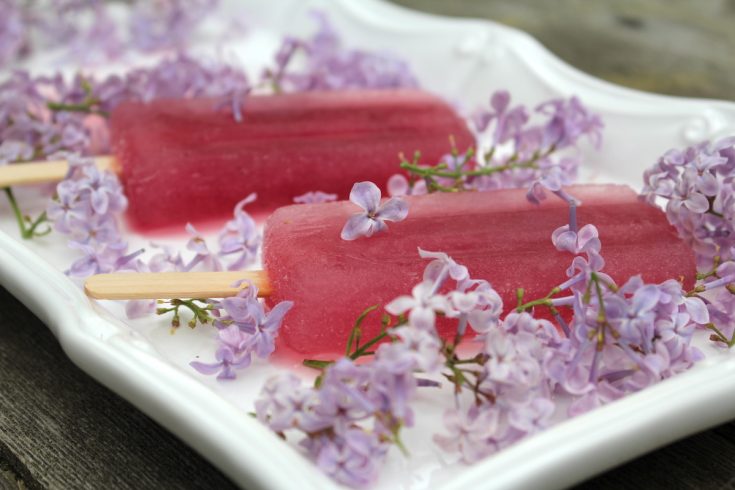 Lilac popsicles are a delicious way to enjoy fresh edible lilacs in season.
Total Time
6 hours
30 minutes
Ingredients
4 cups water
2 cups lilac blossoms, green parts removed
1/4 to 1/2 cup sugar (or honey)
1 Tbsp. lemon juice (or grapefruit juice)
4 to 5 blueberries or blackberries, muddled (for color)
Instructions
Harvest fresh lilac blossoms when they're freshly opened and fragrant. Remove the green sepals at the base of each flower, as they can be bitter.
Infuse the lilac blossoms in water. For a cold infusion, place the lilac blossoms in cold water in the refrigerator overnight. Or, for a faster infusion, bring the water to a boil and then pour over the blossoms. Allow to steep for 15 minutes.
Add the muddled blueberries or blackberries (for color) and the lemon juice.
Once infused, strain the lilac blossoms and blueberries from the mixture.
Add sugar and stir to dissolve. (Gently heating the mixture can help the sugar dissolve, but it's usually not necessary.)
Pour the mixture into popsicle molds and freeze until solid. Usually, that's at least 6 hours, but longer if you used the hot infusion method and your liquid is still hot when it goes into the freezer.
Enjoy!
Notes
The blueberries or blackberries are just for color in this recipe, but they do add a lovely hint of berry flavor too. You can skip them, or use a drop or two of food coloring.
Lilac Recipes
Looking for more ways to use lilacs in the kitchen? Try these lilac recipes:
Edible Flower Recipes
Lilacs aren't the only edible flower you can use in your kitchen!