The smell of freshly baked cinnamon raisin bread will draw just about anyone into the kitchen. It's easy to make homemade cinnamon raisin bread in just a few minutes in the bread machine.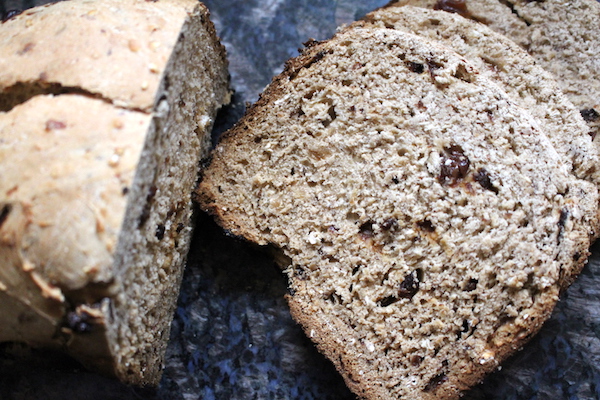 Bread machine baking had become a daily event in my household and now that I have perfected recipes for basic white sandwich bread and whole wheat bread, it's time to branch out a bit into flavored bread. With two bread loving little ones in the house, a soft cinnamon raisin bread is the obvious next choice.
Cinnamon can inhibit the rise on a loaf of bread, so you want to be careful not to add too much. One teaspoon adds just enough flavor to this loaf, without hampering the yeast too much. Still, you'll notice that the crumb on this bread is denser than most, which means it's perfect for toasting and slathering with butter. It stays soft and moist through the baking process, and the raisins add just enough sweetness.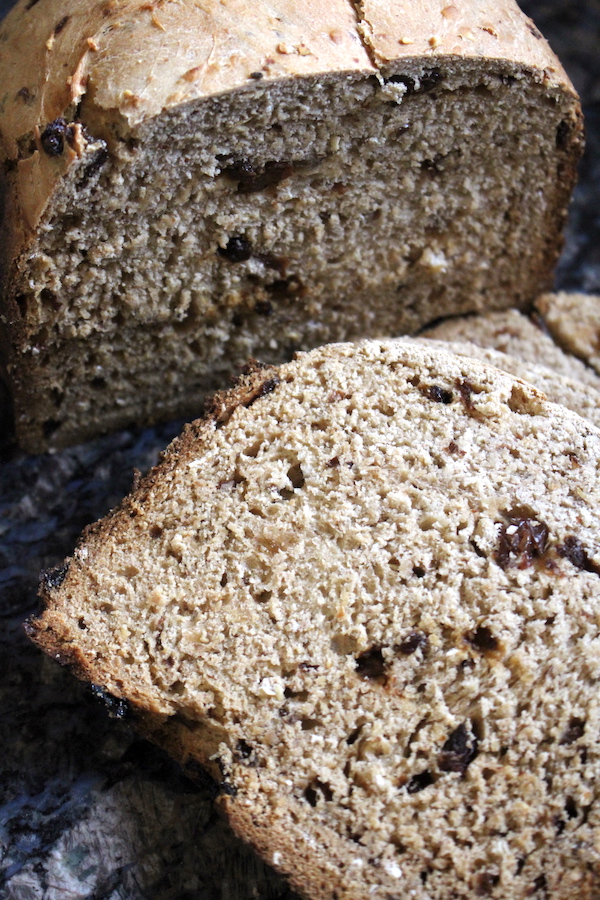 The little ones ate it right up and came back for more, but that's not surprising. What toddler wouldn't love cinnamon raisin bread? What did surprise me is the fact that my husband polished off the loaf, and then asked me to bake more. That's a manly seal of approval if I've ever seen one.
There you have it, an easy to make bread machine cinnamon raisin bread that the whole family can enjoy. Now the real trick is waiting until it's completely cool before slicing. Good luck with that one…
Yield: 1 loaf
Bread Machine Cinnamon Raisin Bread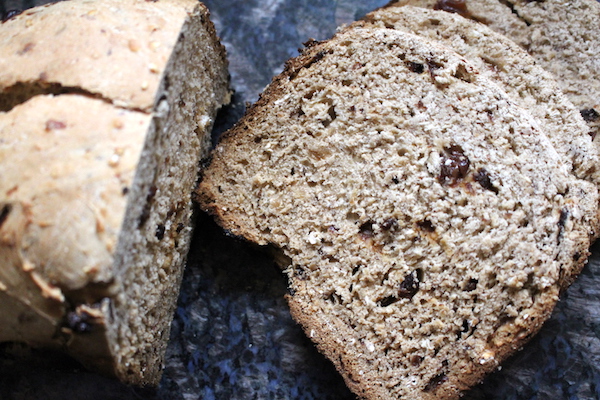 This soft and tender cinnamon raisin bread is easy to make in a bread machine.
Ingredients
3/4 cup milk, lukewarm
1/4 cup water, lukewarm
2 tbsp butter, softened
1/2 cup raisins
1/2 cup rolled oats, old-fashioned (not instant)
1/4 cup brown sugar
1 1/2 tsp salt
3 cups All-Purpose Flour
1 tsp cinnamon
2 1/2 tsp instant yeast or bread machine yeast
Instructions
Place all ingredients in the bread machine in the order listed.
Set the bread machine to "basic white" and press start.
Allow the bread to cool completely before cutting (good luck holding back...)
Notes
I like to add the yeast directly into the water and allow it to bloom for about 5 minutes before adding the rest of the ingredients and turning the bread maker on. I think this results in a better rise, but it's optional, and shouldn't be used with delayed start bread making.

Next time I make this recipe, I hope to try adding some other dried fruits like dried cranberries, substituting orange zest for the cinnamon. I may also try dried tart cherries for a real treat, maybe with some diced pistachios to make it a bit exotic…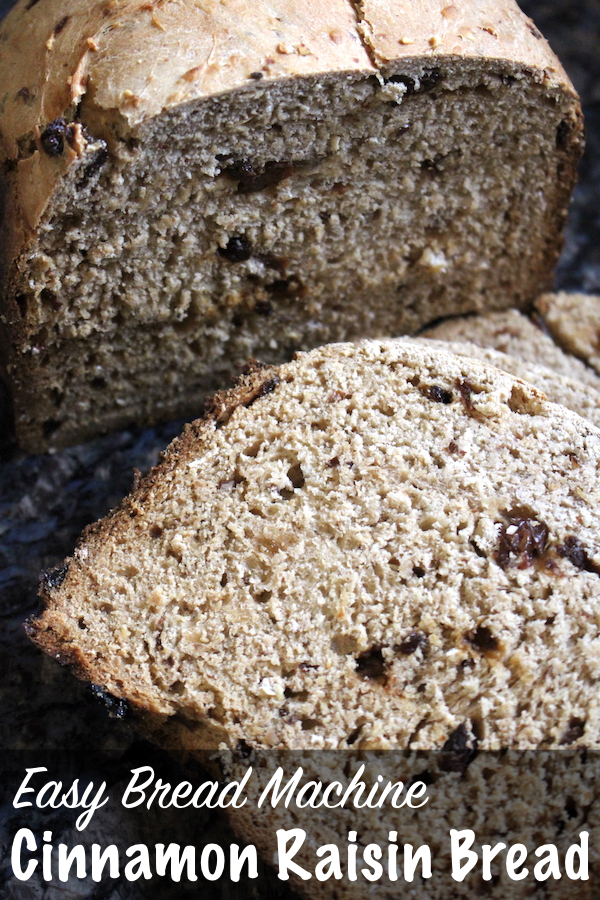 The following two tabs change content below.
Cooking up the world from my tiny Vermont kitchen. Follow along for traditional recipes from around the globe, as well as some of my own special creations.
Latest posts by Ashley Adamant (see all)