Bread machine whole wheat bread is easier than you think. Just a few ingredients tossed into the machine and a few hours later a wholesome loaf of soft 100% whole wheat sandwich bread emerges almost by magic.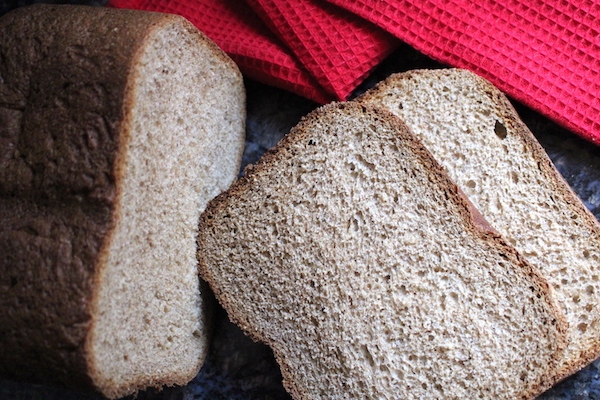 In the past few weeks, we've been our bread machine to nearly daily use. I love making bread at home, but with two toddlers underfoot I'm glad to have a bread machine that does the work for me. My little ones are especially fond of my simple bread machine white bread, but I was hoping to up the nutritional content a bit by trying whole wheat.
I know there's a lot of transitional loaves out there, with part whole wheat and part white flour, but I decided to go all in and see how they like it. The crumb on this 100% whole wheat sandwich bread is softened a bit by the addition of a bit of olive oil, and then a hint of sweetness comes through thanks to the addition of maple syrup.
All in all, it's a very wholesome loaf that stays soft with baking and holds together beautifully when sliced. I couldn't be more pleased.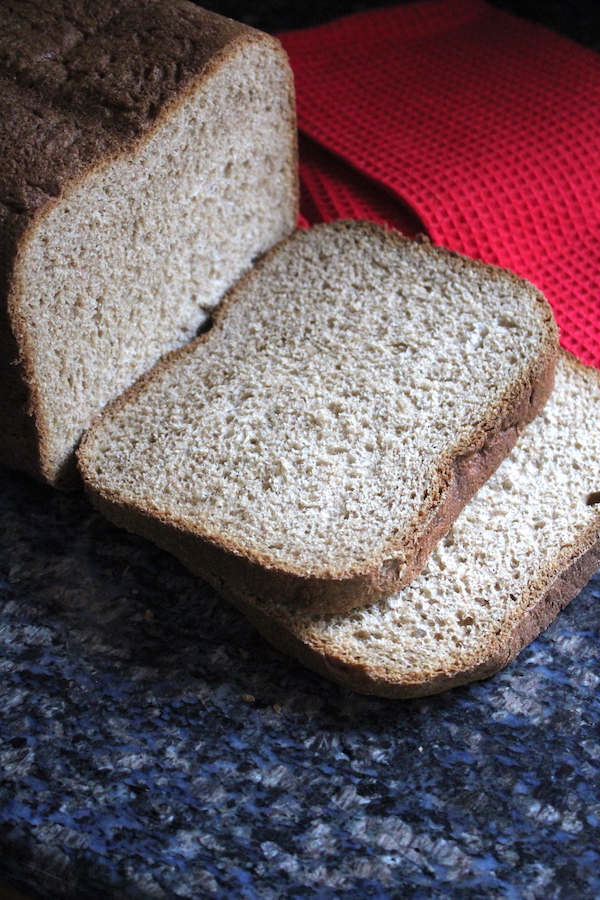 The real test comes when I hand a slice to the babies. The verdict! Toddler Approved! Slather a slice with butter and my little ones clean their plates every time.
This bread is soft and flavorful enough that it allowed for a seamless transition from white bread to 100% whole wheat. And this mama's happy that I didn't have to sneak the whole wheat into the bread a cup at a time. It makes things simpler, and everyone's happy with the outcome.
In the next few batches, I'm planning on trying honey (instead of maple) as a sweetener, and I'll be testing whether or not I can substitute butter for the olive oil to enrich this whole wheat loaf. I may also try adding small amounts adding whole grains like oats or millet, and maybe some flax seeds too.
More Bread Recipes
Looking for more bread recipes? Read on…
Yield: One loaf
Bread Machine 100% Whole Wheat Sandwich Bread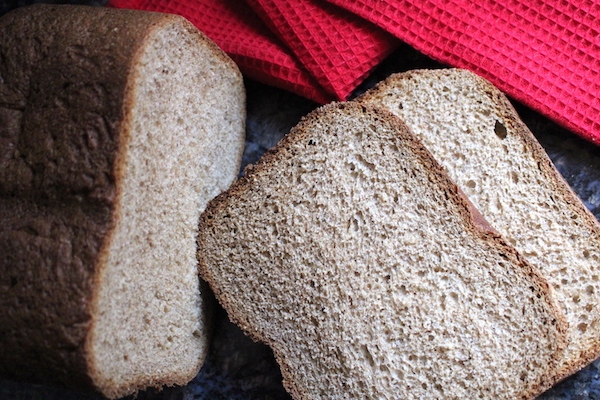 This simple 100% whole wheat bread machine bread is delicious, and a perfect nutritious alternative to white flour sandwich bread.
Ingredients
1 1/4 cups lukewarm water
2 tablespoons olive oil
1/4 cup maple syrup (or liquid honey)
3 1/2 cups Whole Wheat Flour
1 1/2 teaspoons salt
2 teaspoons instant yeast
Instructions
Place all ingredients into the bread machine in the order listed.
Select the "whole wheat" setting if your bread machine has one. If not, choose basic white.
Allow bread to cool completely before cutting.
Notes
To make this recipe without a bread machine, knead dough until smooth about 7 to 10 minutes. Allow to rise until doubled in volume, about 90 minutes. Punch down dough, knead for another 1-2 minutes and form into a loaf. Place into a greased loaf pan and rise again for about 90 minutes, until the bread is risen about an inch above the top of the pan. Preheat oven to 375 and bake for about 35 minutes. Remove from pan to a cooling rack, and allow the bread to cool completely before cutting.