Honey wheat bread has just the right amount of sweetness to balance hearty whole grains. This soft, whole wheat sandwich bread has something for everyone to love!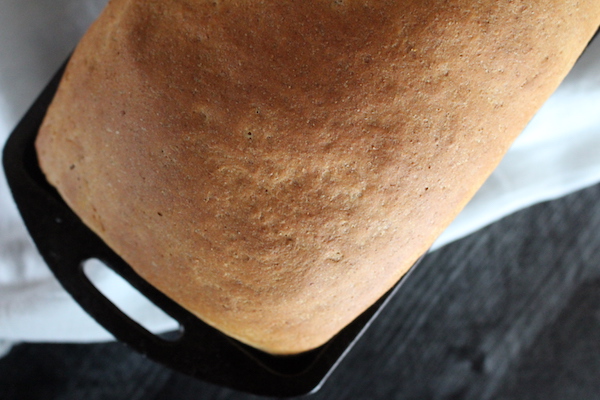 I've been looking for a "go-to" sandwich bread recipe for a while now. With two kids in school, packed lunches are becoming a bigger part of our lives.
I just can't stand the idea of endless white bread sandwiches, and honestly, neither can my kids. This honey whole wheat bread makes us all happy, with just enough sweetness to keep them excited and enough whole grain bite to add a bit of complexity of flavor.
I love it, they love it, and my husband loves it. Win for everyone!
This recipe for honey wheat bread comes from Attainable Sustainable: The Lost Art of Self Reliant Living. My friend Kris at Attainable Sustainable just put out this gorgeous book, where she shares all manner of how-to projects, including her go-to recipes.
She says, "This sandwich bread recipe has been in my collection since my kids were toddlers. It makes a soft, tender loaf that is perfect for slicing. Try it; odds are you'll never go back to packaged sandwich bread."
Kris is right, we have a winner!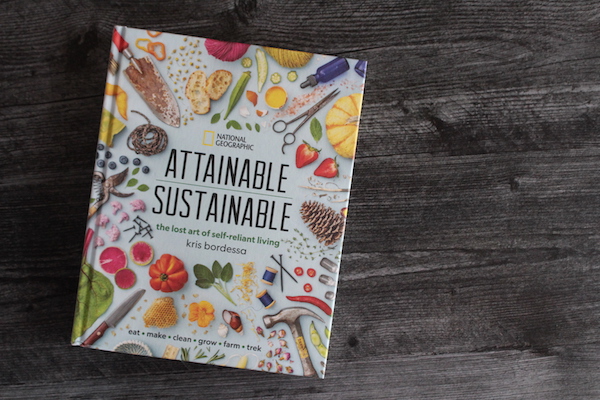 How to Make Honey Wheat Bread
Making honey wheat sandwich bread starts with milk, water, and yeast. Mix hot water with cold milk to get a lukewarm base, and then sprinkle the yeast on top to dissolve.
Add in flour, honey, salt, and melted butter. Knead the bread until the dough is smooth and elastic. About 8-10 minutes by hand or 5-6 minutes with a dough hook in a stand mixer.
Place the prepared bread dough into a buttered bowl and allow it to rise for 1-2 hours until it's doubled in bulk.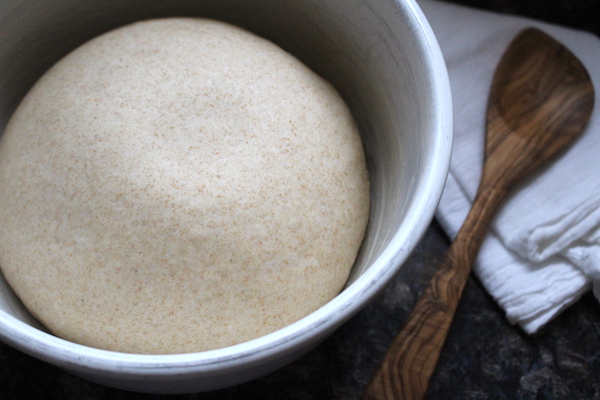 Punch the dough down, and move it to a buttered loaf pan.
I like to shape it a bit, and ensure the top is nice and smooth because that will help the loaf keep its shape without cracking during baking.
Cover with a moist towel and allow the bread to rise again until it's over the edge of the pan. This should take about an hour.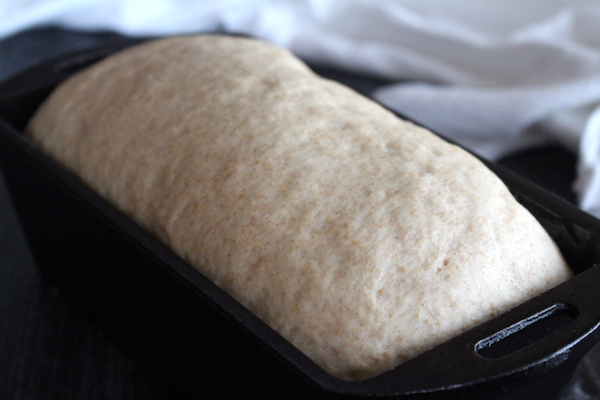 Preheat the oven to 350. When it's up to temp, bake the honey wheat bread for 30 to 35 minutes.
Remove from the oven and allow the bread to cool for about 5 minutes before tipping it out of the pan. Cool completely on a cooling rack before cutting.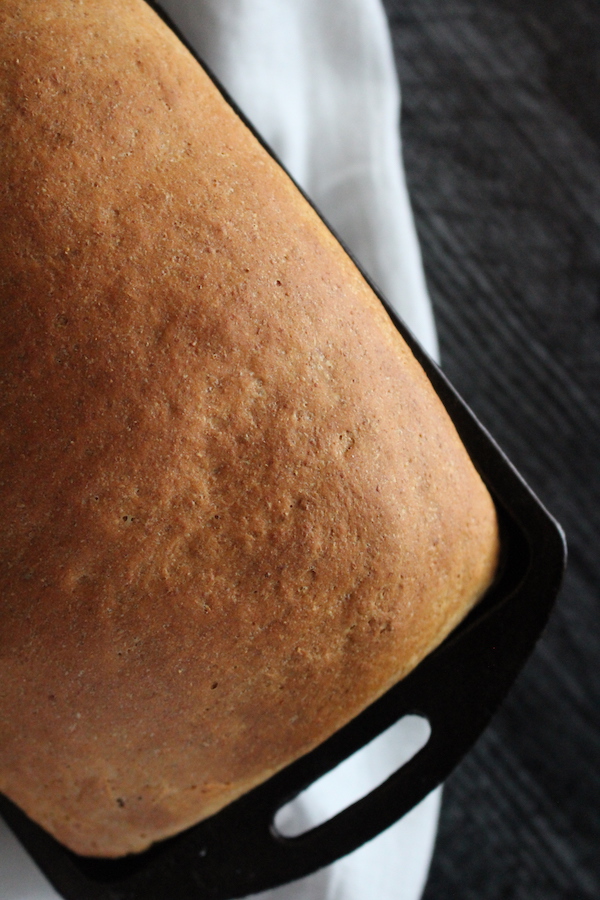 Yield: One Loaf
Honey Wheat Bread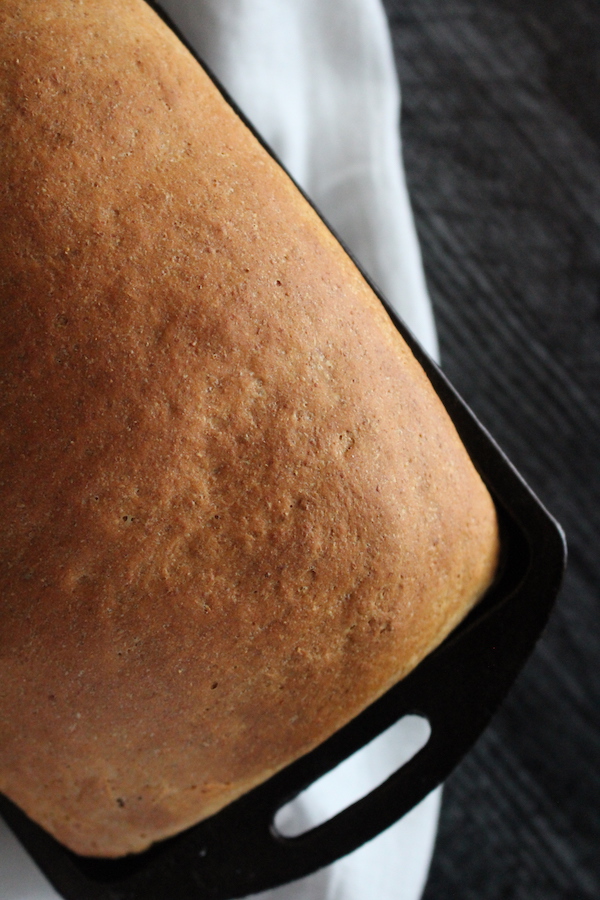 Honey wheat bread has just enough sweetness to balance a hearty whole wheat crumb. It slices up soft and tender, perfect for sandwiches.
Total Time
2 hours
30 minutes
Ingredients
1/2 cup milk
1/2 cup water, hot
2 1/4 tsp active dry yeast (1 packet)
1 1/2 cups all-purpose flour
1 cup whole wheat flour
1/4 cup melted butter
2 tablespoons honey
1 teaspoon salt
Instructions
In a large bowl, combine cold milk and hot water. Check the temperature, ensuring it's just lukewarm. Sprinkle the yeast over the liquid and allow it to bloom for about 5 minutes.
Add melted butter, honey and salt. Mix to incorporate.
Add flour and begin kneading the dough.
Knead the bread until the dough is smooth and elastic, about 8-10 minutes by hand or 5-6 minutes with a dough hook in a stand mixer.
Place the dough in a buttered bowl, cover with a damp towel and allow it to rise 1-2 hours until doubled in bulk.
Punch down the dough and transfer the dough to a lightly flowered surface. Press the dough into a rectangle, roughly 8x12. Fold the dough into thirds, making it 8x4. Place the bread dough in a loaf pan with the seam on the bottom.
Allow the honey wheat bread to rise in the loaf pan for about an hour, until it's risen above the lip of the bread pan.
Preheat the oven to 350 and bake 30 to 35 minutes, until the bread is golden brown.
Remove from the oven, tip gently out of the pan and cool on a wire rack until completely cool before slicing.
Notes
Note ~ The original recipe suggests 1 1/2 to 2 cups white flour. I found that 1 1/2 cups was just right for me, but feel free to add a bit more flour if your dough is too sticky.
More Bread Recipes
Looking for more bread recipes to keep your oven cookin'?