Bread machine challah is a simple way to enjoy this flavorful traditional egg bread without spending all day in the kitchen. Add the ingredients and press start, and your loaf will be ready in just a few hours.
My family absolutely loves challah, but making it is a labor of love. Sometimes my children will ask for this rich soft bread late in the day, hoping to have it that evening and the leftovers the following day for challah french toast.
That'd be an impossible request if we have other things on the agenda, at least without my bread machine.
Making bread machine challah turns what seems like a daunting task into 5 minutes of prep work, followed by 3-4 hours of hands-off time while the machine does the work.
If you'd like braided challah, you can always use this recipe just on the dough setting and then remove the dough to shape and rise on the counter (before baking in a conventional oven).
I personally love the convenience of just set it and forget it.
I've considered making a version that's kneaded in the machine and then hitting "pause" after the last punch down. I'd take the dough out, shape it into a short braid, and place it back into the bread machine for baking.
That seems like a good compromise, still letting the bread machine do just about all the work with the exception of a short pause right before the last rise.
That said, you'd have to catch the machine at that point…it hasn't happened yet for me. I'm not too worried about it though, as braiding may be traditional, but this bread machine challah tastes amazing even without the braided top.
This time I did manage to catch the bread machine during the last rise (rather than before it), and I brushed the top of the loaf with the remaining egg white and sprinkled it with poppy seeds.
It adds a festive look to the challah with only a few seconds of work. It's optional of course, but if you happen to be by the machine during the final rise it only takes a moment.
This recipe is adapted from The Bread Lover's Bread Machine Cookbook, which is my absolute favorite bread machine recipe book (and I have quite a few).
The book actually contains five different bread machine challah recipes, from traditional loaves to variations with whole wheat, chocolate, apples, and even pumpkin challah.
Beyond that, it also has a number of other traditional egg bread recipes, including:
Zopf (Swiss Egg Bread that's similar to challah but includes dairy)
Franskbrød (Nordic White Bread with eggs)
French Brioche (a Buttery Enriched Bread with Plenty of Eggs)
Egg Bagels (Kneaded in the machine but shaped and cooked separately)
Yield: Makes a 2 Pound Loaf (1 1/2 pound loaf in the notes)
Bread Machine Challah (Jewish Egg Bread)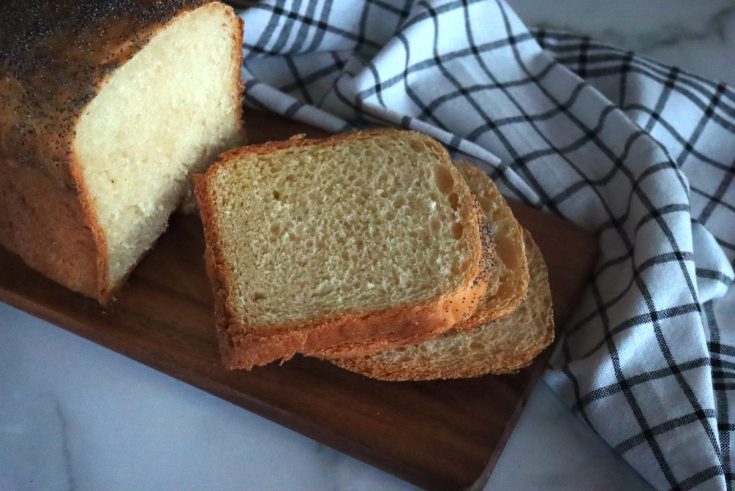 Bread machine challah is an easy way to enjoy fresh challah baked right in your own kitchen.
Cook Time
3 hours
30 minutes
Total Time
3 hours
35 minutes
Ingredients
In the bottom of the pan
1 cup water
2 large eggs (plus one egg yolk)
1-2 tablespoons honey (see note)
1/4 cup olive oil
floated on top of the liquid ingredients
4 cups flour (bread or all-purpose)
2 tsp. SAF Yeast or bread machine yeast
1 1/2 tsp. salt
Optional toppings
1 egg white (from separated egg above)
1-2 teaspoons poppy seeds
Instructions
Place the ingredients into the bread machine pan, starting with the liquid ingredients listed first.
Place the flour on top of the liquid ingredients and create a small well in the flour.
Nestle the salt and yeast in the flour well, then close the lid.
Set the bread machine to bake using the basic cycle and medium crust setting (or equivalent settings on your machine).
Press start and allow the machine to cycle.
Optional: During the final rise (after the last punch down but right before baking), open the lid and brush the top of the loaf with egg white and sprinkle with poppy seeds. Feel free to skip this step for a complete hands-off bread machine challah.
For best results, remove the bread from the pan and allow it to cool completely on a cooling rack before cutting.
Notes
The original recipe specified bread flour, but I've had excellent results using King Arthur Flour All-Purpose. Choose a higher gluten flour if you have it available. The recipe also suggested adding 2 tbsp vital wheat gluten, but I have omitted it as it's hard to obtain. Add it if you'd like a higher rise.
Choose either 1 tablespoon of honey or 2, based on your tastes. The original recipe suggests 1 1/2 tablespoons but I like it both as a slightly more savory loaf with a bit less, and a sweeter loaf with a bit more.
This recipe can also be used as a dough recipe, setting the machine to the dough-only cycle and then removing the dough to shape and rise on the counter. That's an easier way to prepare a braided challah loaf without having to hand knead.
For a 1 1/2 pound loaf, use the following ingredient quantities (but follow the same instructions):
3/4 cup water
2 large eggs
1/2 to 1 tablespoon honey
3 tablespoons olive oil
3 cups flour (bread or all-purpose)
1 1/2 tsp SAF yeast or bread machine yeast
1 tsp salt
Bread Machine Recipes
Looking for more bread machine recipes?