Honey white bread is a fluffy, lightly sweet sandwich bread that's easy to make in a bread machine at home.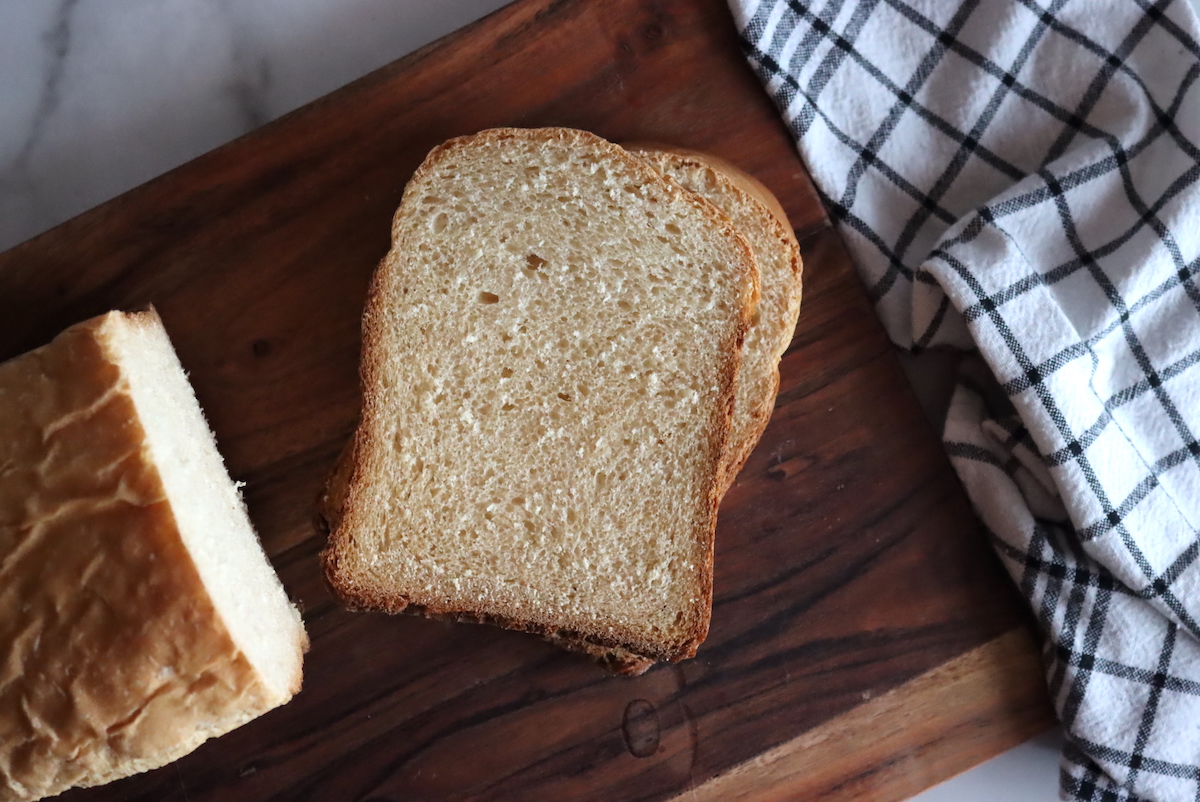 I'm particularly fond of our homemade honey wheat bread that I make in the oven, but whole wheat's not for everyone. Sometimes you want a light sandwich bread, and the added sweetness of just a bit of honey goes perfect with packed lunches.
This honey white bread is perfect for ham and swiss, and absolutely wonderful for a classic peanut butter and jelly sandwich. (My kids particularly love it with peanut butter, banana, and honey sandwiches too!)
Honey is naturally hydrophilic, which means it keeps the bread moist for longer than the average sandwich bread.
What I love? It's easy to make in the bread machine with just minutes of effort.
When my little ones grab up the last piece of bread for their breakfast toast, I can pull out the bread maker and have a fresh loaf on the counter in time for lunch.
All it takes is just a few minutes of effort to measure the ingredients into the pan.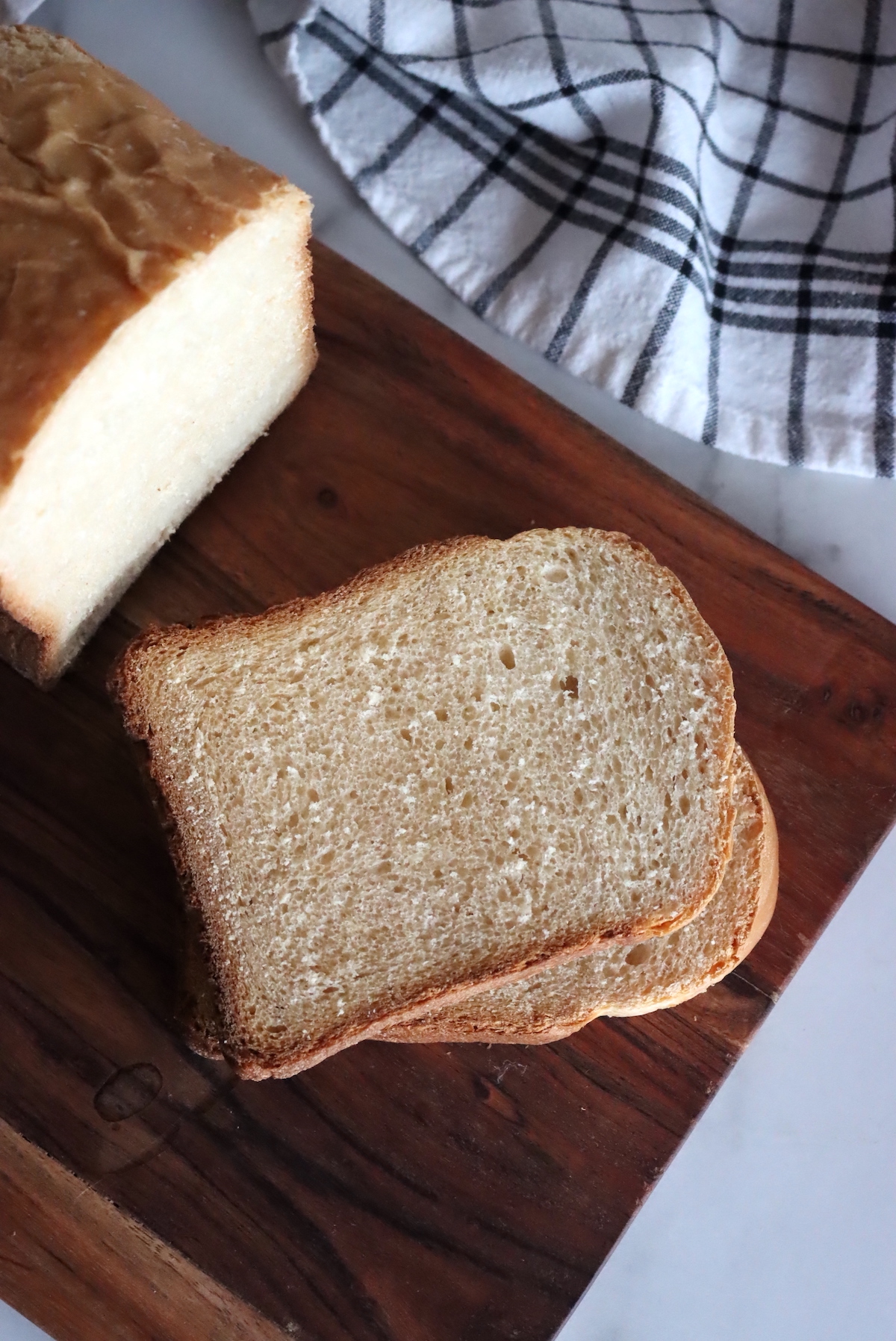 I've adapted this recipe for bread machine honey wheat bread from The Bread Lover's Bread Machine Cookbook, which is my absolute favorite bread machine recipe book (and I have quite a few).
While I don't often have to change their recipes, this one was too dry as it was written and just wouldn't knead right. I've increased the amount of water and milk used, and now it comes out just right.
The recipe below is for a 2-pound loaf, but you can find the 1 1/2 pound amounts in the notes too.
Yield: Makes a 2 Pound Loaf (and 1 1/2 lb amounts in notes)
Bread Machine Honey White Bread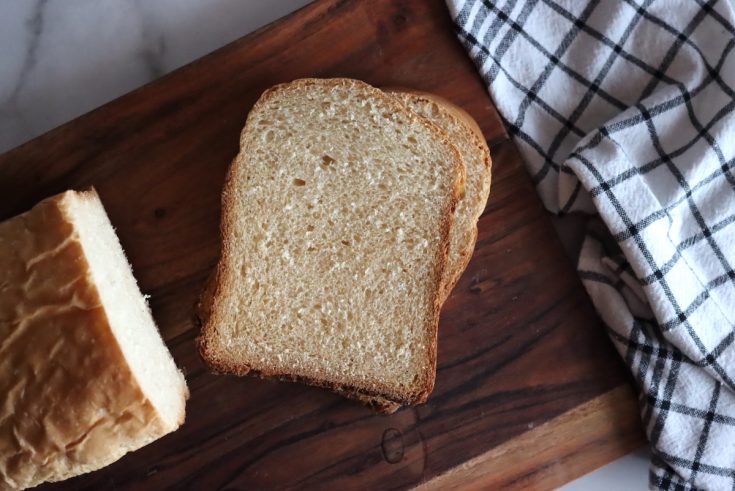 This easy bread machine honey white bread is perfect for sandwiches!
Cook Time
3 hours
55 minutes
Ingredients
Liquid Ingredients (add first)
3/4 cup water
3/4 cup milk
2 Tbsp. canola oil (or butter)
3 Tbsp. honey
Dry Ingredients (on top of wet)
3 3/4 cup flour
1 1/2 tsp salt
2 1/2 tsp yeast
Instructions
Prepare your bread maker according to the manufacturer's instructions.
Place wet ingredients in the bottom of the pan.
Add dry ingredients on top of wet, making a small well in the flour to add the salt and yeast.
Bake using the "basic" or "normal" bread cycle. (If your bread maker allows you to choose crust darkness, I'd suggest "light" as the honey in the bread causes the crust to darken more than some bread, and a "light" setting will give you a medium crust.)
Remove from the bread machine when complete, and allow it to cool completely on a wire rack before cutting for best results.
Notes
For a 1 1/2 pound loaf, use the following quantities:
Wet Ingredients
2/3 cup water
2/3 cup milk
1 1/2 Tbsp. canola oil (or butter)
2 Tbsp. honey
Dry Ingredients
2 3/4 cups flour
1 tsp salt
2 tsp yeast
Bread Machine Recipes
This one's become a staple in our house, alongside our other bread machine recipes, like these:
In the summertime, we're also particularly fond of quick breads made without yeast in the bread machine. Bread machine zucchini bread is the perfect way to use up a bumper crop of zucchini, without spending a lot of time in the kitchen on a beautiful summer's day. Similarly, bread machine banana bread makes an oven baked right in your machine.