Chanterelle risotto is the perfect fall weather comfort food.
The richness of a simple risotto is brightened by the fruity flavors of chanterelles, leaving you with a dish suited for a fancy first date.
Or in my case, a much-needed weeknight dinner "date" with my husband, toddlers in tow. The little ones were so excited about their dinner, that we ate in blissful silence…and that's all this mama could ask for.
Chanterelles are usually a summertime treat, where the delicate and fruity flavors combine well with sweet corn, apricots, and other warm-weather fares. We forage chanterelles on our land in early August, and they're long gone before the weather turns cold and I'm craving risotto.
This year, I ran across yellow foot chanterelles at the farmers market on the first day of fall, right alongside the apples and cider. These fragrant, late-season mushrooms are perfect for chanterelle risotto.
Risotto is just plain comfort food, and chanterelle risotto is mild enough for a baby to enjoy. My 18-month-old son cleaned his plate and asked for more. Well, more like grunted for more, words are hard when you're a baby, especially a hungry baby.
While risotto is spectacular baby food, it's generally thought of as a fancy restaurant dish. The first time I had it was in Italy when a friend I was traveling with convinced me the high price tag would be worth it. The ingredients are simple, but it's the preparation that takes time and patience.
In this case, fresh chanterelles will set you back about $18 a pound and dramatically increase the cost of an otherwise very inexpensive homemade delicacy. Two large plates can be made with 1/4 pound of mushrooms or about 2 cups of fresh chanterelles.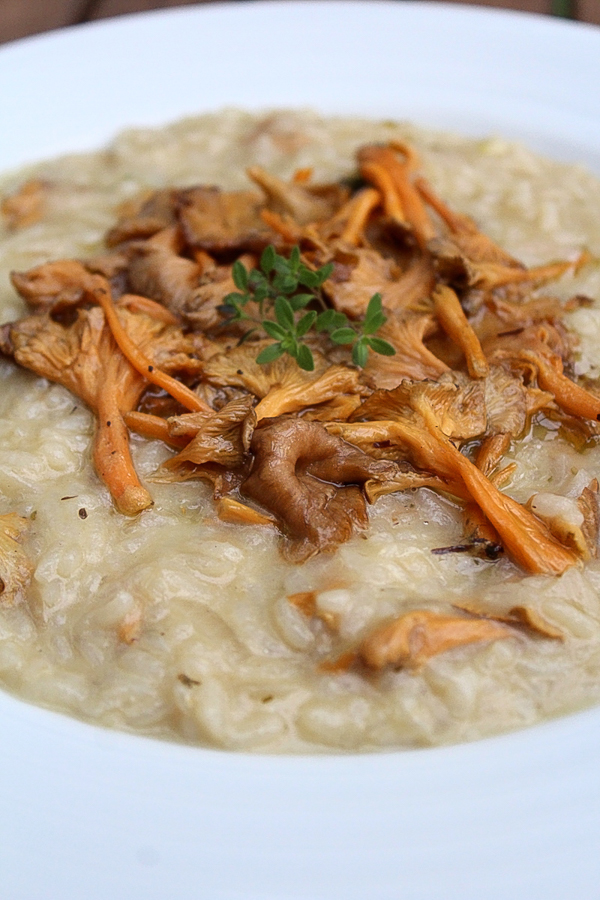 Yellowfoot chanterelles smell incredible, and you'll be surprised to find they smell a lot more like fresh fruit than the traditional earthy mushroom smell you'd expect. At the fall farmer's market, they smelled remarkably similar to fresh cider, but with bright notes, like apricots.
Dried chanterelles also work wonderfully in risotto, especially since the dish has to be carefully simmered for about half an hour on the stove. In that time, the dried mushrooms will rehydrate beautifully and it'll be hard to tell they're not fresh.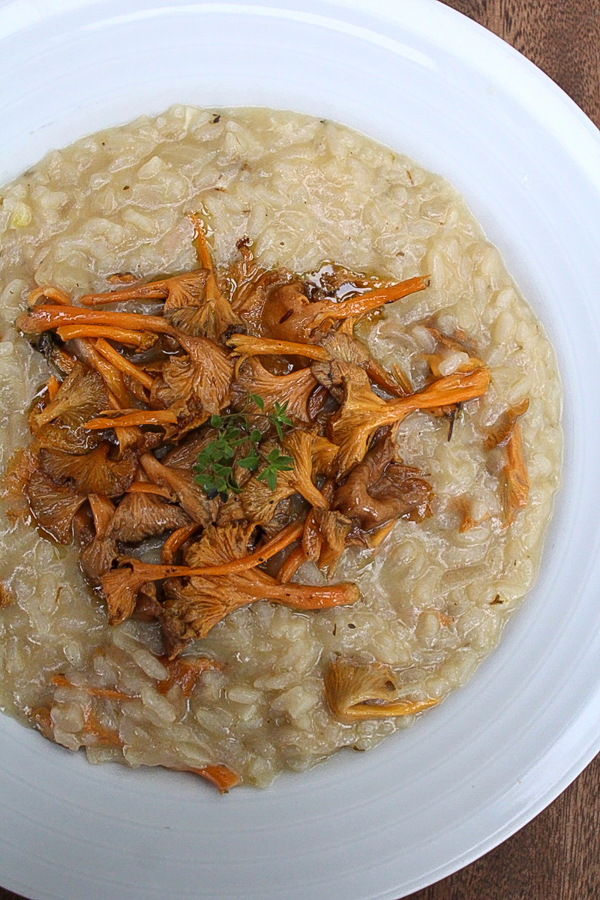 My chanterelle risotto recipe keeps things simple, which allows you to enjoy the delicate flavor of the chanterelles without any distractions. Sauteed onions and garlic form a flavor base that compliments the brightness of the mushrooms, and a bit of thyme rounds out the dish.
I've incorporated about half of the mushrooms directly into the risotto and saved the other half to top the dish. Fresh chanterelles sauteed in butter are a real treat, and they make for a lovely presentation topping the creamy rice. The extra butter, flavored from sauteeing the chanterelles, glistens bright orange on top and adds a lovely richness.
Yield: Makes 2 large servings (or 3-4 moderate)
Chanterelle Risotto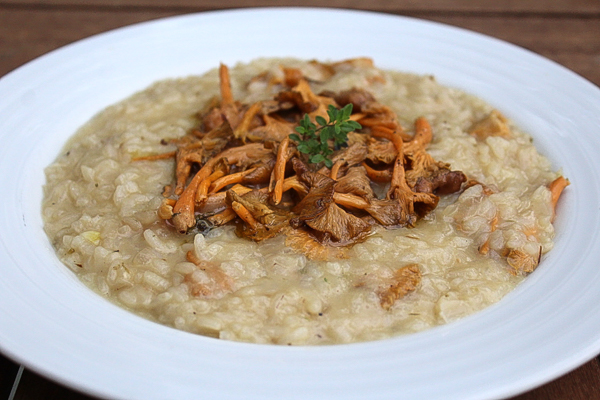 This simple chanterelle risotto can be made with fresh or dried chanterelles.
Ingredients
6 cups stock
1 pint dry hard cider (or dry white wine)
1 small onion minced
2-3 cloves garlic minced
2 tbsp olive oil
1 tsp thyme fresh or dried
1/4 lb chanterelles, divided (or 1 to 2 ounces dried)
1 cup Arborio Rice
1/2 cup parmesan or pecorino finely grated
2 tbsp butter
Instructions
Bring the stock and wine or cider to a simmer in a medium-sized saucepan.
In another medium-sized saucepan, saute the minced onion and garlic in olive oil until translucent, about 5 minutes.
Add about half of the mushrooms (all of them if using dried), along with the thyme and saute another 1-2 minutes.
Add the dried arborio rice to the onion mixture and cook the rice in the oil about 1-2 minutes to brown it.
Stirring constantly, add the boiling stock/wine mixture one ladle at a time, every 2-3 minutes. The goal is to steam the rice, not boil it. The water level should be kept low, and it should be boiling rapidly just
below the level of the rice.
Continue adding stock, a bit at a time, while stirring constantly until all the stock has been absorbed. This should take about 30 minutes of simmering and constant stirring. The stirring helps to remove starch from the outside of the rice, and will create a creamy risotto.
When the rice has absorbed all the liquid and is creamy, remove it from heat. Add the
finely grated cheese and stir until it's completely melted.'
Sautee the remaining 1/8 pound mushrooms in 2 tbsp of butter for about 5 minutes. Serve the risotto, and top each plate with sauteed chanterelles and the chanterelle butter.
Serve immediately, adding salt to taste.
Notes
This recipe will make enough for 2 large plates for a date night, or it can easily be doubled to serve 4.