Serinakaker are Norwegian butter cookies with a soft pillowy texture, decorated with either pearl sugar or slivered almonds. Recipes for serinakaker start with simple with butter, flour and icing sugar, in much the same way as shortbread, but an egg is added to the batter which brings the cookie dough together.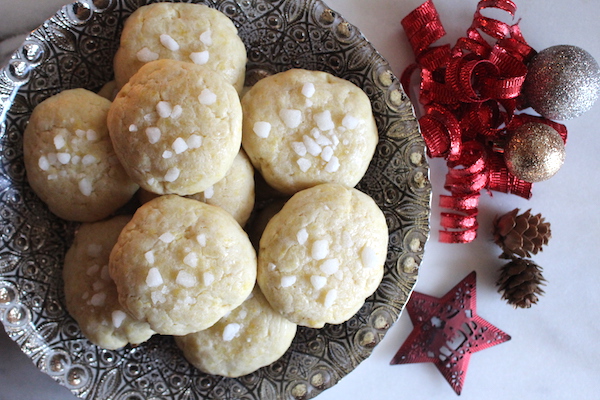 Versions of these simple Scandinavian butter cookies are popular throughout the region, and each country has its own recipe. The Norwegian version is buttery, cakey and not too sweet. Add a bit of pearl sugar on top, and you've got just the right amount of sweet crunch to balance out a buttery rich cookie.
My grandmother's Norwegian holiday cookie assortment was always the highlight of Christmas growing up. She'd mail us a big box early in December, and my mother would put them out on a sideboard in the dining room. I remember sneaking in to grab a cookie many times and then enjoying plenty after dinner too.
Origins of Serinakaker
Serinakaker, or "Serina Cookies" are a traditional Norwegian holiday cookie that goes back over a hundred years. The first mention of them is in a household management text by Hanna Winsnes from 1845 called "Textbook in the various branches of the household" which included recipes, but also instructions for other household duties such as gardening and managing livestock.
Before the 1800s, baking in household ovens wasn't as prevalent, and Norwegian Christmas cookies were often made in other ways, such as deep-fried fattigmann or wafer-thin krumkaker cooked on a hot iron on the stovetop.
The origin of the name is obscure, but most seem to think they were actually just a cookie made by a woman named Serina that happened to become popular.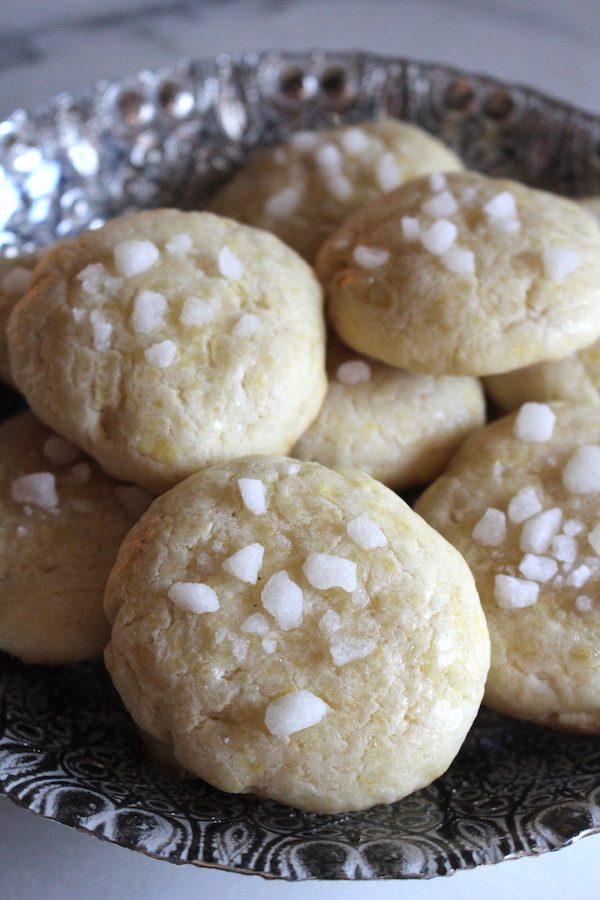 Ingredients for Serinakaker
The ingredients for serinakaker are pretty simple, at least by modern standards. Butter, sugar and white flour would have been luxury items in the 1800s, and these simple Norwegian butter cookies would have been a special Christmas treat.
Modern serinakaker are made with double-acting baking powder for leavening, but that wasn't invented until the 1860s. Before that, cookies were leavened with traditional leveners such as potash, pearlash, and hartshorn. Traditional recipes for serinakaker use hartshorn, which is derived from antlers using traditional processes.
They're flavored with vanilla sugar, which is a specialty nordic baking ingredient. In the US, vanilla sugar refers to vanilla bean infused white sugar, but in Scandinavia, vanilla sugar (vaniljesukker) is actually a small tin of powdered sugar infused with vanilla extract. It's a good way to add vanilla flavor to cookies without adding extra moisture, and the very fine powdered sugar infuses into baked goods without adding a grainy texture.
Using vanilla sugar or a scraped vanilla bean is important to serinakaker, since adding vanilla extract would introduce more moisture into the cookie dough. The only added "liquid" in this recipe is the egg, and adding more moisture, even a small amount, would change the texture of the finished cookies. If you don't have vanilla sugar or a vanilla bean, add a tiny bit (1 tsp) of vanilla extract, or omit that flavoring altogether.
Finally, the cookies are decorated with pearl sugar, adding a bit of beauty to an otherwise plain-looking buttery cookie. Sometimes flaked almonds are used instead of pearl sugar, and that's a good option if you can't get pearl sugar. (They're sometimes called Norwegian almond butter cookies for that reason.)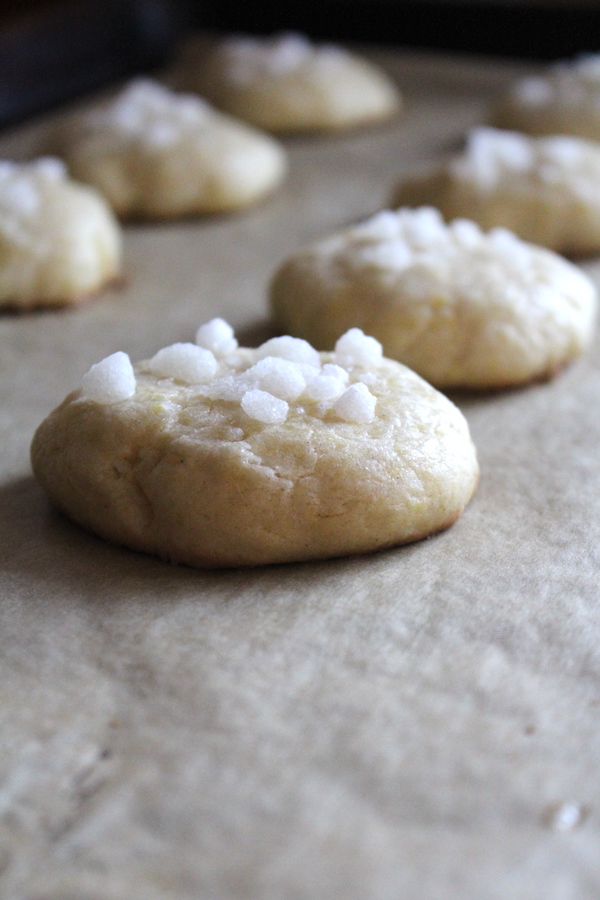 How to Make Serinakaker
Start by mixing all the dry ingredients including flour, powdered sugar, vanilla sugar baking powder, and salt. Chop the cold butter into cubes and add it into the dry ingredients. Crumble the mixture with your hands (or a stand mixer) until it forms small crumbs, like coarse sand.
Beat an egg in a separate bowl until it's completely smooth. This is important because the yolk won't evenly incorporate into the cookies and will leave small yellow dots in the finished cookie unless it's beaten in with the white before adding it to the dry ingredients.
Add the beaten egg into the flour/butter mixture, and stir the dough until it just comes together. You may have to work it with your hands to help the process along, but do not add liquid, and try not to overwork the dough. Allow it to just come together and then stop mixing.
Roll the dough into a log, wrap it and place it in the refrigerator for at least an hour.
Preheat the oven to 350 and remove the dough from the refrigerator.
Slice off small sections of the dough and roll them into small balls, about 1 1/4 inches in diameter. Place the dough balls on a cookie sheet and flatten them with a fork, your palm, or the bottom of a glass.
Brush each cookie with egg white, and sprinkle pearl sugar or flaked almonds on top for decoration. My 4-year-old daughter was particularly excited about this part, and I imagine many tiny pieces of pearl sugar never quite made it to the cookies. That's all part of the fun.
Christmas cookies are about bringing the whole family together, and I know my daughter's going to sign up for decorating crew every year from now on…
Bake the serinakaker in a 350-degree oven for about 10 minutes. It's important not to overbake them!
They should just barely be browned on the bottom, but still be a pale white/yellow color on top. Remove the cookies from the sheet and allow them to cool completely on a rack before storing in an airtight container.
Tips for the Best Serinakaker
Beat the Egg Before Adding ~ The egg yolk doesn't incorporate well into flour on its own. If you don't beat the egg, the finished dough will have tiny yellow yolk flecks in it. It's not the end of the world, but they're a more uniform color if you beat the egg first so that it incorporates into the flour more evenly.
Don't Add Liquid ~ This is dry cookie dough, and you'll be tempted to add liquid to get it to come together. Resist that temptation because any extra liquid added to the batter will cause gluten to form in the flour, which will toughen the texture of the serinakaker cookies. Patience, as you bring the dough together without added liquid, will allow them to keep a tender crumb.
Chill the Batter ~ Butter is a big part of this cookie dough, and if you don't chill the batter before baking the cookies will run flat on the tray. Chill the batter for at least an hour before baking so that they hold their shape.
Press Them Flat Before Baking ~ Serinakaker hold their shape reasonably well during baking, especially if the dough is chilled ahead of time. Pressing them flat will allow them to puff a bit from the baking powder, but also ensures that they cook fully to the center.
Don't Overcook – Allow the cookies to just barely brown on the bottom, but don't overcook. They should still be pale cream-colored on the top, with no hint of browning.
Yield: About 2 dozen
Norwegian Butter Cookies (Serinakaker)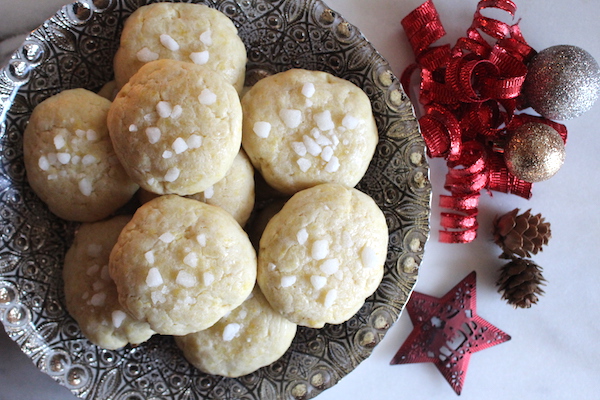 Traditional Norwegian butter cookies are served at Christmas time in Norway. Serinakaker are simple, quick to make and a delicious holiday favorite.
Total Time
1 hour
30 minutes
Ingredients
2 1/4 cups (300 g) all-purpose flour
3/4 cup (85 g) confectioners' sugar (icing/powdered sugar)
1 tablespoon baking powder
1/4 tsp salt
14 tablespoons (200g) butter, cold (7/8 cup)
2 tsp vanilla sugar (Or 1 vanilla bean, scraped)
1 egg
For Decorating
1 egg white (for brushing)
pearl sugar or slivered almonds, for decorating
Instructions
Mix the dry ingredients including flour, powdered sugar, vanilla sugar baking powder, and salt.
Chop the cold butter into cubes and add it to the dry ingredients. Crumble the mixture with your hands (or a stand mixer) until it forms small crumbs, like coarse sand.
Beat the egg in a separate bowl for about 30 seconds, and then add it to the butter/flour mixture. Mix until the dough comes together, but don't overwork.
Roll the dough into a log, wrap and place in the fridge for about an hour.
Preheat the oven to 350.
Remove from the refrigerator, slice off small sections of dough and roll them into small balls in your hands (about 1 1/4 inches in diameter).
Place the dough balls on a prepared cookie sheet and flatten with a fork, the bottom of a glass or your palm.
Brush with egg white and sprinkle pearl sugar or slivered almonds on top.
Bake in a 350-degree oven for about 10 minutes, until the bottom is very slightly brown. Do not over bake.
Remove from the oven and cool completely before storing.
More Norwegian Cookie Recipes
Looking for more traditional Norwegian cookies recipes? Here's a few more to keep you cooking…