Pebernødder is a small Danish Christmas cookie in the peberkage (pepper cake) family. Pebernødder is a children's favorite, so loved that Danes even play a game with them, besides seeing who can stuff the most in their mouth.

This post is written by Pia Sonne, a native of Denmark and the writer behind the blog Busy Hands, Quiet Hearts.
Pebernødder are part of the traditional Christmas cookie trinity of Brunkager, Pebernødder, and Vaniljekranse. These are often served together and make the staple backbone of Christmas cookies in Denmark.
Pebernødder are eaten during the Christmas season and are a favorite amongst most children. It's also the cookie most teachers bring to class for Christmas hygge, which can occur daily during December.
The store-bought varieties are generally more sugary and less spicy than homemade versions. Many adults prefer more refined versions from specialty bakers or homemade with various posh ingredients, like white pepper.
In our extended family, pebernødder are such a favorite that one year we had a friendly bake-off to see who made the best kind.
Everybody brought a dough and we sat around rolling pebernødder and chatting for hours. Then we baked them, graded them on taste, color and texture.
We stuffed our mouths to see who could fit the most and we played mus for hours.
The recipe I'm sharing here was the winner of that competition.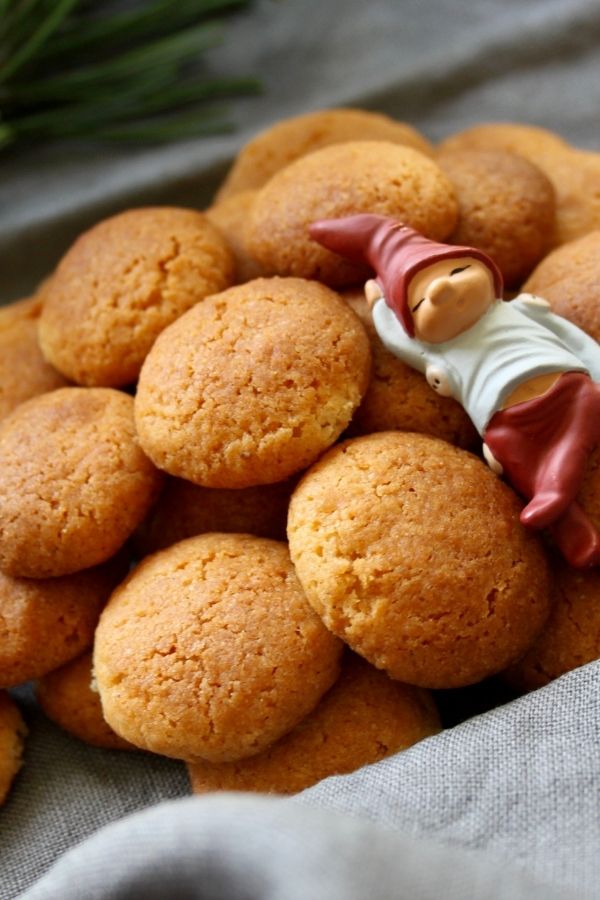 How to Play Mus With Pebernødder
We play a game with pebernøder called mus, literally translated as mouse.
You can be as many players as you like, but three or more is best to keep it fair.
One player places 5-10 pebernødder on the table. Another player turns around, leaves the room or is blindfolded, whatever is needed to secure no peeking. Then a third player selects one of the pebernødder as the mouse.
The second player returns and eats the pebernødder one by one until he picks the mouse at which point everyone else yells mus (mouse) and the player's turn is over.
The players take turns so everyone gets to eat and select the mouse.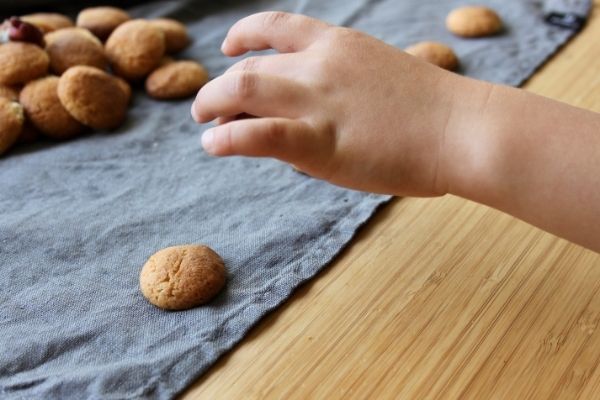 The History of Pebernødder
Pebernødder means pepper nuts but peppered baked goods did not simply mean something with pepper in it. Instead peppered referred to any kind of spiced dough.
Pebernødder is known as the oldest Christmas cookie in Denmark. Before the modern stove this cookie was the only kind regular people could bake at home.
It's believed that pebernødder originated in the 16th century. Medieval pebernødder were very different from the ones we enjoy today. They were made with rye flour, honey, and much stronger concentration of herbs. They were also pretty much rock hard or as the name indicates, hard as nuts (source).
Pebernødder in Other Countries
As so many other "Danish things", pebernødder stem from Germany where they were called Pfeffernüssen. As far as I know, they are very similar.
Specialty Ingredients
When baking perbernødder you'll need an ingredient you may not be familiar with. In Danish, it's called hjortetaksalt. In English, it's known as hartshorn salt, baker's salt, Baker's ammonia or ammonium carbonate. Its chemical formula is (NH4)2CO3.
This ingredient acts as a leavening agent as it helps produce carbon dioxide resulting in a light texture. Basically, it's the hartshorn salt that turns pebernødder from hard little rocks to delightful bites.
If you can't find any hartshorn, the texture of your pebernødder will suffer. You can substitute baking soda and/or baking powder for hartshorn salt but you won't quite get the same texture. Use 1 tsp of baking powder or 1 tsp of baking powder AND 1 tsp baking soda to replace 1 tsp of hartshorn salt (source).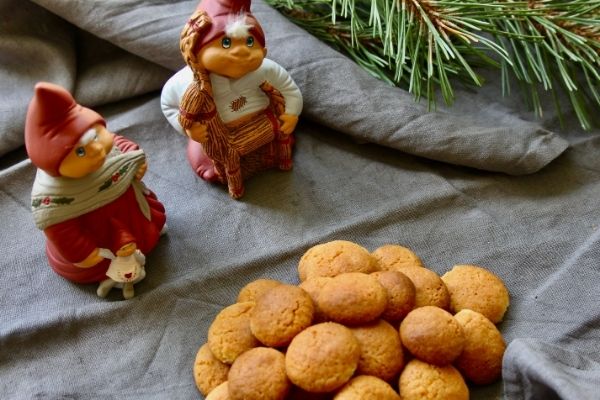 Pebernødder Ingredients
Due to its popularity, there are a ton of variations of pebbernødder in Denmark. Some make them with black or white pepper, some include chopped almonds, some use milk instead of cream. Here are the basic ingredients for pebbernødder, and the recipe that won our family bake-off.
Butter – Use real, salted butter for the best taste.
Sugar – White sugar is traditionally used and will give you a lighter-colored cookie, brown sugar will add more color and flavor to the recipe but be careful not to overpower the spices with the sweetness.
Ground ginger – Freshly ground is always most aromatic. If you can't grind your own, work from a newly opened batch.
Cinnamon – Use real cinnamon, cinnamomum verum or Ceylon cinnamon. Cassia cinnamon just isn't worth it.
White pepper – Use freshly ground pepper. In a bind, you can use black pepper.
Cardamom – Go with freshly ground or a fresh batch of pre-ground for optimal taste.
Hartshorn salt (OR baking powder and baking soda) – Try to get hartshorn salt, it's really not the same without it. If you can't get it, I recommend substituting with both baking powder and baking soda, measurements are included in the recipe below.
Cream – Get the best you can. Opt for full fat and fresh.
All-Purpose flour – Use an all-purpose or pastry flour. Make sure it's not self-rising flour.
How to Make Pebernødder
Pebernødder are easy to make and a great cookie to bake with children.
First, you'll need to combine the butter and the sugar. You can do this by hand or use a hand or stand mixer. Make sure they are completely mixed.
Then you add all the dry ingredients together. In a separate bowl, combine ground ginger, cinnamon, white pepper, cardamom, flour, and hartshorn salt (OR baking powder and baking soda).
Once the dry ingredients are combined well, add them to the butter and sugar mixture. As the mixture hardens, slowly pour in the cream to turn the mixture into a workable dough.
Once all the cream is incorporated, you'll need to roll the dough into finger thickness rolls. Cut 0.4 inch pieces from the rolls and place them on your baking sheets.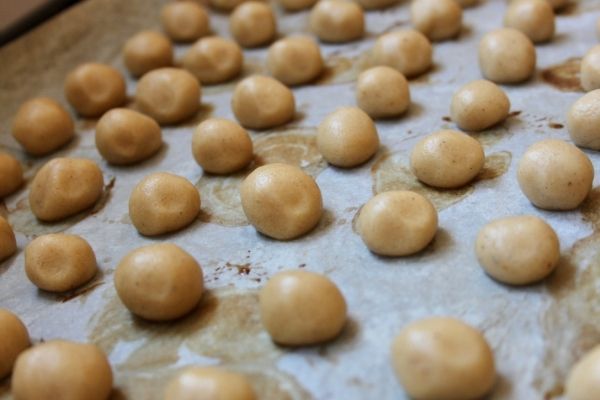 If you prefer the look or are baking with children, you can opt to roll each pebernød by hand to create a ball. This step is unnecessary but fun!
Bake the cookies at 392F for about 8 min. Monitor the cookies so they don't burn.
Let the cookies cool completely and store them in an airtight container. Pebernødder store for many months but it probably won't be long before you've eaten them all.
Yield: Makes about 100 small cookies
Danish Pebernødder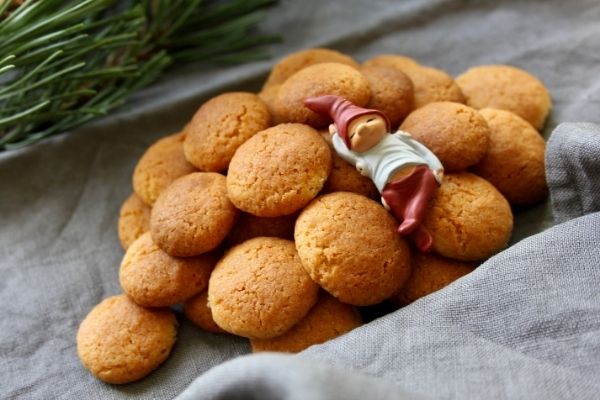 Pebernødder is a small Danish Christmas cookie, and a favorite of children everywhere.

Prep Time 10 minutes

Total Time 10 minutes
Ingredients
8.8 oz (250 g) butter
8.8 oz (250 g) sugar
1 tsp ground ginger
1 tsp cinnamon
1 tsp white pepper
1 tsp cardamom
0.4 cups  (1 dl) cream
17.6 oz (500 g) wheat flour
1 tsp hartshorn salt (OR 1 tsp baking soda and 1 tsp baking powder)
Instructions
Combine butter and sugar
Mix all the dry ingredients (ground ginger, white pepper, cinnamon, cardamom, flour, and hartshorn salt) and add them to the butter and sugar mixture.
Mix thoroughly.
Add the cream slowly as the and mix until it comes together.
Roll the dough into finger-thick rolls and cut 0.4 inches (1 cm) thick pieces. If you want, you can roll each piece to a ball by hand.
Place the pieces on baking sheets.
Bake for approximately 8 min at 390 to 400F (200C). Keep an eye on them so they don't burn.
Let cool and enjoy!
Pebernødder stores well in an airtight container and you'll likely eat them long before they go bad.

Further Reading on Pebernødder:
https://da.wikipedia.org/wiki/Peberkage
https://www.kristeligt-dagblad.dk/historie/pebernødderne-er-julens-ældste-bagværk
http://madamsif.dk/2015/12/21/dag-16-julesmaakagens-historie-del-2-pebernoedder/
https://middelaldermad.dk/middelalder-pebernoed-historie/