Risalamande is probably the only truly Danish Christmas dish there is. It's a spruced up leftover risengrød with an inbuilt game to make you eat it all. Risalamande is not only delicious but fun to eat as well.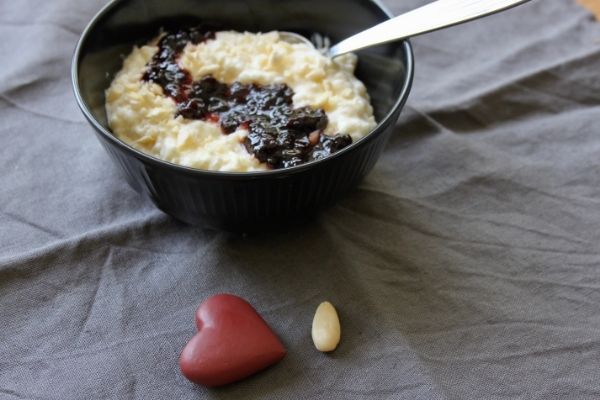 (This post is written by Pia Sonne, a native of Denmark and the writer behind the blog Busy Hands, Quiet Hearts.)
Risalamande is served in almost every Danish household on Christmas Eve. It may also be present at other Christmas gatherings, and it's connection with the Christmas holiday is unavoidable in Denmark.
You can get it at restaurants as well during the Christmas season but they always try to "reinvent" it. Honestly, it never really works. Part of why it doesn't work is because it's missing something.
While risalamande is delicious, its real purpose is to see who gets the hidden almond and thus wins the mandelgave (almond present).
Even if you hate risalamande, most people will suffer through a portion in hopes of finding the whole almond hidden in it. They have to suffer through it all because the person who has the almond won't reveal it until all the risalamande has been eaten.
(That said, few people dislike this delicious comfort food dish, especially when it brings back so many Christmas time memories for those who grew up in Danish families.)
Everyone will try to guess who has it. Most families have a person who always gets it. In my family that would be my dad. So people pay careful attention to that person.
This dessert comes with a lot of laughter, with slyness and cunning. You have to be careful that a funny uncle hasn't smuggled in his own almond, so maybe consider marking the real one with a secret symbol.
It's a dish that is surrounded by memories and stories.
Remember when your cousin so and so hit the almond in her cheek and her braces crushed it so we wouldn't believe her when she presented it?
Remember when grandpa gave you his almond because you had made a deal with him that he could get your crispy duck skin if he gave you the almond. Of course, he never expected to get it and made a huge deal of it.
Every family has an arsenal of risalamande stories which may be why we love the dessert so much.
The History of Risalamande
Risalamande (or "ris a la mande") as some spell it is a thoroughly Danish dessert. This Danish dish is named after the french riz à l'amande, although the French aren't familiar with the dish. The dish was given a French-sounding name by the upper-crust ladies who made it during the war and rationing times.
This is a fairly recent dish from the beginning of the 20th century. During the second world war, risalamande became the go-to Christmas dish as housewives could stretch their rice with the whipped cream. Some would even use a button instead of the whole almond because they didn't want to serve risalamande without a present.
The tradition of a present is much older than risalamande. It harkens back to a French 16th-century tradition where a bean would be placed in an epiphany cake and the one who found it would become king for a day.
In Denmark, the tradition morphed into an almond in risengrød in the 19th century and then to risalamande in the 20th.
The price for finding the almond changed as well. In the beginning, the finder of the almond in Denmark got to kiss someone of the opposite sex. Later on, it became a tradition to give a gift to the winner.
Traditional gifts are a marzipan pig, some chocolate, or a book, particularly a satirical yearbook called svikmølllen.
In my family, you often get a piece of Christmas decor as the price. The elves featured in my pebernødde recipe are actually some I won on Christmas Eve 2019.
My Dad was very annoyed as you can imagine…
Variations in Denmark
Though the dish is traditional, there's still a lot of debate in Denmark as to the proper serving of homemade risalamande.
Hot or Cold – The Great Debate
It's a hot topic, pun intended, whether you like your cherry sauce hot or cold. It can divide families and make marriages between "hot" and "cold" families troublesome.
All joking aside, it really is a divisive matter. Some argue that risalamande is served cold and so should the sauce. Others argue that the combination of the hot sauce on the cold risalamande elevates the dessert.
I grew up in a "hot" family and thus my preference is for the sauce to be hot.
Served with Jam
We eat risalamande year-round. Mostly because I always make a double batch of risengrød so we can have leftovers. We then alternate between risalamande and klatkager, which are leftover rice pudding pancakes.
Cherry sauce is only easily available during the Christmas season, and we prefer to reserve it for our Christmas Eve dinner. This means that at any other time of the year we eat risalamande with jam instead.
Our favourite jam for risalamande is a homemade blackberry jam made with muscovado sugar. This jam, with the richness of the muscovado sugar, complements the risalamande well.
Adding Rum
Some people use a bit of rum essence or rum in their risalamande. I don't personally know anyone who does but have heard that some do.
If you choose to experiment with this, go easy on the rum and let me know what you think of it.
Risalamande in Other Countries
In Sweden, they have a similar dish called ris à la Malta. This dish is served with pickled mandarin oranges. They also have a dish called apelsinris, which is served with oranges.
The Swedish almond tradition is also different and closer to the original kissing tradition. The person who gets the almond is said to get married before the next Christmas.
Risalamande Ingredients
Risalamande is a simple dish without a lot of specialty ingredients, but be sure to choose high quality. Cutting corners with poor quality cream or artificial vanilla just isn't worth it. It's Christmas after all!
Cold Risengrød
You cant make Risalamande without first making risengrød, so be sure you haven't cut any corners making this traditional homemade rice pudding. Use real butter and high-quality milk, of course.
It has to be cold for this recipe otherwise it will melt the whipped cream.
Cream (for whipped cream)
Get the best heavy whipping cream you can. Please don't use pre-whipped whipped cream, it's not the same, and contains a lot of sugar already.
Also, avoid making the whipped cream with sugar. Make it with the cream only, as the risengrød already has some sugar and you're adding vanilla sugar for flavor.
Vanilla Sugar
You can buy vanilla sugar, but I prefer to make my own. The store-bought kind is by no means the same as the homemade kind.
If you do anything with vanilla beans in your kitchen save the pod and chop it up into pieces of 0.5 inches. Add it to a jar of white sugar and wait.
There, that's all that is to it. In a few days, you'll have deliciously fragrant, homemade vanilla sugar. The longer you leave it the better.
You can refill the jar with sugar several times and add bean pods to it as you have them. Once the pod pieces get extremely dry, don't throw them out. Add them to a batch of applesauce. There's still a lot of goodness in those pieces. After you've done this, you can throw them in the compost with good consciousness.
Cherry Sauce
I'm always an advocate for making things from scratch. I think the cherry sauce would be the one exception for me.
Cherries are always expensive here and not in season during Christmas, so you would have to have a great deal of forethought to make your own.
If cherries are easier to come by where you live, by all means, find a recipe and give it a go. But otherwise, there's no shame in buying this one product for your Christmas Eve dinner.
If you can't find cherry sauce or if you are in the mood for something else, you can use jam instead.
Almonds
Slip and chop your own for the freshest and best result, or purchase blanched whole almonds with the skins removed.
How to Slip Almonds for Risalamande
Traditional Risalamande has blanched and skinned almonds, with their brown skins "slipped" off before they're added to the finished dish.
The almonds are first quickly blanched in boiling water, and then cooled quickly. This causes the skins to loosen, and they'll easily slip off in your fingers.
Place the almonds you want to slip into a bowl. Cover the almonds with boiling water and let them sit for 1-2 min.
Read carefully here, this is important! The boiling water step is now repeated again! Don't forget this part, of the almonds won't slip easily.
Pour off the water and rinse the almonds in very cold water.
Cover once more with boiling water and let the almonds sit for 1-2 min.
Pour off the water and rinse the almonds in very cold water again.
You should now be able to slip the skin off easily with your fingers. Pinch an almond between your thumb and finger and gently slide it out of the skin.
Once the almond is "slipped" you'll still be holding the skin, and the almond should be completely clean and skin free.
Repeat until you've slipped all the almonds.
After slipping, most of the almonds are chopped and stirred into the Risalamande.
Make sure you save one (or a few) to hide in the bowl, or you won't be able to play the game!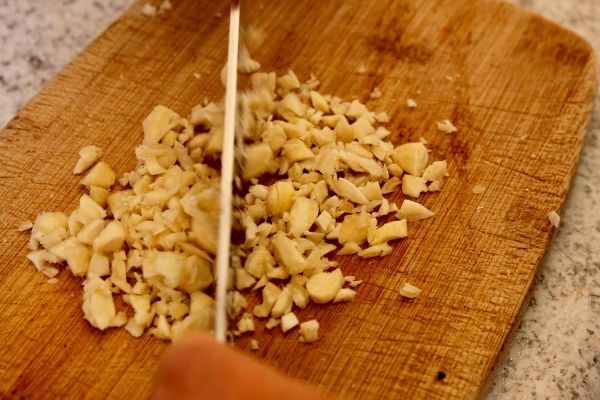 How to Make Risalamande
For this recipe, you will need cold risengrød so it doesn't melt the whipped cream. Take it straight from the fridge and place it in a bowl large enough for you to fold in the whipped cream. To make it easy on yourself you can use the bowl you want to serve the risalamande in.
Slip and chop your almonds so they are ready for use later. Remember to keep one whole almond (and a backup almond or two just in case you need it).
In a smaller bowl, whip the cream. You want a stiff whipped cream that will hold up when you fold it in. Don't add anything to the cream. For this recipe, you'll want a pure whipped cream.
Fold the whipped cream into the risengrød. You can begin by adding ⅓ of the whipped cream and fold it in rapidly, then gently fold in the remaining whipped cream to make sure you don't lose all the air in the whipped cream.
Add the chopped almonds and your homemade vanilla sugar (or vanilla bean) to the risalamande. The amount of vanilla sugar you'll need will depend on how potent your vanilla sugar is and how sweet you like your risalamande.
This is basically a really good excuse to taste the risalamande several times. I recommend about 5 tsp as a starting point.
Place the whole almond in the risalamande and go to town stirring that thing in. No one should know where the almond is, not even you.
If you are using a glass bowl, make sure it's not visible on the sides or bottom. People will look for it.
If someone is allergic to almonds, you can, of course, keep back a portion before you add in the almonds.
Or you can add the one whole almond (provided they aren't deadly allergic) and leave the rest of the chopped almonds in a separate bowl for people to add on their own.
That's what we do in my family to keep everyone involved in the game.
Hopefully, you now have at least a couple of hours before you need to serve the risalamande. Cover the bowl and let it rest in the fridge to combine the flavors. You can let it rest overnight.
Serve the risalamande with cherry sauce on the side and let the game begin!
Yield: Serves 3-4 People
Danish Risalamande (Christmas Rice Pudding)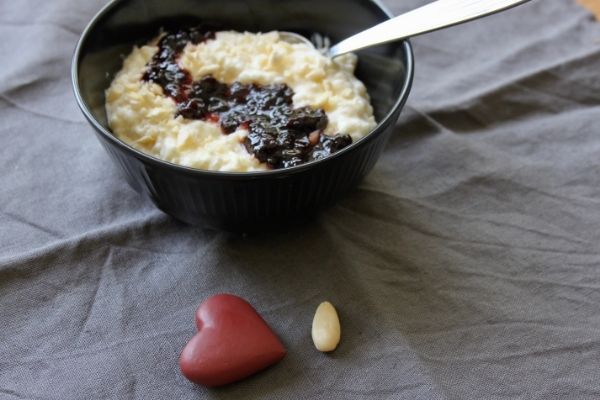 Risalamande is a Danish Christmas tradition, made with leftover risengrød mixed with whipped cream and topped with cherry sauce. Don't forget the hidden almond!
Ingredients
35.27 oz (1 kg) cold risengrød
5 tsp vanilla sugar
1 cup (2.5 dl) cream (for whipped cream)
4.4 oz (125 g) almonds
Instructions
Place the cold risengrød in a big bowl. It has to be cold or it will melt the whipped cream.
Whip the cream into a fairly stiff whipped cream. Don't add anything but the whipped cream.
Gently combine the whipped cream with the risengrød so as not to beat out all the air from the whipped cream.
Add vanilla sugar to taste. I suggest about 5 tsp but it will depend on the strength of your vanilla sugar.
Chop the almonds and fold them into the risalamande. Don't forget to add one whole almond.
Let it sit several hours to combine. The longer you can leave it the better. It stays good in the fridge for a couple of days and only gets tastier.
Serve with warm cherry sauce or jam. (or with cold cherry sauce/jam, if that's your preference.)
Danish Christmas Recipes
Looking for more Traditional Danish Holiday Recipes?
Further Reading on Risalamande
https://www.gastrofun.dk/artikel/alt-du-skal-vide-om-risengroed
https://da.wikipedia.org/wiki/Risalamande
https://politiken.dk/forbrugogliv/jul/art5557834/Historien-om-risalamanden-En-natlig-nødløsning-på-DAngleterre
https://denstoredanske.lex.dk/risalamande_-_dessert
http://www.historie-online.dk/temaer-9/arstidens-skikke-14-14-14/jul-32-32/leksikon-41-41-41/ris-lmande
https://www.odense-marcipan.dk/temaer/vi-juler/historien-om-mandelgavens-oprindelse/