Jødekager, or "Jew cakes", are traditional Danish Christmas cookies flavored with cinnamon and topped with almonds. Their name may seem strange, but these were originally baked in Jewish bakeries in the 1850s. The Danes didn't have anything like it, and thus they're named for their original bakers.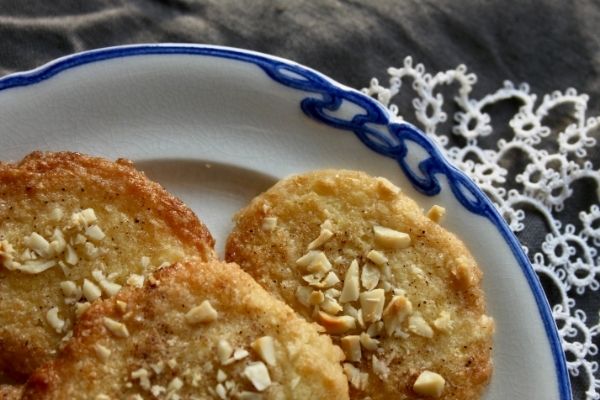 This post is written by Pia Sonne, a native of Denmark and the writer behind the blog Busy Hands, Quiet Hearts.
How and When Danes Eat Jødekager
Jødekager is a classic Danish Christmas cookie although it doesn't rank amongst the most loved. While you can purchase this cookie at stores and bakeries leading up to Christmas, most families I know, bake them at home since they are very easy to make.
This cookie doubtless has its die-hard fans but for most people I know, it's more of a nice to have than a need to have at Christmas time. It rounds out a platter of cookies but is often the last one left.
Nonetheless, we wouldn't want to do entirely without it. This cinnamon cookie is way too delicious to be left behind for good.
The History of Jødekager
When you hear of a cookie called a jew cake, you are ready for suspense, right?! Some already have their politically correct guards up, others are hoping for a gory WW2 story. I'm afraid I have to disappoint both sides.
The history of jødekager in Denmark is very uneventful.
In the 18th century, Jewish bakers in Denmark made baked goods with exotic spices, which Danes weren't used to. The name jødekager was originally used as a broad category term for all the cakes made by these bakers. A commonly mentioned example of jew cakes is a spiced raisin bun.
Today, jødekager describes a single type of crisp cookie. This cookie was invented in 1856.
In recipes from the latter half of the 19th century, the cakes were strewn with cardamom on top. Now they typically feature cinnamon, sugar, and almonds on top.
As with many other Danish Christmas cookies, jødekager became common in Danish homes with the advent of the cast iron stove and haven't left since. The name has been a topic of debate between the politically correct for at least 15 years but to this day, Danish Jews don't mind the name at all (source, source, source, and one more source).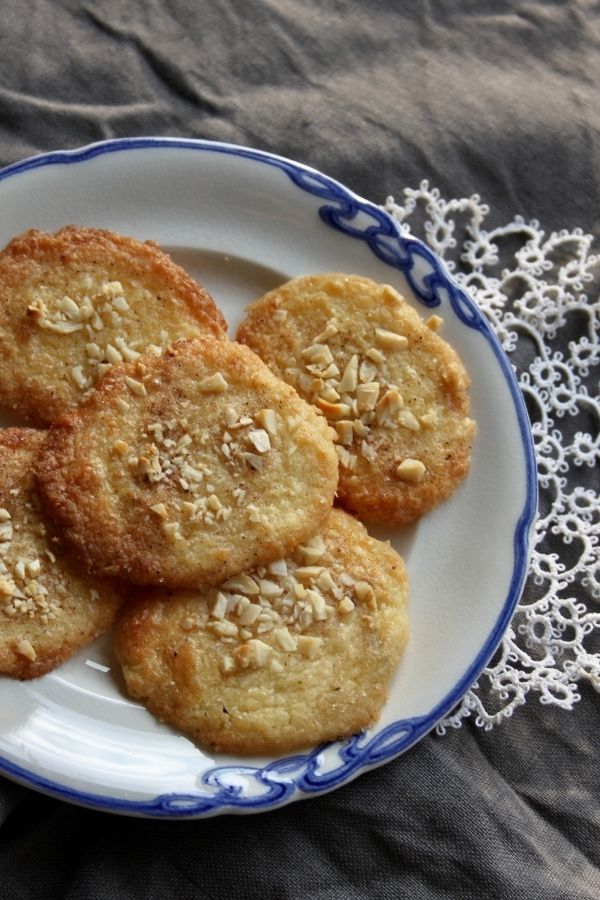 Variations in Denmark
Some add a bit of hartshorn salt (about 0.5-1 tsp) to their jødekager. Hartshorn salt is a leavening agent and I would argue that these cookies don't need it. It makes the texture more crumbly, like that of brunkager. Feel free to experiment and see what you like the most.
Jødekager Ingredients
Flour – Use all-purpose or pastry flour. These cookies do not need to rise so make sure you aren't using self-rising flour.
Butter – Organic and fresh gives the best result. Don't bother making these with margarine.
Sugar – As with most Danish Christmas cookies and treats this cookie is best with granulated white sugar.
Eggs – Fresh and organic is the only way to go.
Cinnamon – There really shouldn't be a place for anything but real, Ceylon cinnamon in your kitchen. Cassia cinnamon just doesn't belong in your pantry as it's not as high quality.
Almonds – I advise that you use whole unslipped almonds for the best result. You can learn how to slip almonds here. [link to vaniljekranse]
How to Make Jødekager
Jødekager is one of those cookies that store really well in the freezer. So make a big batch of dough and store some of it in the freezer and you can have freshly baked cookies in 10 min.
First, you need to crumble the butter and flour together until you get a texture similar to grated parmesan cheese. If you have a food processor, it will make this process very easy.
Next, add the sugar and egg yolks (remember to keep the egg whites). Knead the dough until fully combined but be careful not to over-knead it. If you knead cookie dough too much, the cookies have a tendency to become tough instead of crisp.
Roll the dough into a sausage that is 2 inches (5 cm) in diameter. Wrap it in saran wrap and place it in the fridge for 2-3 hours or in the freezer for 1-2 hours.
You want the dough very cold so that it's easy to cut thin slices out of it later. At this point, you can split your dough and leave some in the freezer for later use.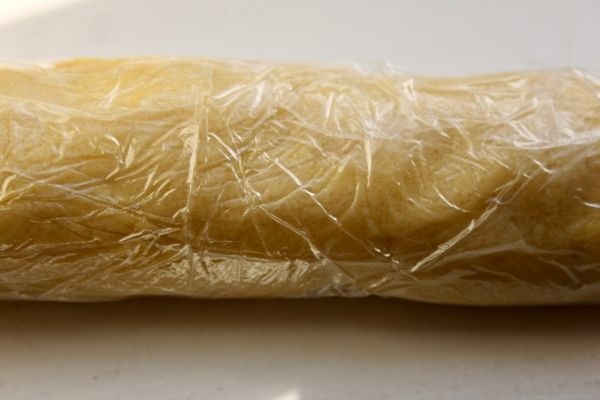 If you are using whole, unslipped almonds you can use the wait to slip and finely chop them. Slipping almonds is easy once you know the correct technique.
Slipped almonds are featured in many Danish Christmas treats and you can learn how to do it from this recipe for Danish Vaniljekranse.
Once the dough is cold all the way through, you can cut thin slices and place them on a baking sheet. If it gets too cold and the dough falls apart when you cut it, let it warm up a little.
Paste the cookies with an eggwhite. This will bond the toppings to the cookie.
Mix sugar, cinnamon, and the finely chopped almonds. Drizzle the mixture over the cookies.
Bake at 390 to 400 F (200 C) for about 5 min. until the cookies are lightly golden. Let them cool before you eat them. It's in the cooling process that the cookies become crisp.
You can store jødekager in an airtight container for several weeks.
Yield: Makes Roughly 100 Cookies
Danish Jødekager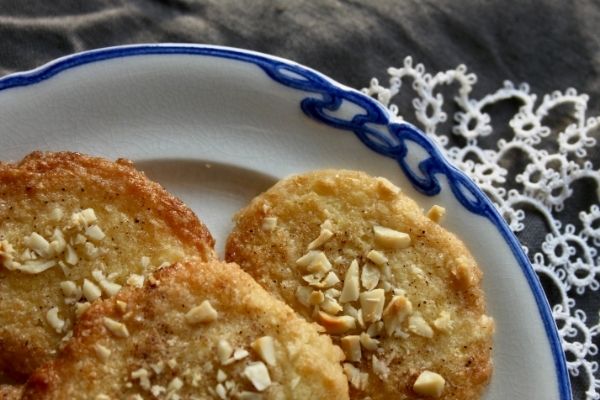 Total Time
2 hours
15 minutes
Ingredients
10.6 oz (300 g) flour
8.8 oz (250 g) cold butter
7 oz (200 g) sugar
2 egg yolks
For decoration:
1 egg white
3 tbsp sugar
1 tbsp cinnamon
1.8 oz (50 g) almonds
Instructions
Crumble the flour and the butter together until it's like grated parmesan in texture. You can use a food processor to do this.
Add the sugar and egg yolks and knead until combined. Remember to keep the egg whites.
Roll the dough into a sausage with a 2 inches (5 cm) diameter. Wrap it in saran wrap and let it rest for 2-3 hours in the fridge or even better for 1-2 hours in the freezer.
If you are using whole unslipped almonds, then slip and chop them finely.
Cut thin slices from the cold dough and place them on a baking tray. If it falls apart, let it warm up a bit.
Brush the cookies with the egg white.
Mix the sugar, cinnamon, and almonds together and drizzle it over the cookies.
Bake at 390 to 400 F (200 C) until lightly golden, this should take about 5 min.
Let cool to crisp up and enjoy. The cookies can be stored in an airtight container for a couple of weeks.
Further Reading on Jødekager
https://da.wikipedia.org/wiki/J%C3%B8dekage
http://www.xn--julesmkager-28a.dk/jodekager#more-187
https://www.aakirkeby.nu/blogs/set-fra-praestedammen/du-maa-ikke-sige-negerbolle-men-gerne-joedekage
http://www.historie-online.dk/temaer-9/arstidens-skikke-14-14-14/jul-32-32/leksikon-41-41-41/smaakager
https://samvirke.dk/artikler/21-kager-der-blev-opfundet-i-danmark