Klatkager (also known as risklatter) are pancakes made from leftover risengrød. These rice pancakes are filling, easy to make and delicious served with your favourite jam and sugar.
(This post is written by Pia Sonne, a native of Denmark and the writer behind the blog Busy Hands, Quiet Hearts.)
Klatkager are something I grew up with so it took me by surprise when I realised that not that many Danes eat them any more. They are an older dessert, a way to stretch leftovers and have gone mostly out of fashion, much to my dismay.
(Other Scandinavian countries have their own version, like Icelandic Lummur, which are pancakes made from leftover oatmeal.)
Growing up we always had klatkager the day after I had managed to convince my mum to make risengrød. In my own family, klatkager are often losing out in the leftover game to risalamande which the men seem to prefer. But if I get a say, I'll take klatkager over risalamande any day.
You can eat klatkager as a dessert or for dinner. If you limit the sugar it's a great dish that will keep you full all night long.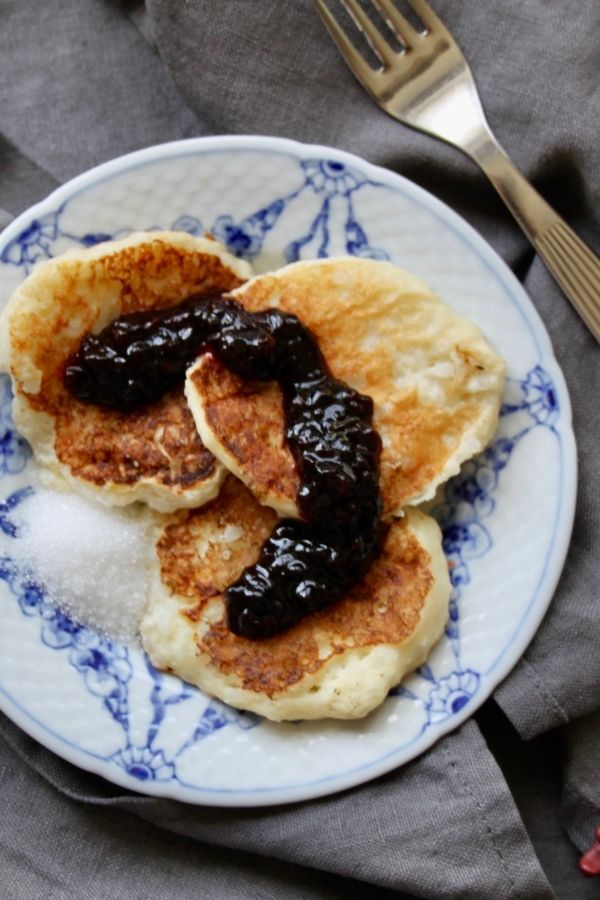 The History of Klatkager
The tradition of mashing and frying leftover food goes back to at least the Viking age. Whether or not they fried leftover porridge is unknown.
Rice found its way to Denmark in the early 17th century. While I'm not familiar with any record of klatkager at this time, it's safe to say that any leftovers of such an expensive dish would have been put to good use.
There are records of using other kinds of leftover porridge to make this type of cake but it is unknown when it became common to make klatkager out of risengrød.
Variations in Denmark
On the island of Bornholm, klatkager are known as plathæsta but made the same way as in the rest of the country.
Some don't add anything to the cold risengrød but simply fry it as is. This is closer to the old way of making various klatkager. The eggs and flour make the klatkager easier to work with and turn, and adds a bit more body to the cakes.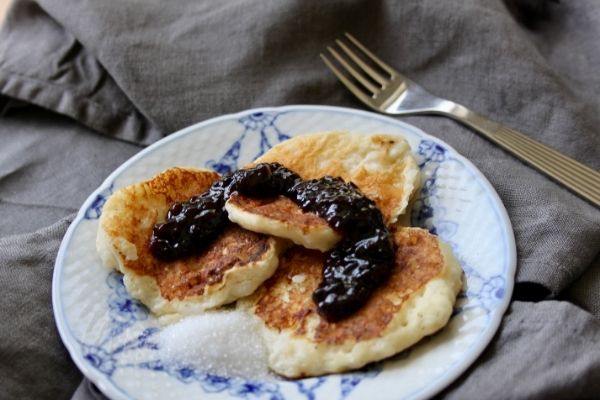 Klatkager Ingredients
Cold Risengrød – The risengrød really does have to be cold so as not to cook the eggs too early. Learn how to make risengrød, make a double batch, have it for dinner tonight and make delicious klatkager tomorrow.
Eggs – Always use the best eggs you can afford. Farm fresh and organic is wonderful.
Vanilla Sugar – Make your own homemade vanilla sugar by mixing vanilla beans with sugar, or you can purchase it here. You'll need it for risalamande as well.
Flour – Use an all-purpose or pastry flour. Self-rising is no good for this recipe.
Butter – Use real butter, the taste is superior, not to mention the health benefits as compared to margarine.
Jam – You can use any kind you like. We prefer a homemade blackberry jam, but strawberry, blueberry and raspberry will all work fine. To give the klatkager a bit more of an edge, try an orange jam.
Sugar – Use plain white sugar. You aren't exactly eating klatkager to be über healthy, and any other alternative sweetener will distract from the simple flavor of this comfort food dish.
How to Make Klatkager
This is another recipe based on leftover risengrød. Just like with risalamande, you need the risengrød to be cold.
Place the cold risengrød into a big mixing bowl. Add the eggs in and stir until thoroughly combined.
Add the vanilla sugar and the flour. Still until combined. You want the dough to be just right, not too dry, not too wet. Getting the right consistency takes practice.
You may need to add more flour if you are using larger eggs. If your klatkager don't stay together when you cook them, try adding a bit more flour.
Place some butter in your favourite frying pan and let it melt. Place the dough into several smaller klatkager on the pan.
I like using a two spoon method, which allows you to make a fairly evenly sized klatkager. Fill one spoon with batter, use the other to transfer the batter to the pan. Pad each one down a bit to get an even height.
Cook the klatkager until they are firm on top and golden on the bottom. Flip the klatkager and cook until golden on the second side.
Remove the klatkager from the pan and place them on a serving platter.
Add more butter to the pan if necessary and cook another batch of klatkager.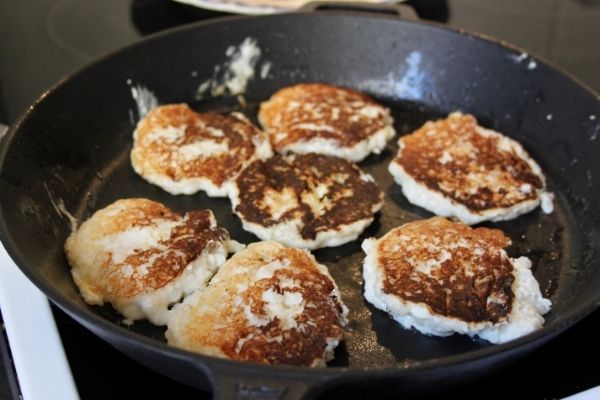 As you remove each batch, place the klatkager on top of the previous batches on the platter. This way they will keep warm.
Serve the klatkager warm with jam and sugar on the side. Klatkager store well in the fridge for only a couple of days and can be eaten cold.
Yield: Serves 3-4 People
Danish Klatkager (Rice Pudding Pancakes)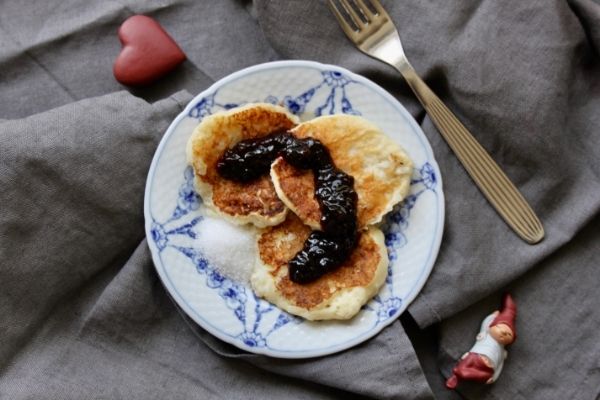 Ingredients
35.27 oz (1 kg) cold risengrød
2 eggs
3 tsp vanilla sugar
3 tbsp flour
Butter for frying
Instructions
Put the cold risengrød in a bowl big enough to mix the other ingredients into.
Add the eggs in and mix thoroughly.
Add the flour and vanilla sugar. Mix until you have a dough-like consistency. Not too dry, not too wet. You may have to add more flour if you are using big eggs.
Place a glob of butter in your best frying pan and let it melt. Place klatkager on the pan using two spoons. Pad each klatkage down a bit to make them of even height.
Cook the klatkager until golden on the bottom and relatively firm on top. Turn the klatkager and cook the second side until golden.
Remove the klatkager from the pan and place them on a plate for serving. Add another lump of butter if necessary and continue cooking klatkager until you have used all the dough. (If you continuously add the freshly cooked klatkager to the serving plate on top of the previous klatkager, they will all stay warm.)
Serve warm with jam and sugar to taste. Keep any leftovers in the fridge for no more than a few days. Klatkager can be eaten cold.
Danish Christmas Recipes
Looking for more Traditional Danish Holiday Recipes?