Lusikkaleivät, or Finnish teaspoon cookies, are traditional Finnish sandwich cookies shaped inside teaspoons.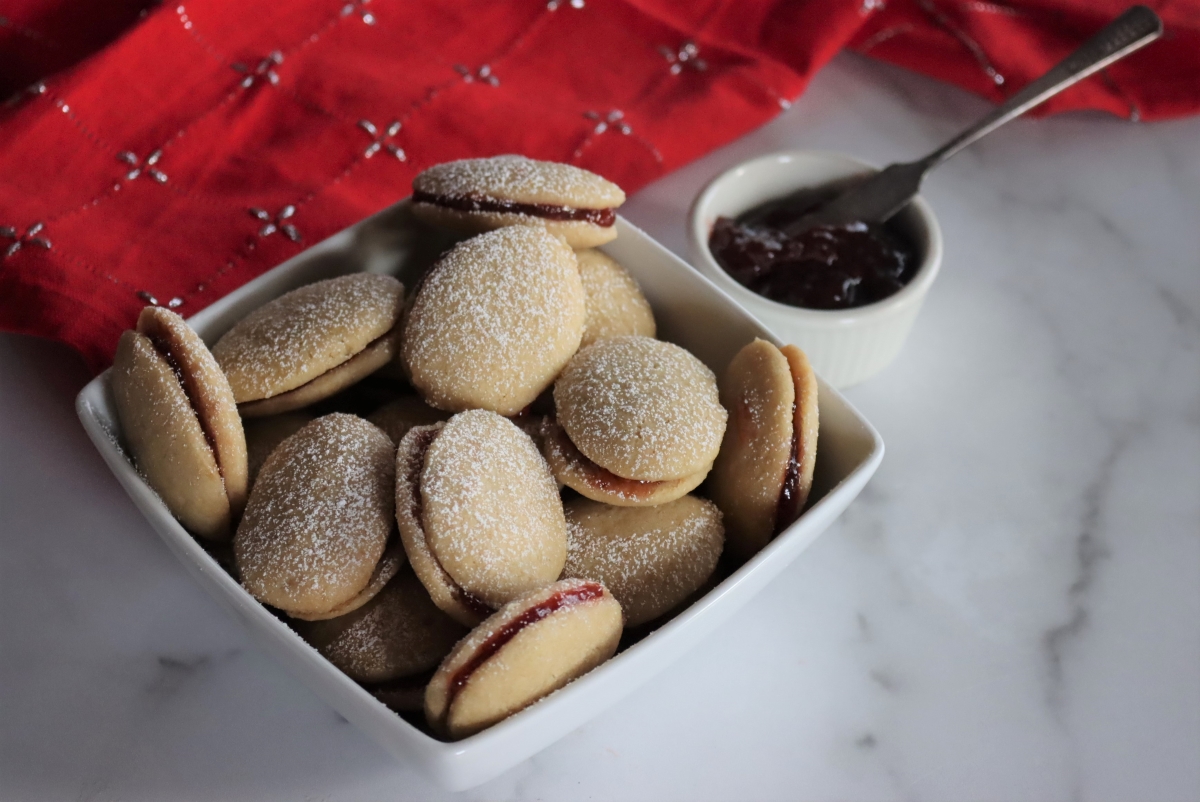 I'm a sucker for both traditional recipes and jam-filled cookies, so when I found this recipe for lusikkaleivät in The Great Scandinavian Baking Book I knew it had to be part of our Christmas spread.
They're actually better a few days after baking, which means they're perfect for either baking ahead or mailing in holiday care packages.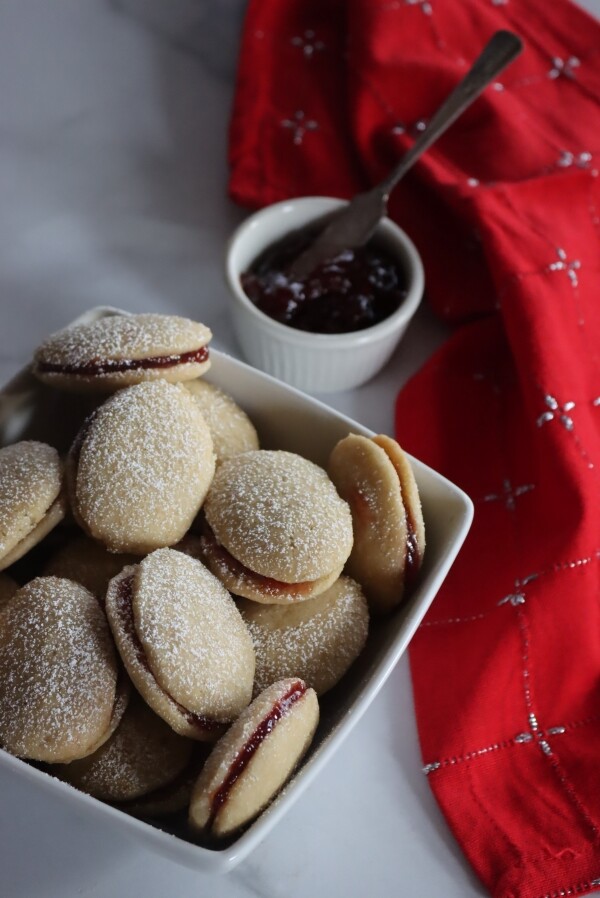 What are Lusikkaleivät?
Lusikkaleivät are traditionally enriched browned butter shortbread-like cookies shaped into ovals on a teaspoon.
Browing the butter is essential, as it provides flavor by carmelizing the natural milk sugars in the butter. It also drives off a bit of the water in the butter, leaving just carmelized milk sugar and fat. With less water in the dough, gluten can't form easily and the cookies remain tender.
Beyond flavoring with browned butter, lusikkaleivät also have a hefty helping of vanilla extract, much more than most cookies.
Finally, an egg yolk is added to the dough, which helps it hold together and adds a bit of golden color to the finished cookies.
How to Make Lusikkaleivät
Making lusikkaleivät starts by making browned butter. Place the butter in a heavy bottomed saucepan and melt it over medium heat. Once melted, continue to cook the butter until begins to take on a light browned color on the bottom of the pan as the milk sugars carmelize.
Be careful not to burn the butter! Stop when it's lightly browned, and if the butter burns, throw it out and start over.
Pour the butter into a mixing bowl and allow it to cool for 15-20 minutes before continuing with the recipe.
Next, add sugar and vanilla, stirring both in to incorporate.
In a separate bowl, mix the dry ingredients including flour, baking soda and salt. Add the dry ingredients into the butter/sugar mixture, stirring to incorporate.
Lastly, add the egg yolk and knead the mixture gently until the yolk is incorporated.
(Alternately, use a hand mixer for the whole operation, still adding everyone in the appropriate order.)
Once the dough comes together, it will be quite stiff, which is perfect for shaping what would otherwise be delicate oval cookies.
Take a small portion of dough and flatten it out inside a teaspoon. Press it down into the spoon and scrape off any excess until it's level with the top of the spoon.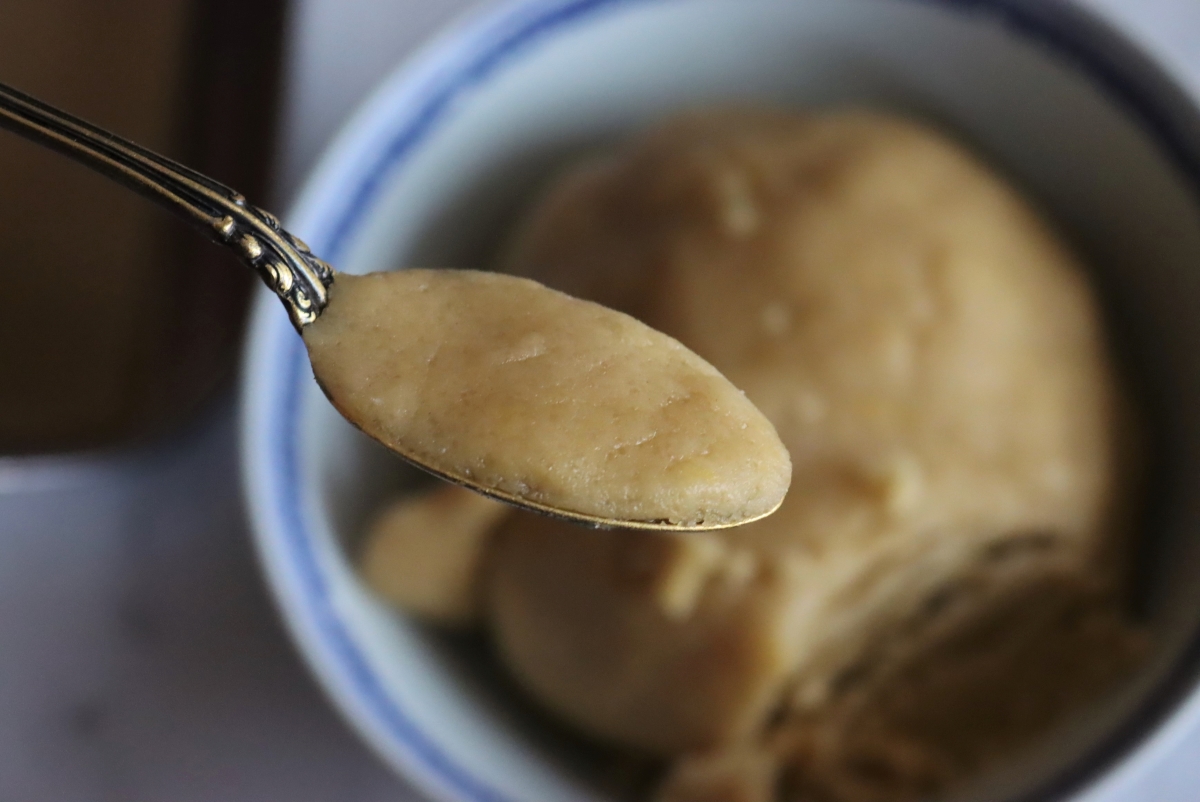 The original recipe suggests tapping the spoon on the side of the baking pan until the cookie releases.
I honestly didn't have any luck with that method, and I tried quite a few things trying to get the cookies to release.
Finally, I settled on gently sliding them off the spoon with my hand. Flip the spoon upside down and gently hook the cookie with your fingertips to slide it off onto your hand.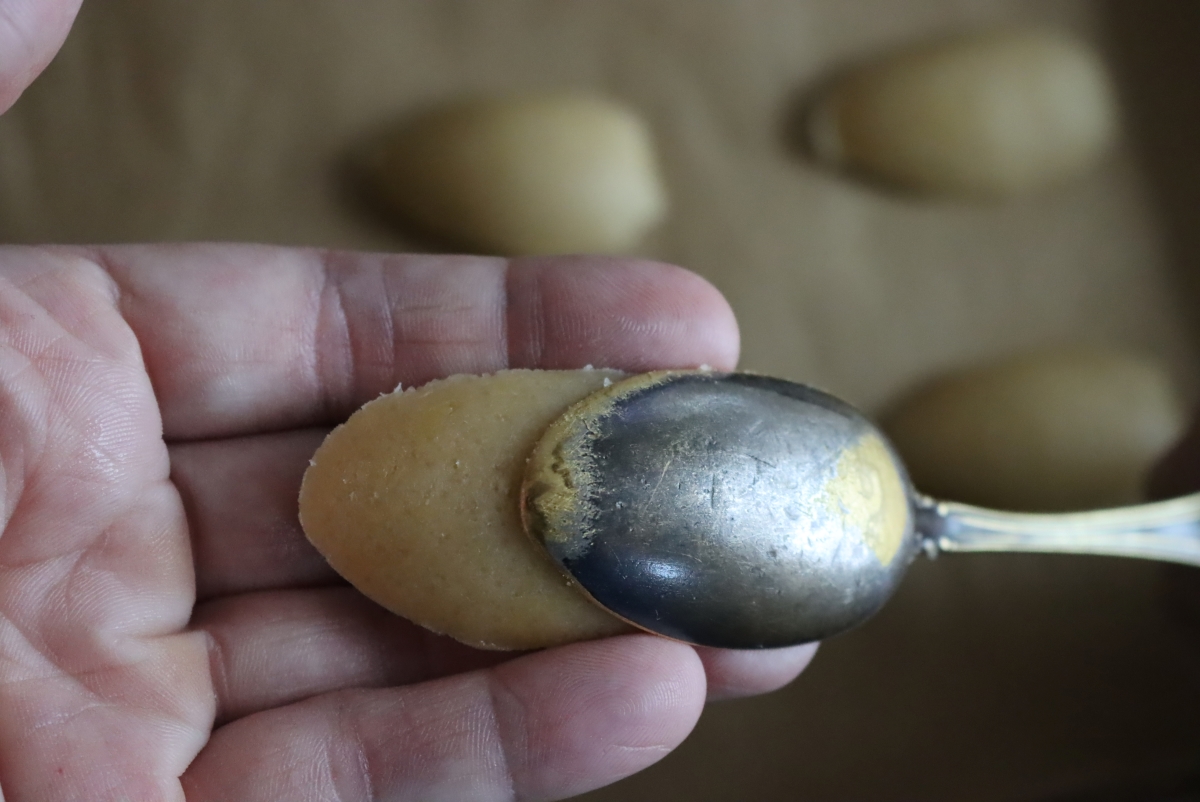 Once the cookies are shaped and gently removed from the spoon, place them on a baking tray lined with parchment paper.
I started off with a lot of space between the cookies, not sure how far they'd spread. They actually hold their shape pretty well, and they can be placed with 1/2 inch (1 cm) of each other without issue.
Be sure to place them flat side down so that they keep their shape.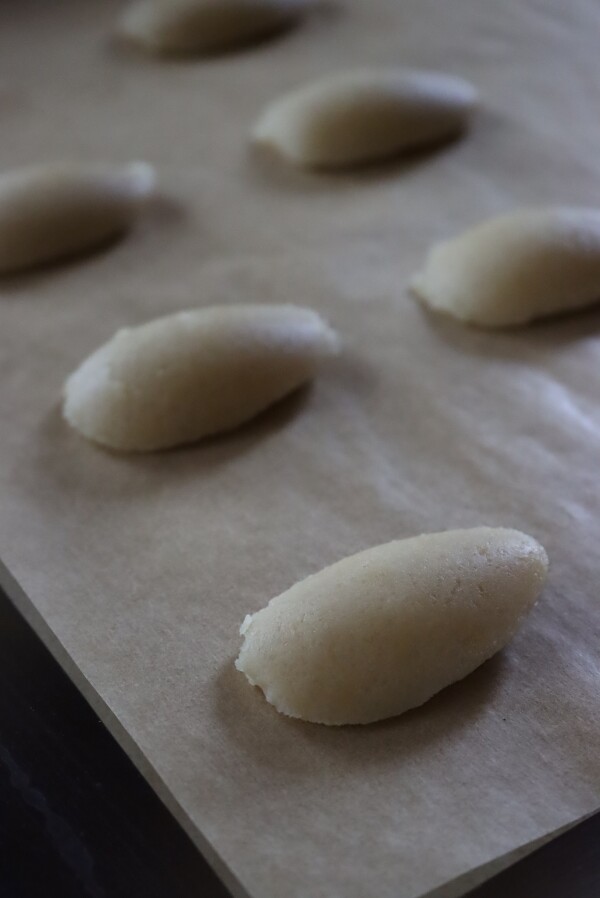 Bake at 325 degrees (160 C) f for 8-10 minutes, until they're just barely starting to brown on the bottom and they look firm on top.
The original recipe actually suggested 6 minutes, but I found they weren't set at that point. The cook time will depend to some extent on how accurate your oven is, and how big your shaping spoon is.
Once baked, allow the cookies to cool completely on the tray before removing them. This is important, as they're just barely baked and now browned when they're removed from the oven, and they need to cool on the hot tray to ensure they cook through to the center.
Once they're completely cool, remove them from the tray.
Take one cookie at a time and flip it over with a flat side up. Spread it with strawberry jam and sandwich another cookie on top, again flat side touching the jam.
You should now have an egg-shaped sandwich cookie with strawberry jam in the center.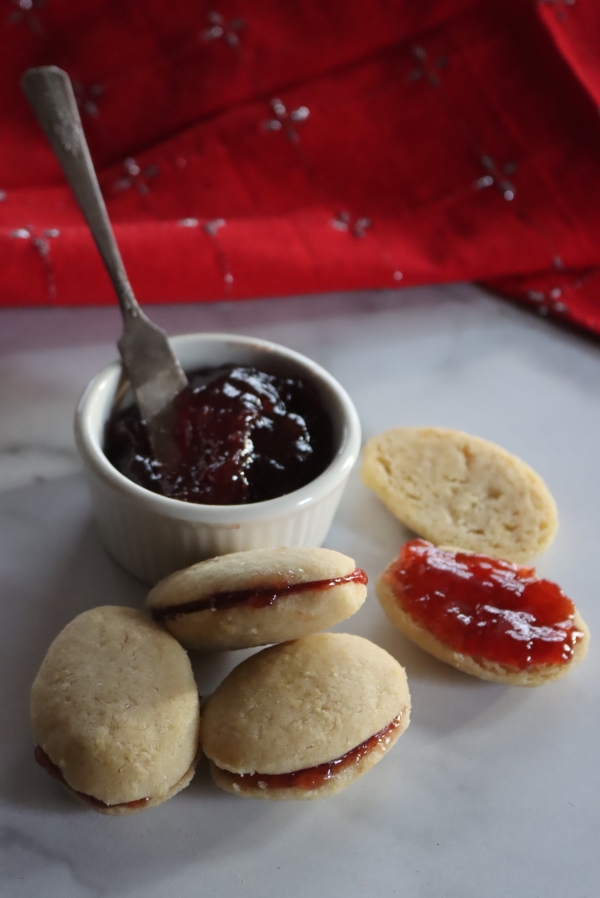 Traditionally, lusikkaleivät are rolled in granular sugar before serving.
Honestly, they're delicious, but already quite sweet and I decided to just dust them lightly with powdered sugar.
The powdered sugar gives them a festive look without making the much sweeter, but feel free to roll them in granular sugar if you want to keep them traditional.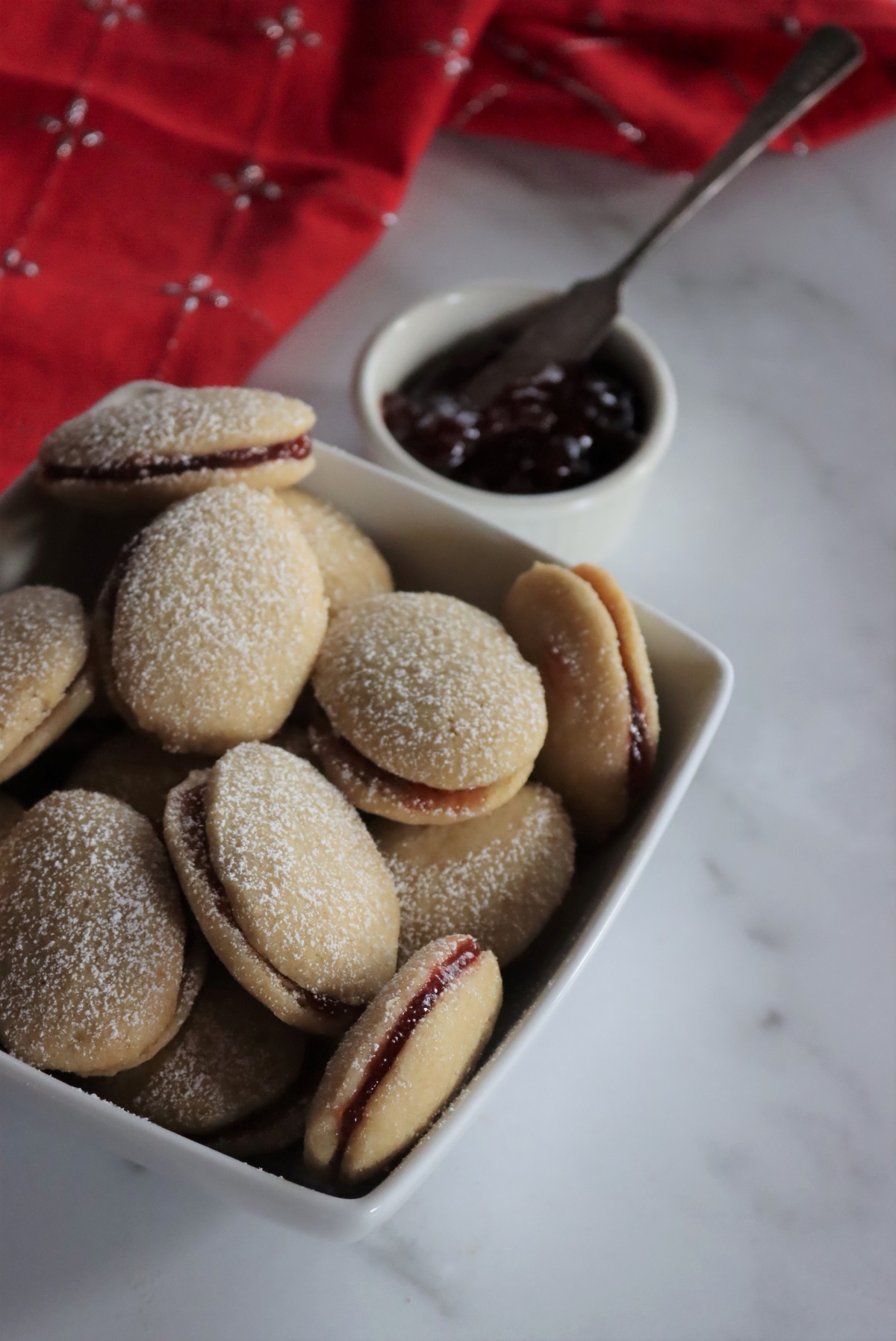 The original recipe notes that they taste better several days after baking, and though they're delicious the same day, I have to agree that the vanilla/browned butter flavor is much more pronounced after a few days.
Store lusikkaleivät in a tin on the counter for up to 2 weeks, and they'll definitly taste better after a day or two.
They also freeze wonderfully, and I have a batch in my freezer now waiting for the rest of my holiday baking to be completed. They'll be shipped to family in cookie care packages this holiday season.
Since they're better after a few days, lusikkaleivät are perfect for mailing in care packages. Be sure to use a stiff strawberry jam so that it says within the cookies and doesn't run out or make the cookies soggy.
Traditional Finnish Recipes
Looking for more traditional Finnish recipes?
Yield: Makes About 2 Dozen Sandwich Cookies
Finnish Teaspoon Cookies (Lusikkaleivät)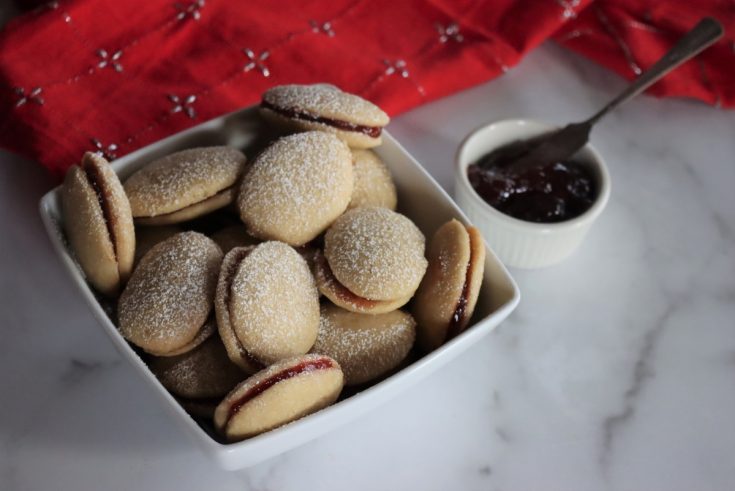 Lusikkaleivät are traditional Finnish cookies shaped in teaspoons and then sandwiched together with strawberry jam.
Additional Time
20 minutes
Ingredients
1 cup butter
3/4 cup sugar
3 tsp vanilla
2 cups flour (white, all-purpose)
1 tsp baking soda
1/4 tsp salt
1 egg yolk
For Decorating
Strawberry Jam
Powdered Sugar or Granular Sugar
Instructions
Place butter in a small saucepan and melt it. Continue to heat the butter until it turns a pale tan color (making browned butter), but be careful not to burn it. (This takes about 5 minutes.) Remove from heat and cool the butter to just barely warm.
Pour the cooled brown butter into a mixing bowl and stir in vanilla and sugar.
Combine the flour and baking soda in a separate bowl, and then gradually add to the butter/sugar mixture, stirring until just incorporated.
Add in the egg yolk and knead the stiff dough by hand until the yolk is incorporated (alternately, use a stand mixer for the whole process).
Preheat the oven to 325 degrees F (160 C) and line baking sheets with parchment paper.
To shape lusikkaleivät, take a small portion of dough and press it into a teaspoon. Flatten it off evenly at the top, removing any extra dough as necessary.
To remove the shaped cookie from the spoon, either tap gently on the side of the cookie sheet or slide the cookie gently off the spoon with your fingers. They should be placed flat side down on the sheet, with the curved spoon-shaped side up.
Bake for 8-10 minutes until just barely browned on the bottom. Remove the cookies from the oven and allow them to cool on the cookie sheets (do not remove to a cooling rack). This ensures they gently cook all the way through without browning too much.
Once cooled, spread jam on the flat side of the cookie and sandwich together with a second cookie. They're traditionally rolled in granular sugar at this point, but dusting with powdered sugar (or leaving plain) is also an option.
Lusikkaleivät develop more flavor a few days after baking, and it's best to make them at least 2 days ahead. They also freeze well.
Notes
For this recipe, you'll need to make about 4 dozen individual cookies, which will yield roughly 2 dozen finished sandwich cookies. I found that I needed roughly 1/2 to 3/4 cup of strawberry jam for the batch, but this will vary slightly based on how thick you apply the jam.
Scandinavian Recipes
Need more Scandinavian baking inspiration?