Lohikeitto is a traditional salmon soup from Finland that comes together in less than 30 minutes. The rich salmon flavor really comes through in this lightly seasoned nordic salmon soup. With just a splash of cream, this soup is light enough for spring, but comforting enough for winter eating.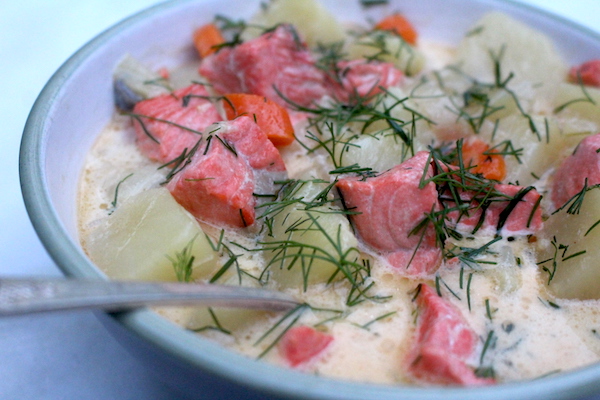 While American fish stews are all about thick heavy broths and white fish, this Finnish salmon soup is a refreshing change. Made with salmon for a distinctive flavor, and finished with fresh dill, this isn't your average fish chowder.
Most people don't have fish stock on hand, and it can be tricky to find in stores. Luckily, traditional Lohikeitto recipes actually use water instead of stock. I know, it sounds strange, but that's one of the things that keeps this salmon soup so light and clean.
I'll be honest, my kids aren't big fans of fish, but this soup won them over quickly. My four-year-old daughter asks for it regularly, and it's one of her very favorite meals.

Scandinavian Salmon Soup Variations
This particular preparation is most cherished and commonly eaten in Finland, but as with most nordic recipes, there's a version of Lohikeitto in the other countries.
In Norway, it's called laksesuppe which often has diced fennel and tomato, along with a tiny bit of sugar to round out the flavor. Other spices like basil or paprika are not uncommon as well, making it a much more complex soup than the simple preparation of Finnish Lohikeitto.
The Danish version is laksesuppe, which can be made with tomato like the Norwegian version, or with celery, cabbage and a bit of curry powder.
In Sweeden, salmon soup is called laxsoppa, and it sometimes has greens like spinach included. It also may be thickened with egg yolks and a bit of flour, resulting in a creamier soup.
Lohikeitto is simpler than these other Scandinavian salmon soups, and it only has a handful of ingredients.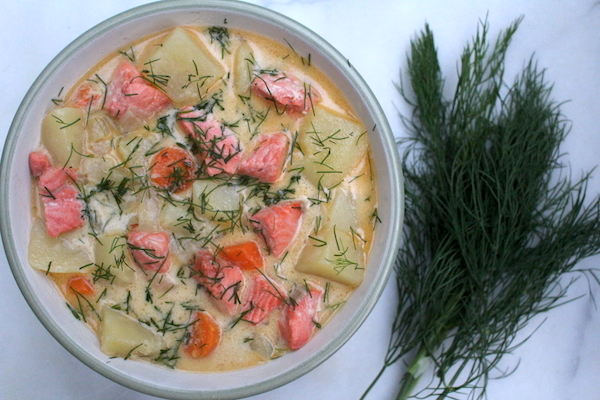 Ingredients for Lohikeitto
The ingredients for Lohikeitto are surprisingly simple. It all starts with fresh salmon, and a lohikeitto recipe to serve 4 people has 1 to 1 1/4 pounds of fresh salmon.
Vegetable additions are also simple, and limited to potatoes, onions, and carrots. We make this Finnish salmon soup several times a month, and these days I often add extra carrots because my kids are particularly fond of them.
This salmon soup remains unthickened, and it's finished with a splash of cream and fresh dill.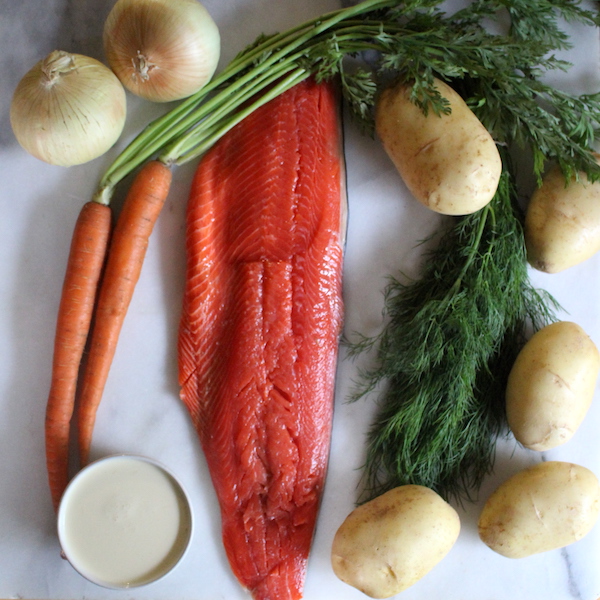 How to Make Lohikeitto
Start by choosing a really nice salmon filet. We've made lohikeitto a many, many times using various types of salmon. We've tried with whole wild-caught filets, small cheap frozen farmed sections and even homemade gravlax in a pinch.
It's always good, but truly fresh, wild-caught salmon really makes this soup. The ingredients are simple, so they need to be high quality to make an exceptional salmon soup.
Place the diced vegetables into a stockpot or dutch oven, along with the dried spices and add water to cover. If the salmon came with skin attached, use a filet knife to remove the skin and add that to the pot with the vegetables to infuse extra flavor into the broth.
Bring the vegetables to a simmer and cook until just tender, about 20 minutes. Then turn off the heat.
This is important! The salmon isn't boiled in the soup, it's just placed into the hot liquid to gently poach. Stir the soup once after you've added the raw salmon chunks, but then cover and don't stir again. This will ensure that the salmon pieces don't crumble apart into the soup.
Allow the salmon to poach in the hot liquid with the heat off for 3-5 minutes.
Serve lohikeitto into soup bowls, and finish with cream and fresh dill.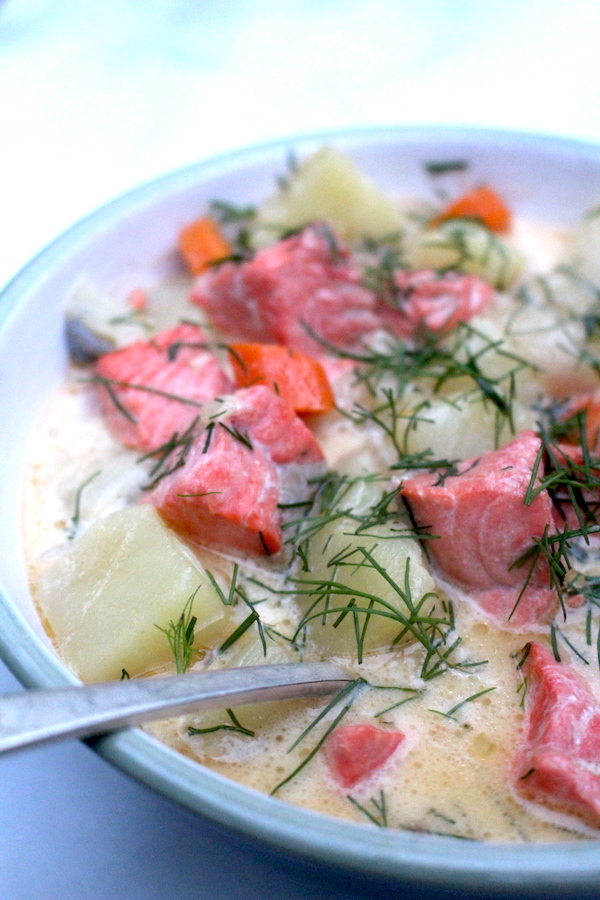 Yield: Serves 4
Finnish Salmon Soup (Lohikeitto)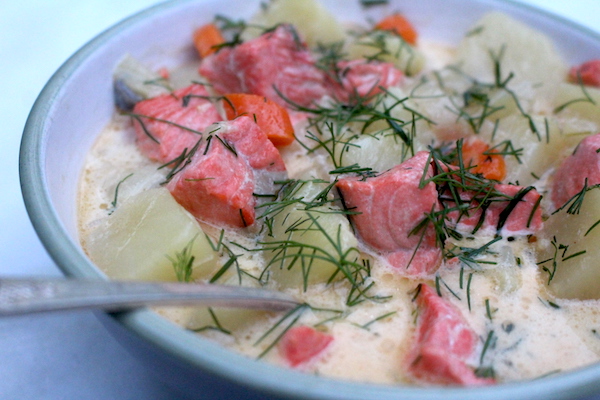 Lohikeitto is a traditional Finnish salmon soup with fresh salmon, potatoes, and carrots in a light broth. Finished with a splash of cream and fresh dill, this light enough for spring but warming enough for a winter meal.
Ingredients
6-8 waxy potatoes, peeled and cut into 1/2 to 3/4 inch cubes
2 carrots, cut into 1/4 inch slices
2 onions, diced
2-3 bay leaves
8-10 allspice berries (or 1/4 tsp ground allspice)
1 cup cream (light or heavy, your choice)
1 to 1 1/4 lb fresh salmon, cut into 1-inch cubes
1 bunch dill, finely cut, for finishing
Salt to taste
Instructions
Place the vegetables and dry spices (bay and allspice) in a large pot or dutch oven and add enough water to cover.
If the salmon has skin intact, skin the salmon with a filet knife and add it into the pot with the vegetables to infuse flavor.
Simmer the vegetables for about 15-20 minutes, until the potatoes are just tender. Add salt to taste.
Turn off the heat, and then add the cubed salmon. Stir once to distribute the salmon and then place a lid on the pot and do not stir again. (More stirring will break up the salmon.)
Allow the salmon to sit in the hot liquid until it's fully cooked, about 3-5 minutes.
Serve lohikeitto into soup bowls, adding about 1/4 cup cream to each bowl, and topping with plenty of fresh minced dill.
Notes
This soup is traditionally made with water, but for more flavor, a light chicken or fish stock is also lovely.
More Scandinavian Soups
Looking for more traditional Scandinavian soup recipes? Try a few from Iceland…
More Finnish Recipes
Want to stick with Finnish Recipes? Read on…