Poffertjes are tiny Dutch pancakes, that taste a lot more like a yeasted doughnut to an American palate. Instead of baking powder, Poffertjes are leavened with yeast which gives them a rich, complex flavor that can't be matched any other way.
Since they're quite small, Poffertjes are sometimes referred to as baby pancakes. That's what my toddlers call them, and they assume they're special pancakes just for tiny baby hands.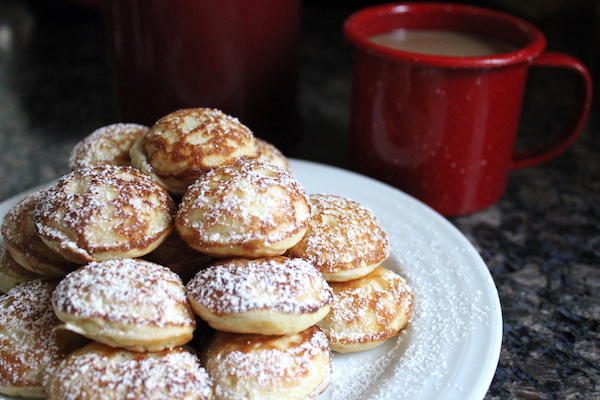 Poffertjes require a special pan, appropriately called a Poffertjes pan. It has tiny divots that hold the loose yeasted batter in place and help them form into a distinctive UFO shape.
I'm making them in an aebleskiver pan because they're so much more versatile. Many different cultures have a traditional food that's made in some version of an aebleskiver pan, which means there are dozens of ways to use them.
The divots are a bit deeper, to accommodate another tasty pancake treat, aebleskiver or pancake balls. Aebleskiver are leavened with whipped egg whites, buttermilk, and baking soda instead of yeast. They puff much larger, but they don't have the chewy, doughy texture of Poffertjes.
I know yeasted pancakes seem complicated, but they actually fit into my family life perfectly. There are only a few ingredients, and it takes less than a minute to get the batter whipped up and rising. An hour later, my little ones are dressed and ready to eat, just in time for poffertjes.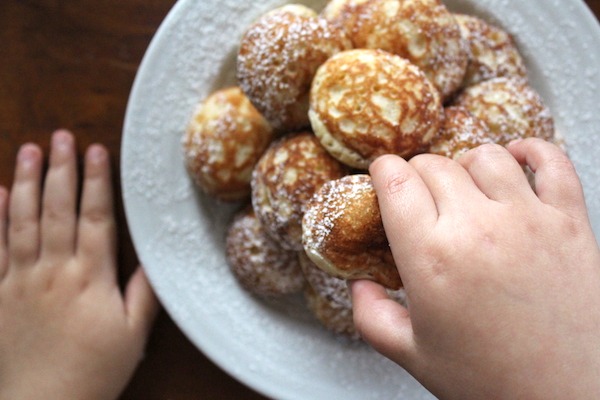 In the Netherlands, poffertjes are generally served as a dessert or an afternoon snack rather than a breakfast food. Street vendors sell them from carts specially set up to vend poffertjes.
They're served covered in all manner of toppings, some decidedly sweet like Nutella and bananas. Often though, they keep things simple and just dust them with powdered sugar and a pat of butter.
The dough in this recipe isn't particularly sweet, just a tablespoon of sugar. They're perfectly fine for breakfast in my house because we don't top them with anything too sweet.
Just don't tell my kids they're traditionally covered in nutella…
How to Make Poffertjes
The trickiest part about making poffertjes is flipping them.
Since they're in tiny divots in the pan, you can't exactly get a spatula in under them like flat pancakes. There's a special technique to flip poffertjes, and I had it down after my first pan of pancake puffs.
Traditionally poffertjes are flipped with a knitting needle, but these days they're flipped with metal or wooden skewers by street vendors. I grabbed a chopstick which worked perfectly, but I've also used bamboo skewers and the tip of a kitchen thermometer in a pinch.
Start by getting the pan quite hot, and buttering each divot generously. Pouring a bit of poffertjes batter into each cup, filling them about halfway. The batter will quickly puff to fill the pan divots.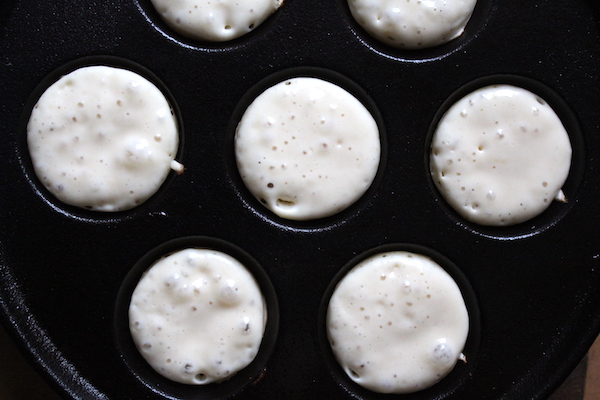 Allow the poffertjes to cook for about 1-2 minutes until they're bubbling and you can just see the edges of the underside browning.
Use your implement of choice (chopstick, skewer or knitting needle) to stab into the pancake near the edge. The batter will stick to the skewer, and you'll be able to slide it up the edge and lift it out of the pan.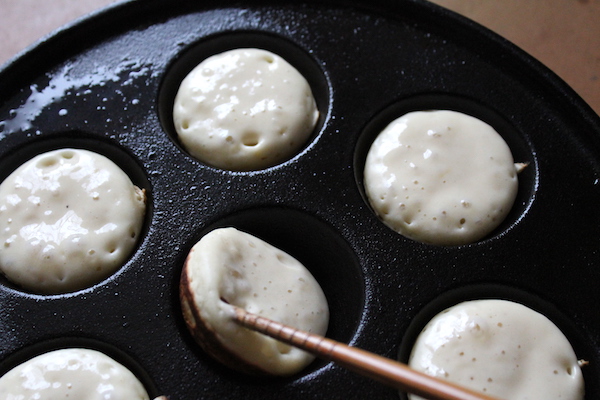 Keep lifting the poffertjes until it's completely out of the pan, suspended by the flipping skewer.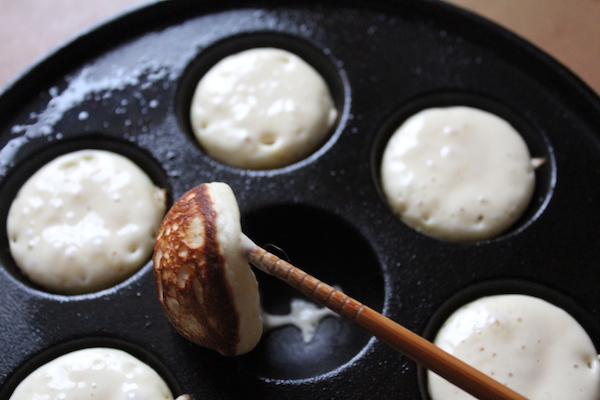 Then, in one quick motion, set the pancake back down in the pan on the other side.
If you miss slightly, have a clean fork nearby to nudge it back into the pan divot.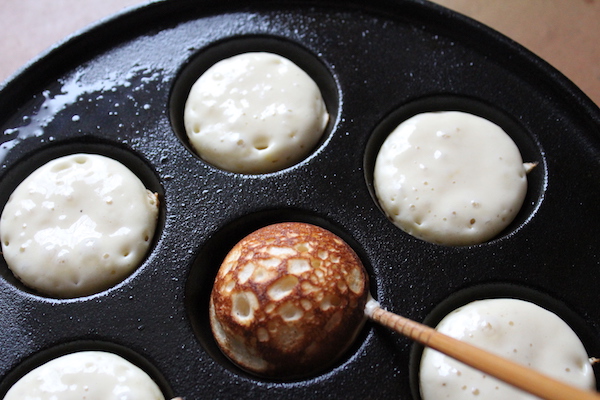 Allow the poffertjes to cook for another 1-2 minutes on the other side until they're cooked through. I keep the pan very hot and move quickly, so they're only on each side for about a minute.
Every 2 minutes I'm able to put out a new plate of baby pancakes for my tiny pancake eating monsters.
And yes, that is my 3rd cup of coffee this morning thank you very much…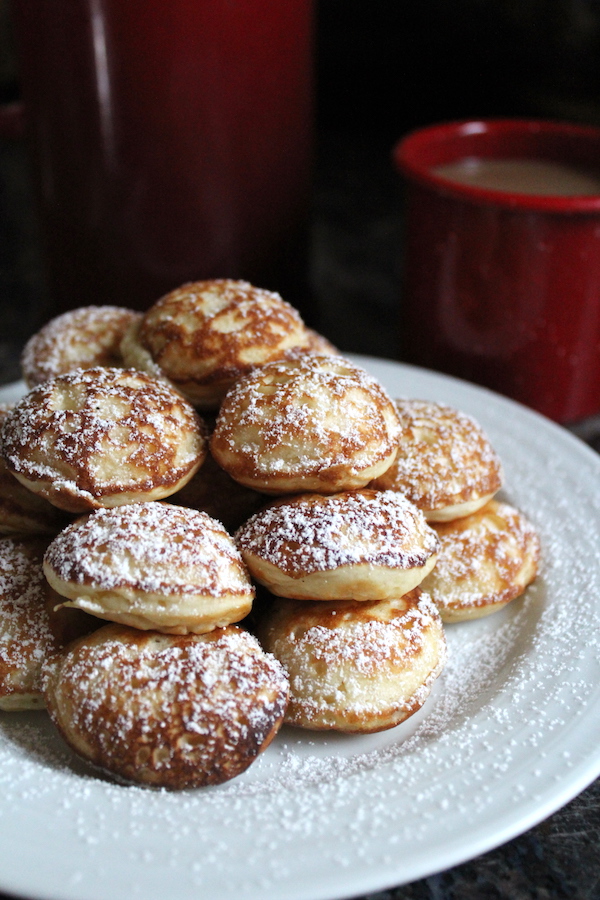 Poffertjes (Dutch Pancakes)
Poffertjes make an easy breakfast, perfect for a holiday or weekend treat.
Ingredients
1 tbsp dry yeast ((approximate))
1 1/2 cup warm milk (90 to 100 degrees F)
1 3/4 cup flour
1 tbsp sugar
1/2 tsp salt
1 egg
Butter (for generously greasing the pan)
Instructions
Warm the milk to lukewarm, about 90 to 100 degrees. Add the dry yeast and allow it to dissolve for a few minutes while you gather the rest of the ingredients.
In a large bowl, add flour, sugar, and salt. Stir to mix.
Pour the yeast and milk into the flour mixture and add in the egg.
Stir until just barely combined, but do not overwork the dough.
Allow the dough to rise at room temperature for at least 30 minutes, but preferably an hour.
Prepare a poffertjes pan or aebleskiver pan by greasing the divots with ample butter and heating it to very hot (but not smoking). Fill each divot about halfway with batter and cook for 1-2 minutes before flipping with a skewer as described above.
Allow the poffertjes to cook for another 1-2 minutes on the second side before removing them to a serving plate.
Serve with butter and powdered sugar, or maple syrup.
International Pancake Recipes
Looking for more pancake recipes from around the world?