Apple bacon bread pudding is a savory make-ahead breakfast that the whole family will love!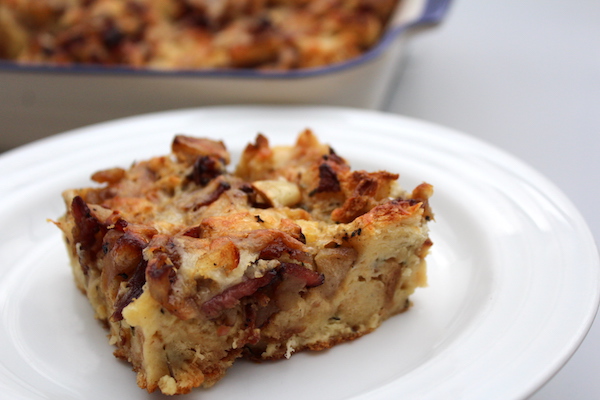 Bread pudding sounds like an old-fashioned dessert, and it's little known on our modern tables. The truth is, it's often still made, but goes by the name "baked french toast."
Essentially, bread pudding is all the ingredients for french toast baked into a casserole. The result is often quite sweet, but it doesn't have to be. Savory bread pudding makes a filling make-ahead breakfast.
In this recipe, apples add just enough sweet to compliment the salty bacon, and no added sugar means this is a meal that will stick with you all day.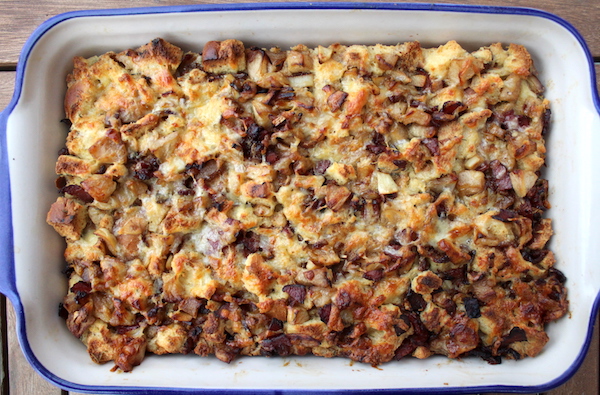 The flavors of the apples and bacon combine beautifully. The cubed apples are fried in a bit of bacon fat, which melds the flavors and helps to add a bit of caramelization. Onions and garlic ensure you're not getting a dessert vibe when you eat this dish.
Savory bread pudding can be served cold or re-warmed quickly in a hot oven for a tasty treat.
Or, another option…Since the bread infuses with the egg and cream, it's actually a bit better with more time to sit before baking.
This bread pudding can be prepared and poured into the pan the night before. In the morning, just preheat the oven and pop it in to bake. It'll be hot and fresh by the time everyone in the house wakes up to the wonderful smell.
Apple Bacon Savory Bread Pudding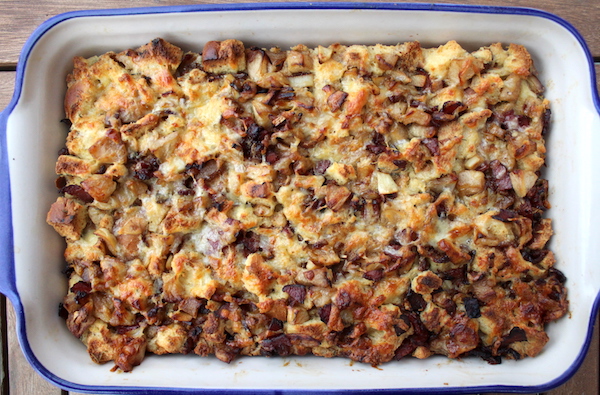 This savory bread pudding a quick make-ahead breakfast that'll please a crowd on a busy morning.
Ingredients
1 ½ cups whole milk
½ cup heavy cream
5 large eggs
1 pinch salt
6 cups stale bread, cut into 1-inch cubes
1/2 lb bacon
1 small onion, chopped
2-3 cloves garlic, finely minced
2 cups Apples, peeled, cored and diced into 1/2 inch cubes
½ cup cheddar cheese, shredded
Instructions
Preheat oven to 350 degrees F and grease a 9x13 pan with butter.
In a large bowl, whip eggs, milk, cream and salt until combined. Add stale bread cubes and mix to combine. Set aside while preparing the remaining ingredients.
Fry bacon until crisp and then crumble into small pieces.
Fry onion in remaining bacon fat for about 5-8 minutes until browned, then add garlic and apples. Fry for another 5 minutes until the apples begin to caramelize on the outside. Turn off heat.
Pour the bread/egg mixture into a buttered 9x13 pan. Top with apple/bacon mixture and use a spatula to press the bacon and apples into the bread pudding batter.
Sprinkle grated cheese on top.
Bake at 350 degrees F for 40 to 45 minutes until cooked through and lightly browned.
Notes
This savory breakfast can be prepped the night before and stored in the refrigerator unbaked.  In the morning, simply preheat the oven and bake for a hot fresh breakfast.
Breakfast Ideas
Kick your day off with these delicious breakfast recipes!