Quince have a delightful fragrance and warm fall fruit flavor that infuses perfectly into quince liqueur. They're an ancient fruit, that's been enjoyed since Roman times and they're just starting to find their way into modern grocery stores.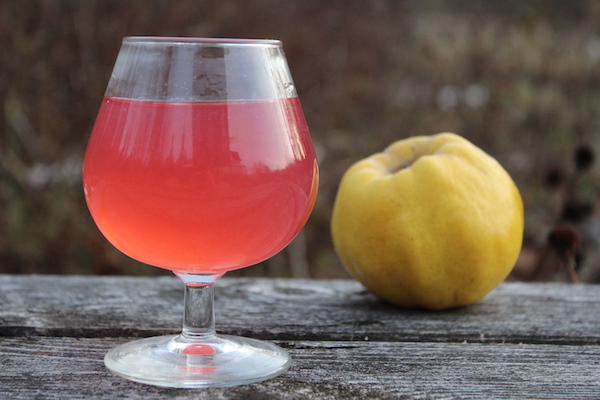 Quince are too hard to eat out of hand, and they're usually cooked into a quince jam, jelly or paste. They start out yellow or cream-colored, and after about an hour of cooking, quince turns a lovely shade of pink.
The problem is if you cook quince for quince liqueur they'll release pectins which will cloud the liqueur and cause it to gel. I've added a few rose petals to the mix, which give the quince liqueur a natural pink hue, and rose compliments the flavor of quince beautifully.
Rosewater is commonly cooked with quinces in the middle east, so it not only gives the quince liqueur a beautiful color but adds lovely floral notes as well.
Start by grating the quince into a jar. Work quickly, the fruit will brown like an apple exposed to oxygen. Browning will give the quince liqueur an amber color, and it'll stay that way if you don't add rose petals for color.
Once you have a good bit in a jar, add a neutral spirit like vodka. If you cover the quince quickly, they won't have time to brown and the amber color won't obscure the bright pink color of the finished quince liqueur.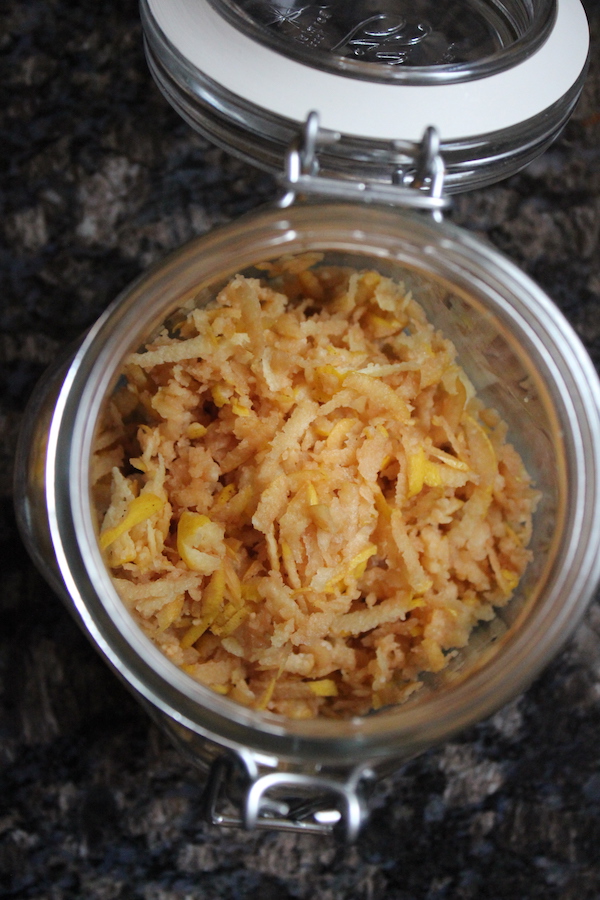 Quince fruits are a bit sour and astringent on their own, which is one reason why they're typically cooked into preserves with a lot of sugar.
The tart flavor and subtle astringency plays well against the added sweetness. A quince liqueur is no different and requires a generous amount of sugar to balance the taste. Exactly how much to add is up to you.
I chose to add 1 cup of sugar to a quart jar of quince liqueur, but as little as 1/4 cup or as much as 2 cups would work.
Two large quince fruits will yield around 2-3 cups of grated quince, which is just right for a quart jar of quince liqueur. Add in your preferred amount of sugar, somewhere between 1/4 cup for a very tart liqueur and as much as 2 cups for an intensely syrupy cordial.
Keep in mind, you can always add more sugar so be conservative to start.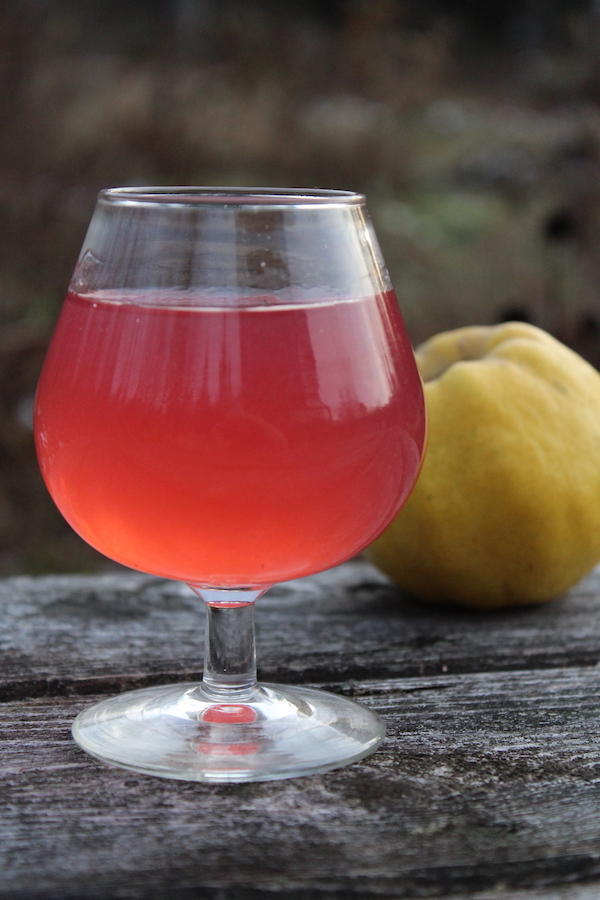 For color, add a small handful of rose petals. Rose petals are optional, but they really do help to bring out the floral flavor of the quince and add a lovely color.
Our roses are still putting out a few last blooms when quinces come into season in the late fall, but if you don't have any unsprayed rose petals handy, dried rose petals will work just as well.
Any extra rose petals can be used to make a rose cordial, which shares the same bright pink color and is a delicious complement to quince liqueur.
Quince fruits begin to ripen in late October, so if you find them early there's enough time to bottle the batch into a holiday gift. Try a reusing a corked liqueur bottle or use a clear flip-top Grolsch bottle to allow the colors to come through.
Quince Liqueur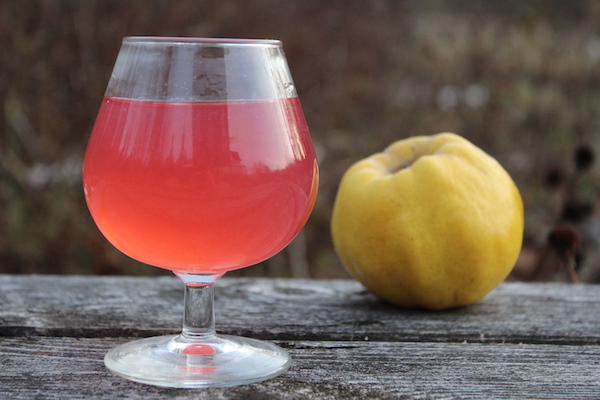 The floral flavors of quince infuse into a brightly colored quince liqueur.
Ingredients
2 large quince
1 cup sugar
1 handful rose petals, 1/4 to 1/2 cup
1 cinnamon stick, optional
Vodka or Brandy to fill
Instructions
Wash the quince and remove the exterior fuzz with a soft cloth. Be sure the quince are bright yellow, not green, as green quince don't have as much flavor.
Grate the quince into a quart jar. Top with sugar, rose petals and a cinnamon stick.
Fill the jar with vodka to within an inch of the top.
Give the jar a shake and allow the flavors to infuse for 2-3 months. Set the jar in a cool dark place, and give it a shake anytime you think about it. It'll be tasty after a week, but give it more time to fully mature.
Creative Drink Recipes
No need to settle for boring drinks! Try our favorite creative recipes: