Rhubarb liqueur is a simple way to preserve the delightful taste of spring rhubarb for year round enjoyment. Lightly sweetened, it's perfect just as it is, but it also works well in homemade cocktails.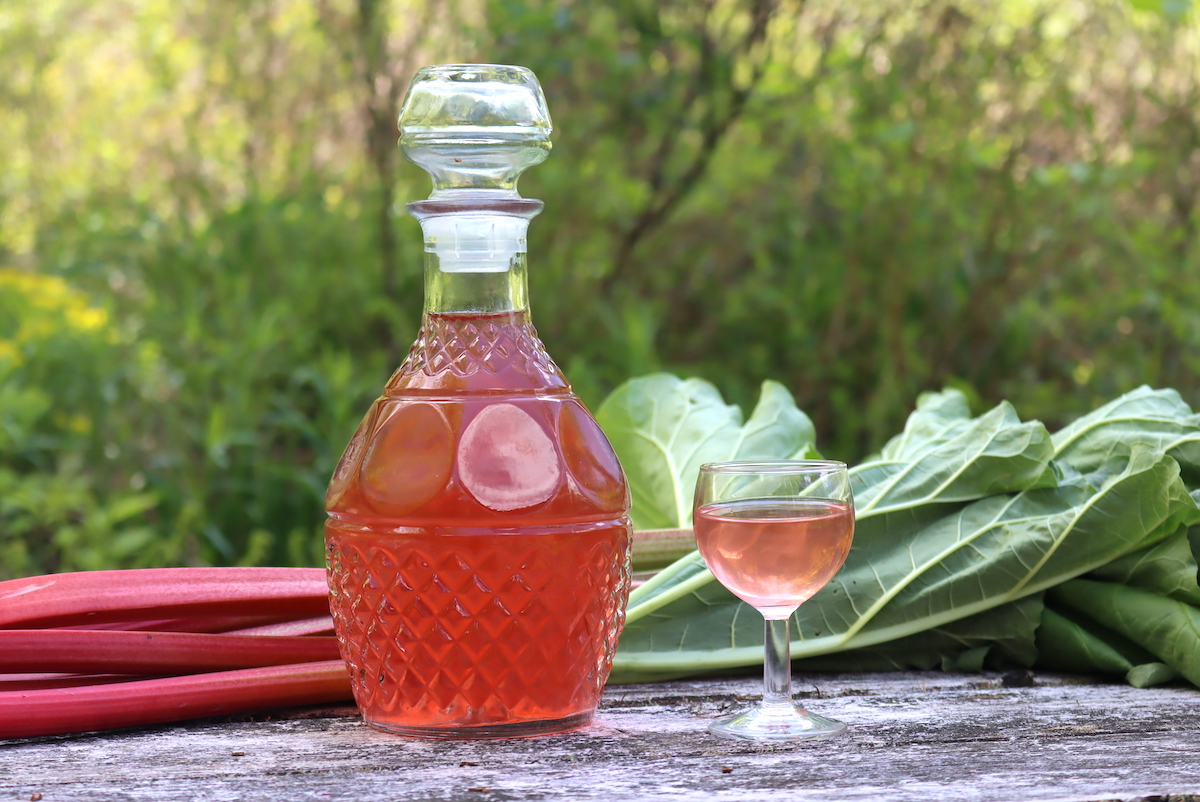 We grow a lot of rhubarb on our Vermont homestead, and I'm always looking for new rhubarb recipes to enjoy the harvest. We make strawberry rhubarb pie every year, of course, and I also make a delicious Amish Style Rhubarb Custard Pie too.
I've even started branching out into savory rhubarb recipes, like this traditional Persian Lamb and Rhubarb Stew (Khoresht Rivas).
Often though, we'll harvest around 50 pounds of rhubarb in a single season, and that means pulling out the canner for rhubarb canning recipes. Once my jars are full, I'm usually still looking for recipes and I'll turn to rhubarb wine. It's like it never ends!
Sometimes though, you're just looking for a simple rhubarb recipe that's quick to prepare, and captures the wonderful flavor of rhubarb. Maybe you just have a small bundle from the farmer's market, or maybe you're just hoping to make a quick gift for friends of family.
That's where this quick rhubarb liqueur really shines. (Though, of course, you could make a huge batch for yourself and all your friends. No judgement here! It's darn delicious, and one of my favorite homemade liqueurs.)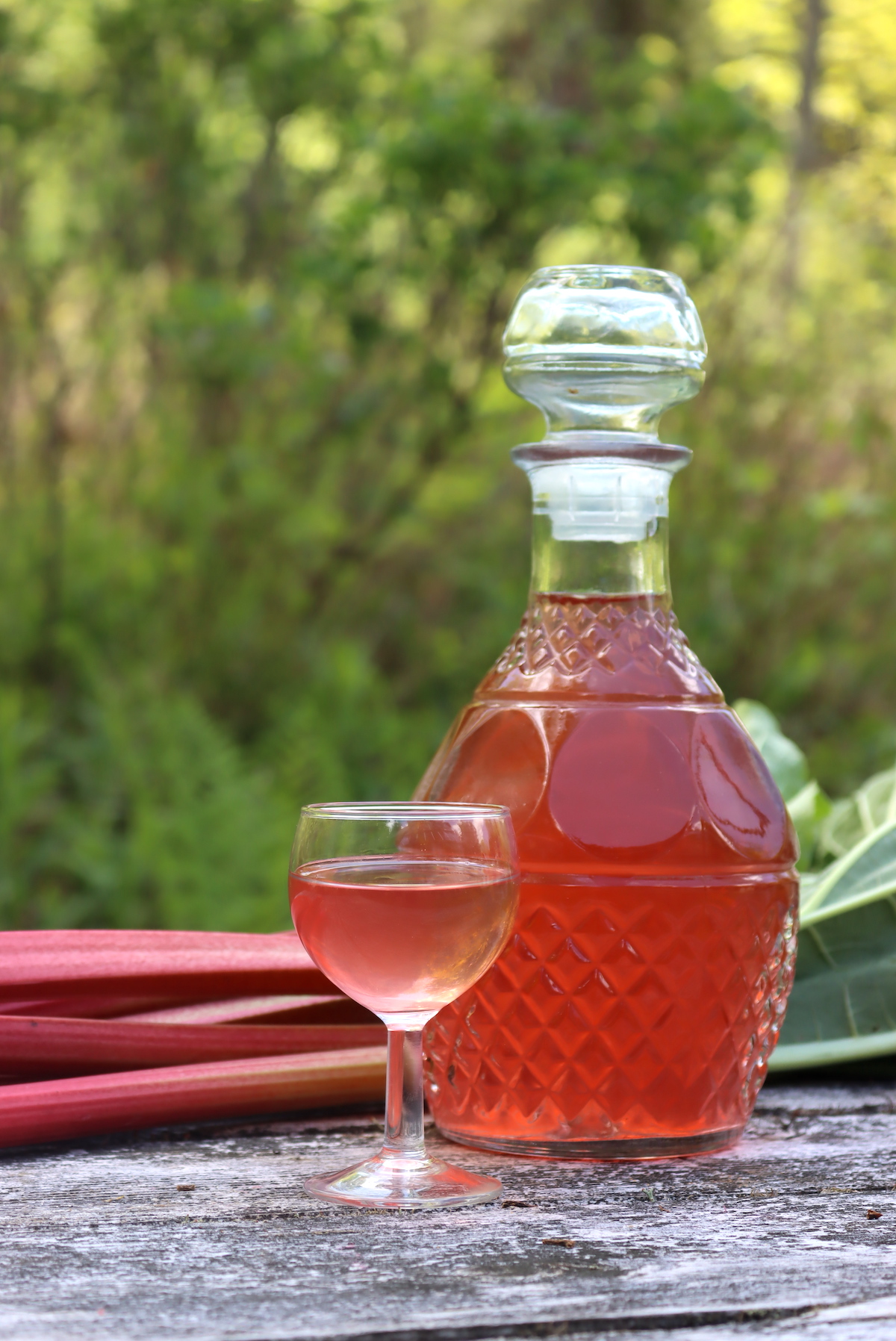 How to Make Rhubarb Liqueur
The process for making rhubarb liqueur is quite simple, and you can adjust the "recipe" to your tastes.
In most liqueur recipes, you cover the fruit in vodka, allow it to infuse and then strain and sweeten. If you want a beautiful red color, you'll need to make rhubarb cordial a bit differently.
Alcohol doesn't pull the red color from the stalks, but sugar does. With rhubarb, you need to macerate the fruit in some sugar first, than add the vodka.
Basically, you just fill a jar with washed, chopped rhubarb stems (no leaves). Start with about 6 cups of rhubarb in a half gallon jar, so that the jar is about 3/4 full. Add sugar, around 1 cup of sugar to every 6 cups chopped rhubarb (1 1/2 pounds).
Allow the fruit to macerate in the sugar, pulling out juice and color.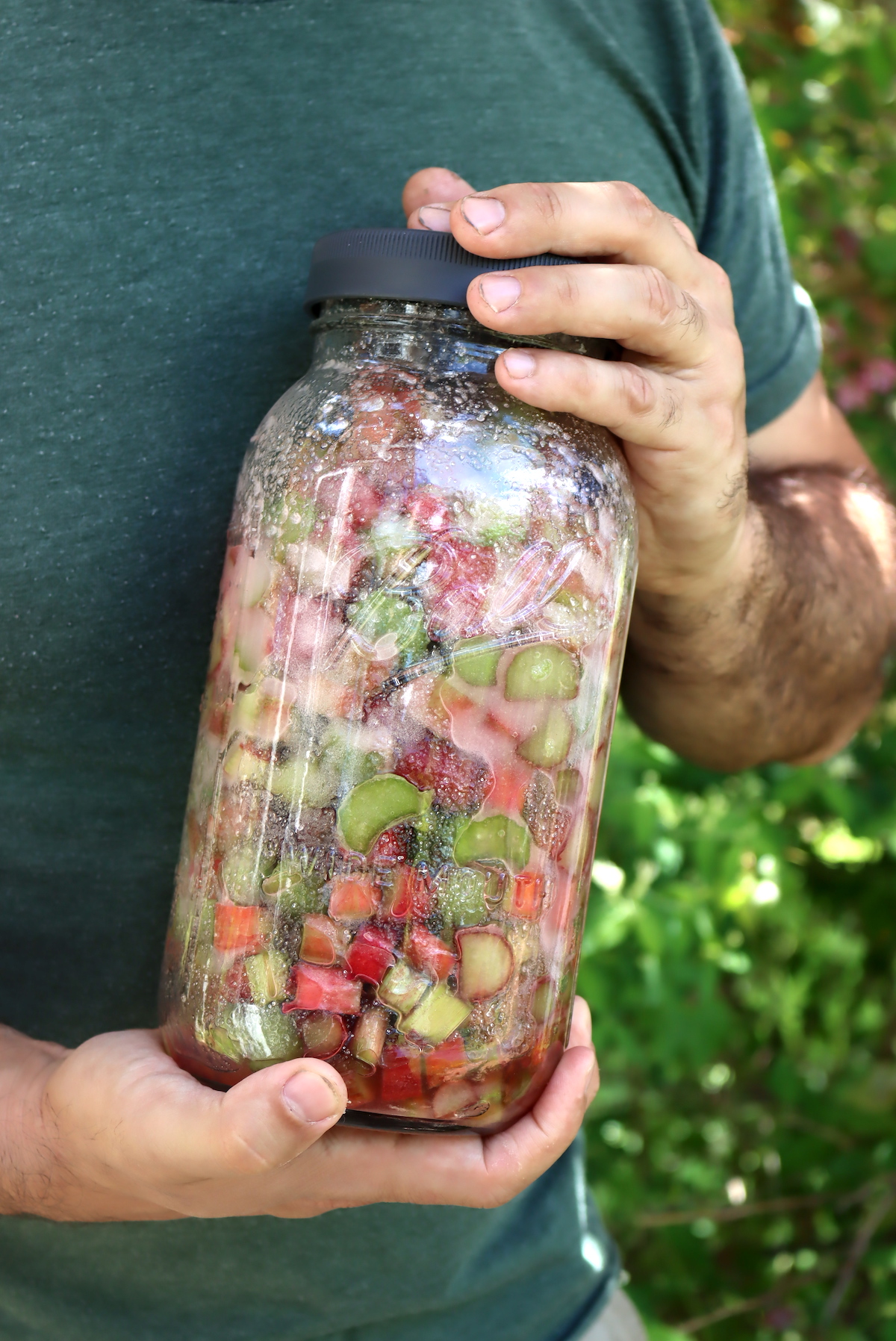 Next, cover completely with vodka or a neutral spirit and cap tightly with a lid.
I'm using a half gallon jar, which is 8 cups in volume, but the rhubarb takes up much of that space. You should have just enough space to add in a 750 ml bottle of vodka.
Allow the mixture to infuse for 4 to 6 weeks.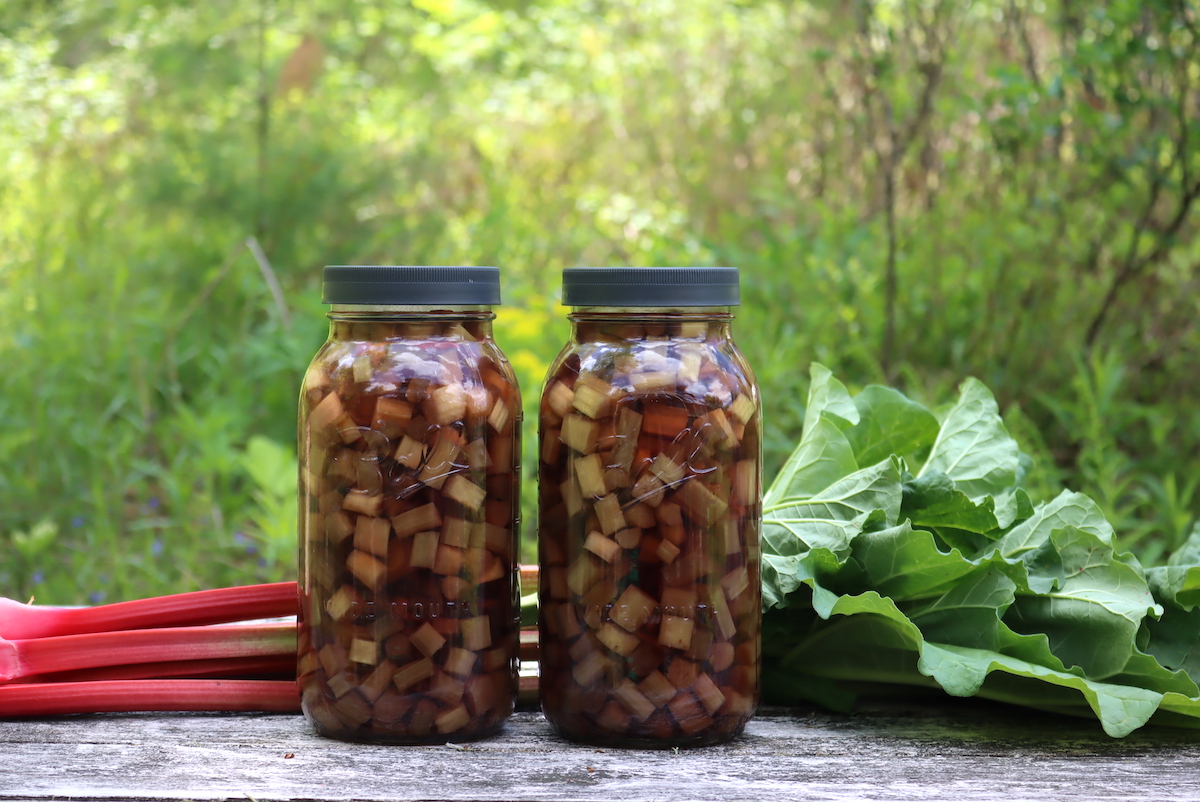 With the sugar in there, the rhubarb will lose most of it's color into the vodka, and it helps to draw out the flavor and the juice too.
After 4 to 6 weeks, strain out the rhubarb, reserving the vodka infusion.
A fine mesh strainer works well, no need to break out the cheesecloth.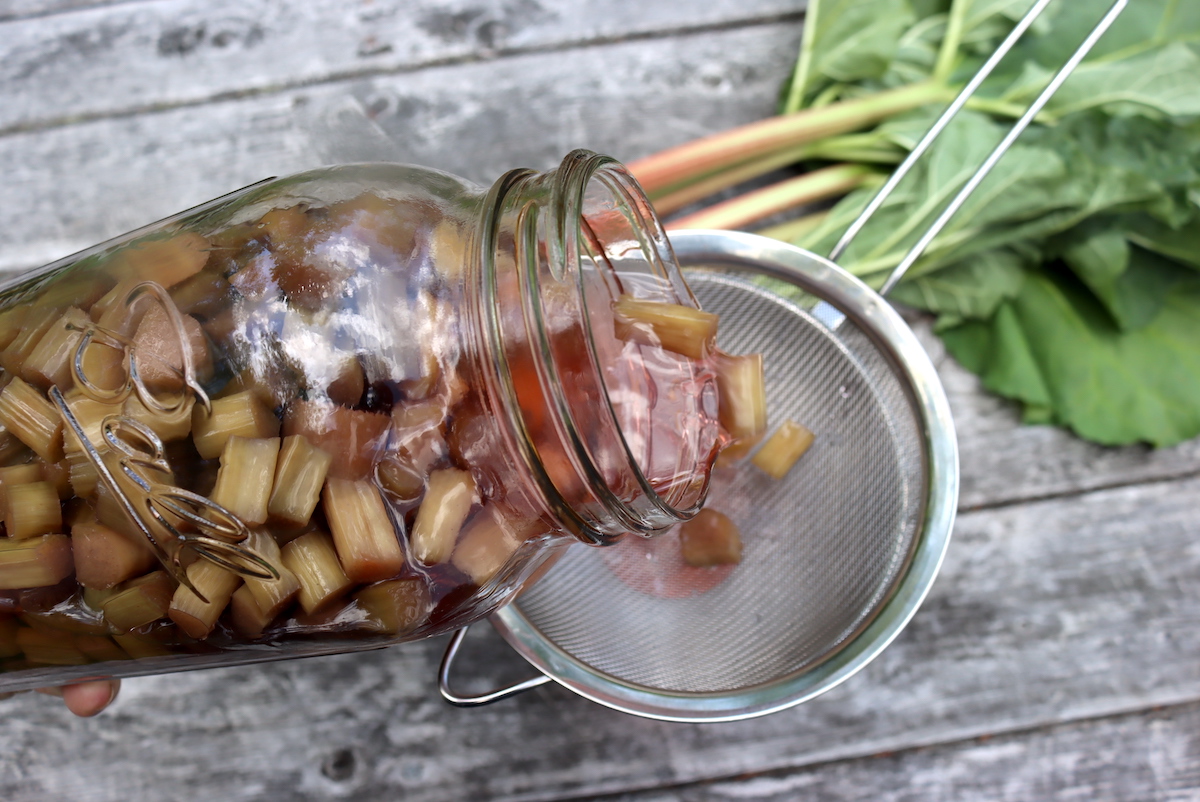 At this point, taste your liqueur. Rhubarb is quite tart, so you may want to add more sugar.
This recipe uses 1 cup sugar, which is 1/2 pound, to a total of 1 1/2 cups chopped rhubarb. That's a 1:3 ratio by weight. Some recipes use as much as a 1:1 ratio, which would be a full 3 cups of sugar (or 2 additional cups of sugar).
Once the mixture is sweetened to your tastes, bottle and cap tightly.
This can be enjoyed immediately, or kept until needed.
Rhubarb cordial is shelf stable because of the high alcohol content, and it'll never really "spoil." It will, however, begin to lose some flavor and color after about a year in the bottle. Plan on making a fresh batch each year.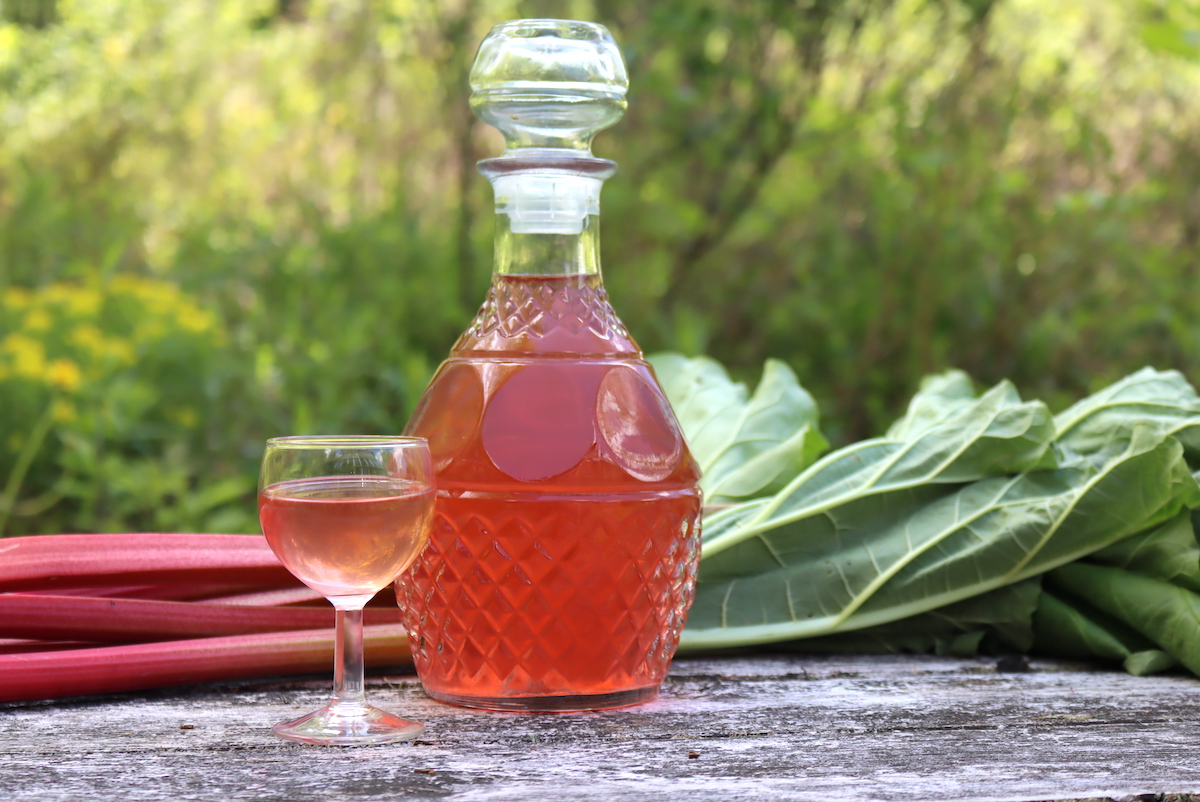 Rhubarb Recipes
Looking for more ways to use rhubarb?
Yield: Makes about 1 quart
Rhubarb Liqueur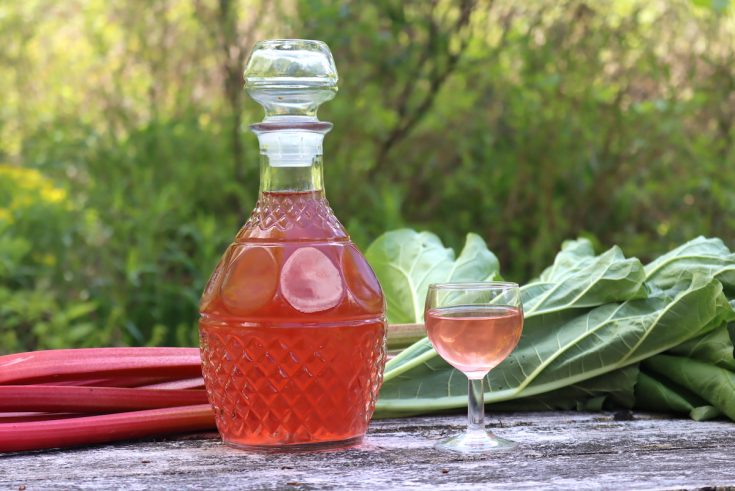 Rhubarb liqueur has a delightful rhubarb flavor (and color), and it's just sweet enough to enjoy on it's own. Or, add it to your favorite rhubarb cocktails!
Additional Time
15 minutes
Total Time
28 days
30 minutes
Ingredients
6 cups rhubarb stalks, chopped (about 1 1/2 pounds)
1 cup sugar (plus more to taste, see notes)
750 ml vodka (or neutral spirit)
Instructions
Mix the chopped rhubarb with the sugar and place it into a large jar. (A half gallon mason jar works great.) Allow the fruit to macerate in the sugar for about 24 hours, until it's released it's juices.
Add the vodka over the top of the macerated fruit and cap the jar tightly.
Allow the fruit to infuse into the vodka for about 4 to 6 weeks.
Once fully infused, strain through a fine mesh strainer.
Taste, and add sugar if necessary. (See note)
Bottle and store at room temperature.
Notes
Sugar
This recipe uses 1 cup sugar, which is 1/2 pound, to a total of 1 1/2 cups chopped rhubarb.  That's a 1:3 ratio by weight.  Some recipes use as much as a 1:1 ratio, which would be a full 3 cups of sugar (or 2 additional cups of sugar). If you'd like a sweeter liqueur, feel free to add more sugar.
To help the sugar dissolve, make a simple syrup first, using a 1:1 ratio of water to sugar by volume and heating it on the stove. Allow the simple syrup to cool completely before adding it to the liqueur.
The initial 1 cup of sugar is there to help the rhubarb give up their color and flavor into the mixture. Without the sugar at the start, rhubarb does not turn the vodka a red color and it doesn't let out nearly as much juice to flavor the liqueur.
Shelf Life
Liqueurs are high in alcohol and they won't ever spoil or go bad. They will, however, slowly lose color and flavor intensity. For peak flavor, use within a year, and store out of direct sunlight at room temperature. This particular liqueur is delicious chilled, and you can place it in the freeser about half an hour before serving for a chilled drink.
Homemade Liqueur Recipes
Rhubarb is just the beginning!