These days, strawberry rhubarb pie gets all the attention, but there's an old school rhubarb pie that's making a comeback. Amish rhubarb custard pie combines the tart flavors of rhubarb with a rich custard for a perfectly balanced dessert. Add a little crumb topping on top for crunch and you've got a recipe for the perfect rhubarb custard dessert.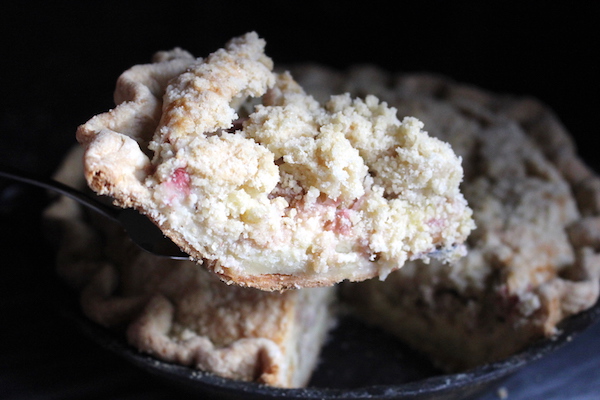 My dad's been talking about rhubarb pie since I was a little kid, but rhubarb isn't something that grows in California. When I moved to Vermont more than a decade ago, one of the first thing's he asked before visiting was, "Is it going to be rhubarb season?" He'd tell stories about how my great grandmother made it every year for his birthday, which happens to fall right in the heart of Rhubarb season in the northeast.
The thing is, while May is Rhubarb season in Vermont, it's not strawberry season. The first early strawberries won't be ready until late June, and most year's we won't harvest a meaningful quantity until early to mid-July. By then, it's too hot for rhubarb, and the once succulent stalks have gone stringy and bitter. Strawberries and rhubarb are a relatively recent pairing because in most climates it just won't happen without freezing last year's strawberries.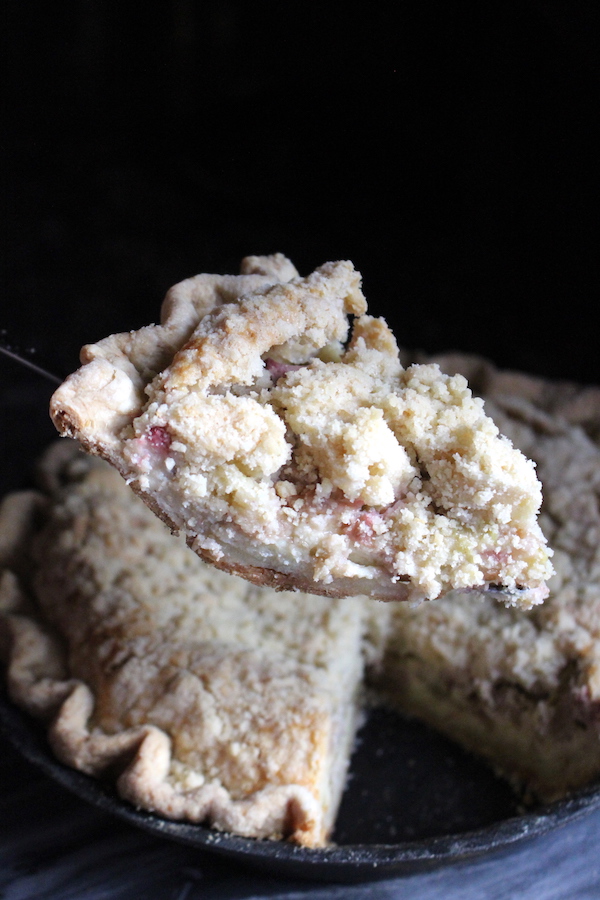 I'm a big fan of maple sweetened strawberry rhubarb pie, using up some of our fresh homemade maple syrup. But rhubarb has been a staple of homestead gardens for generations, long before freezers became commonplace. Thus, there are a lot more ways to use rhubarb than pairing it with strawberries.
One of the most traditional uses doesn't include any strawberries, but it's still a pie. Rhubarb has a naturally tart flavor that makes a nice contrast for a rich custard, and an Amish Rhubarb Custard Pie is a real delight.
The pie is easy to make, start by adding a bit of chopped rhubarb into an unbaked pie shell.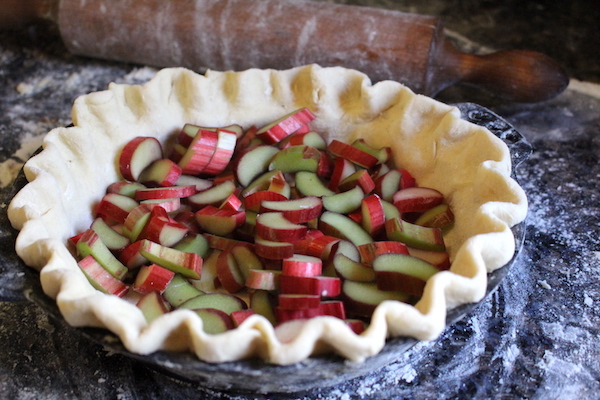 The rhubarb goes in first, but it rhubarb will float, creating a natural layered look. A little crumb topping added above the rhubarb layer creates a delightful crunch and adds texture to an otherwise soft pie.
The crumb topping is sprinkled over the top of the pie after the custard filling is poured over the rhubarb. It naturally stays right on top where it belongs.
This rhubarb custard pie has another benefit to an Amish household, namely that it uses up cream and eggs right when they're most abundant in the spring. If you really want to go full-on traditional, you can make this with a lard pie crust, but really any unbaked pie crust will do (even a pre-made store bought pie crust shell…I won't tell…).
My pie crust recipe is simple, and it uses just butter (1/2 cup), flour (1 cup), a pinch of salt and a bit of cold water (2-3 tablespoons). Cut the butter into the flour/salt, and add the water and stir until it just comes together before rolling out the pie crust.
Like most pies, this rhubarb custard pie is baked in a hot oven (400 F) for a short period (20 min) before the oven temperature is reduced for the rest of the bake time. This hot initial bake helps the bottom crust set so it doesn't get soggy from the custard filling. I bake this pie in a cast iron pie pan, and that extra retained heat helps the crust crisp beautifully (and is altogether appropriate for an Amish pie).
Seasoned properly, you never even have to wash (or grease) a cast iron pie pan. Just wipe it clean with a dry towel once the pie comes out and it's spotless and ready to bake another pie. Easy cleanup, and no sticking!
Yield: 9'' Pie
Amish Rhubarb Custard Pie with Crumb Topping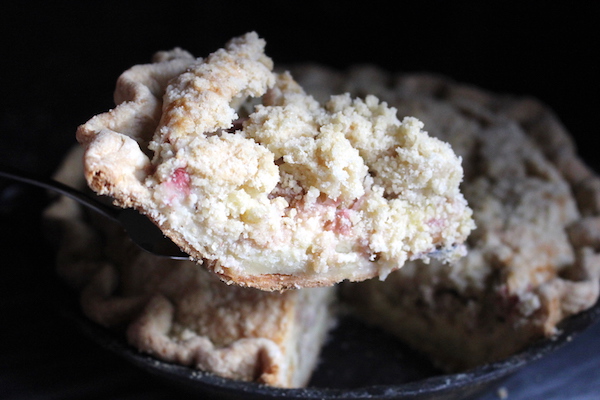 Traditional rhubarb custard pie pairs tart rhubarb with rich custard to create an unforgettable pie. The crumb topping is optional, but it adds a delightful crunch.
Ingredients
Rhubarb Custard Pie
1 unbaked 9'' pie crust
3 cups rhubarb, sliced into 1/4 inch pieces
3 eggs
1 cup heavy cream
1 cup sugar
1/4 cup flour
1/2 tsp nutmeg, ground
1/2 tsp. salt
Crumb Topping
1/2 cup butter
1/2 cup sugar
1 cup flour
Instructions
Prepare a pie crust according to your preferred recipe (or use a store bought crust). Roll it out and place it in a 9'' pie pan (do not bake yet).
Place the sliced rhubarb in the unbaked pie shell.
Beat the eggs, cream and sugar until thoroughly combined (but don't over whip). Add the flour, nutmeg and salt, sifting it in so that it doesn't clump.
Pour the egg/cream mixture over the rhubarb in the pie shell.
Prepare a crumb topping by mixing all the crumb topping ingredients together until crumbly. Do not melt the butter, simply cut it into pats and then use your hands to crumble it into the flour and sugar. Sprinkle on top of pie.
Bake at 400 degrees for 20 minutes. Reduce the heat to 350 and continue to bake for another 50 to 60 minutes until set in the center.
Allow the pie to cool completely before serving.
More Rhubarb Recipes
Looking for more creative ways to use rhubarb? Try any of these tasty rhubarb recipes: