While in the west rhubarb is most commonly served for dessert, in the middle east, this vegetable often gets a savory preparation. This traditional Persian lamb and rhubarb stew is simple to make, and perfect for impressing guests. It's not often you find a savory rhubarb recipe, but the rhubarb pairs perfectly with tender lamb and herbs for a show-stopping stew.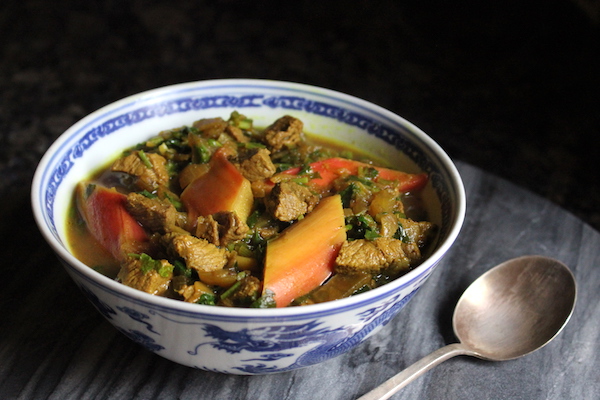 My family absolutely loves rhubarb, and my toddlers can often be found munching raw rhubarb stalks in the afternoon shade after a long day in the garden. Rhubarb is tart, but that tartness gives it character. It also makes it really refreshing, which works really well when paired with rich ingredients.
The Amish make a rhubarb custard pie that uses rhubarb to add bright fruit flavors to an otherwise heavy custard pie. While it's delicious, that still keeps rhubarb firmly in the dessert category. This year, we're looking for more savory rhubarb recipes, and that quest has taken us to the middle east.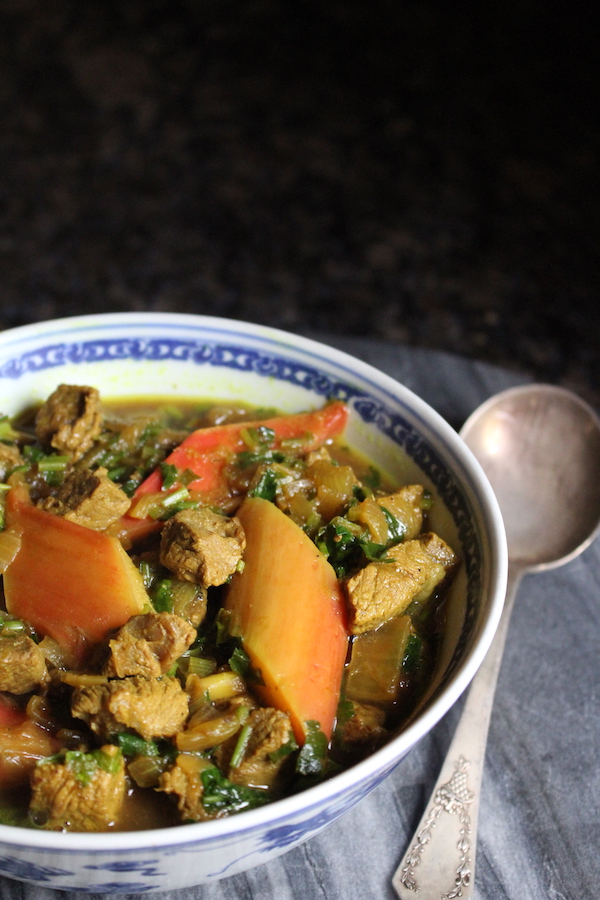 Making Persian Rhubarb Stew
Adding rhubarb to a stew can be a tricky prospect because this tender vegetable falls apart after just a few minutes of cooking. Start by cooking all the other ingredients, starting with the onions. After the onions nicely browned, add in the meat along with the spices, and brown thoroughly. Next add a bit of water, salt, and all the herbs, cooking until almost done.
In the last few minutes, add in the rhubarb. The rhubarb hunks are chopped quite large in this recipe, roughly 2" long. Extra large rhubarb pieces will help them hold together better.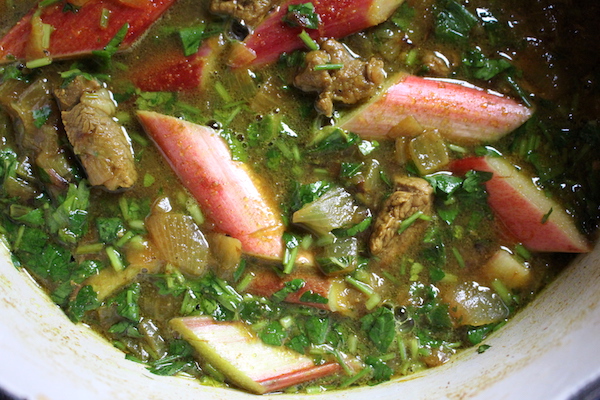 Once the rhubarb is added, stir once to incorporate and then simmer on low for another 5 minutes (without stirring) until the rhubarb is just tender. Serve immediately, over rice.
Yield: 4 servings
Persian Lamb and Rhubarb Stew (Khoresht Rivas)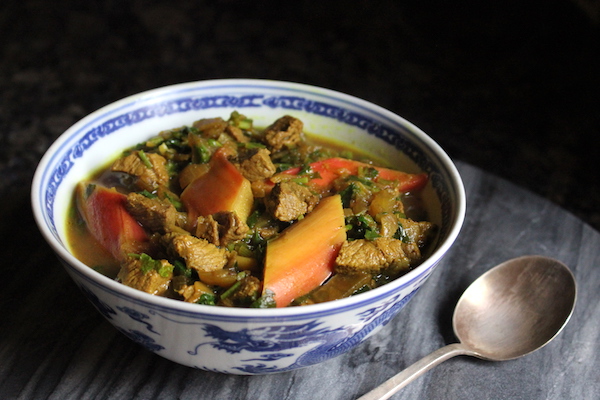 This traditional lamb and rhubarb stew is a classic savory rhubarb recipe, and uses it as a vegetable...because rhubarb is a vegetable!
Ingredients
2 to 3 onions, diced
2-3 tbsp olive oil
1 lb lamb stew meat, cut into 1-inch chunks
1 tsp turmeric
2 cups stock
2 cups parsley, finely chopped
1/2 cup mint, finely chopped
2 lb rhubarb, sliced into 2'' pieces
Salt to taste
Instructions
Sauté

onion in olive oil until translucent.
Add turmeric and lamb, browning the lamb on all sides.
Add 2 cups stock, and simmer the lamb on low for about 20-30 minutes.
Add chopped herbs and continue to cook for another 15 to 20 minutes.
Add the sliced rhubarb, gently stir until rhubarb is submerged and then cook (WITHOUT STIRRING) for another 5 to 8 minutes. Stirring will break up the rhubarb, it's very tender at this point.
Serve immediately, alone or over rice.
Savory Rhubarb Recipes
Looking for More Savory Rhubarb Recipes? Try any of these:
More Middle Eastern Recipes
Here are a few more Persian specialties from my kitchen to yours: