Called cauliflower stew, even though it contains plenty of lamb, versions of this dish are common throughout the middle east. In Lebanon and Syria, it's called yakhnat al-qarnabit, and it's made with plenty of fresh coriander. In Turkey, it's called karnibahar musakka, and fresh thyme, marjoram and parsley flavor the dish.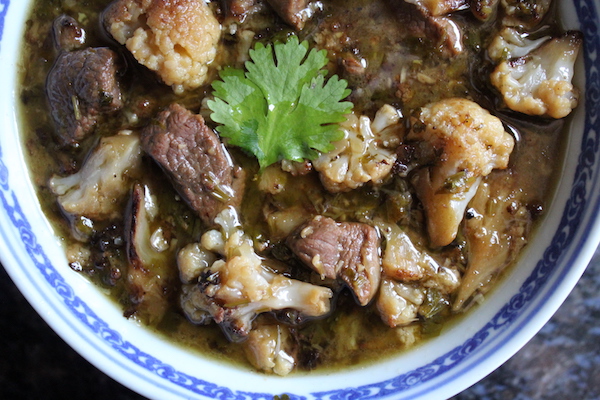 This recipe is adapted from the book Real Stew, and is said to be modeled after the version of this Persian cauliflower stew that's served in Damascus.
I also consulted Classical Turkish Cooking for another perspective, and that version uses just a tiny bit of ground lamb, only 1/3 of a pound for a whole pot of stew.
In either case, it's best that the meat be thought of as a seasoning that helps add body and flavor to the dish, rather than as a central component. The highlight of this dish, believe it or not, is the cauliflower.
The florets are caramelized in olive oil, which brings out their rich flavor.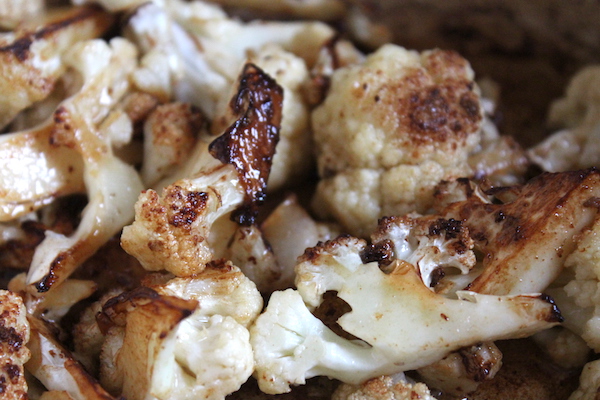 Another novel thing about this particular stew is the treatment of the garlic. Normally, I chop the garlic by hand with into a fine mince for most my cooking.
This recipe called for pounded garlic, worked in a mortar and pestle until with ample salt until it formed into a paste.
The more garlic is worked, the more cells break and the more flavor is released. A full 8 large cloves, or just over a full bulb of garlic goes into this stew.
The flavor gently infuses into every bite, and it's just right, not too spicy or intense.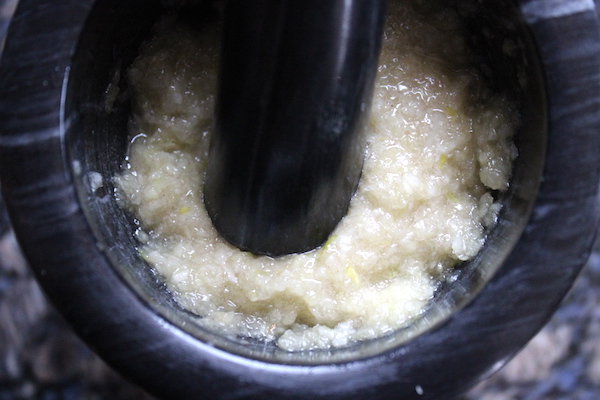 If you don't happen to have a mortar and pestle, a garlic press works wonderfully to break up the garlic and expose as much surface area as possible.
Use a fork in a bowl to mash it further into the salt to draw out more flavor.
While I usually put cilantro in at the end of cooking, the leaves go right in with the garlic in this recipe. They're cooked in oil until wilted and then simmered for an hour until the dish comes together.
They actually are more of a green vegetable than anything else, and they act like the kale in kale and white bean soup. Just a bit of green to balance the heavier elements of this stew.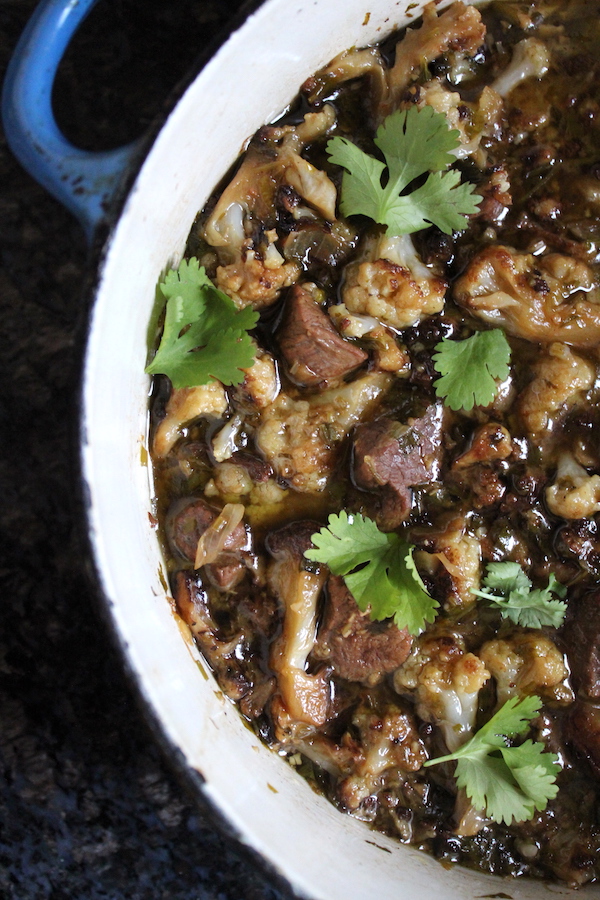 Syrian Cauliflower Stew with Coriander and Lamb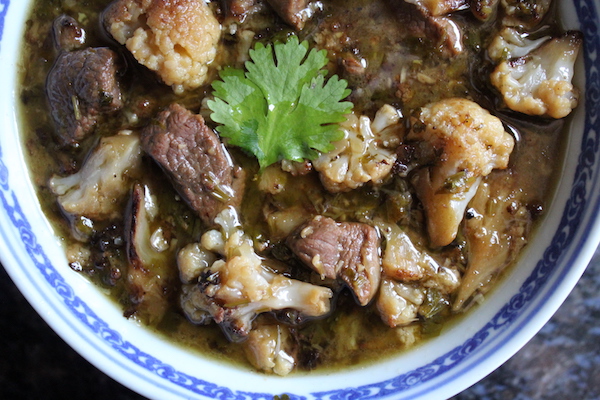 This family-style comfort food cauliflower stew is modeled after the Syrian dish yakhnat al-qarnabit.
Ingredients
1 pound lamb leg or shoulder, boneless and cut into 1 inch cubes
1/2 cup olive oil
1 large cauliflower head, trimmed into florets
1 large onion, diced
1/4 cup ghee or butter
8 large garlic cloves
1 tsp salt
2 cups coriander leaf, finely chopped
1 quart stock
1/4 cup lemon juice
salt and pepper to taste
Instructions
Add a bit of olive oil into a large soup pot or enameled dutch oven. Working in batches, brown the lamb cubes over medium-high heat, and remove them to a separate plate.
After the meat is browned, add more oil as needed and brown the cauliflower until it's nicely caramelized on the outside. Work in batches to keep the pan hot and add more oil as needed. In browning the meat and cauliflower, you should use around 1/2 cup of olive oil.
Remove the cauliflower and add one large diced onion to brown.
While the onion is browning, pound the garlic cloves in a mortar and pestle with 1 teaspoon of salt until they form a paste. Alternatively, press them with a garlic press and then mash them with a fork into the salt.
Add the ghee or butter into the pan with the onions, and then add the garlic paste and cilantro leaves. Cook until fragrant, about 1-2 minutes.
Add the stock and deglaze the pan over high heat, then turn down to a simmer. Add the cauliflower and lamb back into the pot, along with the lemon juice. Cover and simmer on very low heat for about an hour.
Serve immediately, adding salt and pepper to taste and garnishing with additional fresh cilantro.
Lamb Recipes
Looking for new ideas for preparing lamb? We highly recommend these tasty dishes! They're among our favorites!