Lamb Dhansak is an Indian curry made with lamb and lentils. The lentils form a savory sauce that's then spiced with ginger and cumin. Dhansak curries are generally sweet, from the addition of either fruit such as pineapple or a bit of honey.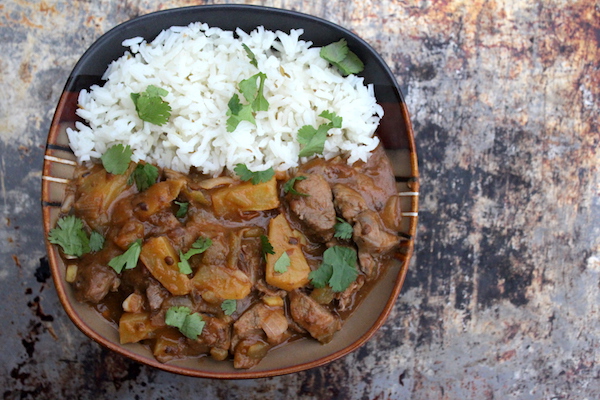 Lamb Dhansak is one of my favorite meals at our local Indian restaurant, but I always assumed it was some kind of house specialty. Their menu spells it "Lamb Danshik" and try as I might, I could never find it in any cookbook. I finally had better luck when I searched for the menu description and realized that the more common spelling for this spectacular dish is Lamb Dhansak. It's described on their menu as "Tender lamb and lentils cooked with pineapple chunks and herbs."
What I love about this dish is the lentils both add texture and form a savory gravy around the lamb. That's because traditionally several types of lentils are used. Some cook more quickly and dissolve in the curry, while others remain more solid to give the sauce a bit more texture. Dansak is usually made with arhar dal, chana dal, red masoor dal, and brown masoor dal.
In Vermont, it can be tricky to find all those lentil varieties, so I stick with our two locally available types. I use split red lentils, which dissolve to form the thick curry sauce and green lentils which hold together better.
The vegetables in lamb dhansak vary based on what's in season, but they often include potato, tomato, or pumpkin. Then either pineapple or honey is added for sweetness.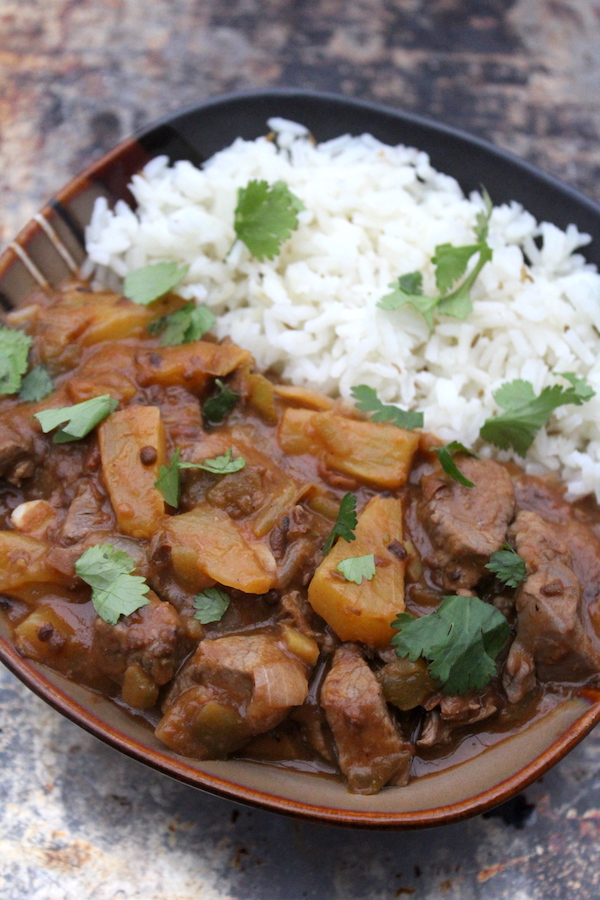 I found one source that says, "Dhansak is also always had on the fourth day after the death of a near one. There is no meat consumed for three days after the death of a near one. And dhansak is used to break this abstinence on the fourth day. Hence, dhansak is never prepared on auspicious occasions like festivals and weddings."
Generally, lamb dhansak is prepared with lamb shoulder or goat shoulder, tougher cuts of meat that need a long, slow cook. The addition of lentils further stretches the meat supply and makes this an economical dish to make at home.
Lamb Dhansak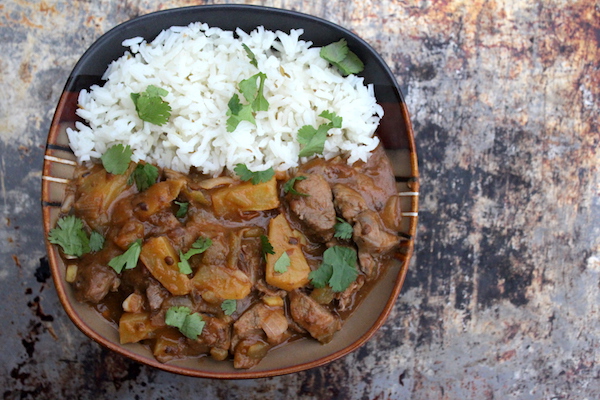 Lamb dhansak is a traditional indian dish that combines lamb and lentils with savory spices. The dish has a hint of sweetness, from either the addition of honey or pineapple chunks.
Ingredients
2 lbs lamb shoulder, diced into 1'' cubes
2 large onions, diced
3 Tbsp coconut oil
1'' piece fresh ginger, peeled and minced
3-4 garlic cloves, minced
1-2 green chili peppers, minced & seeds removed
8-10 green cardamom pods
1 tbsp cumin, ground
1 tbsp coriander, ground
1 tbsp turmeric, ground
1 1/2 tsp salt
1 cup tomatoes, chopped
2 Tbsp tamarind paste
4 cups lamb stock (or beef)
2 cups diced pineapple chunks
1 cup lentils (mix of red & green varieties)
Instructions
Working in batches, brown the lamb in coconut oil and then the onion in the remaining oil. Set aside.
Add the spices, stock, pineapple and lentils to a large dutch oven and bring to a boil.
Reduce to a simmer and add browned lamb and onions.
Simmer on low for 45 minutes to 1 hour until the lentils are cooked the the lamb is tender.
(Optional) Stir in a bit of minced cilantro to serve and/or garnish with cilantro. Serve with rice.
Notes
In place of pineapple chunks, you can add 2-3 tablespoons of honey to sweeten the sauce.
More Indian Curry Recipes