Vindaloo is the delicious result of the Portuguese influence on India a few hundred years ago. Vinegar and mustard from Portuguese cuisine come together with warm curry spices from Indian cooking to create a wonderfully spiced comfort food dish. Lamb vindaloo is our favorite variation, but this dish can be made with just about any meat or protein source.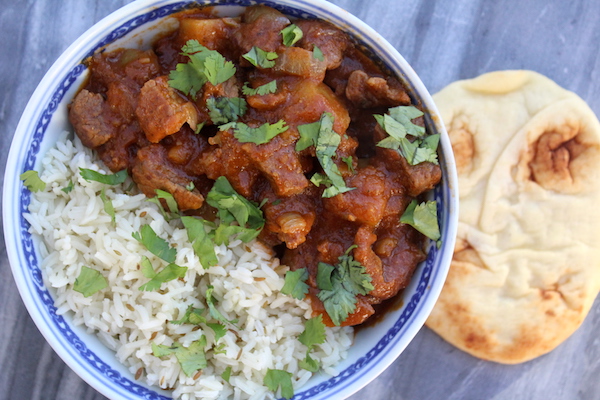 Living in central Vermont, there's not a lot of options for Indian food. About an hour south of us there's a small college town with a population of about 4,000 and for some reason, they have not one, but two fabulous Indian restaurants. We use just about any excuse we can to get down there, but it's still hard to make the trip.
When we do, my husband orders lamb vindaloo without fail. I like to spice things up and I'm liable to order just about anything on the menu, but he has his obvious favorite. Since it's such a long trip, the obvious solution was to learn to make this wonderful Indian takeout meal at home.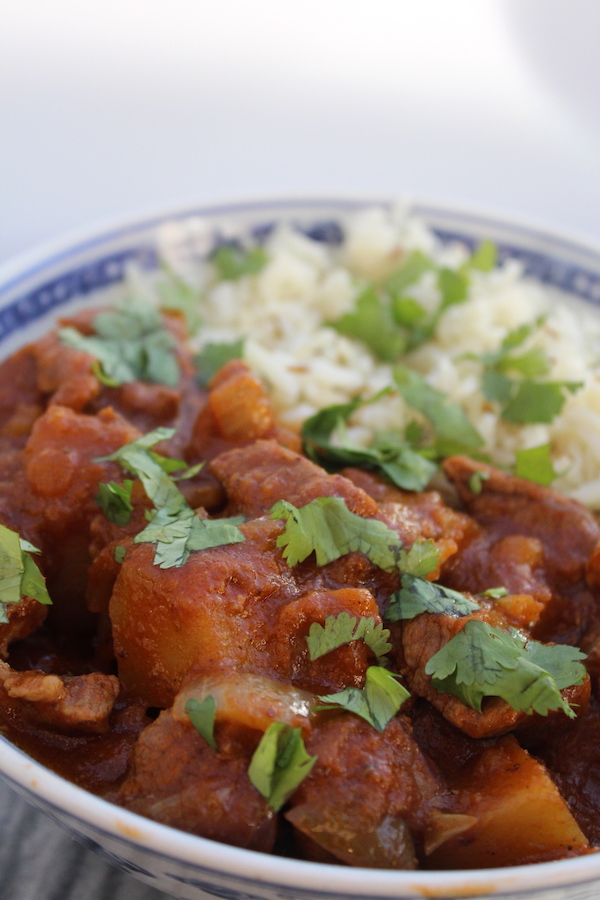 Often lamb vindaloo is made with slow-cooked hunks of lamb shoulder. In our kitchen, we make it with quick browned lamb leg. While lamb shoulder is a tough cut that requires many hours of slow cooking, lamb leg is best cooked hot and fast. If you're using lamb shoulder for this dish, start by browning the meat and then simmer it on low in a bit of stock for about 45 minutes before proceeding.
With lamb leg, however, this dish comes together in about 20 minutes. Perfect for a busy weeknight meal of take-out style food without leaving the house.
The addition of potatoes is optional, but most restaurants include them. They absorb the flavors beautifully and help to stretch the meat a bit further. When we were cooking for just ourselves, adding potatoes meant that we'd have tasty leftovers for the next day, but now with two hungry toddlers, the potatoes mean that everyone gets enough of their favorite part of the dish.
Lamb Vindaloo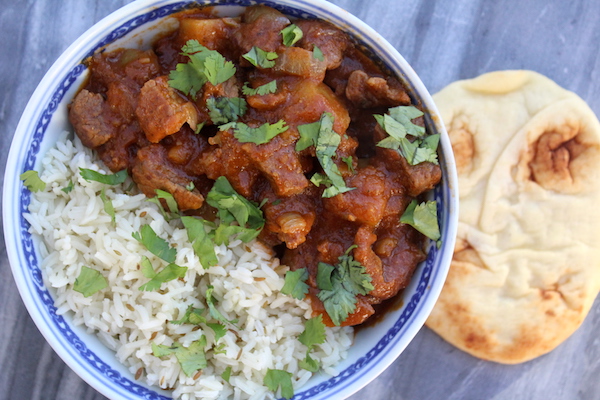 Ingredients
1 lb lamb leg boned and cut into 1 inch cubes
3 tbsp coconut oil
2 large onion diced
3-4 cloves garlic minced
1 tsp cumin ground
1 tsp turmeric ground
1 tsp hot paparika
1 tsp salt
1 tbsp red wine vinegar
1 tbsp grainy mustard
1 cup coconut milk canned
3 cups diced potatoes, boiled till tender
Instructions
Brown meat in a pan in 1 tbsp coconut oil, then put a lid on the pan and cook until just barely cooked through about 3-4 minutes. Set aside.
Fry onion in coconut oil until just browned. Add in the garlic, salt, and dry spices and cook for another 1-2 minutes. Add vinegar to deglaze the pan, then add in cooked lamb, mustard and coconut milk. If using, add diced boiled potato cubes at this point.
Stir to combine and remove from heat. Serve with rice and naan.
More Easy Indian Curry Recipes