Turkish Lamb and Apricot Stew (Kayisi Yahnisi) is traditionally made in the winter months using dried apricots. The most simple version is a slow simmered mixture of lamb and dried apricots, cooked until the lamb is tender and the apricots are completely rehydrated. As a result, Kayisi Yahnisi gives you just a hint of the sweetness of summer in a savory winter comfort food.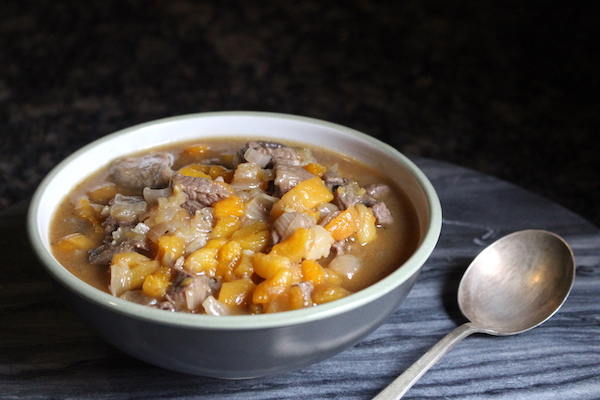 There are a number of ways to make Kayisi Yahnisi, and some variations include other dried fruits such as plums. Some traditional recipes also include chickpeas, which helps stretch an otherwise meat-heavy dish a bit further.
The recipe I'm using is the most basic version, comprised of just lamb and apricots along with simple seasonings. Kayisi means apricot, and Yahnisi is a stew traditionally cooked slow over an open fire. This recipe would adapt well to a slow cooker, after browning the meat, just add all the ingredients to the slow cooker to save time and effort on a busy weeknight.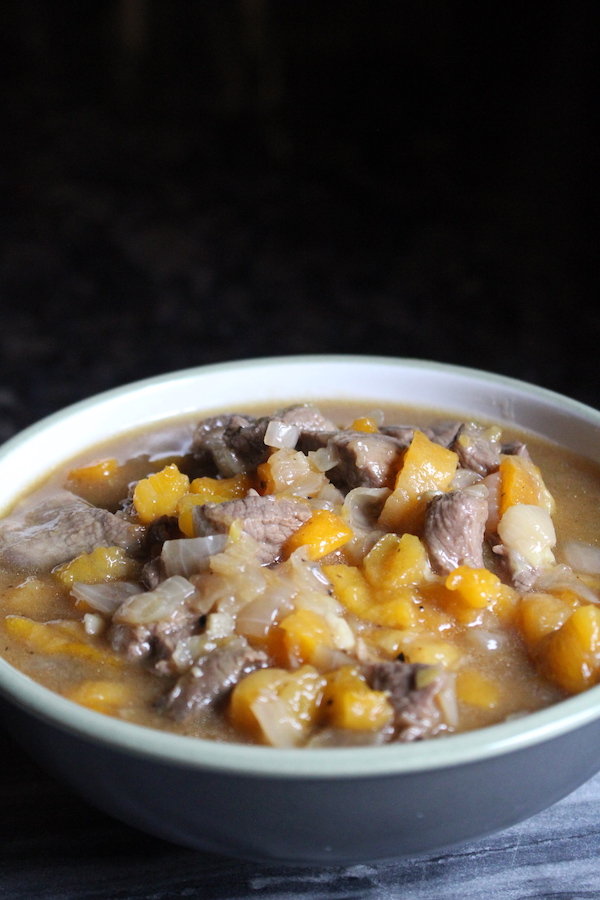 It is adapted from The Turkish Cookbook, and the original version includes apricot kernels instead of almonds. Since apricot kernels are a bit difficult to find in the US, I've used almonds instead. A tiny drop of almond extract added at the end of cooking would also be a good substitution.
Most traditionally, this recipe would have been made with mutton, but lamb works well and has a milder flavor. This Kayisi Yahnisi suggests letting the dish rest for at least 10 minutes before serving, but a longer rest would allow more time for the flavors to combine. Consider making it a day ahead and then reheating it gently just before serving, or simply using a slow cooker started in the morning for an even slower cook.
Yield: 4 - 6 Servings
Turkish Lamb and Apricot Stew (Kayisi Yahnisi)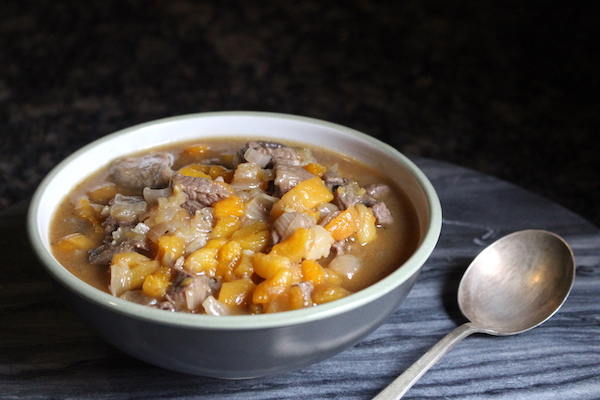 This simple lamb and apricot stew is warming with just a hint of sweet, the perfect Turkish winter comfort food.
Additional Time
10 minutes
Total Time
1 hour
20 minutes
Ingredients
1/3 cup ghee (or butter)
1 to 1 1/4 lb lamb stew meat, diced into 1'' pieces
1 onion, peeled & diced
1/4 cup almonds, finely chopped
1 cinnamon stick
2 cups meat stock
1 tsp salt
1 tsp black pepper, ground
1 1/2 cups dried apricots, diced
Instructions
Heat the ghee (or butter) in a large dutch oven and brown the lamb for about 2 minutes.
Add the diced onion, chopped almonds and cinnamon stick. Cook over medium heat for about 10 minutes until onions are cooked.
Add meat stock, salt and pepper, then cover tightly and reduce heat to low. Simmer for about 30 minutes.
Add the diced apricot pieces, replace cover and simmer for another 20 minutes.
Turn off heat and allow the dish to rest for at least 10 minutes before serving.
Notes
Other warm spices, such as cardamom or ginger, could be added if desired.
More Turkish Recipes
Looking for more Turkish recipe inspiration? Try any of these: